What's not to love about visiting cruise line private islands in the Bahamas? Soft white sand, crystal blue waters, and incredible views. That's a yes, please, any day of the week for me. 
Royal Caribbean's Perfect Day at CocoCay (CocoCay) and MSC Cruises' Ocean Cay MSC Marine Reserve (Ocean Cay) both have two fantastic private islands located in the Bahamas. 
I had the opportunity to explore both of them, seeing all they had to offer. Equally stunning, both islands are incredible but have different amenities and distinct vibes.  
Food options, drinks, pools, activities, bars, and cabanas were all tested to see how the two islands stacked up against one another. Here is what I found. 
Island overview 
Ocean Cay
Image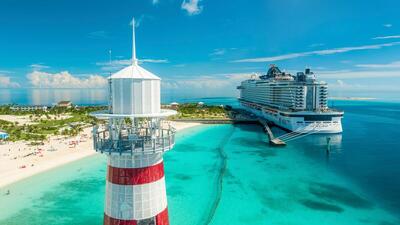 MSC's private is located in the Western Bahamas, 20 miles south of Bimini. Once an industrial site, MSC has redeveloped the island into a serene paradise for its guests. 
The cruise line has placed significant emphasis on conservation and sustainability in the rejuvenation of Ocean Cay, providing unique excursions and activities, including snorkeling on newly revived reefs.
The revitalized retreat offers cruisers the opportunity to get an authentic island experience with 8 beaches and water activities that feature the restored marine life of the area. The island does not have giant slides and pools but provides numerous beach and water activities, including evening activities. 
CocoCay 
Image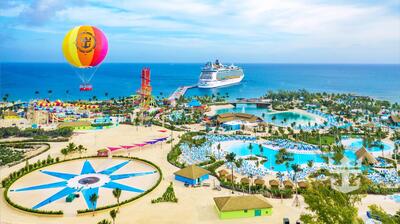 CocoCay is located in the Berry Islands, Bahamas, less than a day's journey from Florida. It is an immensely popular stop on many itineraries, and cruisers love the wide range of things to do on the island. 
Royal Caribbean invested a whopping $250 million in upgrading this exclusive island, making it one of the premier destinations in the Caribbean. The 125-area private destination gives guests tons of options, including a chill beach day or high-energy thrills. There is a wide selection of activities and areas to explore that every cruiser will enjoy.
With a number of stunning beaches, a waterpark, floating cabanas, a wave pool, a massive Oasis Lagoon, and lots of included amenities, guests will find plenty of ways to stay cool.
Location/itineraries
Image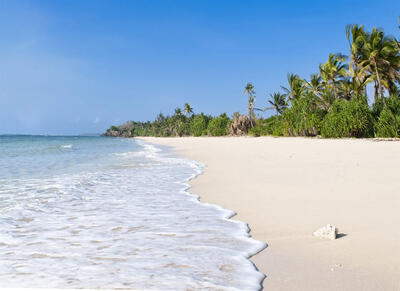 Both cruise line private destinations are part of the 700-island chain of the Bahamas, which has warm weather all year long. Given their proximity to Florida, these exclusive cruise destinations are frequent ports on both Eastern and Western itineraries and shorter weekend cruises. 
The Bahamas are known for their crystal clear water and soft sand beaches. Snorkeling, kayaking, and boating are all popular activities guests enjoy at these ports of call. 
There isn't a significant difference in terms of the two islands' topography. They are flat, made from limestone rocks, with soft sand beaches. Both have ample landscaping, and calmer lagoon-type areas for easy access to the ocean, ideal for families. CocoCay and Ocean Cay have docks, so there is no need to tender, a major plus for cruisers. There is transportation from the pier to all the beaches and amenities on both islands.   
Activities and entertainment 
CocoCay
Image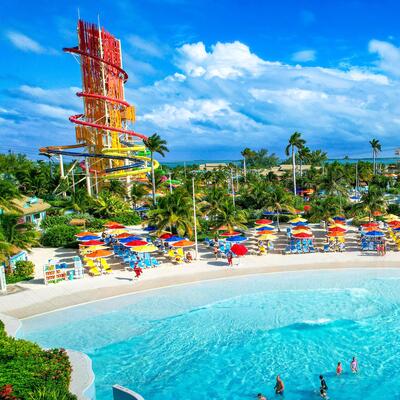 CocoCay offers a wide range of activities and amenities on the island to suit cruisers of any age. The Oasis Lagoon is the largest freshwater pool in the Caribbean and has a fun atmosphere with a swim-up bar. There are plenty of beaches throughout the island, such as Chill Island, South Beach, and Harbor Beach, which are ideal for families. 
There is a full range of water activities, such as kayaking, snorkeling, and jet skis, as well as Splashaway Bay, a complimentary kids' aqua park. A centerpiece of the island is its Thrill Waterpark. For an additional fee, guests are treated to sky-high waterslides, the tallest in the Caribbean. There are also the Wave and Adventure Pools, and cabanas throughout the island. Guests have access to free chairs and loungers all around the island. 
Land-based activities include volleyball, basketball, table tennis, giant chess, and entertainment throughout the day. Other activities (for a fee) include ziplining, balloon rides, and shopping. 
A major highlight of the island is the Coco Beach Club, with dreamy over the water bungalows, a restaurant, a bar, and an infinity pool. Guests of the beach club can indulge in lobster and steak in a stunning open-air restaurant.  
Ocean Cay  
Image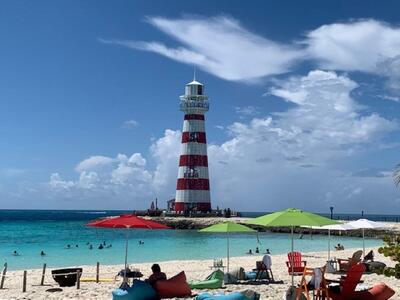 There are eight different beaches on Ocean Cay, with lifeguards on duty at most. North and South beaches are perfect for families with kids, as the water is shallow and calm. There are some palm trees for shade, and umbrellas can be rented for the day. Sunset Beach is the longest beach on the island and is the perfect spot to enjoy water activities. 
There are no pools on Ocean Cay, a significant difference from CocoCay. There are plenty of places to swim, snorkel, paddleboard, go boating, and catamaran sailing. On land, guests enjoy a lighthouse climb, yoga, soccer, volleyball, dance classes, bocce, spa services, and shopping. The main thoroughfare on the island has several colorful Bahamian-style buildings with shops and amenities. 
A standout at Ocean Cay is its evening events. Ships can stay late into the night, providing guests with fun activities such as an authentic Junkanoo parade, a traditional Bahamian event with colorful costumes, music, and dancers. After that, cruisers are treated to a dance party by the island's iconic lighthouse. 
Food and Beverages 
Ocean Cay 
Image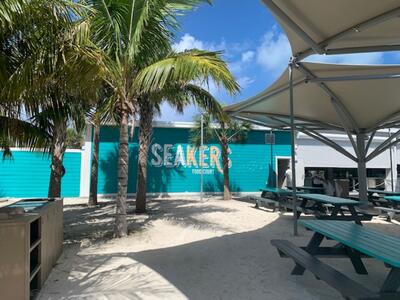 There are plenty of complimentary food options on Ocean Cay.  Seakers Food Court is an open-air venue that offers a buffet of BBQ classics with some Bahamian flavors. There are food trucks, "Beach Shacks" throughout the island that serve hot dogs and hamburgers, also free. A lunch buffet is offered onboard to guests who prefer to return to the ship. Suite guests enjoy their own special meal while on the island, at the Ocean House Restaurant. 
Additional options (and cost) include The Smiling Fish and Coffee Bar, which has a huge array of ice cream. It is also a classic coffee spot that serves freshly brewed whole bean and ground coffee, espresso, and cappuccinos.
There are lots of bars on the island, including the unique Lighthouse Bar, which is adjacent to a 100-foot lighthouse. A casual spot, great for drinks and music, including a live DJ. For an authentic island, hangout try Springer's Bar in the marina area.
CocoCay
Image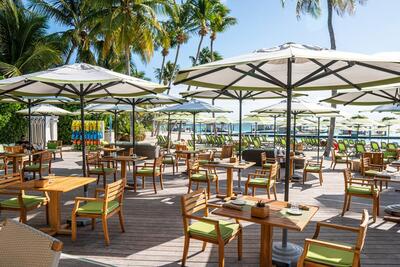 Similarly, CocoCay has a number of free food venues, including the Snack Shack, legendary for its chicken sandwich. There is also Chill Grill and Skipper's Grill with an assortment of food choices. Royal Caribbean fans love the island's mozzarella sticks, a perfect afternoon snack.
For a more upscale experience, cruisers can dine on filet mignon and lobster at the Coco Beach Club for an add-on price. The serene beach club area is a different pace from the rest of the island and is perfect for a more intimate setting or for those wanting to splurge to make the day even more special. 
Captain Jack's and the swim-up bar in the lively Oasis Lagoon are two of the eight popular places to grab drinks on the island, and passengers will love to hear that their drink packages work on the island.
Key Takeaways
CocoCay
Image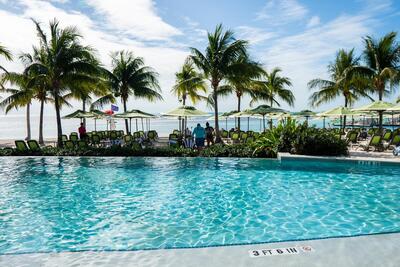 What's great about this island? CocoCay has so many choices, including complimentary activities. It has tons of fantastic beach and pool options, including high-energy, fun areas, along with quiet spots. This is a great family destination, and there will surely be something to please everyone from young and old, families, and cruisers of all types. 
The first thing you notice about the island, beyond its beautiful landscape, is color. The thrilling water slides, the hot air balloon, and the pier, are all vibrant with pops of yellow and red. Royal Caribbean has knocked it out of the ballpark with its fun theme at CocoCay.  
With tons of options, guests can customize their day at Cococay. You can have a fantastic time without spending any money, or you can splurge and partake in a wide range of activities and perks. 
Ocean Cay
Image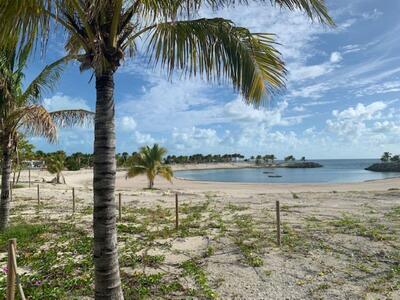 What's great about the island? This is a spectacular island. MSC has replanted lots of foliage and brought back native species to make the island feel like a Bahamian paradise. This island definitely has a more serene vibe during the day. 
     
One thing that stands out at Ocean Cay is their nighttime activities, as the ships stay late. A traditional Junkanoo parade with costumes and music, or a DJ dance party at the lighthouse, are some of the highlights of the fun. As with CocoCay, you can have a fantastic day without spending any money. 
Guests in MSC's Yacht Club suites enjoy exclusive access to the Ocean House Beach, cabanas, and the Ocean House Restaurants, which has an upscale menu of seafood and other culinary delights. CocoCay does not have a suite-only area. 
The Verdict 
Image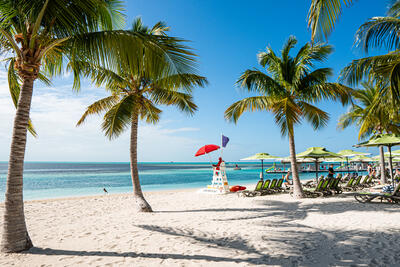 There is no doubt that cruisers will have a fantastic time on either of these private islands, and there is plenty to do without spending any money. They are, however, different, and which is best boils down to personal preference.
CocoCay offers slides, pools, and a lot more of the traditional resort/ waterpark attractions. Many of the activities, such as the well-marketed Thrill Waterpark, are an extra charge. Their Coco Beach Club and overwater bungalows are superb for those wanting to splurge. 
Ocean Cay, on the other hand, has no pools in keeping with its more natural feel, but there are plenty of shallow areas to swim. It has more of a quiet paradise feel, with plenty of open space. MSC has done an excellent job of making you feel like you have stumbled upon a Bahamian island, lost in time. I loved the colorful, Bahamian-style buildings, including the lighthouse.