If you're thinking of sailing with Carnival Cruise Line but don't know which ship to book, you've come to the right place. Carnival Cruise Line considers its fleet as having the most fun ships at sea, so you're certainly in for a great time during your Carnival cruise!
With nonstop fun from the minute you step onboard, you'll love everything that Carnival has to offer on its cruise ships.
Currently, Carnival Cruise Line operates 23 ships across its fleet, making it one of the biggest cruise lines in the world. These cruise ships are classified into 8 different ship classes, each having their own special flair on the Carnival experience. 
Image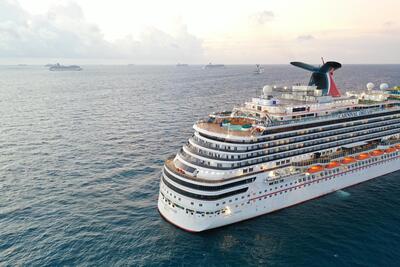 Cruise lines build multiple ships that are nearly identical in both size and design; these are then classified as different ship classes for the cruise line's fleet. Built in the similar timeframe, each class of ships almost represents a snapshot in time with its design elements, amenities onboard and technology capabilities.
While Carnival Cruise Line is one of the biggest cruise lines in the world, it does not sail the biggest ships in the world. Most of the ships sailed by Carnival Cruise Line are nearly 40% smaller than the ships sailed by rival cruise line, Royal Caribbean, which is known for building the biggest cruise ships in the world. 
In fact, most cruise ships for Carnival Cruise Line would be considered mid-size ships by today's industry standards. While Royal Caribbean and MSC are building some of the world's biggest ships, Carnival Cruise Line continues to operate and build ships that are modestly sized. 
Image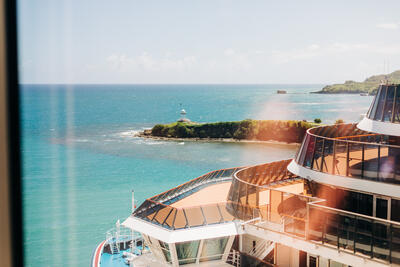 Additionally, Carnival Cruise Line takes a more incremental approach to design changes between ship classes. Cruisers will likely find plenty of commonalities and similarities across the Carnival fleet, even when ships are in different classes. For example, while the newer Vista and Dream class ships are sizably bigger, these ships have a similar look and feel to Carnival's older Splendor class ships.
Until its newest ship, Carnival Mardi Gras, debuted in 2021, most of the ships in Carnival's fleet were largely very similar even as they varied in age in size. 
Image
Also, Carnival's fleet is undergoing many changes in 2022. To start, 2 of its ships - Carnival Ecstasy and Carnival Sensation - will be retired from the fleet by the end of the year.
By retiring the two oldest ships in its fleet, Carnival will make way for 2 new ships. Carnival Celebration will join the fleet in November 2022 and Carnival Luminosa - formerly sailing for sister-brand Costa - will be retrofitted to sail for the cruise line. 
Below we will break down all 8 of the cruise ship classes for Carnival Cruise Line. 
Excel Class
Carnival Mardi Gras (2021)
Carnival Celebration (2022)
Carnival Jubilee (2023)
As the newest class of ships for Carnival Cruise Line, the Excel Class is bringing the biggest changes to the cruise line's fleet. With a totally new design and slew of incredible amenities, Carnival Mardi Gras competes with the biggest ships sailing by rival cruise lines.
Image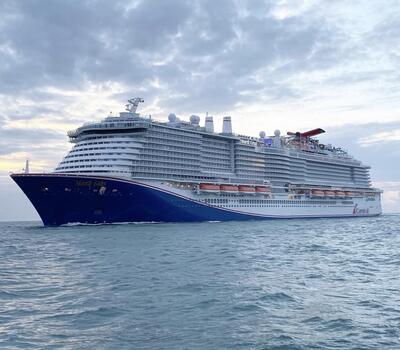 Excel class ships all have a gross tonnage around 180,000, making these (by far) the largest cruise ships sailing for Carnival. These ships are nearly 40% bigger than any other Carnival ship in the fleet and offer the most lounges, bars and eateries of any Carnival ship sailing. 
When it comes to passenger capacity, Excel class ships can hold 6,500 ships if every bed onboard is occupied. On average, you can expect to find about 5,000 passengers sailing. 
Image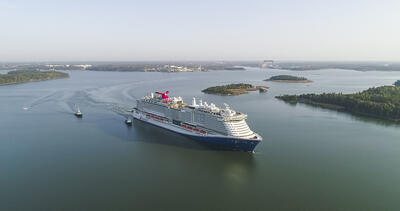 In 2021, Carnival Mardi Gras made its highly-anticipated debut and introduced the industry's first roller coaster at sea, named BOLT: The Ultimate Sea Coaster. Additionally, Mardi Gras was the first LNG-powered cruise ship for the cruise line, which is a cleaner fuel alternative. 
Image
Launching in 2022, Carnival Celebration will join the fleet as the cruise line's newest ship and the second ship in Carnival's newest fleet, the Excel Class. Finally, Carnival Jubilee will debut as the third and final ship of the Excel Class in 2023. 
Excel class ships are by-and-far the biggest ships in the Carnival fleet; so, those who love sailing on mega ships will want to consider sailing on one of these massive ships. Also, those who prefer to sail in suites will appreciate the largest array of suites for the cruise line onboard Excel class ships.
Image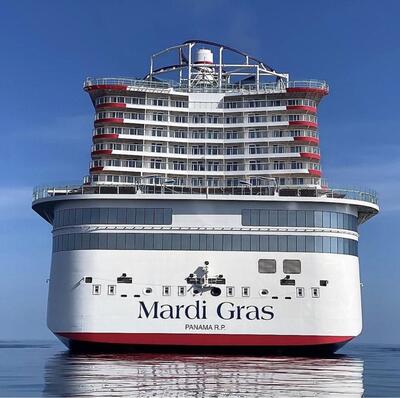 These new ships for Carnival feature fun new eateries like Big Chicken at Sea, sponsored by basketball legend Shaq O'Neal. In addition, Emeril Lagasse has created his first restaurant at sea onboard Mardi Gras. 
Vista Class
Carnival Vista (2016)
Carnival Horizon (2018)
Carnival Panorama (2019)
Although Excel class ships now take the cake when it comes to size, amenities and design, Carnival's Vista class ships still have plenty of amenities, including a number of eateries, lounges and bars. You can also find an entire top-deck filled with attractions and knock-your-socks-off fun. 
Image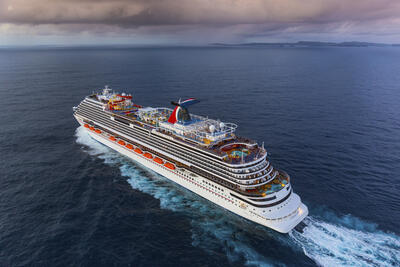 Although noticeably smaller than Excel class ships, Vista class ships can hold around 4,000 passengers and weigh just 130,000 gross tonnage. 
In fact, the Vista class ships had their own set of firsts for the cruise industry. Carnival Panorama has the first trampoline park at sea through its partnership with SkyZone. Additionally, Carnival Vista and Horizon feature the first IMax theaters at sea. 
Image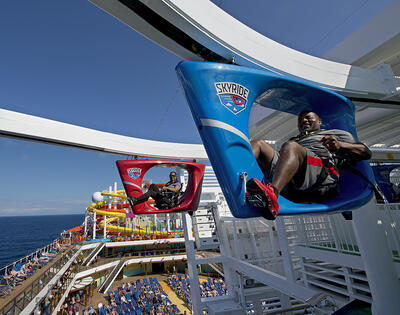 Although Food Network star Guy Fieri has a fleet-wide partnership with Carnival Cruise Line, Vista class ships featured the first breweries and BBQ smokehouses at sea. Carnival Panorama and Horizon both include the complimentary Guy's Pig and Anchor Smokehouse for fall-off-the-bone BBQ. The Smokehouse also offers freshly brewed beer that's created on site. 
Similarly, Carnival Vista has both a separate BBQ joint and a stand-alone brewery.
Not to mention, Vista class ships have a wide array of other dining options, including Guy's Burger Joint, Italian eatery Cucina Del Capitano, Jiji Asian Kitchen, BlueIguana Cantina, a steakhouse and sushi restaurant. 
Image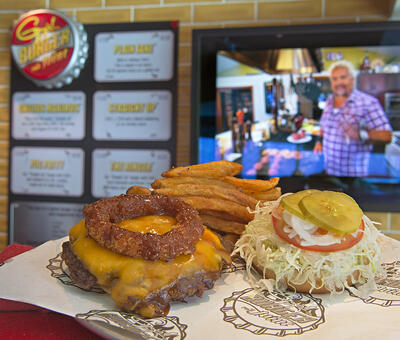 Suite lovers will also appreciate the ahead-of-its-time suite sections Havana Cabana and Family Harbor while fans of Dr. Seuss will love the themed waterpark on Carnival Horizon. 
Sunshine Class
Carnival Sunshine (1996/2013)
Carnival Sunrise (1999/2019)
Carnival Radiance (2000/2021)
One of the most unusual classes in Carnival's fleet is its Sunshine class. 
Although these ships were some of the oldest vessels in Carnival's fleet, the cruise line opted to give all 3 ships in the Sunshine class a total makeover. This involved gutting each ship and almost completely rebuilding the vessel - costing over $200 million each. 
Image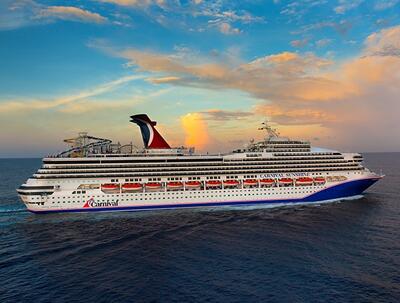 In fact, the makeovers were so substantial that Carnival opted to give each cruise ship an entirely new name rather. Carnival Destiny was renamed to be Carnival Sunshine while Carnival Triumph was renamed to be Carnival Sunrise. Finally, Carnival Victory was renamed to Carnival Radiance.
Nearly every area of the ship was redesigned, making this a huge overhaul for Carnival. Holding approximately 3,000 passengers, these vessels are about 40% smaller than Excel class ships. 
Image
Weighing around 100,000 gross tons, these Sunshine class ships are still smaller than Carnival's newest ships and therefore can't fit all of the amenities you'll find on bigger Carnival ships. Interesting enough, Carnival Sunshine (then Carnival Destiny) was the biggest cruise ship in the world when it debuted in 1996. In fact, it was the first cruise ship to weigh more than 100,000 gross tons in the cruise industry. 
During the renovations, the Sunshine class ships were upgraded to include notably missing Carnival signature amenities, like a Serenity adults-only area, a full-blown waterpark and a SportsSquare on the top deck that features a basketball court, miniature golf and a ropes course. 
Image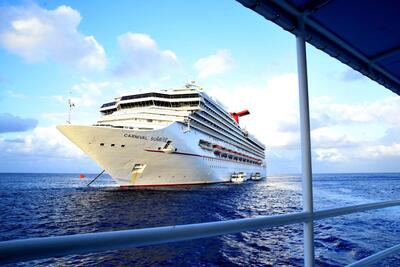 This also included adding a Fahrenheit 555 steakhouse, sushi outlet and Cucina del Capitano onboard. 
Dream Class
Carnival Dream (2009)
Carnival Magic (2011)
Carnival Breeze (2012)
Although smaller than Vista class ships, Dream class ships are largely the same and cruisers will find many similarities between the two. 
Image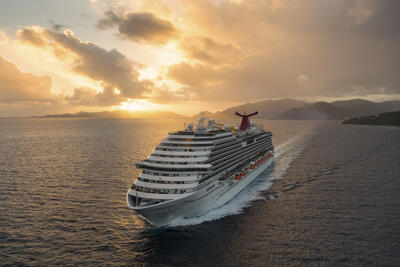 Dream class ships each hold around 3,600 passengers, making them slightly smaller than Vista class ships. Dream class ships have a gross tonnage around 130,000. 
Some of the amenities on Vista class ships can be found on Dream class ships as well. In fact, some of the signature amenities that have become popular on Vista class ships were first debuted during the Dream class Carnival era. 
For example, Carnival Breeze features a 4D thrill theater. In addition, a top-deck ropes course on Carnival Dream and Carnival Magic. The fun doesn't stop there, as the top deck also features volleyball, miniature golf, basketball and a sports court.
Image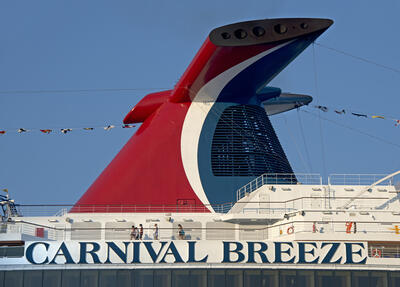 Of course, no cruise ship is complete without having a pool and Dream class ships have multiple pools on their top deck. 
When it comes to dining, Dream class ships have plenty to choose from - both complimentary and specialty. Similar to Vista class ships, Dream class ships feature complimentary venues like Guy's Burger Joint and BlueIguana Cantina. For specialty dining, a steakhouse and Italian eatery Cucina Del Capitano are available on all three ships. 
Splendor Class
In a class all by itself, Carnival Splendor is the only ship in Carnival's Splendor Class. You are probably wondering why there is only one cruise ship in this class, and that's a great question.
Image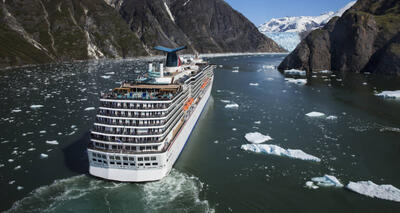 Carnival Splendor was originally built and designed to sail for Carnival's sister company, Costa. Carnival Splendor was meant to be an additional ship in the Costa Concordia class but instead sailed under Carnival in a class of its own. The ship was transferred from Costa to Carnival during the construction phase. 
Holding right around 3,000 passengers with a gross tonnage of 113,000, Carnival Splendor is truly one of a kind! 
Even still, Carnival Splendor is very similar to ships in the Carnival Conquest class of cruise ships. Built during the same timeframe, the biggest difference between Carnival Splendor and the other Conquest class ships is its redesigned top deck. The pool deck on Carnival Splendor has a glass magrodome that can retract, which is a notable absence on other Conquest ships. 
Image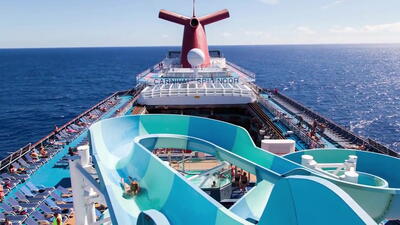 Carnival Splendor also features a larger spa compared to Conquest ships and a top-deck waterpark that can't be found on similar sister ships as well. 
Conquest Class Ships
Carnival Conquest (2002)
Carnival Glory (2003)
Carnival Valor (2004)
Carnival Liberty (2005)
Carnival Freedom (2007)
One of the largest classes for Carnival, Conquest ships are around 20% smaller than Vista and Dream class ships. Don't worry though - these smaller Carnival ships still pack plenty of the cruise line's signature FUN amenities and venues. 
Image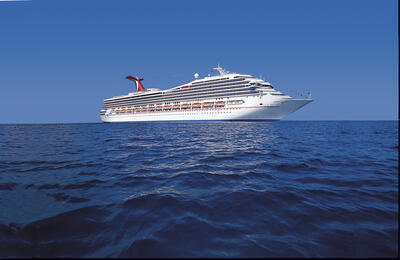 Conquest class ships are considered small to mid-size and especially appeal to Carnival cruisers who don't want to sail with large crowds of other passengers. The modest size of Conquest class ships allows them to sail to smaller ports as well. 
Conquest class ships, clocking in around 110,000 gross tons, can hold around 2,900 passengers. 
Image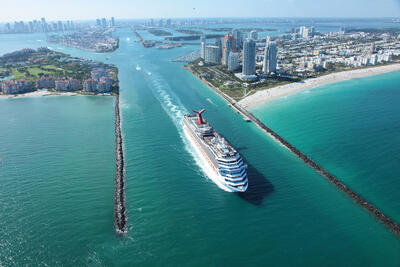 Dining on Conquest class ships includes fewer choices than bigger and newer Carnival ships, but there's still plenty of options onboard. Carnival classics like BlueIguanna Cantina, Guy's Burger Joint, Pizza Pirate, Carnival Deli and a steakhouse.
In addition to dining options, Carnival Conquest class ships feature the Alchemy Bar and and RedFrog Rum Bar on the pool deck. 
Spirit Class Ships
Carnival Spirit (2001)
Carnival Pride (2003)
Carnival Legend (2004)
Carnival Liberty (2005)
Carnival Freedom (2007)
Carnival Luminosa (2022)
At half the size of Carnival's new Excel class ships, Spirit class ships were built to withstand all types of weather, meaning these ships aren't just sailing to the sunny Caribbean. 
Image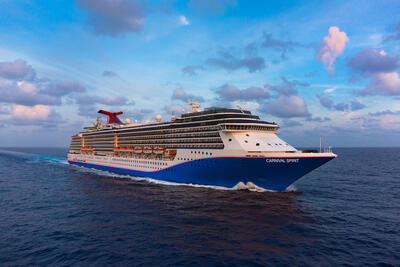 Spirit class ships are typically used for far-flung itineraries because of the structural design, versatile amenities and ability to dock in smaller ports. With pools that can be covered with retractable glass, you can find Spirit class ships sailing in locations like Alaska, where the weather is rarely warm enough for an open-deck swim. 
At just 88,000 gross tons, Spirit class ships are considered mid-sized vessels that can hold right around 2,100 passengers. 
Image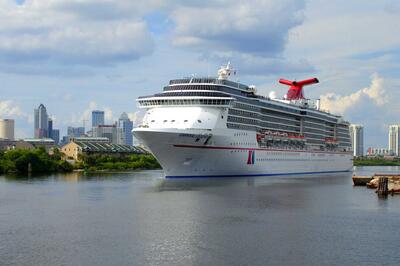 Despite their smaller size, Carnival has outfitted Spirit class ships with a surprising number of signature amenities. These cruise ships still have waterslides, miniature golf, pools, and the Serenity adults-only area. 
Dining options include Guy's Burger Joint, Pizza Pirate and Carnival's steakhouse. 
Image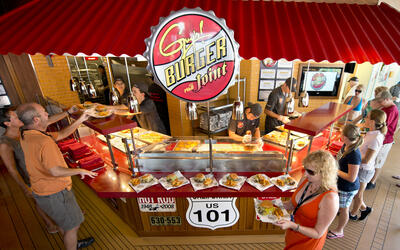 Carnival has also announced in 2022 that it will be transitioning the Costa Luminosa from sister brand, Costa. Built in 2009, Costa Luminosa is slightly bigger than the other ships in its class; however, the vessel was built with the same specifications and overall design as the rest of the Spirit class ships. 
Fantasy Class Ships
Carnival Ecstasy (1991-2022)
Carnival Elation (1998)
Carnival Paradise (1998)
The oldest and smallest ships in Carnival's fleet are found in the Fantasy class. With the implications of COVID-19 in 2020, Carnival has already started to phase out its Fantasy class ships. Before the pandemic, Carnival still had 8 Fantasy class ships that were still sailing for the cruise line. During the pandemic, Carnival decided to sell 4 of the ships and plan to retire the remaining. 
Image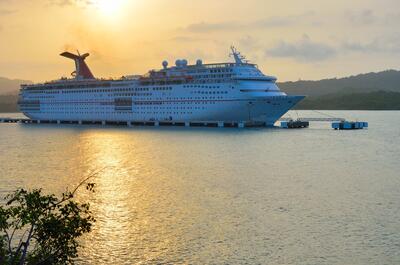 As the ships were built in the 1990s, they are substantially smaller than most cruise ships built today. Weighing 70,000 gross tons, Fantasy class ships are designed to sail with 2,000 passengers. These smaller ships work well in ports like Mobile, Alabama that likely couldn't support a larger ship. 
In October 2022, Carnival Ecstasy will sail its final journey and head off to the scrapyard for its retirement. Here at Cruise Blog, we were lucky enough to sail on Carnival Ecstasy for one of her last voyages and we detailed everything about our experience here on the blog. 
Earlier in 2022, Carnival Sensation left the fleet as well, leaving just 2 more Fantasy class ships sailing for Carnival. 
Image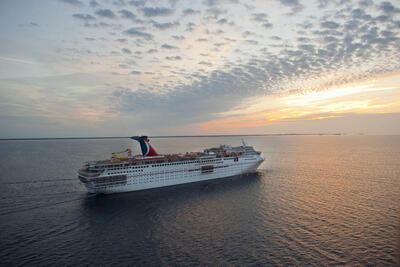 Even though Fantasy class ships are small, Carnival has done an excellent job of outfitting the ships with plenty of amenities. You can still find Guy's Burger Joint, Pizza Pirate and Carnival Deli for dining options. The top deck also has the adults-only Serenity area and a waterpark. 
Fantasy class ships really showcase their age when it comes to the number of balconies onboard. Because the ships are so intimately sized and built before balconies were wildly popular for cruisers, there are only a limited number of balconies available.