There are few things in life that I love more than finding an incredible cruise deal. For me, it's so thrilling to find a last minute cruise deal that doesn't break the bank and actually works with my crazy schedule. 
Booking a cheap cruise also means I can spend money on things that I value when traveling, like splurging on food or fun excursions. It also allows me to travel and cruise more often - and who doesn't love that?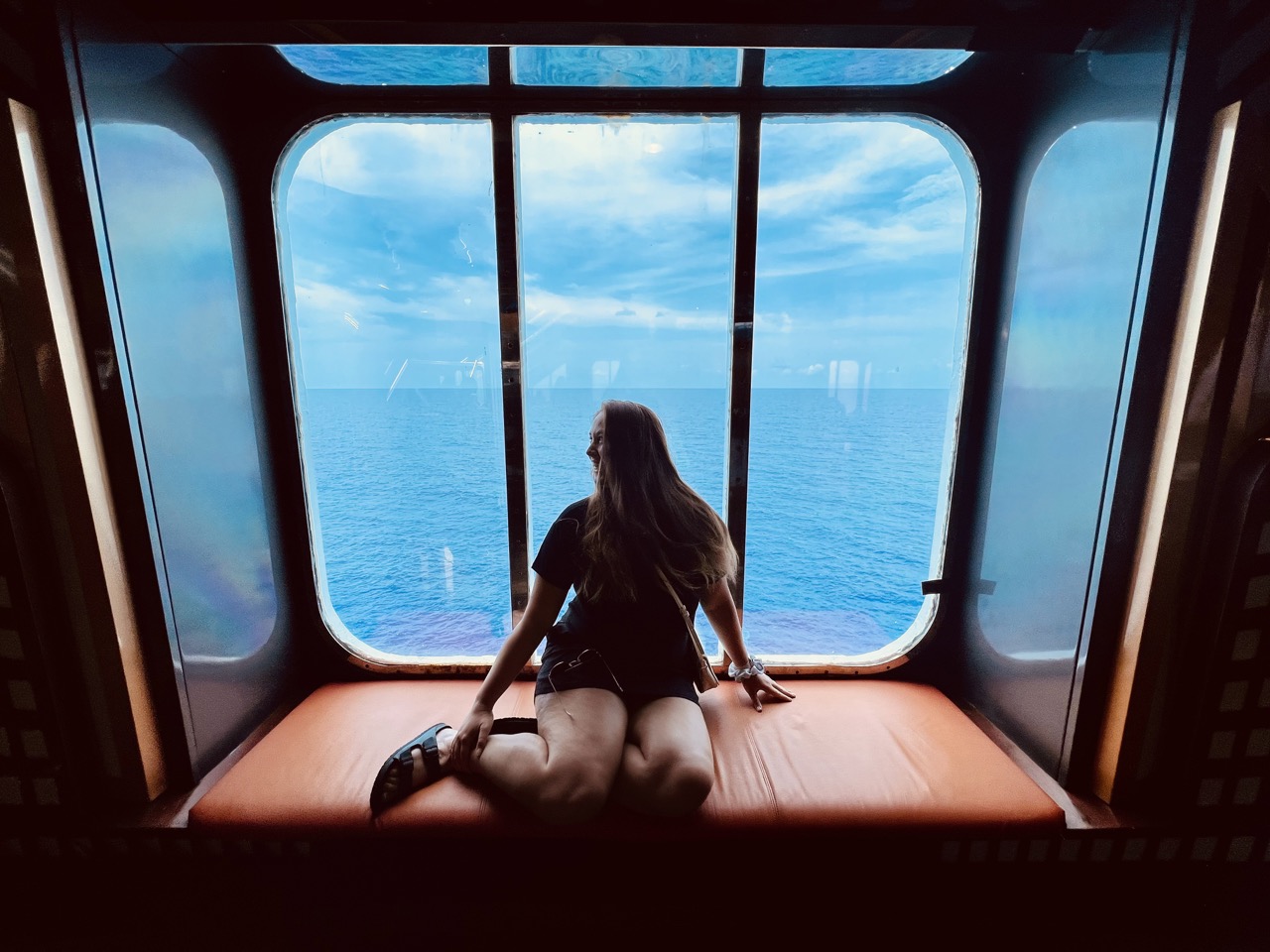 Realistically speaking, taking a cheap cruise requires you to have the right mindset and expectations. Whenever I snag a cheap cruise deal, I have to keep an open mind and maintain a positive attitude. As I've gotten older, I've learned the hard way that some deals are good to be true and more often than not, you get what you pay for. 
While not always true, most cheap cruises are on older and smaller ships. Each cruise line and ship has its own unique ambiance and environment. You can't spend pennies on a cruise and expect to receive top-of-the-line service on a luxury ship.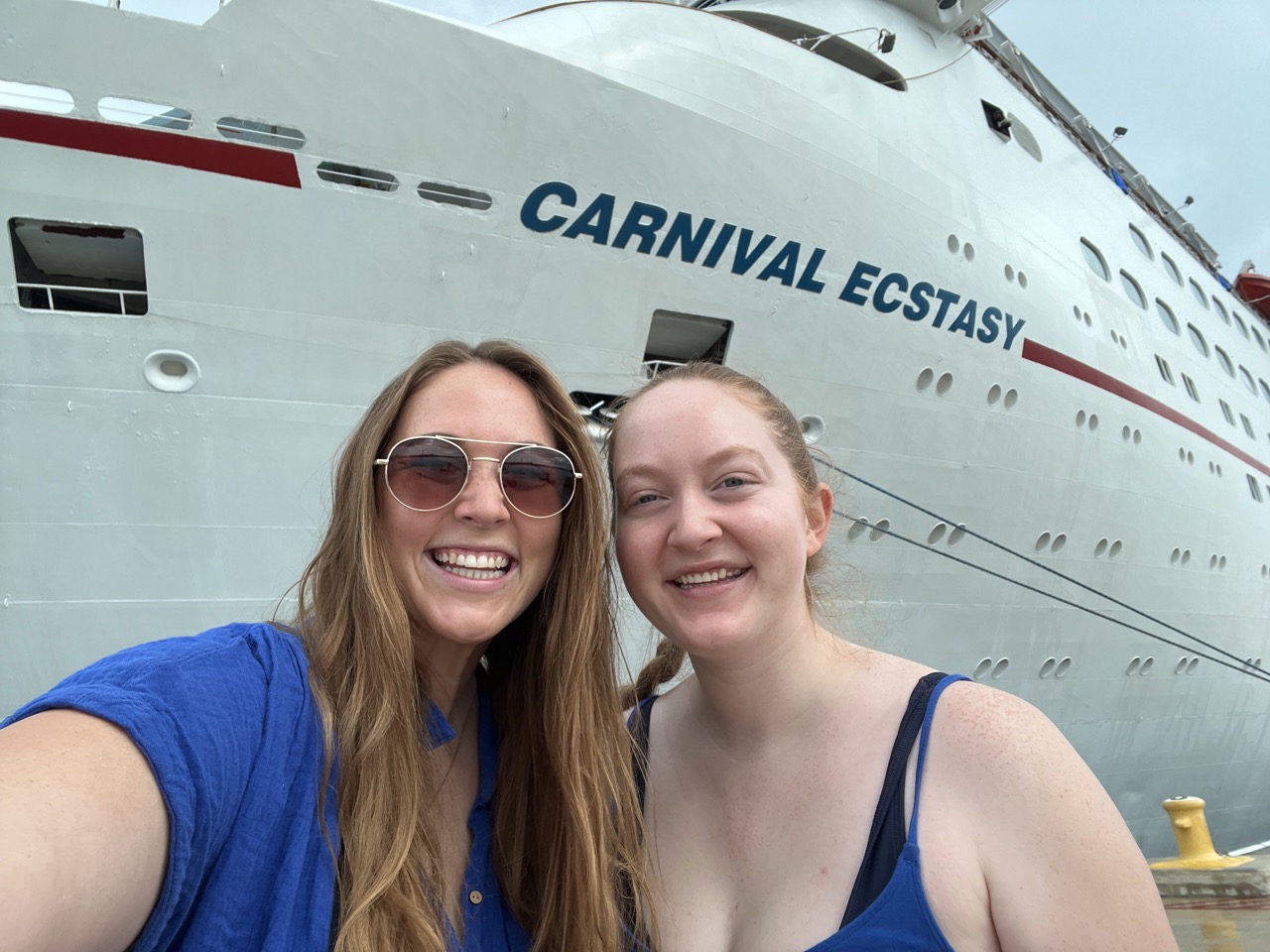 When I sail on a cheap cruise, I keep my expectations pretty low so nothing can really disappoint me. Just recently though, I had a surprising experience with a very cheap cruise that I found on a last minute sailing on Carnival Ecstasy. This sailing was incredibly cheap and my low expectations were actually exceeded, which was something I never anticipated happening.
Why I love last minute cruising
Overall, I've found that booking a last minute cruise is much easier logistically than booking other types of last minute trips. All I have to worry about is getting to the port on time and everything else is essentially taken care of. There's no need to plan activities, research things to do or make reservations in advance for restaurants. 
When you take into account that a cruise includes lodging, food, entertainment and transportation for the duration of your itinerary, it can be an incredible way to save money while still getting away to enjoy a relaxing vacation.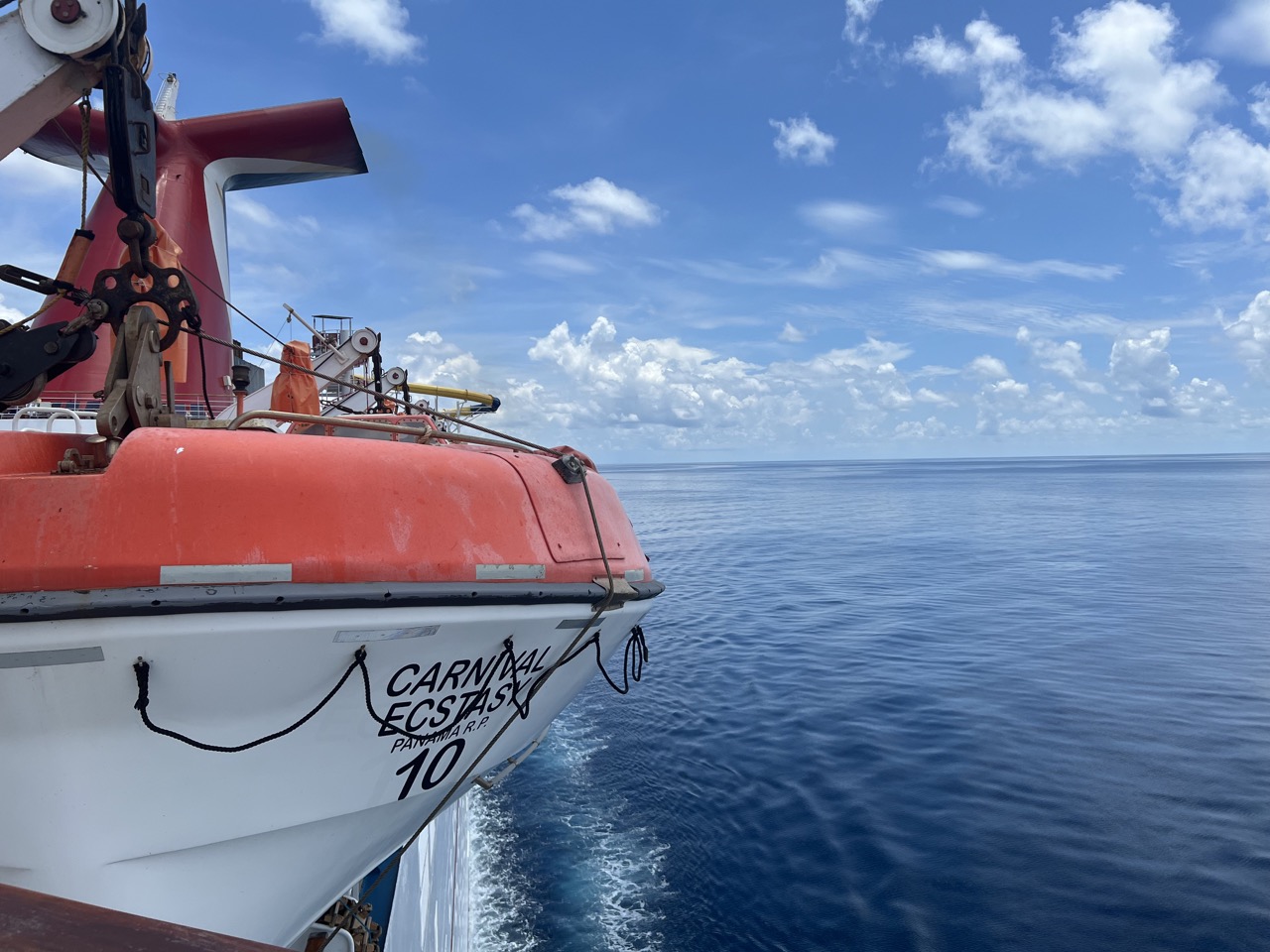 In my opinion, weekend getaway cruises are even easier to plan since I don't have to worry about taking time off at work. 
Don't get me wrong - I firmly believe there's a time and place for cheap cruising. I still splurge on booking cruises far in advance that feature cool itineraries and newer ships. 
The stars really have to align to make a last minute cruise work. If you have a busy life (like me) and can't commit to something months or years in advance, last minute cruising can be an especially great option.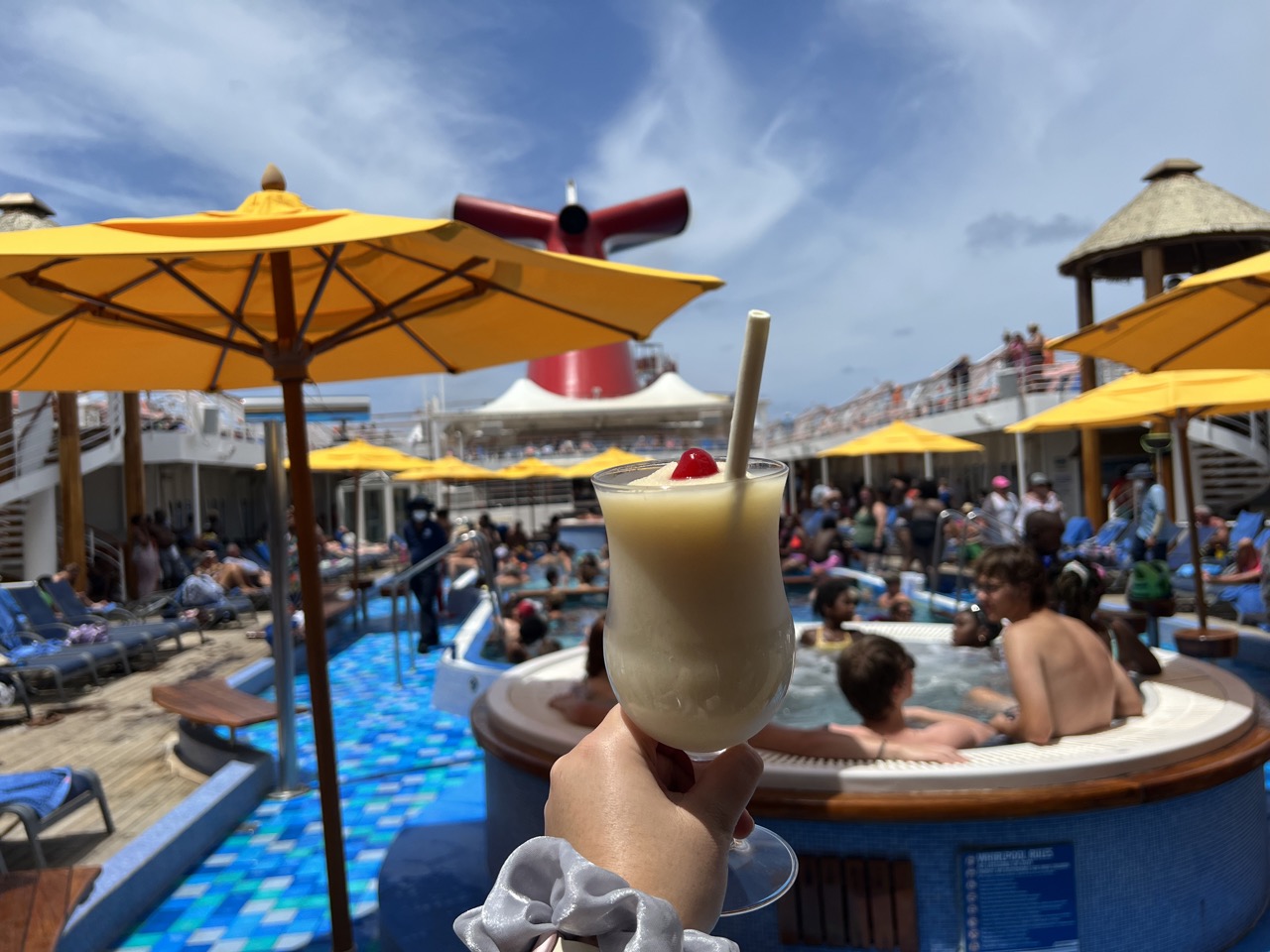 Not only can you save a lot of money on a last minute cruise, but you also don't have to worry about paying deposits for a cruise so far in the future that may not even work for your schedule. 
Finding the cruise
Just a few weeks ago, I was looking at various cruise ports close to my home in Destin, Florida. I am lucky to live within driving distance to multiple cruise ports, including Port Canaveral, Tampa, Jacksonville and New Orleans. These ports are anywhere from 4 to 6 hours away, which is very doable but still a trek.  
But, I was really excited to discover that Mobile, Alabama was a cruise port. This port is less than 2 hours away, which makes logistics even easier and cheaper.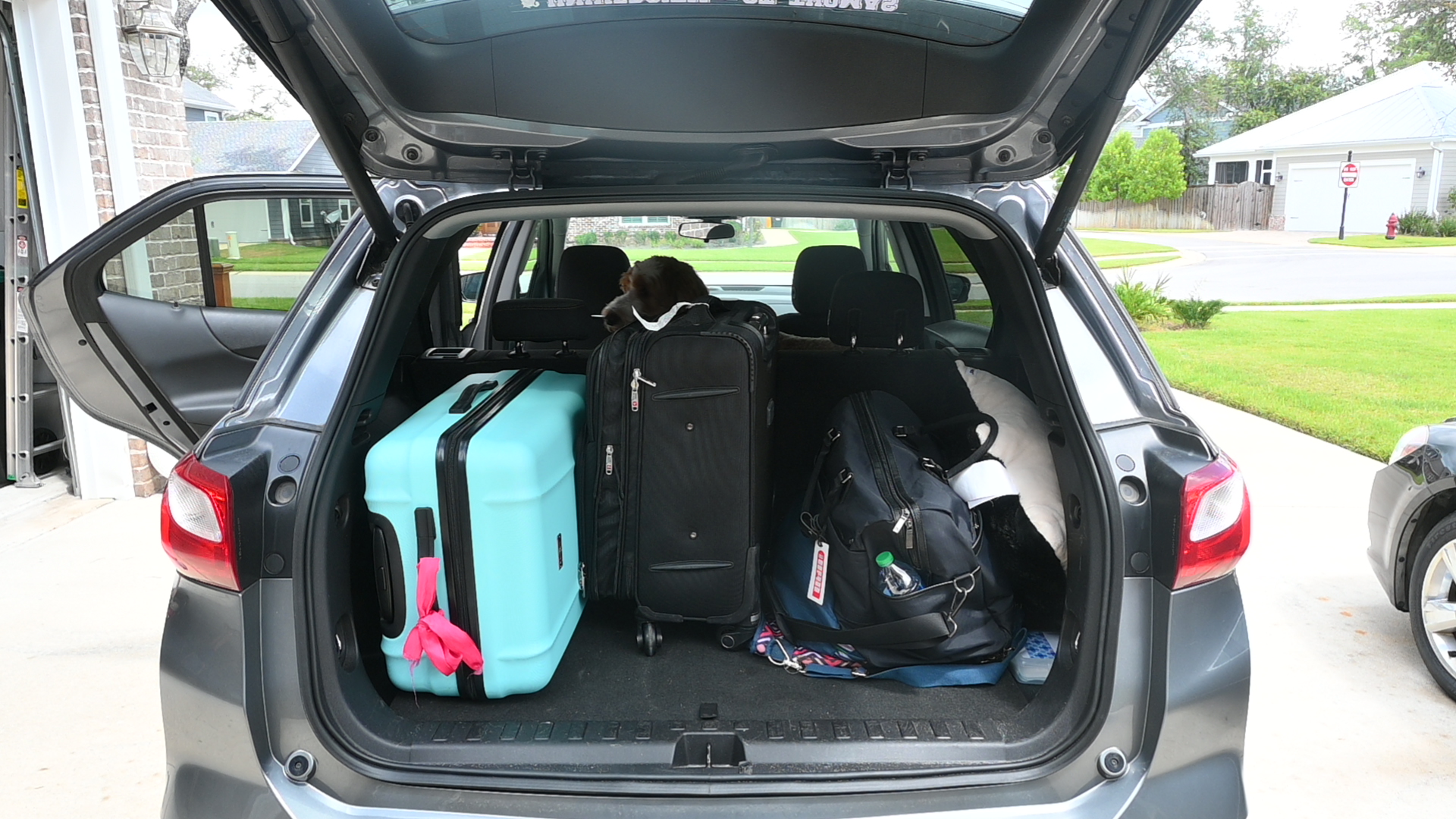 At the end of July, I started to research cruising options for the month of August. I knew I had two free weekends and I also knew my husband would be home to watch the dogs. As much as I love my pups, they can be the biggest hindrance for successfully taking a last minute cruise. 
I started to look at Royal Caribbean's cruising options, but I really didn't feel like making the trek to their nearest cruise port since this requires up to 14 hours of driving roundtrip. These options also require a hotel for the night before the cruise. 
Although I felt like I was cheating on Royal Caribbean, I started to research cheap cruises available on Carnival Cruise Line, which is known for having dirt cheap cruise fares. 
Weekend Getaway from Mobile
Looking at Carnival's cruise fares, I could immediately tell the prices were cheaper than Royal Caribbean's. 
I saw a Carnival Cruise itinerary from Mobile, Alabama for only $519 for 4 nights onboard Carnival Ecstasy. The itinerary featured two Fun Days at Sea and one day in Cozumel, Mexico. This price was for an inside guarantee, meaning we wouldn't get assigned a cabin until the day of the sailing.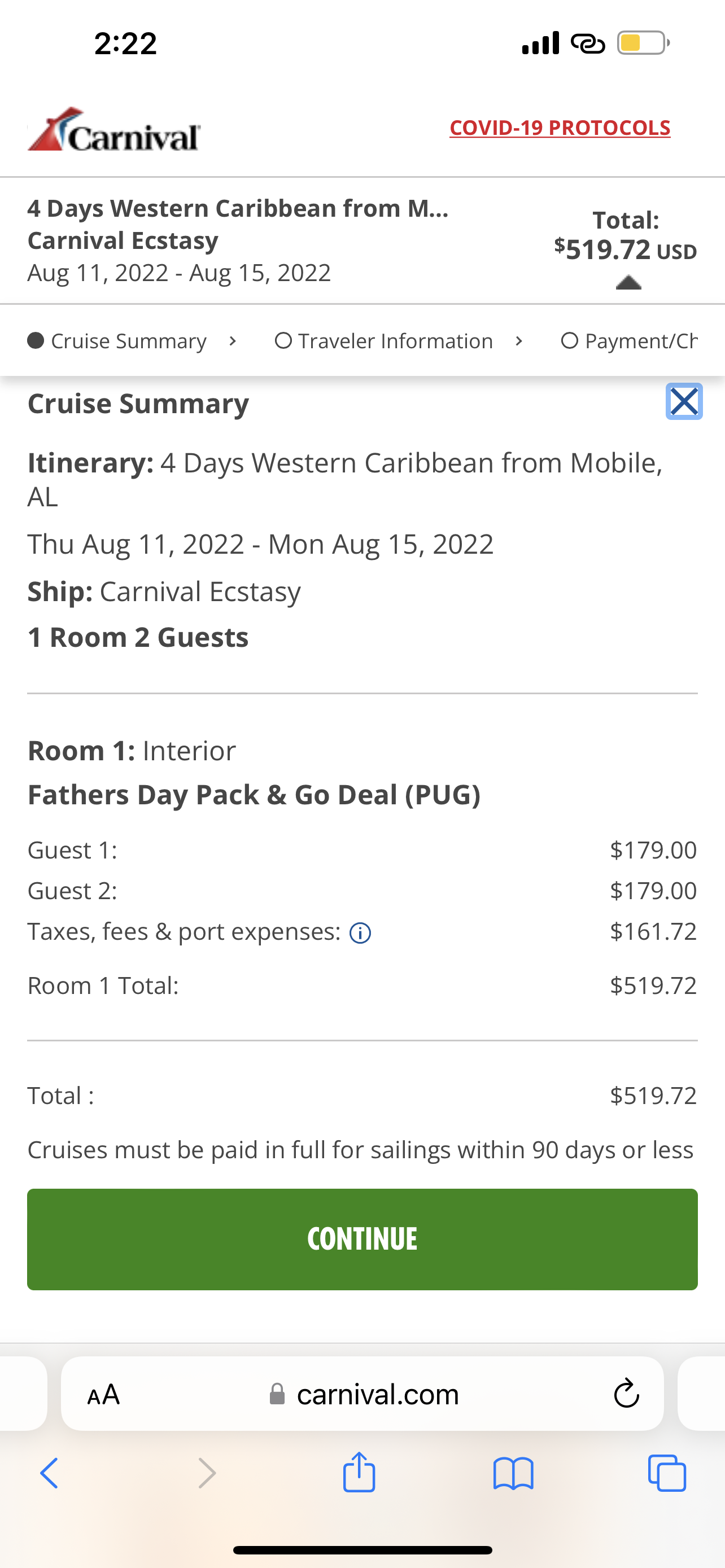 The price of $519 was for the both of us, including taxes and fees. Gratuities added an additional $130, bringing the total to right around $650 for the both of us. 
There was a catch, of course - as there usually is when you find a deal that seems too good to be true.
I was not familiar with Carnival's fleet at the time, so I had no idea what Carnival Ecstasy had to offer. Come to find out, Carnival Ecstasy is the oldest cruise ship in Carnival's fleet. Built in 1991, Ecstasy is not only the oldest cruise ship sailing for Carnival Cruise Line, but also the oldest ship when comparing the fleets for virtually every major cruise line.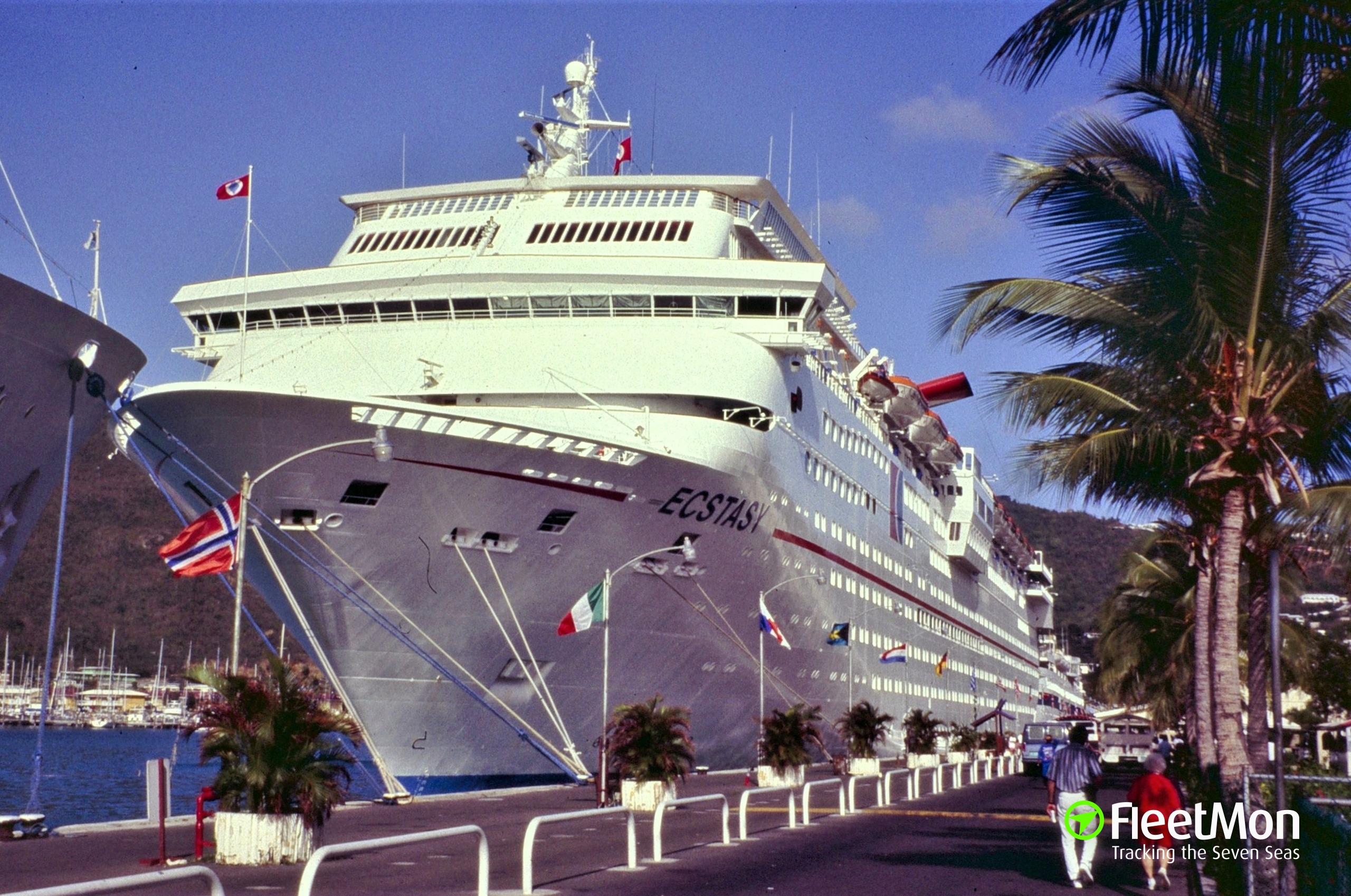 We also learned that Ecstasy was retiring from the Carnival fleet and going to the scrapyard (where cruise ships go to die) in October 2022!
We decided to pull the trigger anyway, as it would certainly be an adventure if nothing else. We've never cruised on a ship that was 31 years old, so we had no idea what to expect. We were eager to see what Ecstasy had to offer, as it had been over a decade since we have both cruised with Carnival. 
Last minute logistics
Being able to drive to a cruise port is a game-changer for cheap cruising because airfare can ruin your travel budget quickly. The close proximity definitely makes last minute logistics much easier. 
Because Mobile is only 1.5 hours away, we also didn't need to get a hotel for the night before. I've never been able to drive to a port on the same day as the cruise departs, since the drive has always been too far to risk it.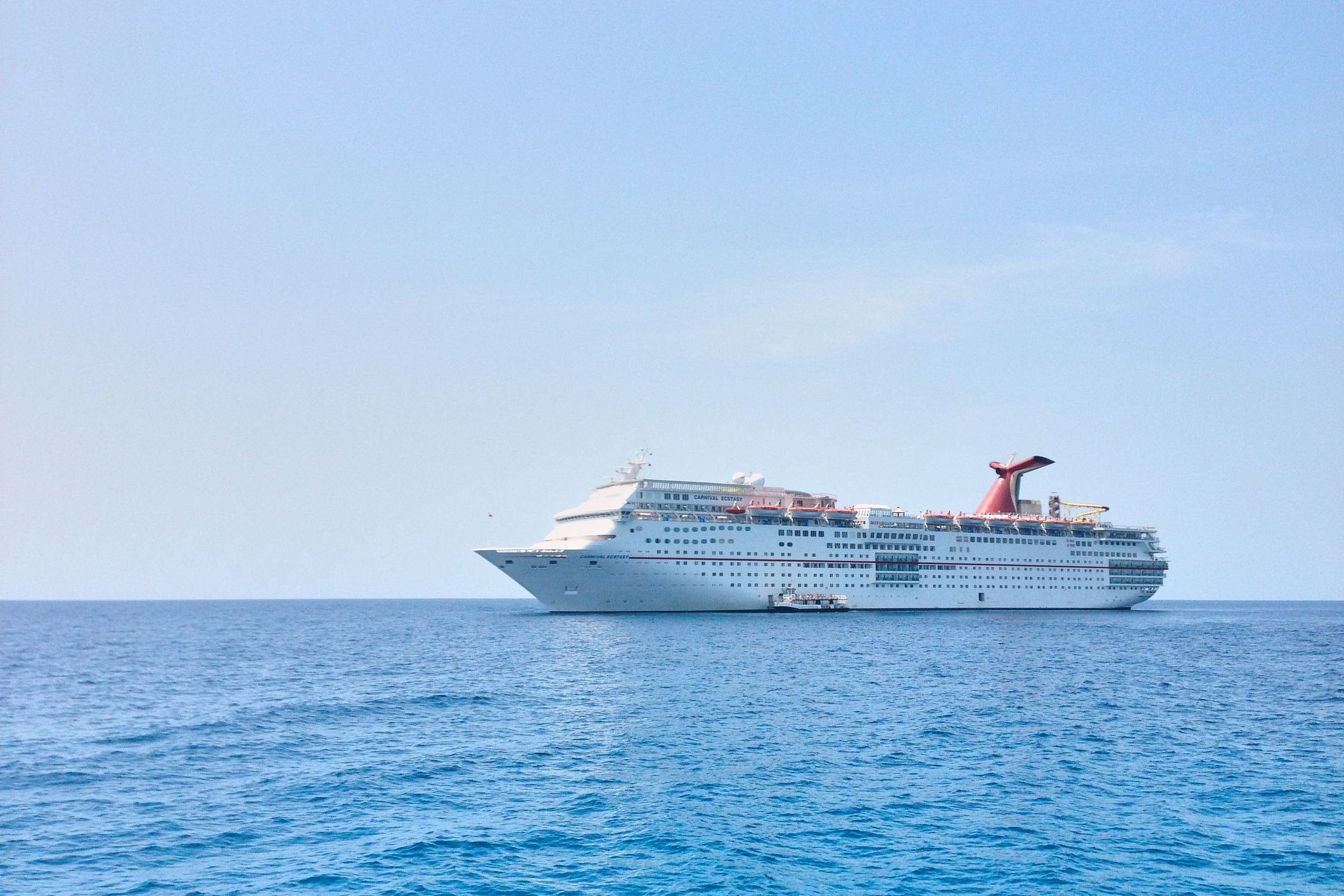 This weekend getaway cruise left on a Thursday and returned the following Monday morning. My sister and I both work remotely, so taking time off work wasn't an issue since there would be internet onboard. 
We didn't know how reliable the connection would be considering Ecstasy's age, but we hoped for the best. 
Prior Carnival Experiences
As I mentioned, I hadn't sailed on Carnival in over a decade. My first Carnival cruise was a 4-night cruise with my family during high school over spring break. Even though we were loyal Royal Caribbean cruisers, it was substantially cheaper to cruise with Carnival instead. 
I remember enjoying the food, entertainment and activities onboard. There was nothing to complain about, although we agreed that we enjoyed the Royal Caribbean experience more.
A few years later, my husband (then boyfriend) and I cruised on Carnival during our college spring break. Again, it was about $200 cheaper to cruise with Carnival instead of Royal Caribbean. Back in college, we didn't care about having a more upscale experience. We wanted to have a fun spring break with good food, yummy drinks and cool entertainment. We actually have really fond memories of that spring break cruise. Although the ship (Carnival Fantasy) was older, we had so much fun both onboard and ashore.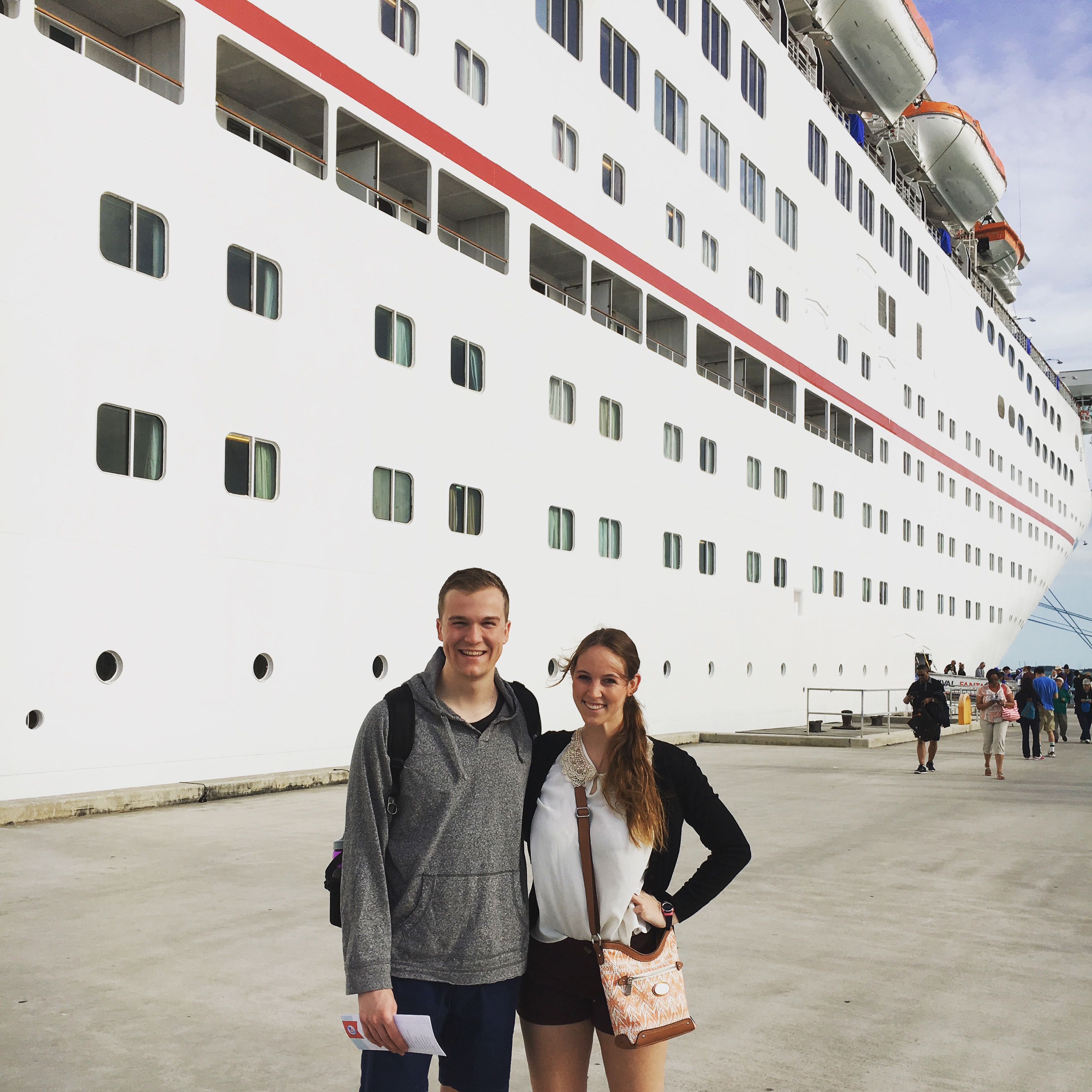 Since then, I haven't cruised with Carnival because we've been exclusively cruising with Royal Caribbean. We love the experience offered and we value being loyal to the brand. Now, we also get really lucrative loyalty perks with Royal Caribbean, which definitely plays into our decision making. 
With Mobile being so close to our home, I'd probably be willing to try any cruise line simply because of how convenient the port is. 
Low Expectations
Although I've had 2 positive experiences, I was worried that I had outgrown the party scene on Carnival's ships. I wasn't sure if the cruise would be tons of college-aged kids looking to get trashed all weekend, which certainly isn't my vibe anymore. 
Given all of the information we found about Carnival Ecstasy and seeing how cheap the cruise would be, our expectations were realistically set very low. 
When I first Googled the ship's name, the first thing that came up was 'Carnival Ecstasy Ship Death'. This took me by surprise and my jaw actually dropped to the floor in disbelief.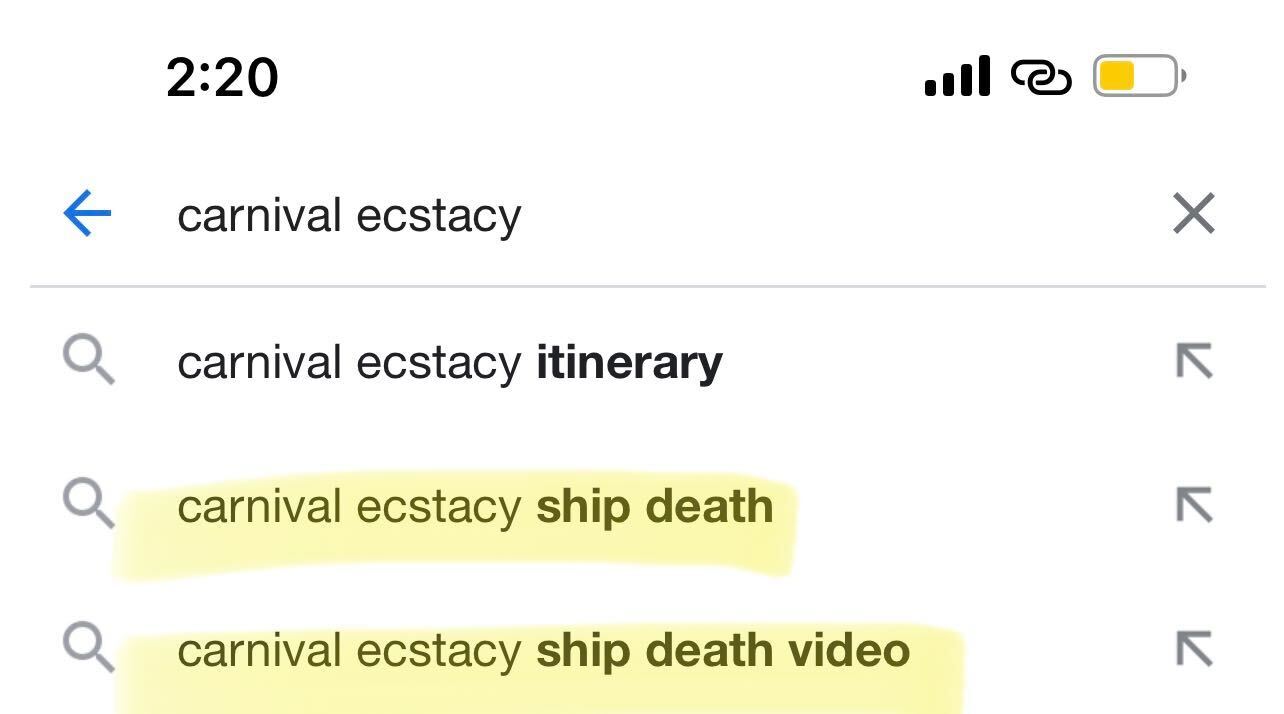 (This was referring to an incident on board a few years back, which sadly resulted in the loss of a maintenance crew member). 
Just recently, Carnival Freedom was in the news for having her tail burst into flames, leaving guests stranded in the Bahamas. There have been reports of fights breaking out onboard Carnival ships. 
Quite frankly, this didn't totally surprise me because it went along with the stereotypes of Carnival that I had in my mind. Everyone on social media jokes that Carnival is the 'Spirit Airlines of the Airport' and the 'Walmart of the Seas'.
It was hard not to have a preconceived notion that this cruise could be janky, trashy and maybe even scary. I joked with my family, "I hope we live to tell the tale!".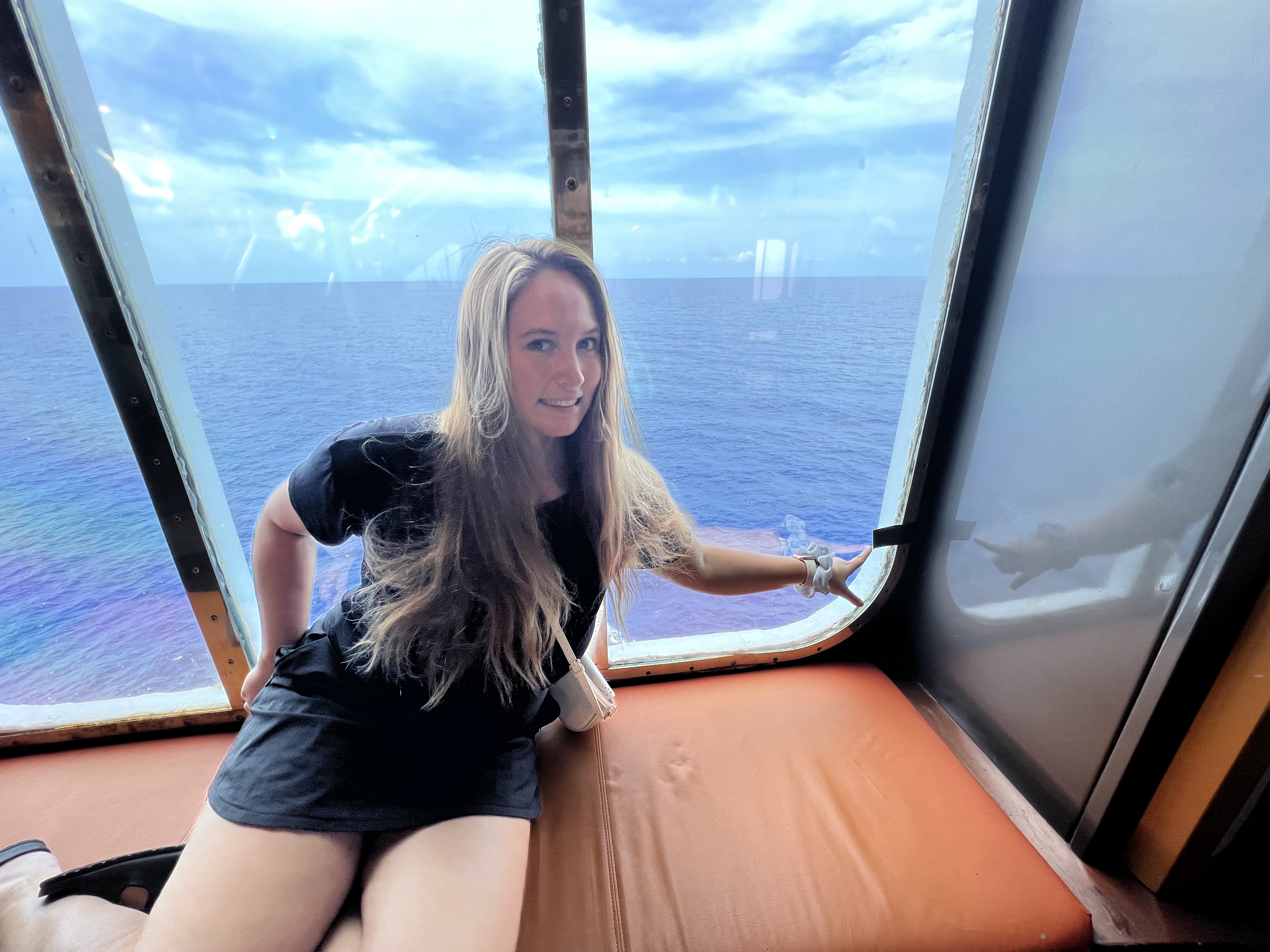 There was a little bit of truth to that - I knew that deep inside, I was a little nervous about the experience we would have on this cruise. After all, no one wants to spend money on a vacation that they don't enjoy. 
But, the rational side of my brain knew that these incidents could happen on any cruise line. These are isolated incidents that are rare and almost certainly wouldn't happen to us on our cruise. I know cruising is one of the safest forms of travel; millions of passengers embark on cruises and safely return without incident each year. 
I also started to read reviews on Carnival Ecstasy, which helped me get in the right mindset. Past cruisers were raving about the experience onboard, even despite the ship's age. Everything is about perspective and as a lifelong cruiser, I knew that all cruises could be fun cruises with a good attitude. 
Cruising Day
The morning of the cruise, we woke up at home and worked a little bit before hitting the road at 11 AM. This would get us to the port area in time for our 1:30pm boarding time. 
As we pulled up to the port, we could see the famous Carnival tail in the distance. We squealed, "Here we go!" as we drove into downtown Mobile.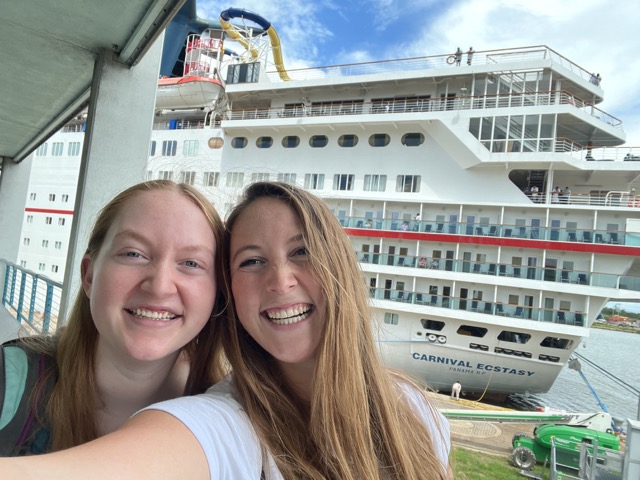 Driving by the ship, we both stated how Ecstasy appeared compared to modern cruise ships. We agreed that she definitely looked old with a very traditional, 90's style of architecture and design. 
Parking at the port cost $80 for the 4 nights, although we had to park offsite and wait 30 minutes for a shuttle to take us back to the terminal for check-in and boarding. 
Boarding took more than an hour, probably because Mobile is not a popular departure port. I think Carnival Ecstasy is the only ship this summer sailing from the terminal, so they don't have a well-oiled machine like busier ports do.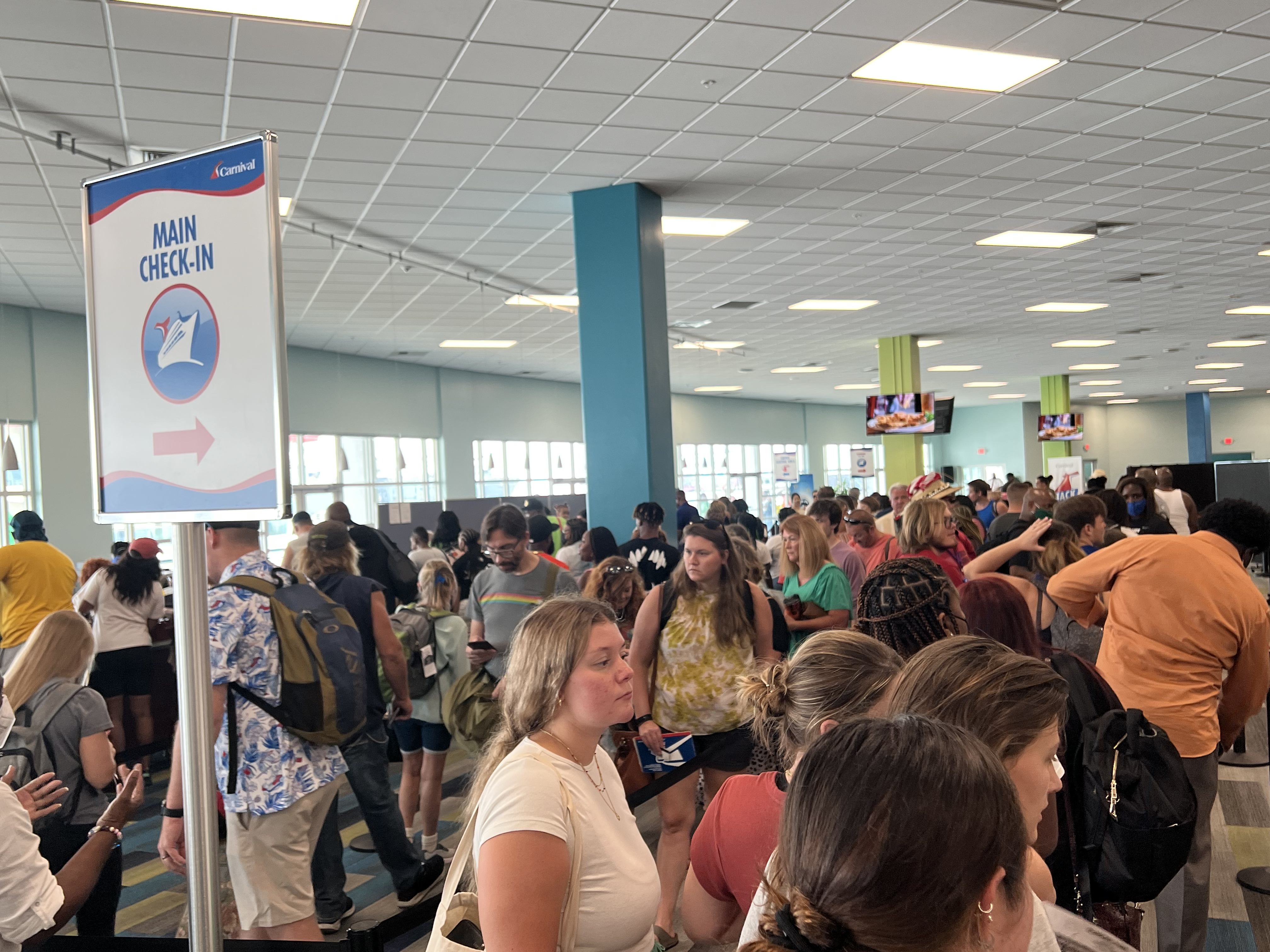 As we boarded the ship, it felt like we were transported to 1991. The walls were brightly painted with neon colors. The ceilings were low, making it feel much more cramped than newer ships. Everything felt very dark with not a lot of natural light.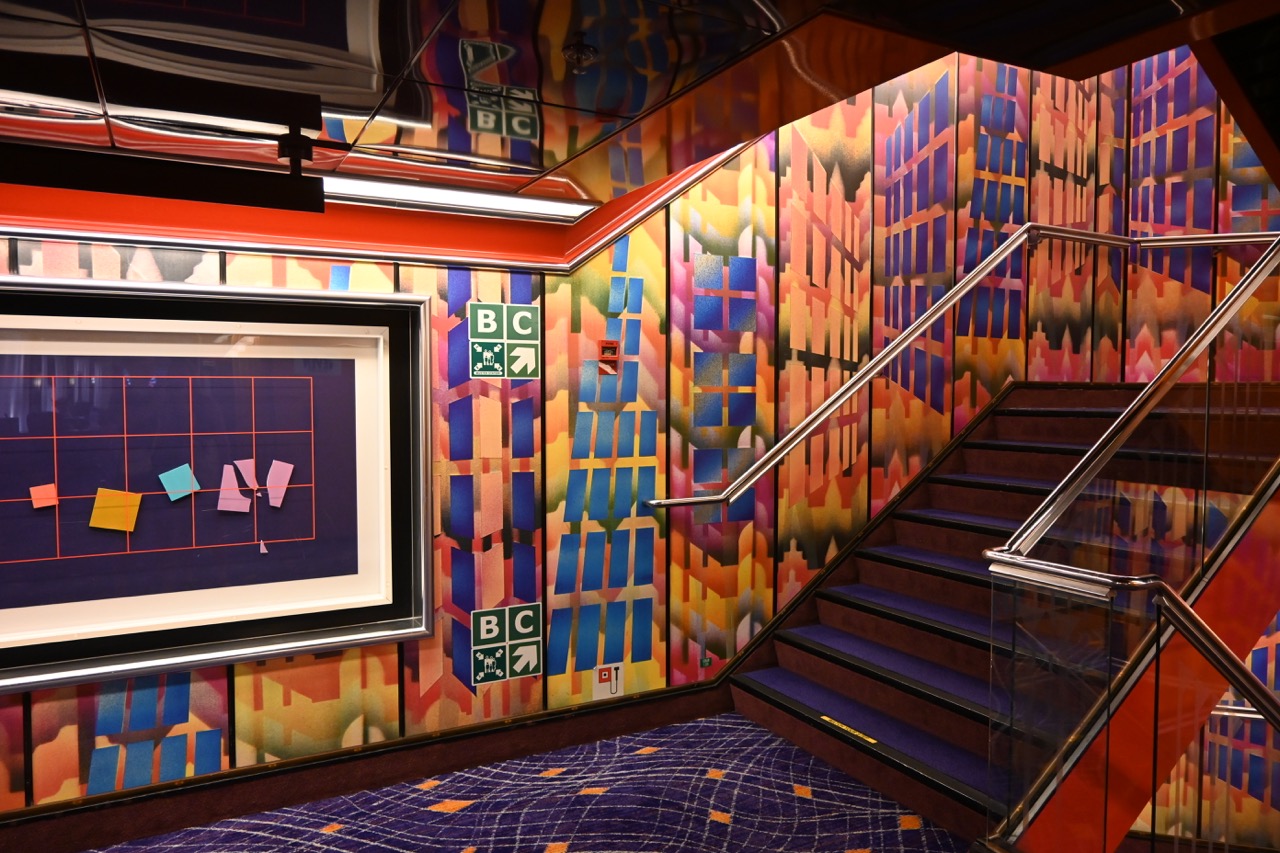 Luckily, everything appeared to be very clean and well maintained. This immediately provided some sense of ease that Carnival hadn't let the ship start an early deterioration. 
Stateroom Impressions
Our stateroom was M162, which initially meant absolutely nothing to us. We asked where M162 was and the crew member said 'Deck M'. We laughed because we had never been on a ship that didn't have the decks numbered. We learned that Deck M was really Deck 5, so we made our way downstairs to drop off our luggage.
M162 was considered mid-ship and we were located near the center staircase. It was nice to be centrally located, although I was worried it would be noisy (spoiler - it was!).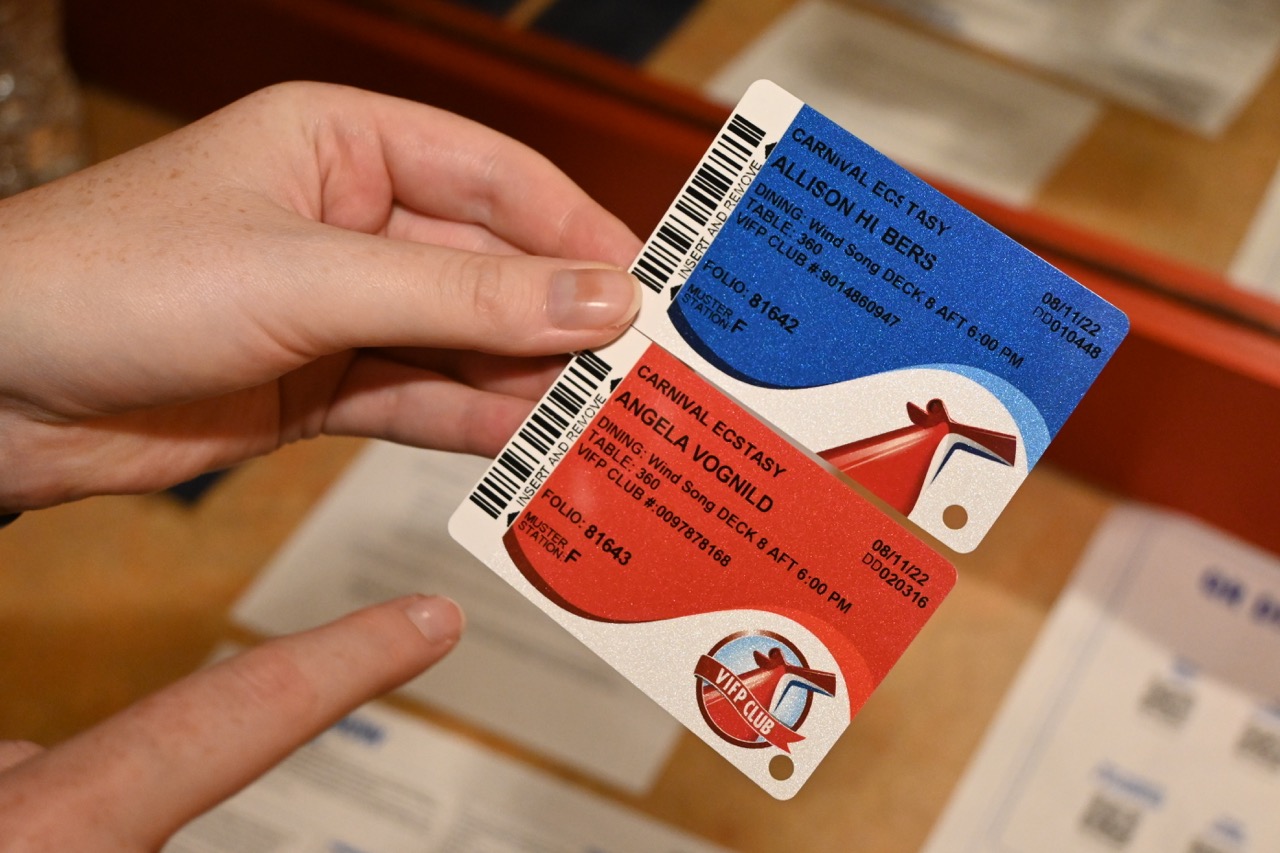 The hallways felt brand new, and noticeably wider than newer cruise ships, as we made our way to our inside cabin. 
As we opened the door, we were pleased with the initial appearance of our stateroom. There were 2 twin beds inside with a small TV. A vanity with a mirror and drawers was on the adjacent side of the room. A standard closet with a safe, shelving and hangers was next to the vanity. 
Image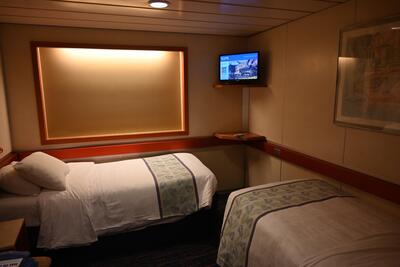 We found 2 huge water bottles on the vanity, along with some masks and informational sheets. 
The bathroom definitely took us aback. We opened the door to find bright blue, bubbly and squishy flooring across the tiny bathroom. The shower was larger than we were used to, although the shower curtain looked like it would cling to us (spoiler again - it did!). The toilet was so close to the wall that I almost had to sit sideways.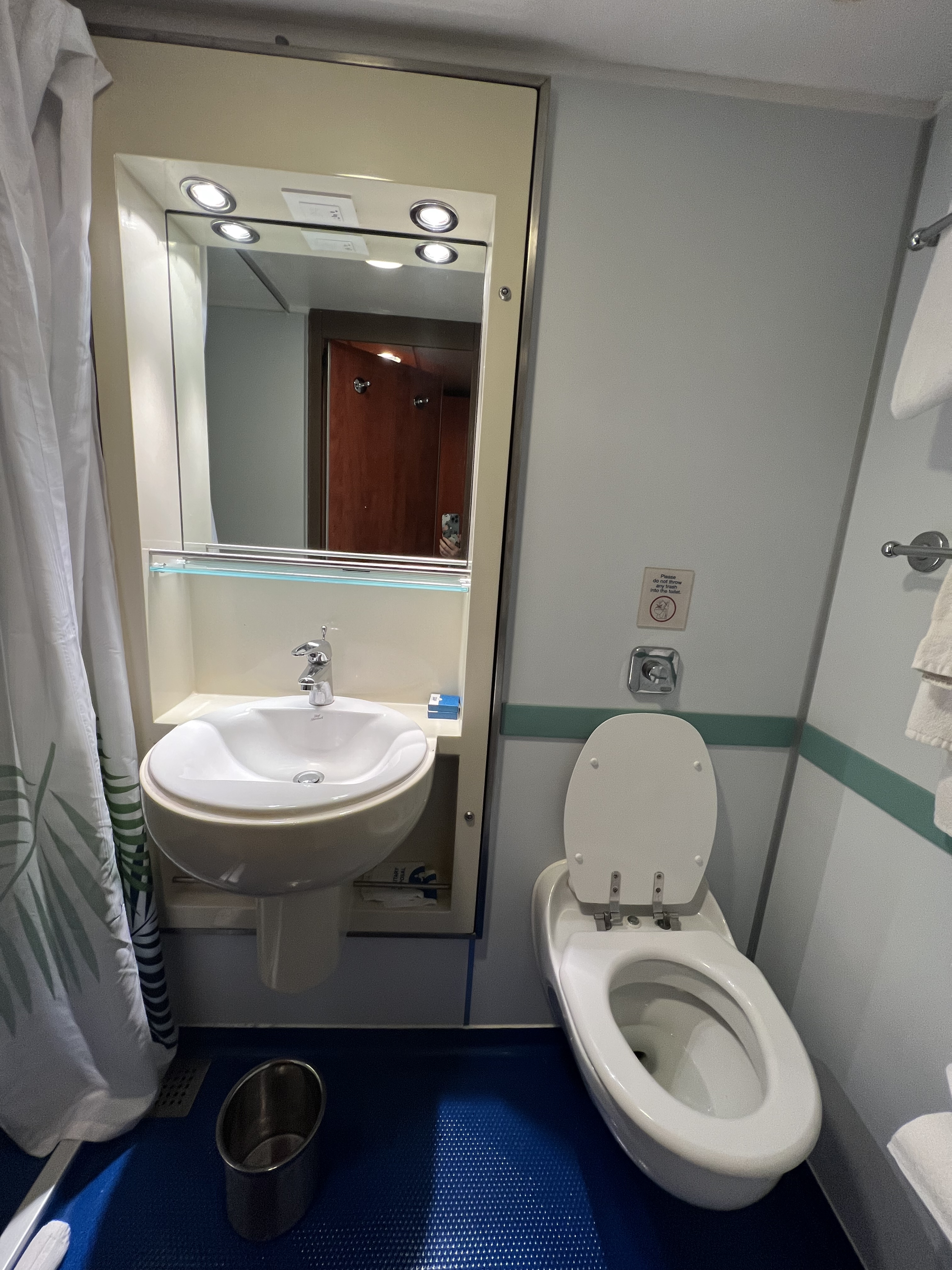 The bathroom had everything we needed though. And really, who cares too much about the bathroom anyway?  Most importantly, it was very clean so we appreciated this as well. 
The decor in our cabin was minimal, but we didn't expect it to be modern, trendy or anything of the like. We knew it would be outdated. It almost felt like visiting your grandma's house. There's something comforting about it even though it's not brand new. 
As I had read online, there was only one plugin for the room. This is where the room really showed its age! My sister and I had to rotate who could use the outlet, but it wasn't a major pain for 4 nights. Luckily, I had a plugin that had multiple USB outlets to charge multiple devices at once. 
We both questioned the purpose of the faux window on the wall, which was essentially a big indent in our room. A mirror might have been better here, but again, we didn't really care.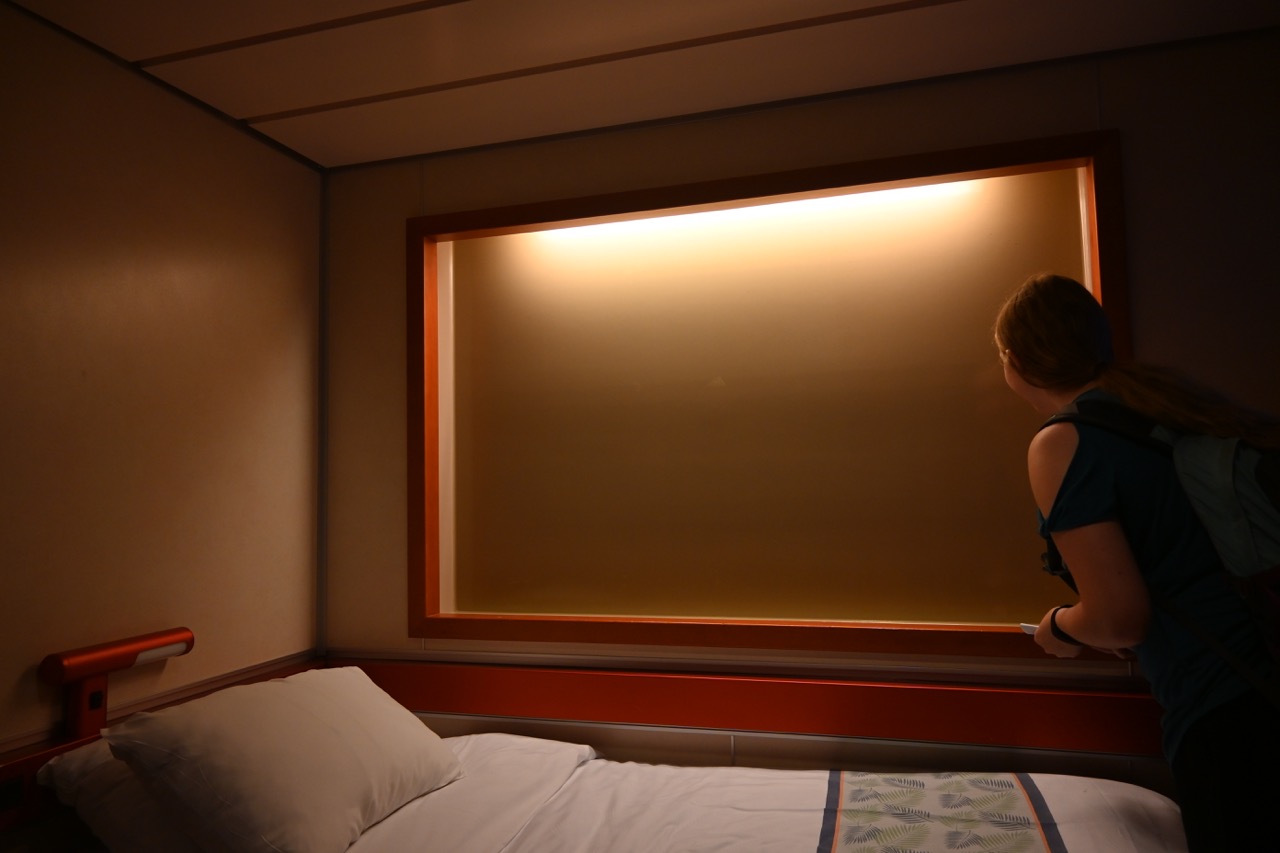 At the end of the day, we were pleased with the stateroom. We knew the decor would be outdated, and it was exactly what you'd expect from a 30 year old ship that's had a few upgrades over the years. We never spend too much time in our cabin anyway. 
Carnival culture shock
This itinerary was a 4-night sailing to Cozumel and back with two days at sea and one day in port. Carnival refers to their sea days as "Fun Days at Sea" so I expected to see a lot of fun happening when we were traveling to and from Mexico. 
I've been to Cozumel more times than I'd like to admit and, admittedly, Mexico really isn't my favorite country to visit. This cruise was more about getting away from day-to-day life and experiencing what the ship had to offer.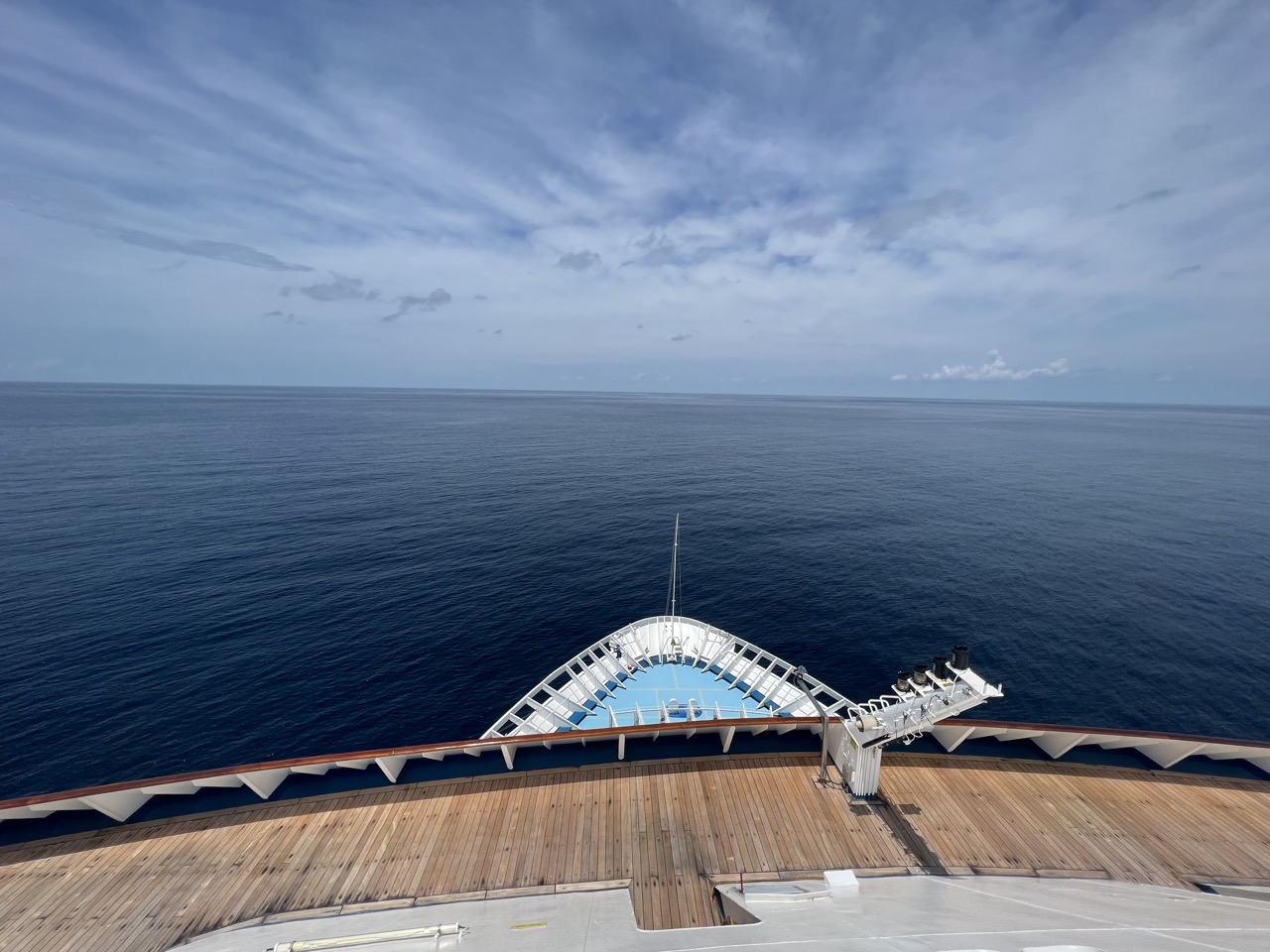 Our first day on the ship was pretty eye opening. I've been living in the south for 2 years now, so I have adjusted to the demographics and the culture here. I don't think twice when I hear someone say "y'all" or randomly yell "Roll Tide". 
But, I've never seen people board a cruise ship using plastic grocery bags as luggage. I think everyone's luggage was probably from TJ Maxx (no judgment because mine is too!). There were some wild outfits that I wouldn't even consider an outfit, but more like pajamas or undergarments. But, to each their own!
It felt a bit like culture shock, honestly! We noticeably struggled to navigate the ship, as nothing seemed to make sense for where certain things were located. Sometimes we had to go up one deck just to get to the opposite side of the ship and go back down to the same deck. We'd get caught in dead ends and get frustrated by not knowing where we were going. 
Ship design has clearly improved greatly, especially in regards to improving the overall passenger flow.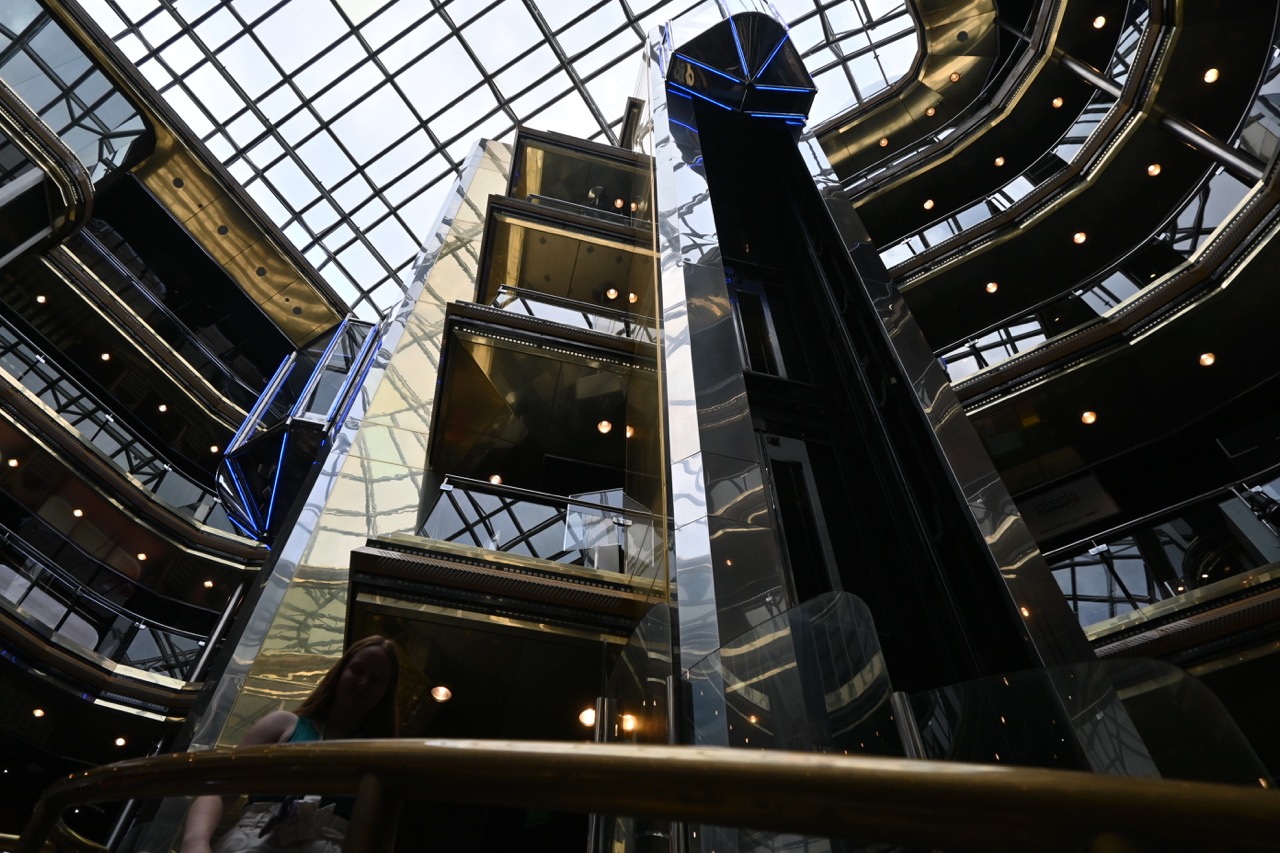 The parties and the fun started almost immediately on the top deck. There was a rowdy granny that started to twerk onstage with the DJ the moment he started playing tunes. The pool deck was filled with people already drunk and dancing to the music blasting through the speakers.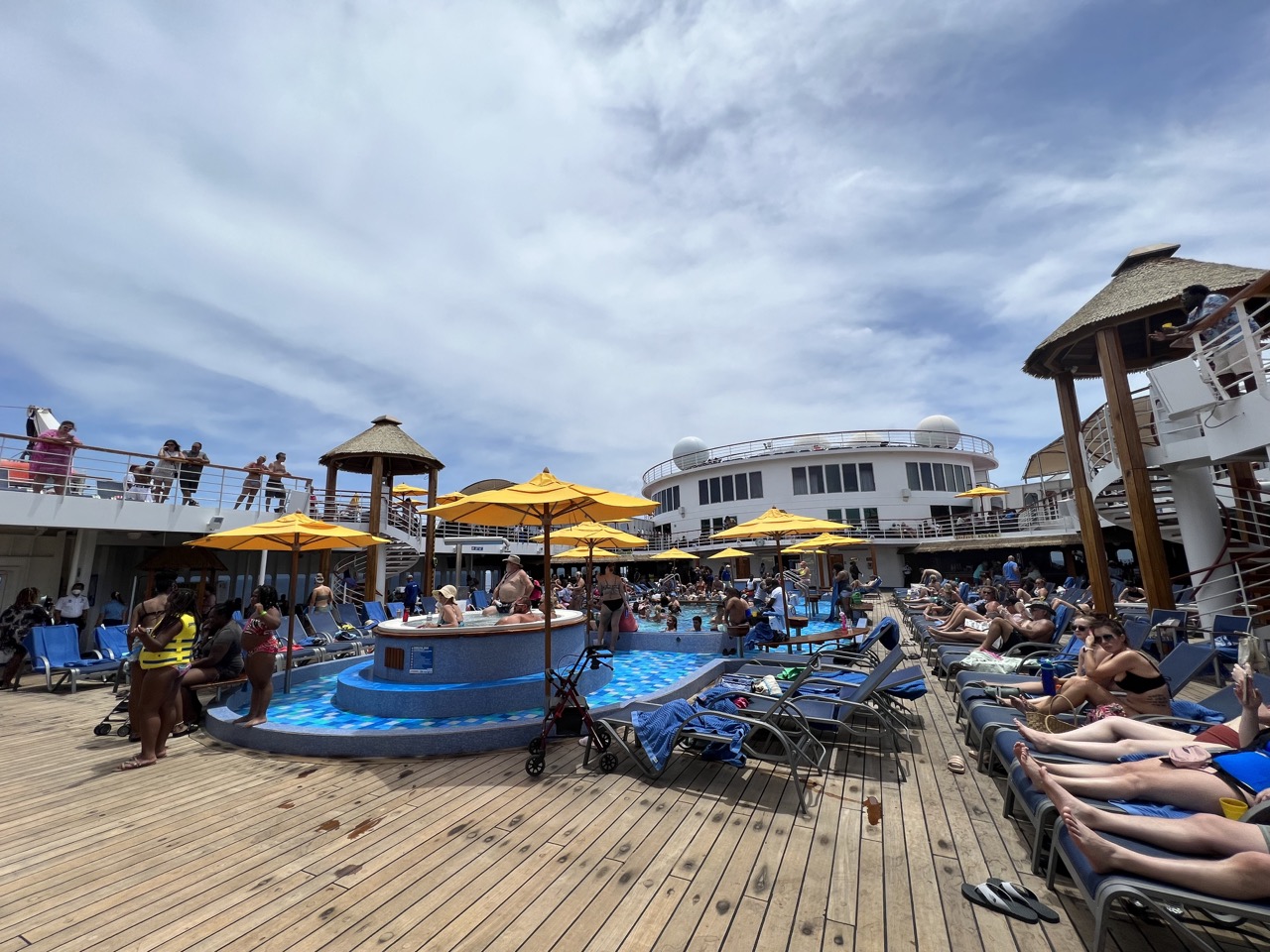 We were a little surprised by it all, as Royal Caribbean definitely offers a more subdued experience. Nothing ever seems to get too wild onboard, at least in our experience. 
The first night, I slept horribly. The ship was so noisy with people constantly walking by our room talking loudly at all hours of the night. Our neighbors (a group of college friends) were also loud late into the night. I was surprised by the number of announcements that started early in the morning and seemingly continued every hour.
Our second day on the ship was our first day at sea. With a short cruise ahead of us, we wanted to stay busy and ensure we got the full onboard experience. 
We tried out the Sea Day Brunch, checked out the adults-only Serenity, had a drink at the BlueIguana Tequila Bar and indulged in Afternoon High Tea. Our evening ended with dinner in the dining room and a comedy show.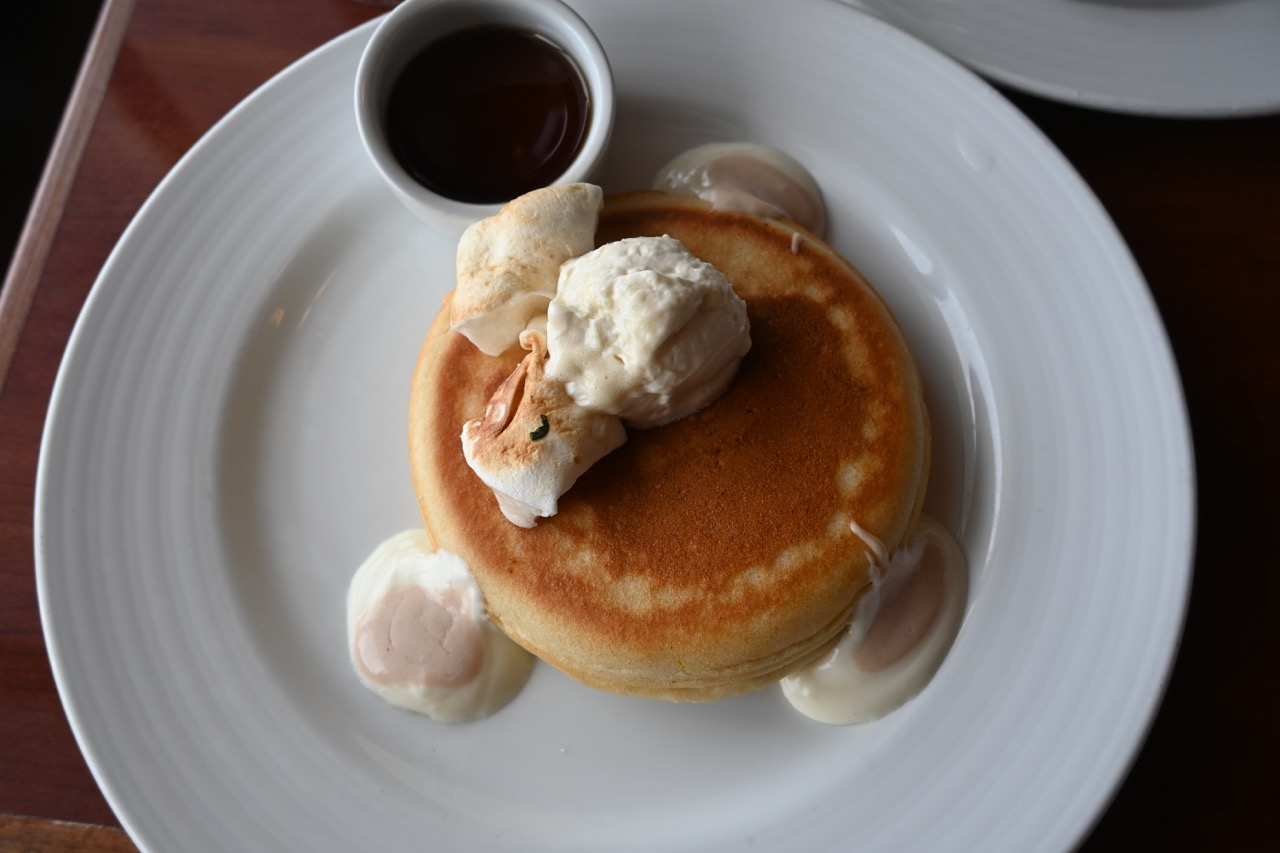 As for the onboard experience, the cocktails were yummy, the Afternoon High Tea had a wide selection of delicious desserts and the Sea Day Brunch really did blow us away. We also noticed that so many people were having fun and everyone was really friendly. It was clear everyone was having a great time on their getaway cruise.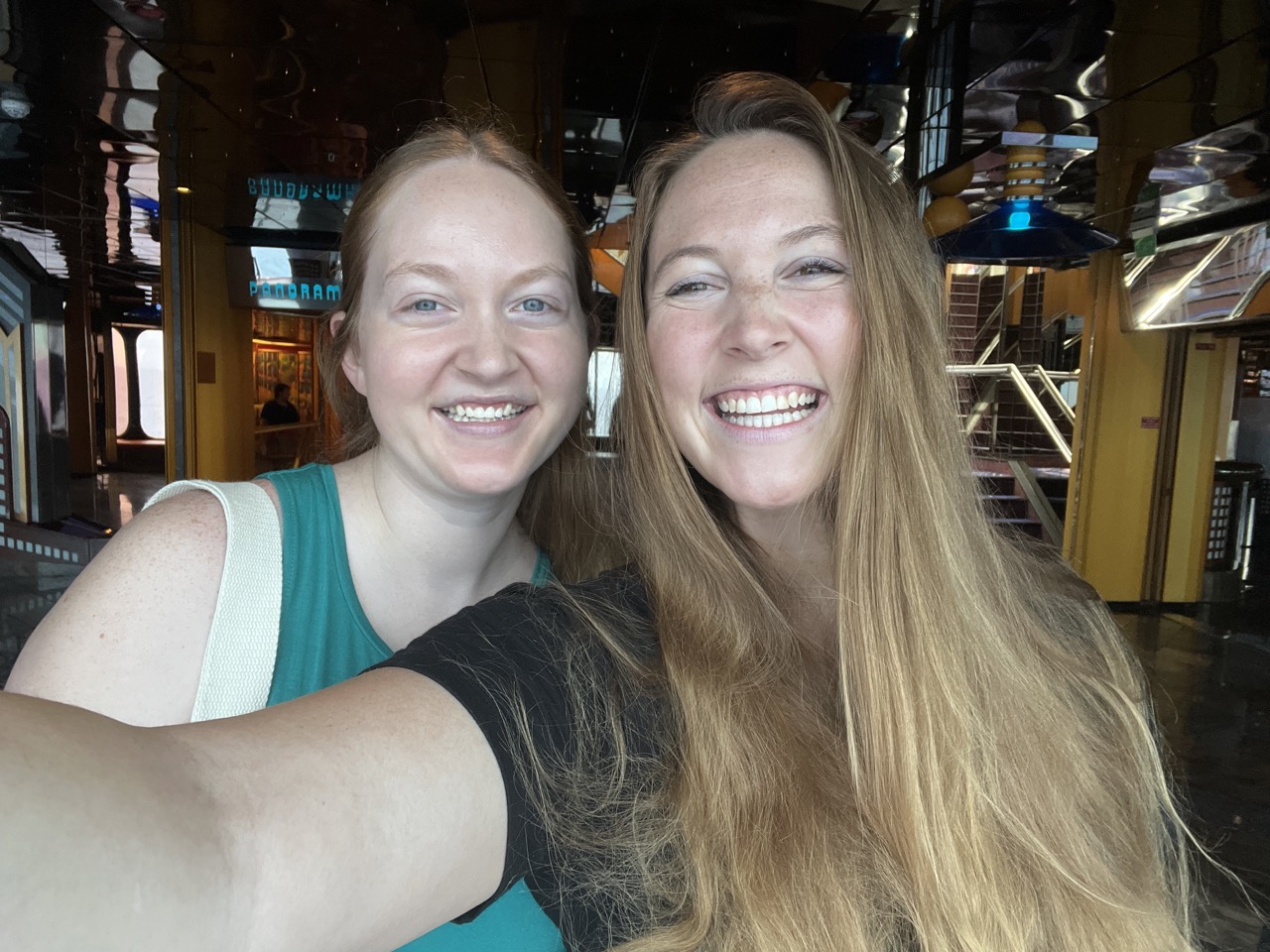 We found ourselves being surprisingly impressed by everything we experienced and tried. Nothing really disappointed us and we were having more fun than I expected. Carnival really leans into its 'Most Fun Ships at Sea' branding - you can't look anywhere without seeing FUN bolded in your face. They can't make an announcement without using the word 'fun'.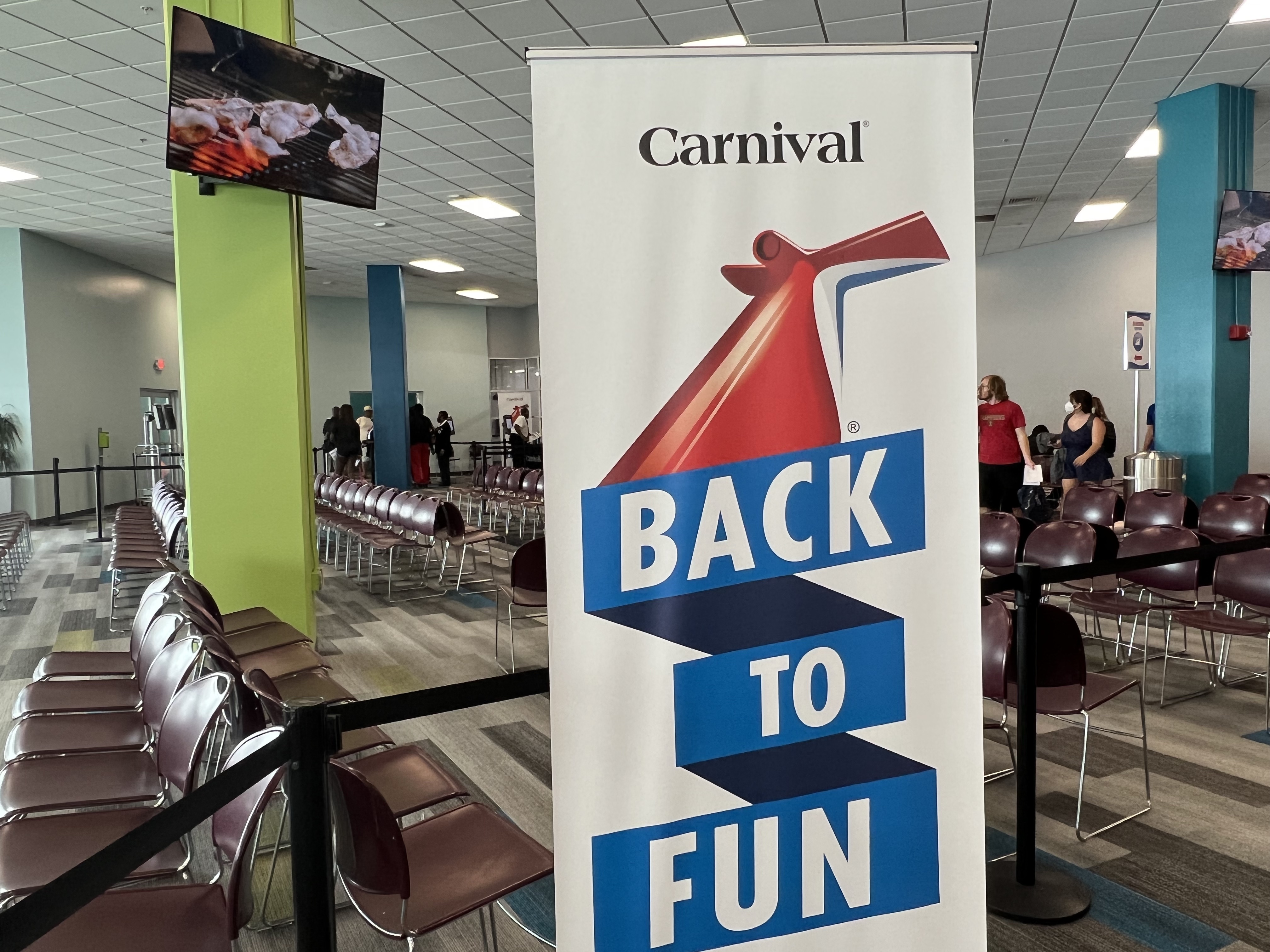 It all reminds me of Rebecca Black's infamous 'Friday' song where she sings, 'Fun Fun, THINK ABOUT FUN'. Carnival not only wants you to have fun, they want you to think about fun every second of your cruise.
Joining the Fun Squad
The third day of our 4-night cruise, we were docked in Cozumel. This was the only port on the itinerary, so we made plans to get off the ship.
During our day in port, we walked to the Del Mar Latino Beach Club. This small, exclusive beach club offers day passes with unlimited food and drinks. The day pass included access to a pool with loungers and also access to the ocean. The beach club was limited to just 30 people, so it was a really enjoyable experience.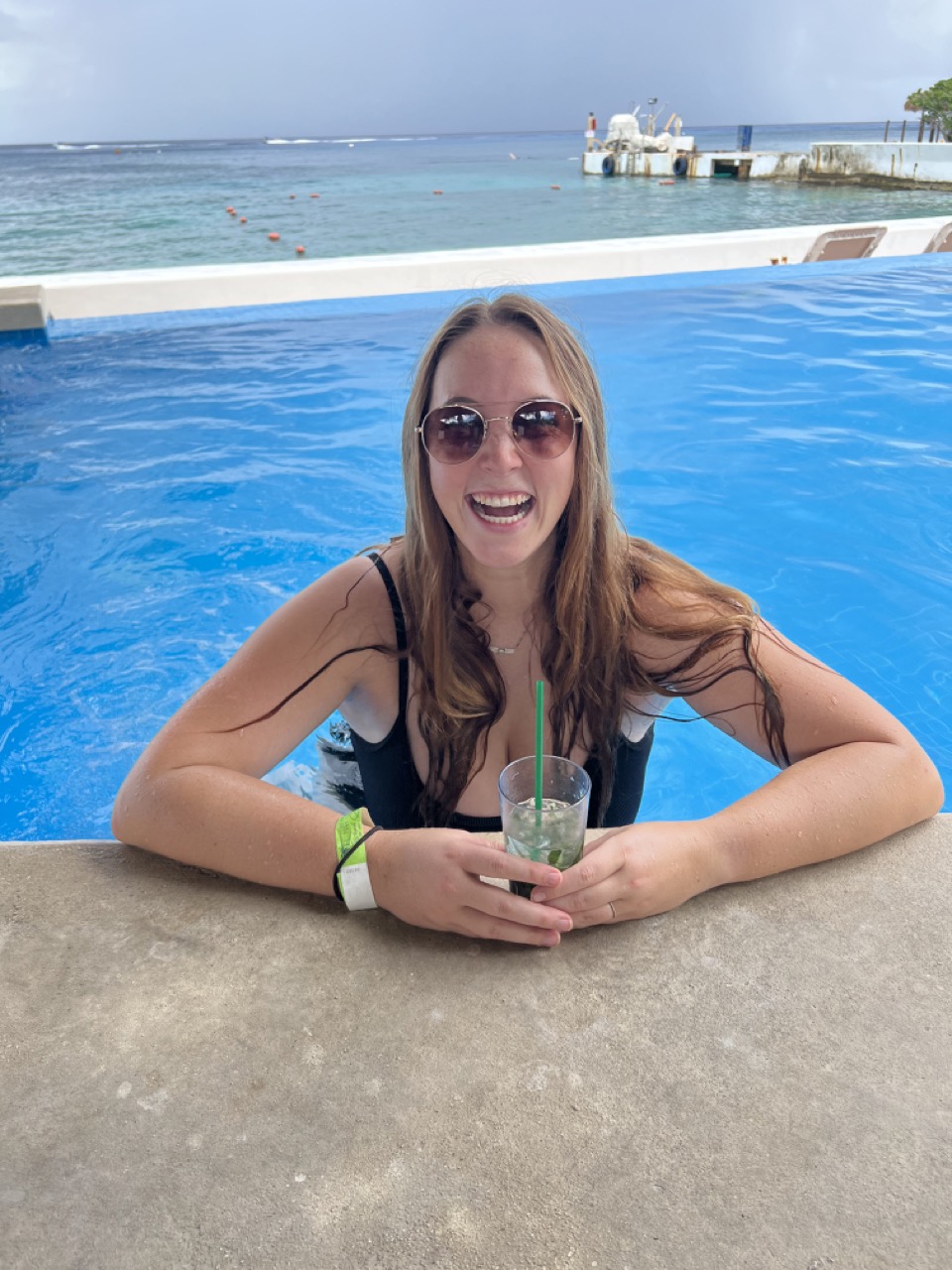 We spent the day in Cozumel trying a variety of tropical drinks, lounging in the pool and sampling some bar snacks. It was a relaxing and fun day in Mexico, and we appreciated how convenient the beach club was.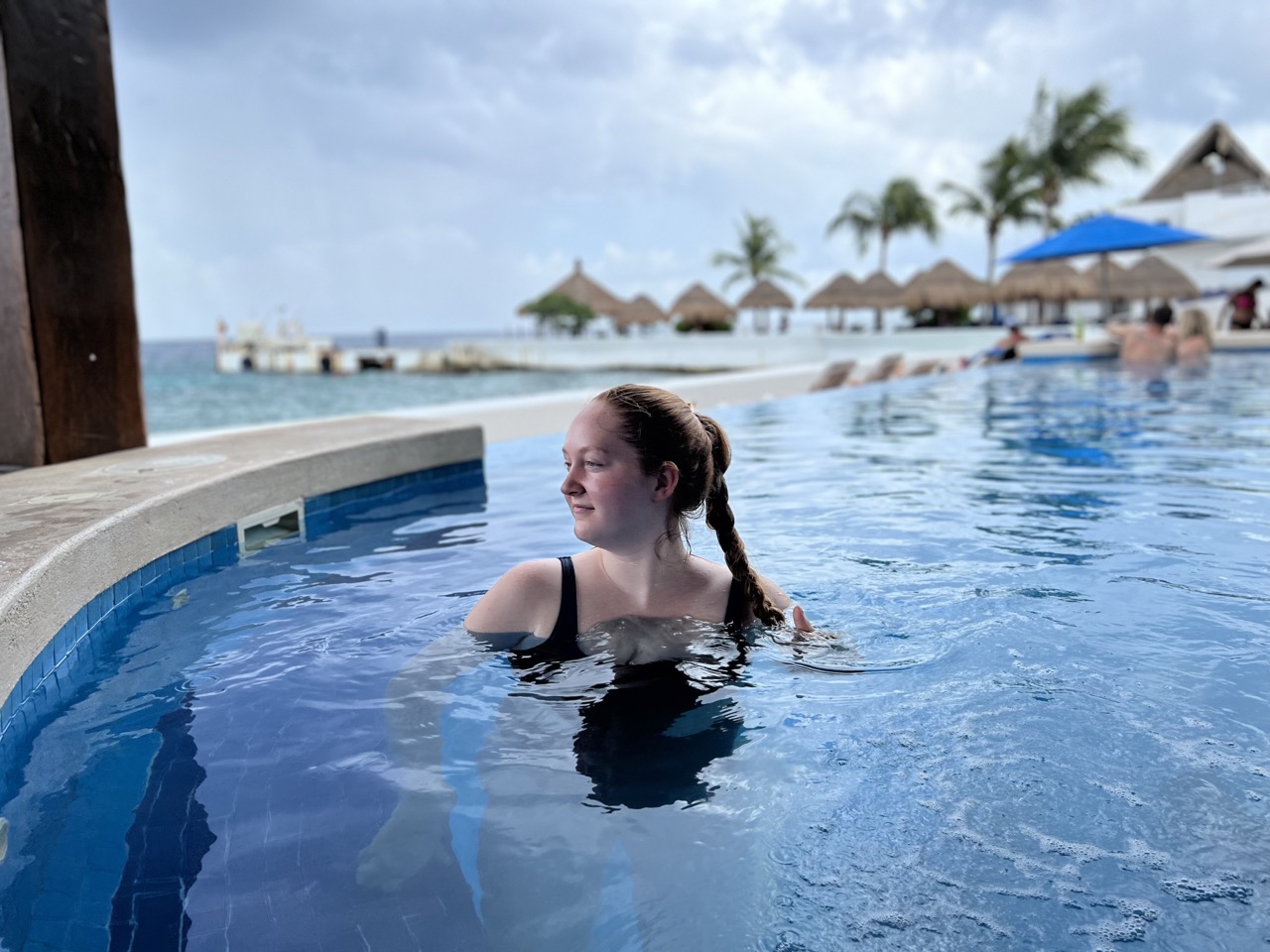 We ended the night with dinner at the dining room and a visit to the comedy club again. We also laughed our way through the Love and Marriage Game Show.
By this point, we were finding things that we really liked about Carnival. For example, the trivia themes were all geared towards our demographics. We are used to 'Name that 60s Tune' and 70s Disco Party, which doesn't appeal to us normally. Events and activities were short too, lasting only 30 minutes. This allowed us to do more and cultivated a higher-paced environment.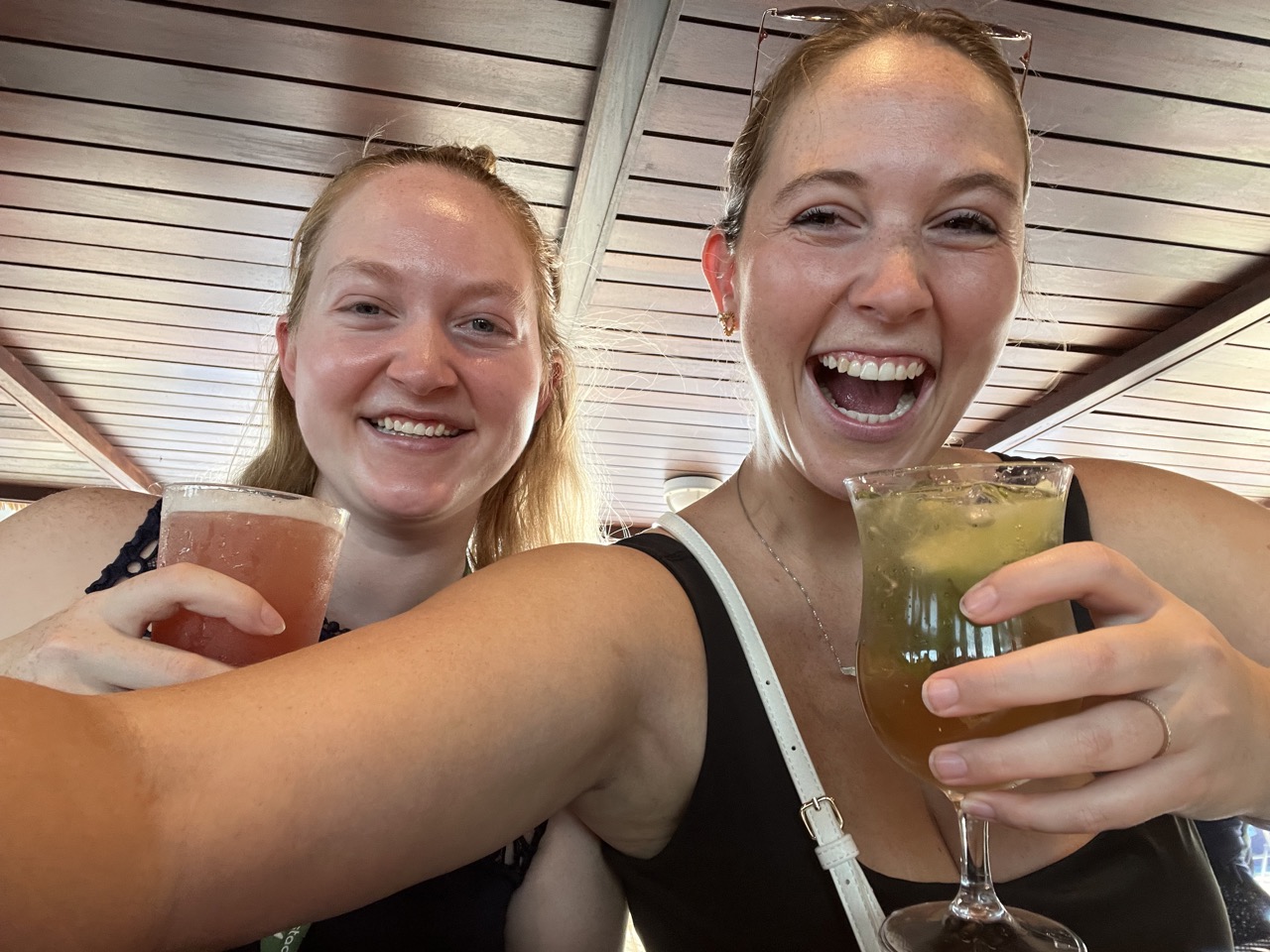 Our last day was another sea day, where we squeezed in everything we could. By this day, we were fully embracing the Carnival culture and having a lot of fun. We could make our way around Ecstasy without getting totally lost. 
We started the morning with brunch, explored the ship, had a few poolside drinks, and crushed it at music trivia.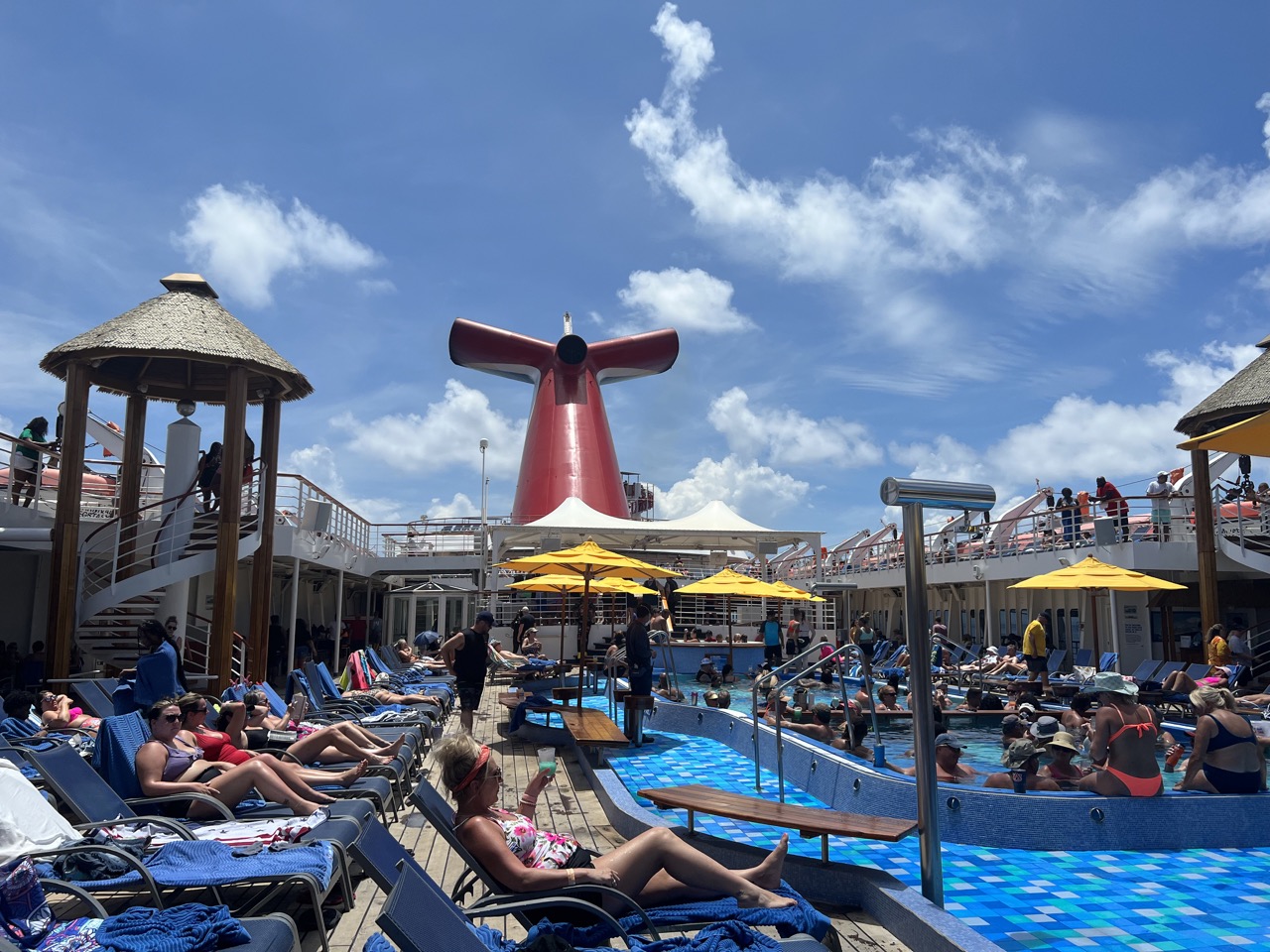 We decided to dress super casually for dinner, just as we saw everyone else do the nights before. I didn't bother putting on makeup, earrings or cute shoes. Normally, I make a special effort to look nice for the evenings onboard the ship - but this wasn't the Carnival vibe.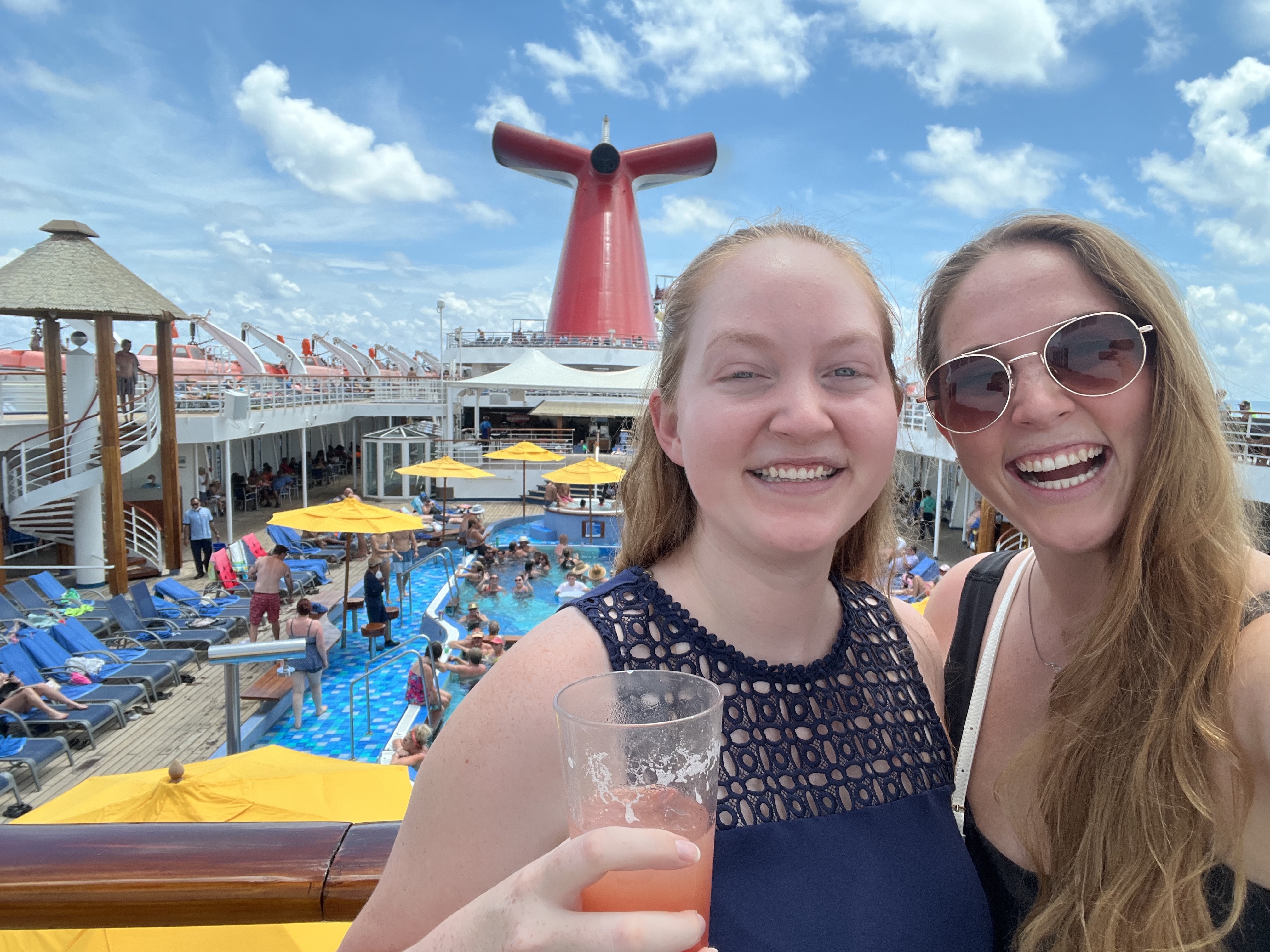 The night ended with one final visit to the comedy club, where we both agreed that we actually were having way more fun on the cruise than we ever expected. I surprised myself by how much fun I was having. Normally, I am too tired to do the entertainment at night but I found myself energized by the energetic atmosphere onboard. 
Dining Options
Carnival Ecstacy had a multitude of dining options for us to enjoy. From Sea Day Brunch to Pizza Pirate, Guy's Burger Joint and BlueIguana Burritos, there were tons of great food options to choose from.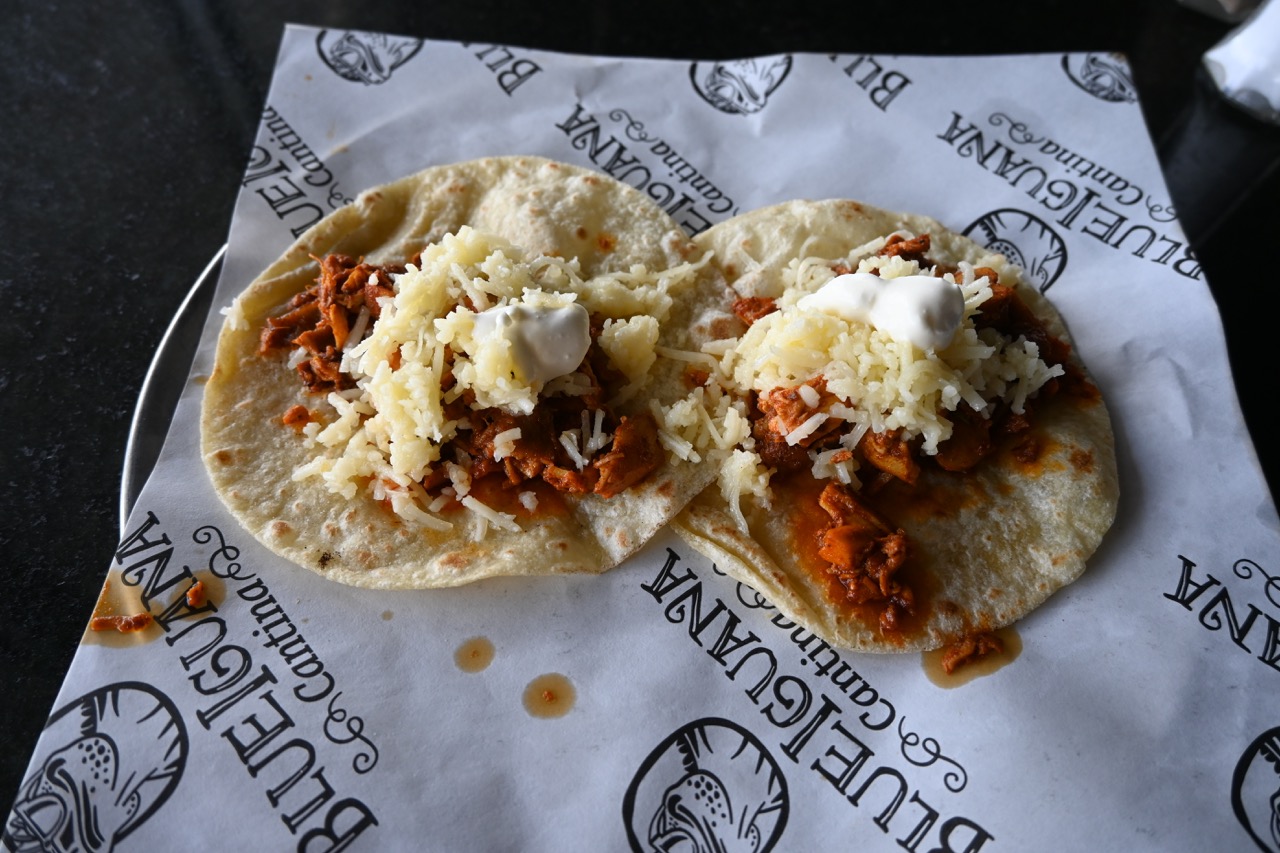 To start, we heard rave reviews about Carnival's Sea Day Brunch, so we were excited to try that first. We were both very impressed with the 12-hour French toast and skillet cake.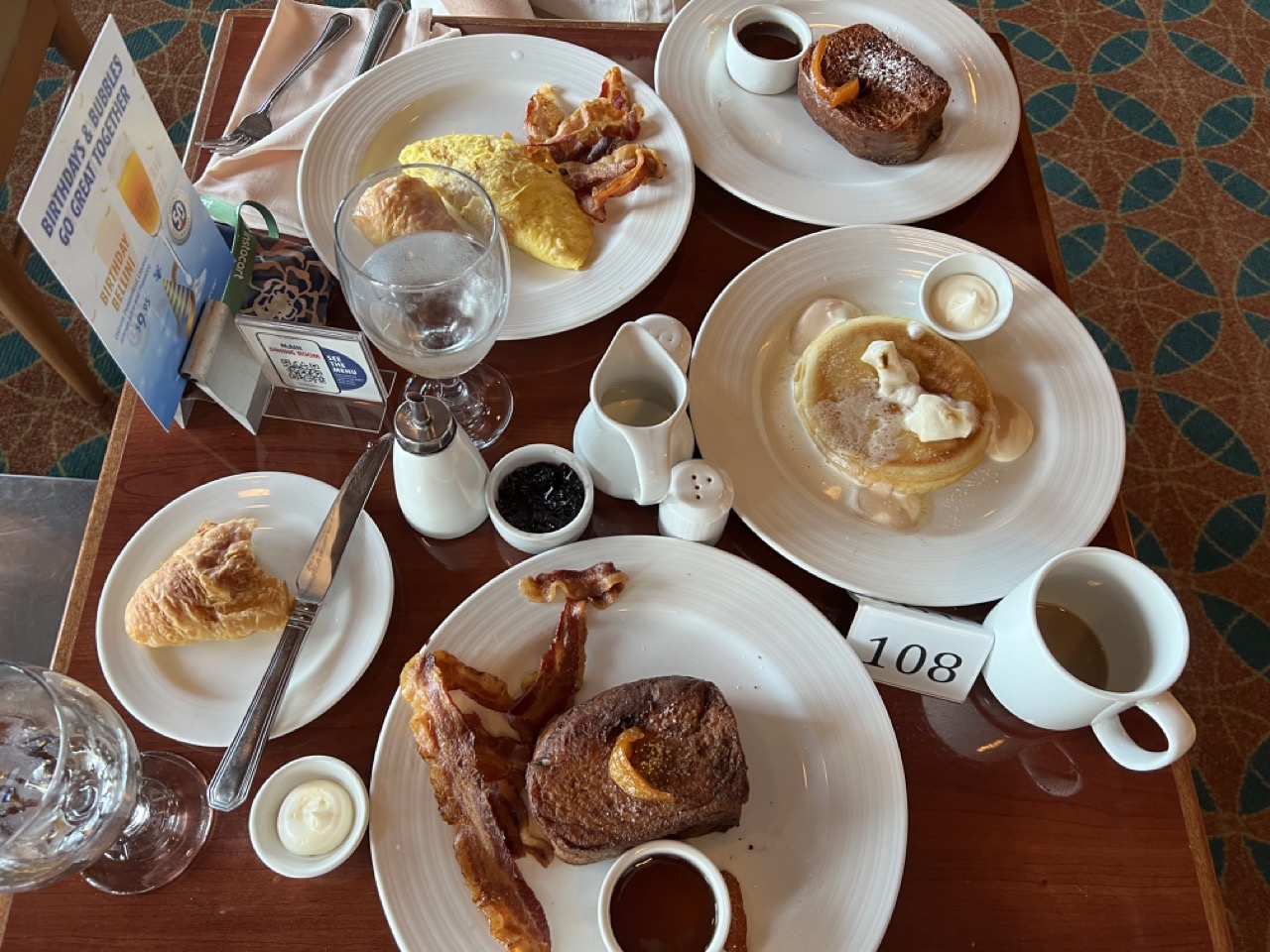 We both agree the 12-hour french toast, caramelized and crispy on the edges and topped with roasted peaches, was the best french toast we've ever had. The fluffy, slightly sweetened skillet pancake was also dangerously delicious.
The main dining room food was about what we expected, it was nothing amazing but definitely had a variety of choices.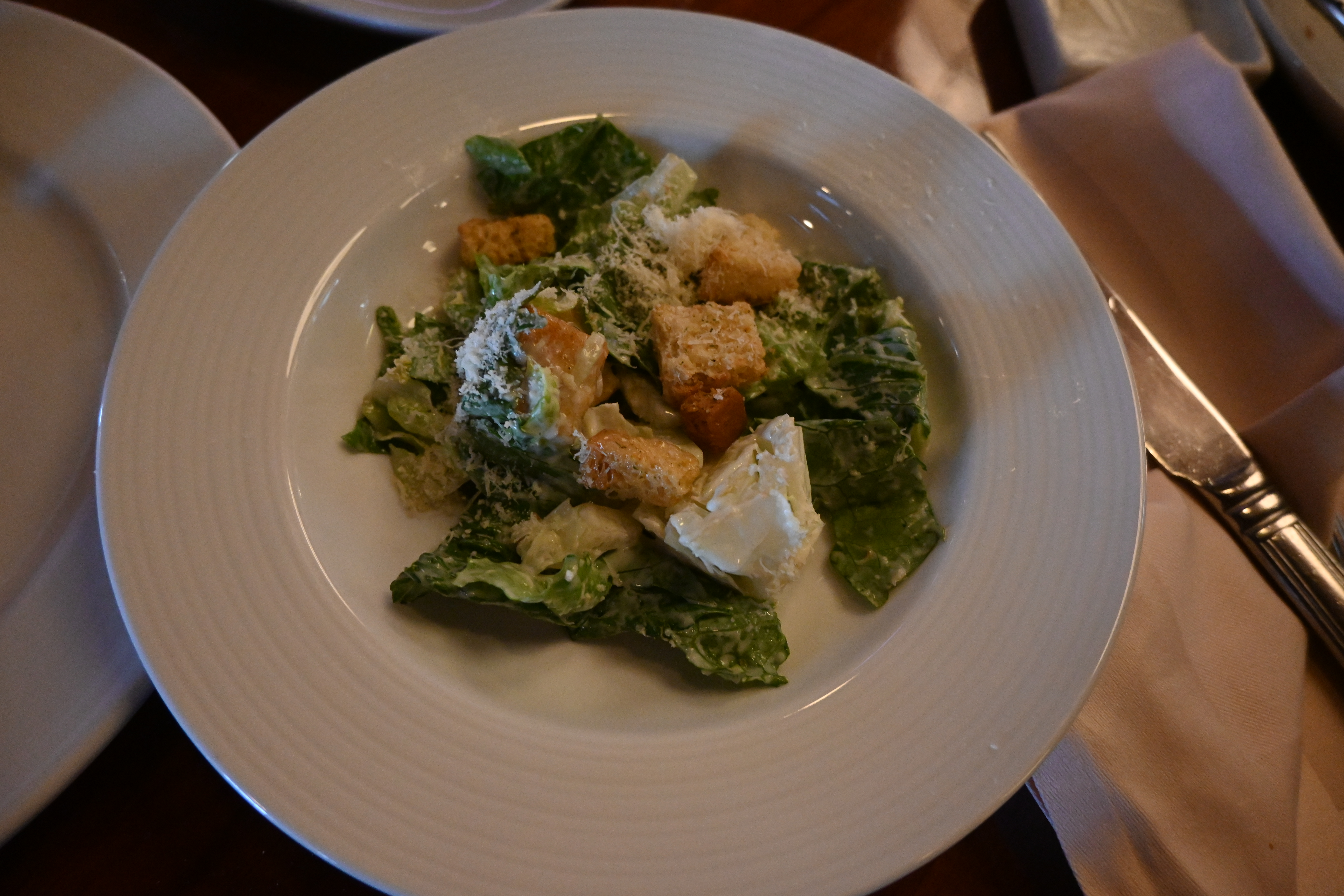 We loved getting to know the girls at our table over the course of the cruise and appreciated that we were seated with other passengers similar to our age. We've been seated with people who aren't even close to our age on other cruises, but this made us look forward to dinner every night.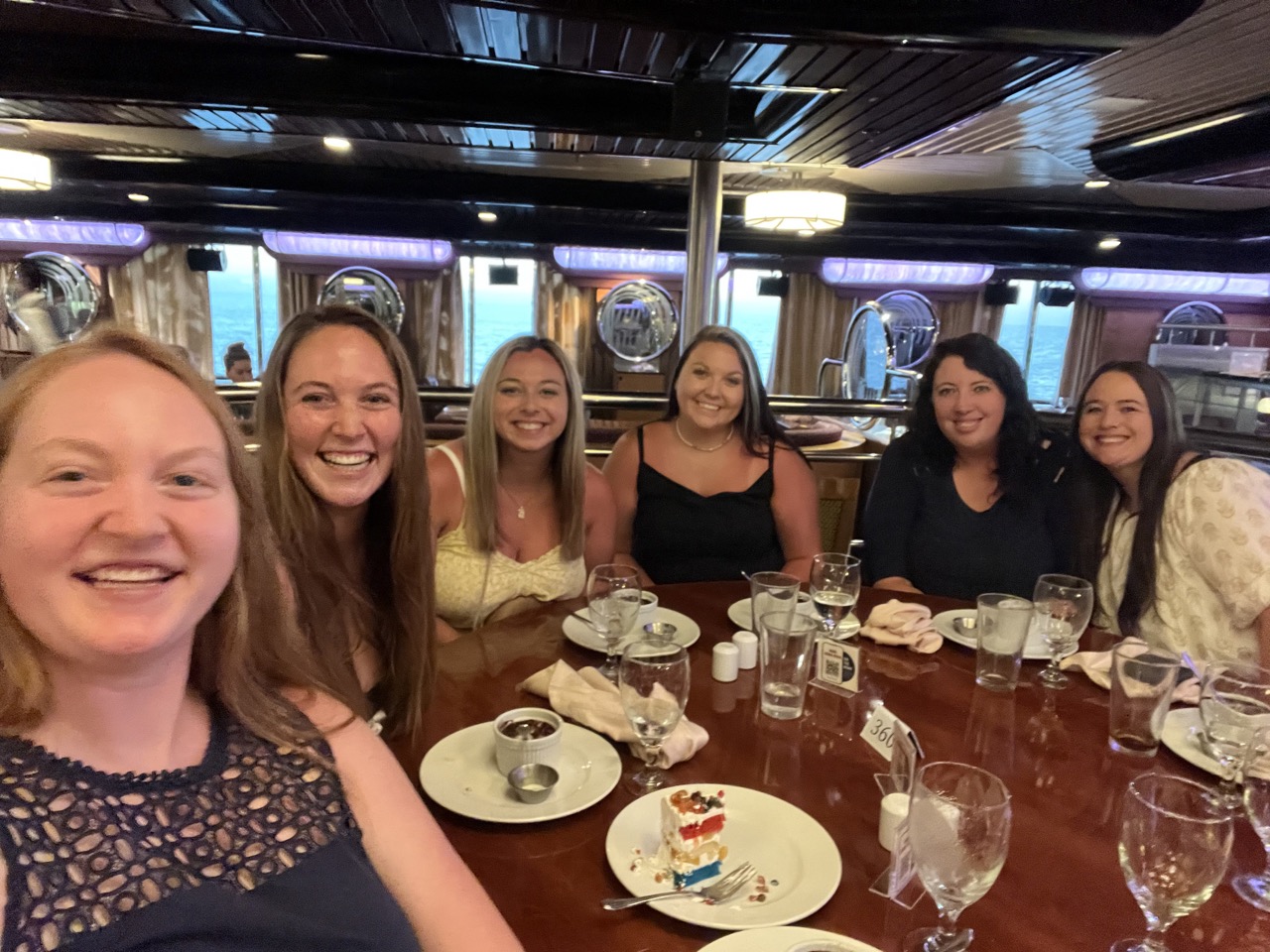 During dinner, our table had a riot, laughing about the Table Entertainer and dancing with the crew members during their 'show' in the dining room. 
The food service, especially in the dining room, was hit or miss for us. I think the staffing shortage was a factor in this case, as our servers always seemed pretty frazzled. We didn't always get what we asked for, unless we asked multiple times. 
The food at Guy's Burger Joint and BlueIguana was very good; we also enjoyed the pizza at Pizza Pirate and the sandwiches from Carnival Deli.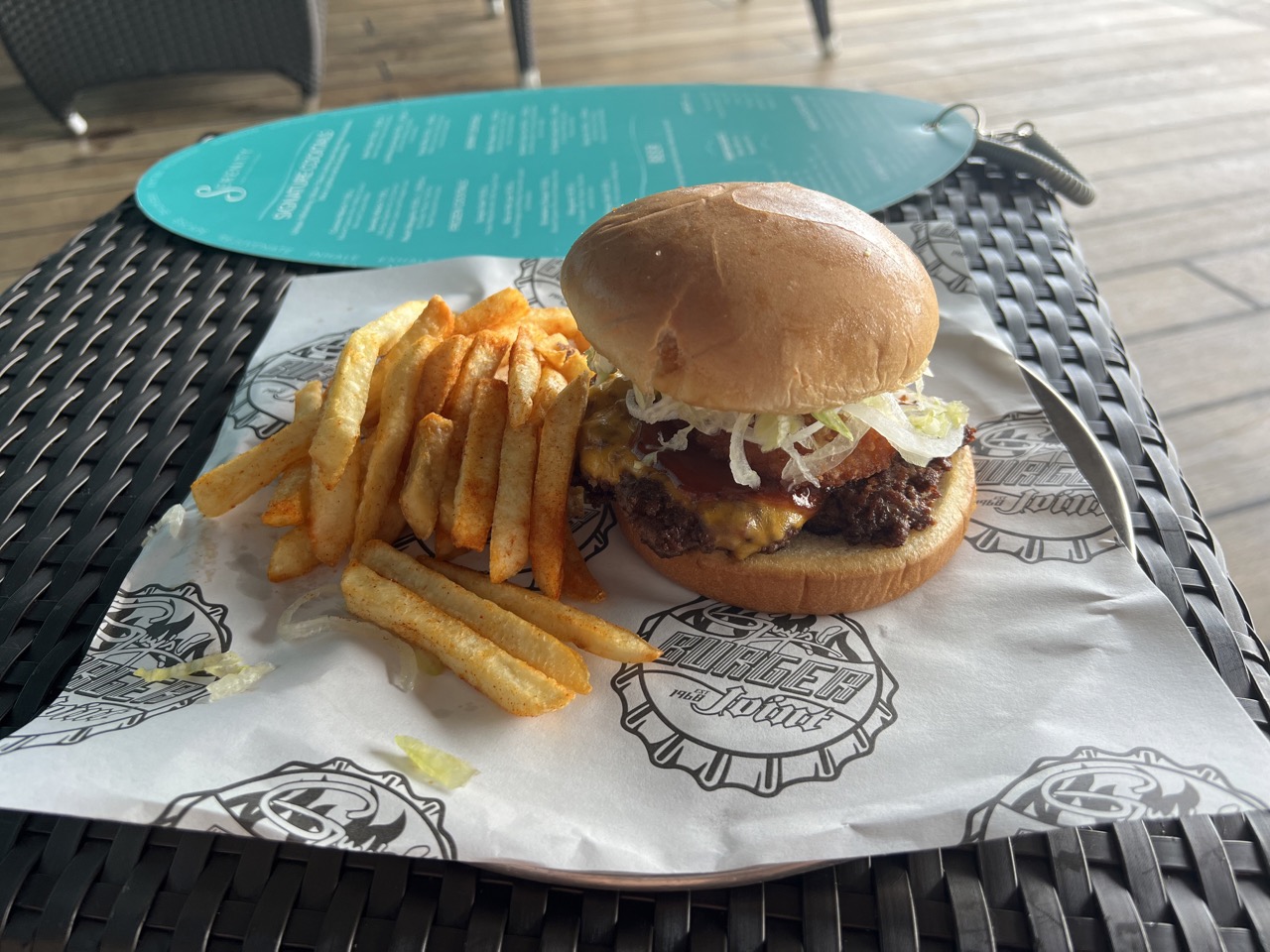 We were least impressed by the Lido Buffet, especially for the morning breakfast buffet. Everything tasted pretty mediocre to us, especially in comparison to the dining room brunch menus. The pizza and deli sandwiches were the best options in the Lido Buffet.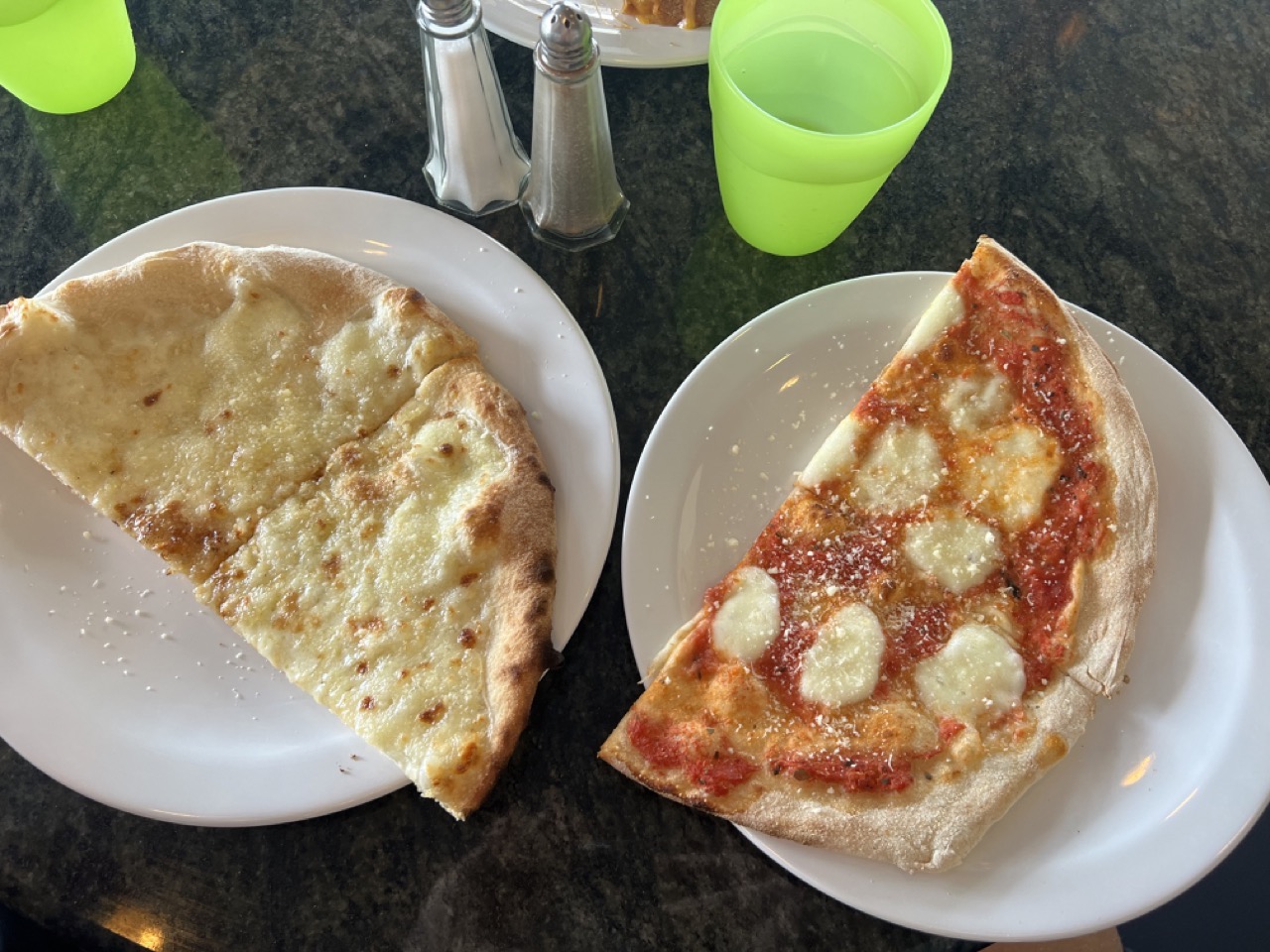 Overall, we were impressed by some of the food and disappointed in some of the other offerings. Given how cheap the cruise was, this was in alignment with our expectations. 
Final Thoughts
This cheap, last minute cruise on Ecstasy definitely changed my opinion on Carnival Cruise Line. I had low expectations for what an old ship and a party cruise line could offer - and whether it would be a good fit for me.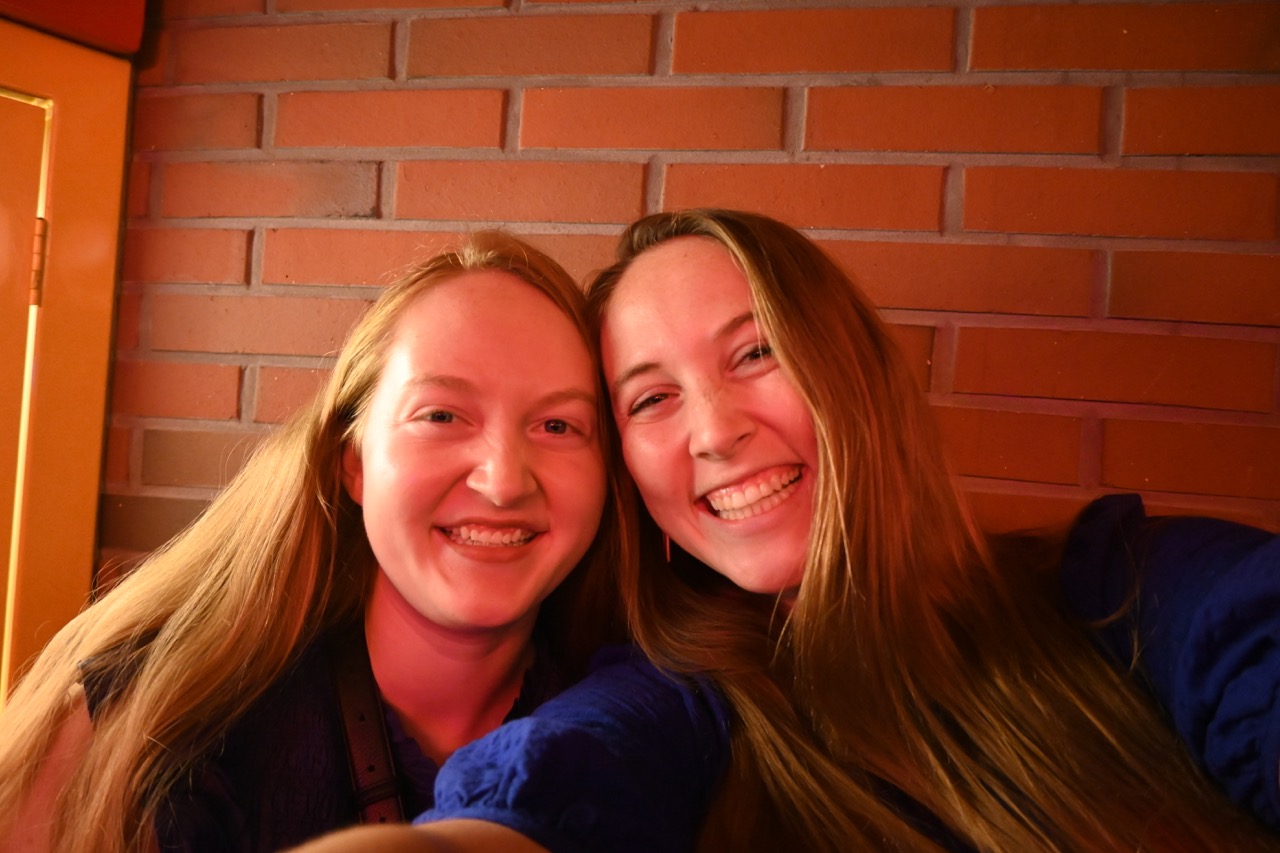 To start, a weekend cruise on Carnival was inevitably going to have a major party vibe. Everything about Carnival is meant to be fun. This is Carnival's brand and how they market themselves. If we wanted a low-key, quiet weekend cruise, then this wouldn't be the right choice. 
This cruise reaffirmed the notion that there's a cruise line out there for everyone and reiterated just how important it is to pick the right cruise ship for your travel style. If you were looking for luxury, this cruise would have left you utterly disappointed. Nothing about this cruise was luxurious or refined.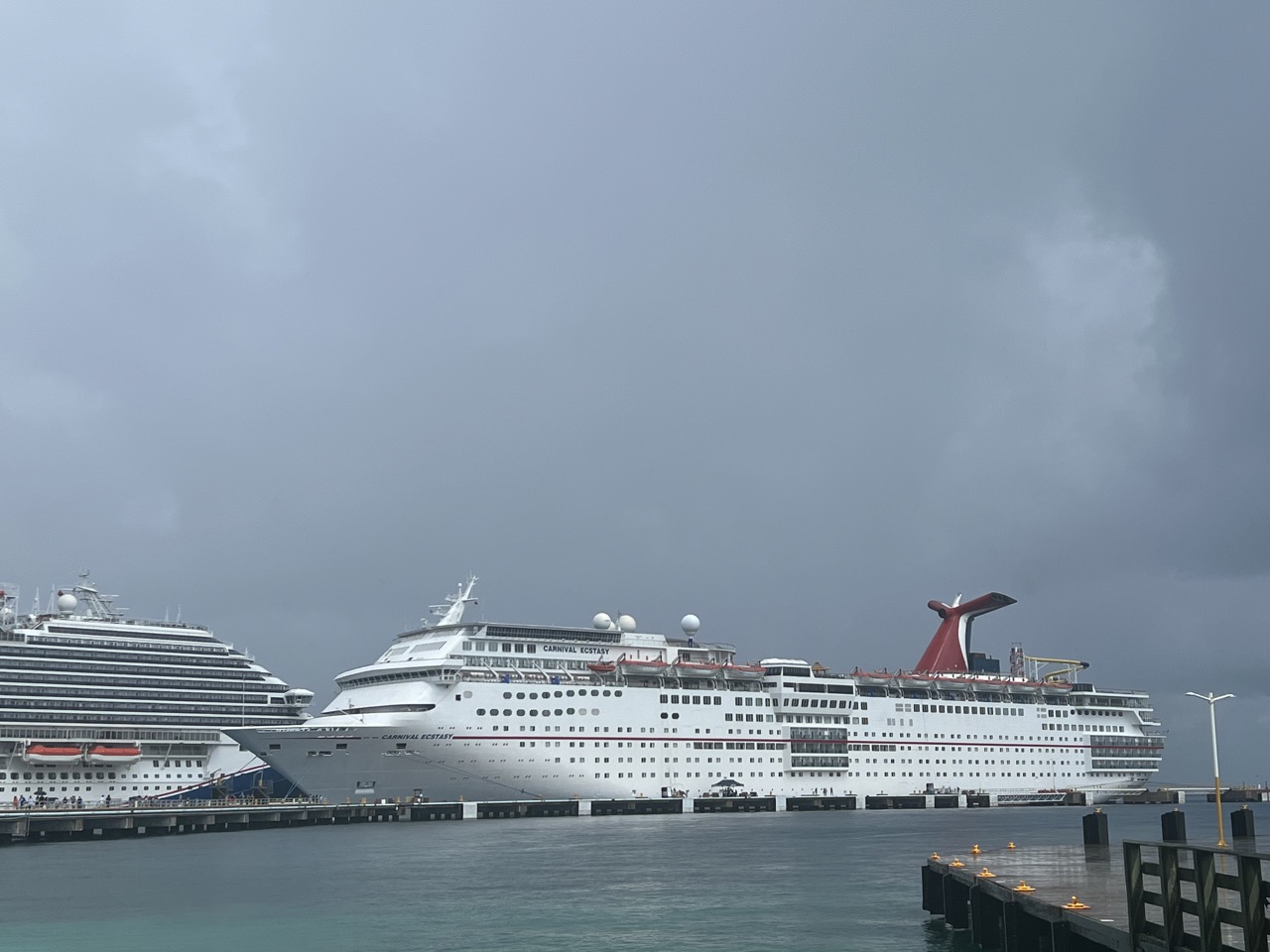 On the other hand, if you're looking for some really good and super cheap fun, then this is an excellent choice for you. Those looking to have a wild weekend away in Mexico would love everything about this cruise. 
I also believe it's important to know what you're looking for when you go cruising. I've had cruises where we wanted to explore new cities everyday and we ended up not spending much time letting loose on board because it wasn't our priority.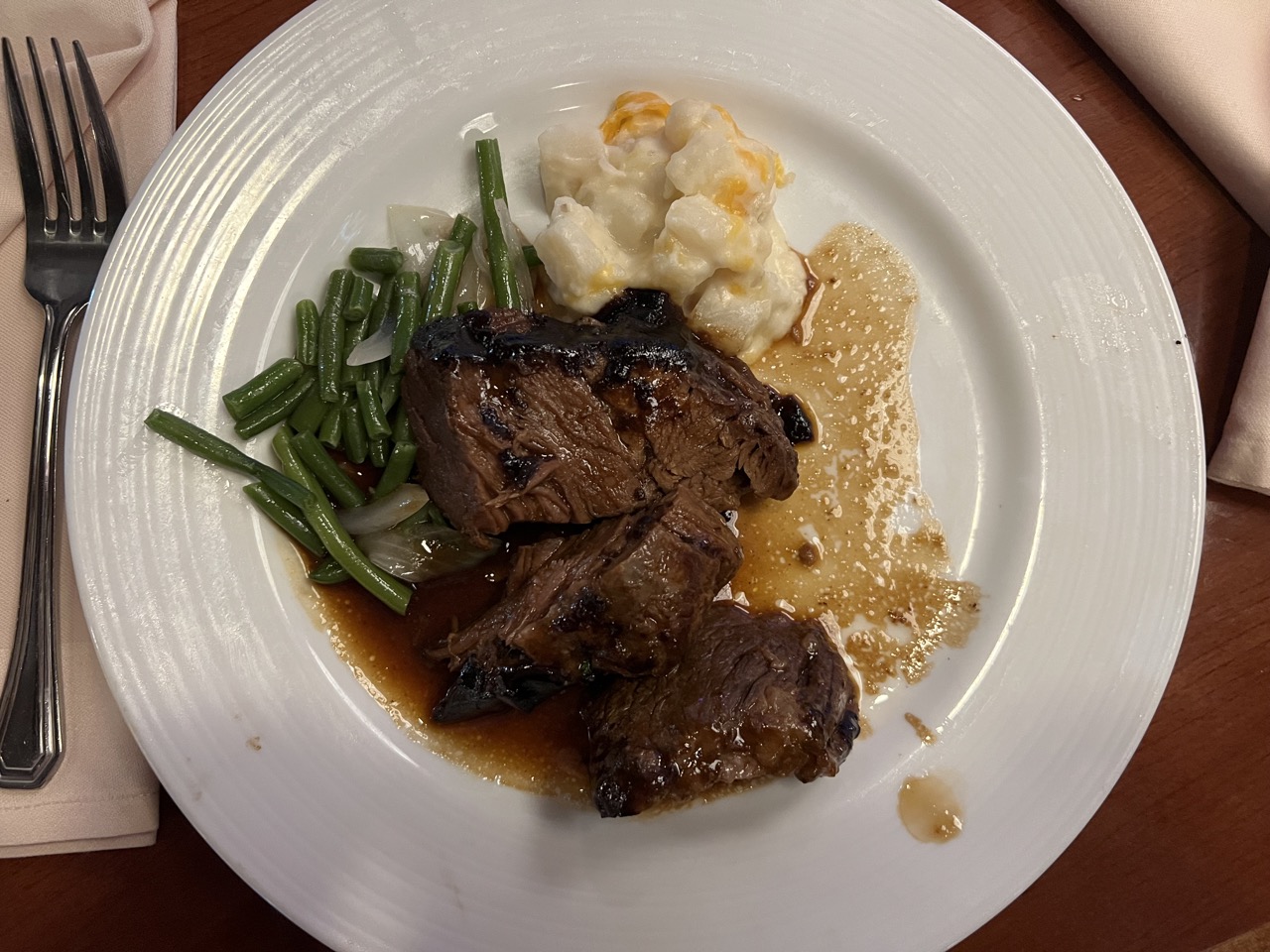 Another time we went cruising with the goal of doing absolutely nothing more than indulging in eating, drinking and relaxing. We didn't go to a single show or activity because we wanted to have a completely empty schedule with no obligations. 
When it comes to this cruise, it would be perfect for those looking to have a fun, carefree weekend away from home. This is a cruise all about having a great time without breaking the budget.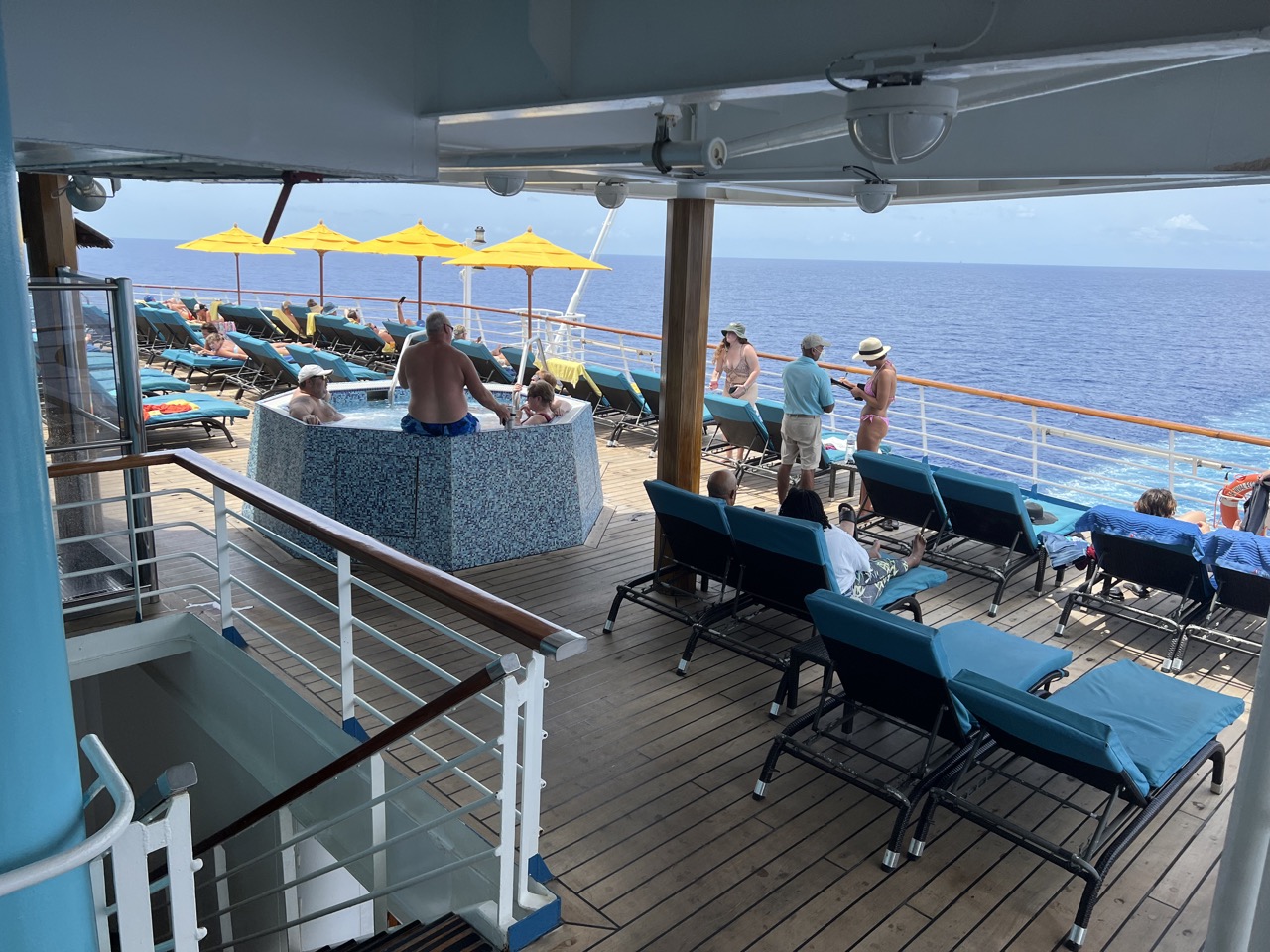 At first, I thought this cheap cruise was not my vibe. After the first two days, we started to get acquainted with everything and I felt like we really got into the Carnival spirit by adapting to the culture. 
I'd love to try the Carnival experience on a newer ship that has all of the bells and whistles; in fact, I hope to sail on Carnival Celebration in November to see how the Carnival experience compares on the cruise line's newest ship.