Cruise lines continue to one-up each other by adding revolutionary concepts to their newest ships. From ice skating rinks to go-karting and skydiving, it's becoming hard to find things on land that you can't do at sea!
Yet, I never imagined someday I would be able to ride a roller coaster at sea. 
Cruise ships have certainly come a long way within the last decade in regards to how many onboard activities, amenities and thrills they can squeeze on each deck. 
Image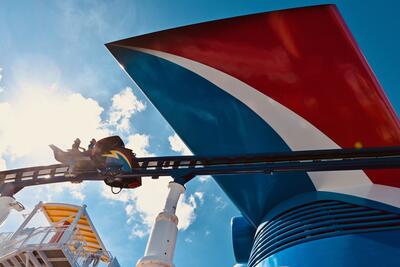 Carnival Cruise Line has made waves in the cruising industry with the creation of Bolt as an innovative, first-of-its-kind onboard thrill. 
Adrenaline-junkies will absolutely love the addition of Bolt, the first roller coaster at sea that will take you twisting, turning and flying around the top of Carnival's newest ships.
Debuting first on the Carnival Mardi Gras in 2021, you can also find Bolt on the newest ship in the Excel-class, Carnival Celebration.
Image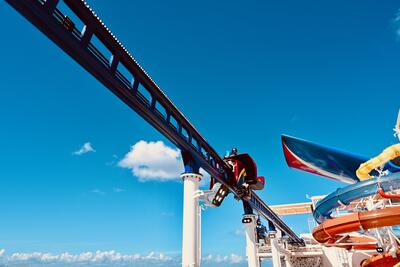 We're onboard Carnival Celebration for one of its very first sailings; and, of course, our cruise bucket-list had to include a ride on the very-hyped Bolt roller coaster. 
But, was our short ride on Bolt worth its high cost? Read on to find out our honest opinions on Bolt.
Image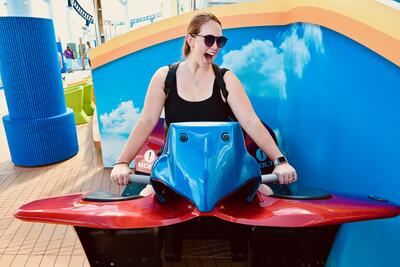 What is Bolt?
Located on the aft of both Carnival Mardi Gras and Carnival Celebration, Bolt sits high above the top deck. You simply can't miss the Bolt roller coaster when looking at the ship from afar.
Image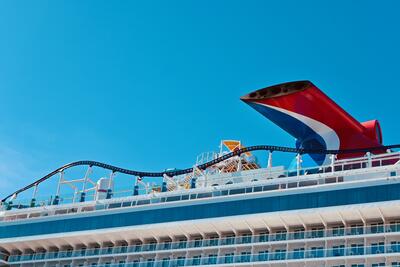 With help from a roller coaster designer in Munich, Bolt came to life as the first and only roller coaster at sea on Carnival Mardi Gras.
Bolt is entirely electric and offers both a thrilling and smooth ride, weaving riders around the ship's funnel and through the Ultimate Playground.
Image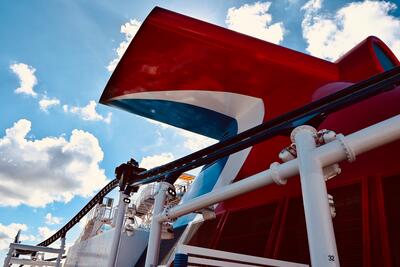 Bolt was wildly popular among cruisers, so Carnival didn't hesitate to add the second roller coaster at sea on its newest ship, Carnival Celebration.
This isn't your traditional roller coaster that you'll find at an amusement park - but your adrenaline won't know the difference.
Image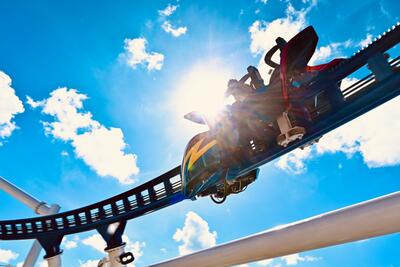 Rather than sitting in a long line of multiple cars for a roller coaster ride, the cars for Bolt have you sitting as if you were riding on a jet ski or motorcycle. These cars can seat up to two people each - and you can also ride solo.
Image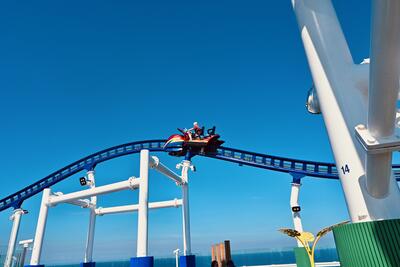 Initial Impressions of Bolt
Let me preface this section by boasting that my sister and I are very well-versed when it comes to roller coasters.
We grew up going on the biggest, baddest roller coasters across the U.S. with our dad. We would wait upwards of three to four hours to ride the craziest coasters at the parks. 
Image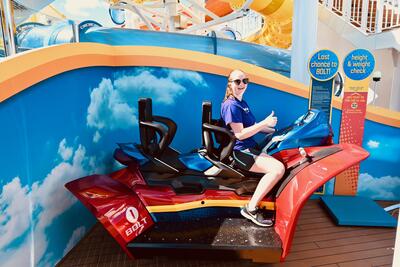 The more twists, turns and blasts, the better! There was never a coaster that was too scary for us. 
Needless to say, we have no fear when it comes to riding roller coasters - other than getting a little older and slightly more motion sick on the wild rides.
Image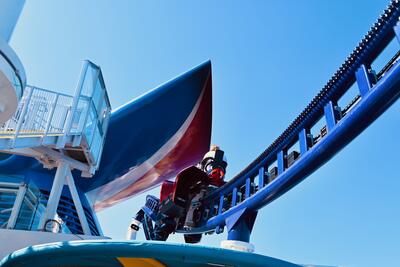 In all honesty, I had somewhat low expectations for Bolt. How much could my adrenaline really get pumping on a small coaster on a cruise ship?
I envisioned Bolt in my mind as more of a kiddy ride, one that would leave us rolling our eyes and disappointed that we spent $15 each for a dinky ride.
Image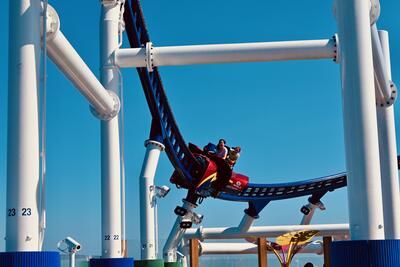 Once onboard, we turned our heads excitedly the first time we heard Bolt running.
We were surprised to find people on the ride screaming in a legitimate way - and it wasn't just little kids riding Bolt. We saw tons of adults riding Bolt and looking like they were having a lot of fun.
We even saw some fairly old riders taking their spin on Bolt! It seemed to be a family hit for those of all ages.
Booking a Ride on Bolt
Without doing any research, I'd originally assumed that Bolt was included in the cost of the cruise. Sometimes cruise lines will charge for their biggest thrills during sea days but provide shortened, complimentary rides during port stays.
A friend onboard let me know that this wasn't the case - in fact, each person has to pay $15 to ride Bolt on Carnival Celebration. 
Image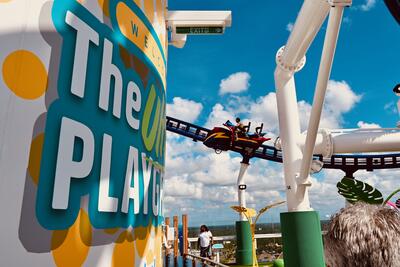 I thought that was a little steep for pricing, even though it includes two laps around the track. It's hard to get a gauge for how long the ride actually is, as it twists around many places at the aft of the ship.
However, the ride is pretty hyped so it makes sense they want to capitalize on their investment; also, there are nearly 6,000 people on this ship, so they probably don't want the ride to be overwhelmed with too many people. 
Image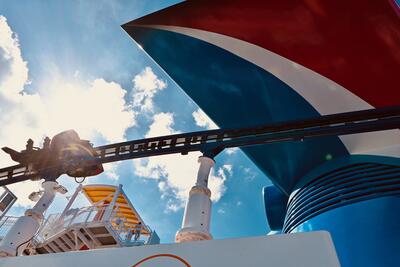 We booked two slots for Bolt during our port stay in Cozumel using the Carnival Hub App. There was a dedicated section for Bolt and it was super easy to navigate.
Image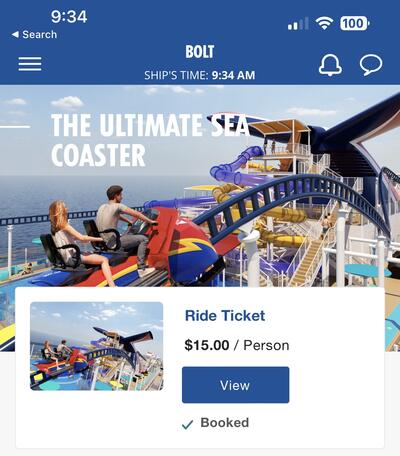 We found there to be plenty of time slots for the following day, so we booked the earliest one at 1:00pm - 1:30pm. We couldn't wait!
For both of us in the stateroom to ride, it was $30 total. We had a buffer of two hours before the ride was scheduled to reschedule. 
Restrictions for Bolt
As with any ride, there are height and weight restrictions for riding Bolt. Thus, not everyone onboard will unfortunately be able to ride this revolutionary addition to Carnival's cruise ships.
You cannot weigh more than 300 pounds to ride the roller coaster and you must meet the minimum height requirement of 4'4.
There's also a maximum height of 6'5 for riding Bolt - meaning my husband would barely be able to ride with his height of 6'4. It would be a big bummer if only one person in a couple could ride, but that's something to keep in mind before booking. 
Image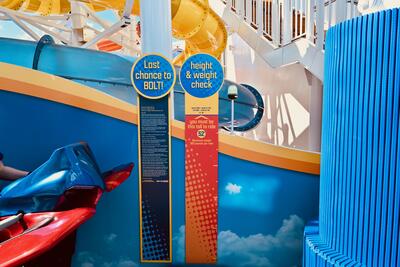 At the entrance of the ride, you'll find a Bolt car that you can sit in and get a feel for what the seating arrangement is like. You'll straddle the car similar to a jet ski or motorcycle; if you choose to ride solo, you have to sit in the front seat of the car.
There's a scale you can step on that will illuminate a green light if you meet the weight requirement.
Preparing to Ride Bolt
We arrived promptly at 1:00 for our Bolt slot, although we found we could arrive anytime between 1:00-1:30.
Image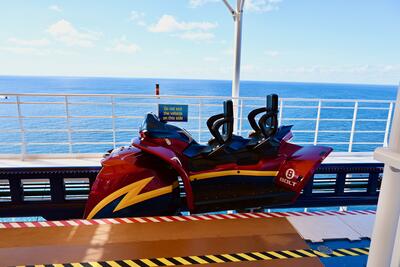 There was a short wait for us, probably 15 minutes while we waited for them to open the line; according to the ride operator, they had to complete a few extra test runs today for whatever reason.
As we made our way up the stairs, I was surprised to find a waiting area that felt exactly like an amusement park. There was just three other people riding with us, so it was hard to imagine a giant line of people standing on the platform waiting for their turn.
Image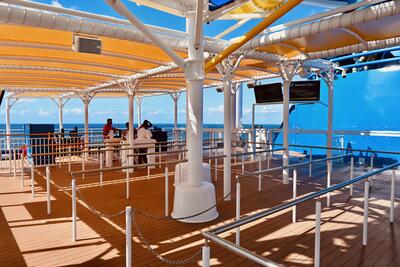 I'm not sure how many people can book each time slot, but the loading area makes me think Bolt is prepared for long lines.
Image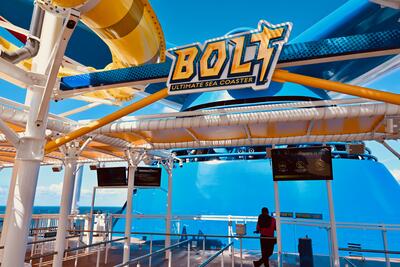 You're not allowed to bring phones, cameras or anything of the like on the ride. They even explicitly state you can't bring GoPros, including ones that are strapped to you. We thought about being sneaky and bringing it on anyway but instead chose to be good listeners and leave all electronics behind.
Image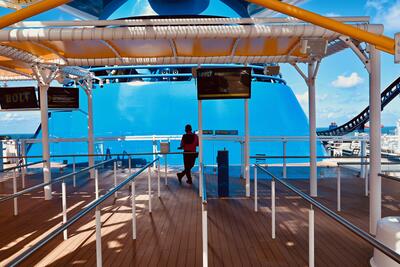 We toggled with the idea of trying to film one another during our rides. The ride operators said we each could do two laps on our own as a solo rider or ride the two laps together on a single car. We chose to strap in together so we could experience it with one another.
We're roller coaster buddies through and through!
Luckily, you'll find cubbies right near the launching platform where you can safely store all of your belongings before going on the ride.
Image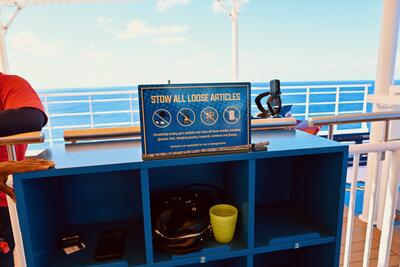 There are plenty of attendants to watch your things while you ride. You have to remove everything in your pockets and sunglasses; the attendants are pretty strict about making sure you take off everything that needs to be stored. 
Once you step into the car, the Bolt attendant straps you in with a heavy-duty seatbelt. I was a little apprehensive about not having a bar or a harness to keep me secure. As we straddled the Bolt car and looked off at the not-so-distant ocean, I wanted to be as strapped in as possible!
Image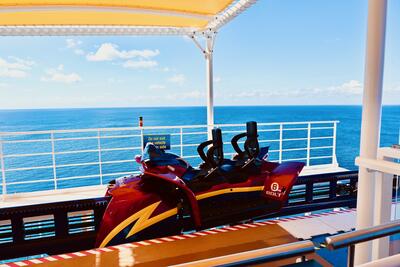 The seatbelt was checked not once, not twice but three times by the attendant. I wiggled up and down to ensure that I was strapped in. I felt as safe as I could as we looked at the glistening sea surrounding us.
We squealed with butterflies in our tummy as the car in front of us launched straight ahead to start the ride. I asked if I could put my hands in the air like a normal roller coaster and the attendants shot that down pretty fast. 
The Ride Itself
My sister and I clutched the handrails and watched as the lights ahead turned from red to green - thrusting us onto the electric track.
A big twist comes right after launch and my sister pulled back on the throttle whenever she could.
Image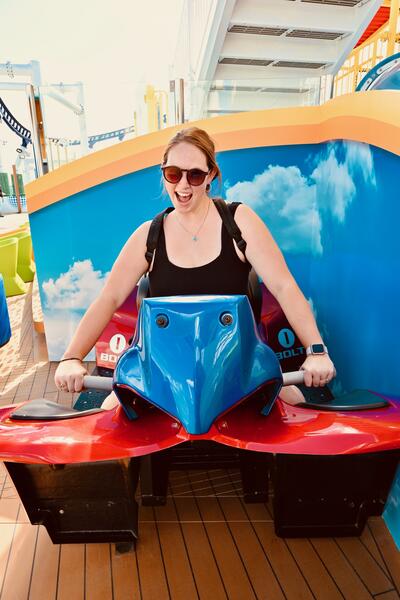 The passenger in the front is considered the driver and has the ability to pull back the throttle to "boost" the car's speed, although the idle speed is still pretty fast.
We screamed with giant smiles on our face as the adrenaline ran through us! The final turn brings you around the funnel at a slower speed, making you lean to the left slightly.
This was an unexpected twist on the coaster at the end, although I never felt unsafe.
Image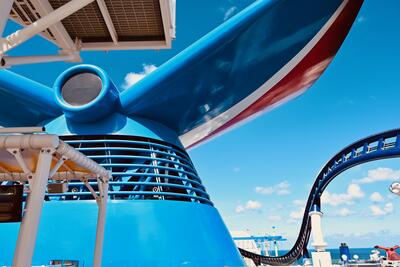 We came back to the launching pad for our second go-around, getting blasted forward again and reaching speeds of nearly 40 mph. My sister and I screamed like we were little girls again, drawing the eyes of everyone in the Ultimate Playground below.
We finished the ride in just 55 seconds - it was over in the blink of an eye!
Image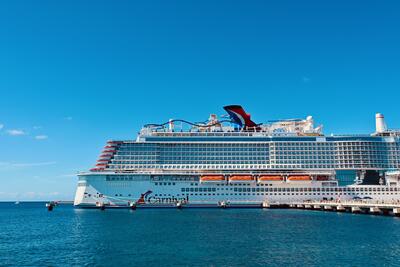 Was Bolt Worth the Cost?
At $15 each, Bolt is pretty expensive for how long the ride actually lasts. If you had a family of four, the cost for everyone to ride would be $60. 
That's a pretty hefty fee for two very quick laps around the Bolt track.
Image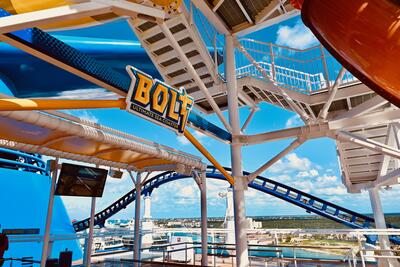 However, if you love roller coasters and appreciate some adrenaline pump, I would consider riding Bolt - especially for thrill seekers! 
My sister and I both felt that riding Bolt was indeed worth the $15 fee each. We couldn't wipe the smiles off our faces and both agreed Bolt was faster and more fun than we had anticipated. The ride was nothing like a kiddy ride and more like a miniature version of a full-blown coaster.
Image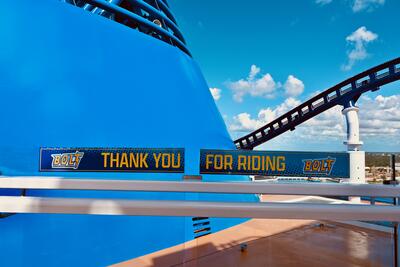 I'd love if you could do a third or fourth lap for free - or even offer complimentary rides during sea days. Perhaps another lap or two would make me feel like I had my full fix. 
We even joked that we would pay another $15 to ride Bolt again because we truly had that much fun - and it's not everyday you get to ride a roller coaster, let alone one at sea!