Pass the piña colada, please!
One of the best parts about cruising is having that classic cocktail on the top deck of your ship while you're chilling poolside or lounging on the beach. If you've purchased a drink package for your upcoming cruise, you've probably spent a good chunk of change doing so. 
Image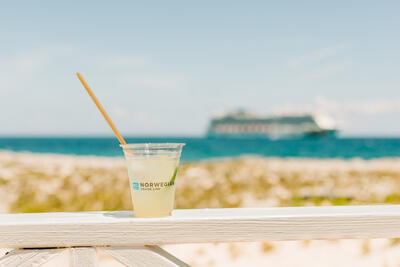 Having a drink package ensures you will have that all-inclusive feeling throughout your cruise. Not having to worry about 
Booking a drink package on your cruise can cost up to $140 a day depending on the cruise line; however, on average, you can expect to spend $70-$80 per day for everyone in your travel party that is of drinking age. 
Image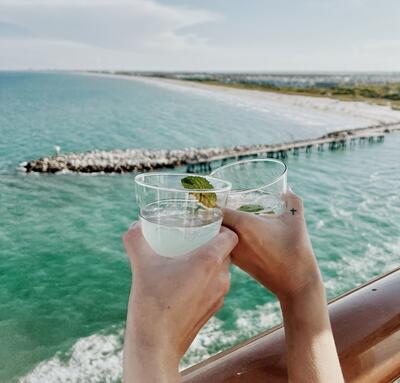 Depending on how much you paid for your drink package, you will need to drink around 5-6 alcoholic drinks each day of your cruise to get your money's worth.
If you order the right drinks though, you can easily make sure you will be making the drink package worthwhile. In general, it's best to avoid ordering welldrinks, beer and bottled wine because these choices are not utilizing your package to its full potential.
Although this might be obvious, you should focus on ordering the most expensive cocktails and drinks so you don't lose money on the drink package.
Also, make sure you know how much you can spend on each drink that's included in your purchased package. For example, Norwegian Cruise Line only covers up to $15 while Royal Caribbean's package only covers up to $13. Carnival Cruise Line is more generous in its package with a $20 limit on each drink. 
Image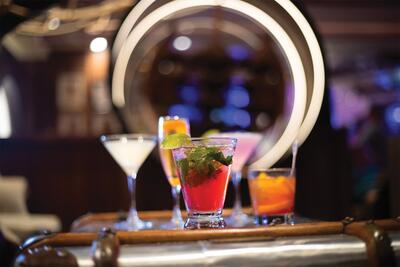 Also, be sure to request top-shelf liquor when ordering your drink; most of the time, the bartender will give you the bottom of the barrel alcohol in your drinks. 
Have no fear - we've compiled the best drinks for you to order during your cruise that are equally as delicious as they are cost-effective towards your drink package.
Here are 20 drinks that you should order if you have a cruise drink package!
1. Piña Colada
What could be more classic than a piña colada on your cruise vacation?! Simply nothing is better. This classic frozen cocktail is made into a creamy pineapple and coconut drink, complete with plenty of rum blended throughout. 
Image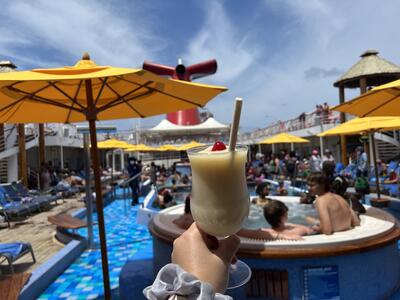 If your package allows, try adding a dark rum floater to top it off - along with plenty of cherries.
2. Mojito
This one is my personal favorite - I actually love having a mojito at least once a day during my cruise!
Made with club soda, fresh mint, lime, simple syrup and rum, this minty goodness of a cocktail is a great cruise drink because it's so refreshing.
Image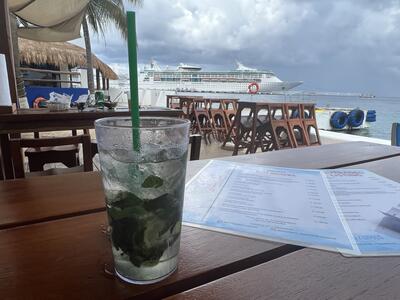 Spice it up by adding some fun flavors to your mojito as well! Try adding strawberry for an extra sweet kick. 
3. Strawberry Daiquiri 
Another cruise classic is the strawberry daiquiri - a few of these will help you quickly make up the cost of your cruise drink package!
Image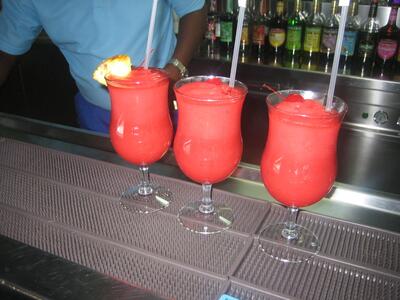 A strawberry daiquiri is typically made with strawberries, sugar, lime and, of course, lots of rum. Served frozen, a strawberry daiquiri is one of those quintessential cruise drinks - the perfect poolside or beachside cocktail. 
4. Miami Vice 
Can't decide between a strawberry daiquiri or piña colada? Lucky for you, someone else was in the same predicament and decided to solve this problem by creating the Miami Vice.
Image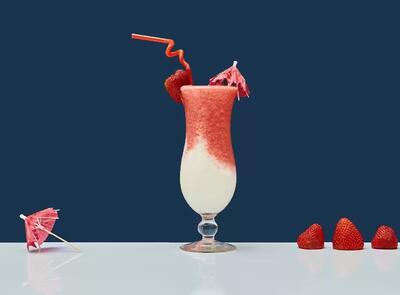 Rather than choosing between the two, you can order a Miami Vice and enjoy a frozen cocktail that's half of a piña colada and half of a strawberry daiquiri. You can't go wrong on a cruise with a Miami Vice. 
5. Caribbean Rum Punch
Rum and vacation just go hand in hand - it's a concrete fact. Try ordering a Caribbean Rum Punch off the menu on your next cruise if you're looking to get the best value from your cruise drink package. Most cruise lines will have their own vacation of rum punch, so be on the lookout!
Image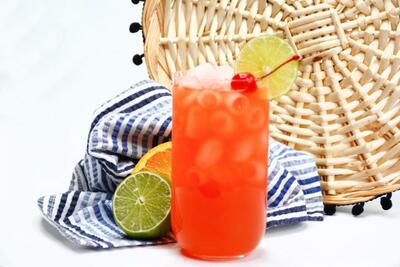 Typically, Rum Punch is served on the rocks and made with orange juice, lime juice, pineapple juice, dark and light rum (duh!) and a splash of grenadine.
6. Bahama Mama
This ain't your mama's cocktail!
Another favorite cocktail of mine on a cruise is a poolside Bahama Mama - it's fresh and sweet with the perfect combination of white rum and dark rum. Add a splash of lemon, pineapple juice and grenadine and you have a Bahama Mama.  
Image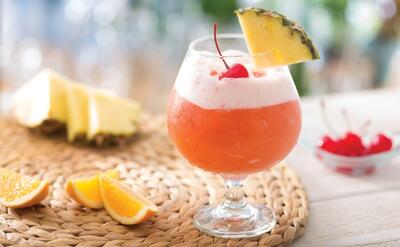 You can try it blended too for a fun, frozen twist on this poolside classic. 
7. Mudslide
Are you sensing the frozen cocktail theme yet? You are on a cruise, after all! Try ordering a mudslide when you can't decide which cocktail you want to try next. It's like the grown-up milkshake of your dreams!
Image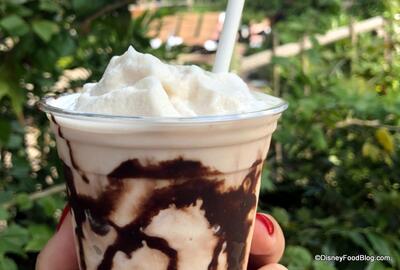 Made with a combination of vodka, Kahlúa and Bailey's Irish cream liqueur, the bartender will add a splash of cream and a drizzle of chocolate before serving you a milky, creamy mudslide cocktail. 
8. Mai Tai
You'll find Mai Tais in the dictionary right next to the definition of 'Vacation Drink'. Often garnished with edible flowers or something else extraordinary, Mai Tais are a great cocktail choice on a cruise.
Image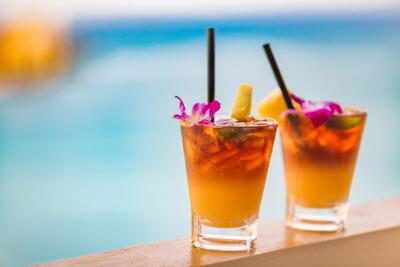 With a combination of white and dark rum, Mai Tais also include orange curaçao, lime juice and simple syrup.
9. Blue Hawaiian
Want to impress (or surprise) your dinner waiter with a blue tongue? Try ordering a Blue Hawaiian right before you head to the dining room for dinner!
Image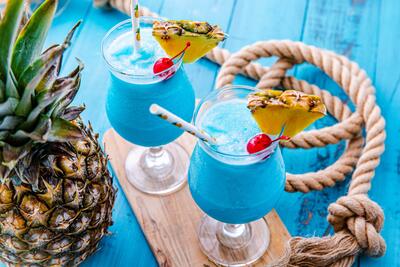 Blue Hawaiians are made with white rum, pineapple juice, creme de coconut and lemon juice - oh, and of course, blue curaçao!
10. Dirty Monkey
We love a milky frozen cocktail on a cruise and ordering a Dirty Monkey will not disappoint! With a delectable combination of Kahlúa, dark rum and rum cream liqueur, this one will hit just right on the beach.
Image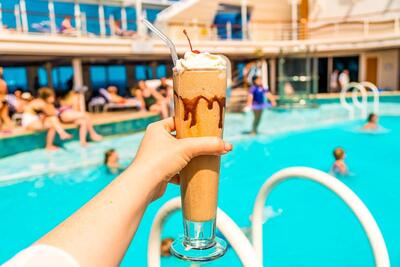 Your cocktail will be topped with a banana, chocolate syrup and blended with a hearty pour of milk. 
11. Lava Flow
Are you sick of frozen drinks yet? Well, you better not be because you still need to try a Lava Flow - which is like a Miami Vice but elevated with banana and strawberries. 
Image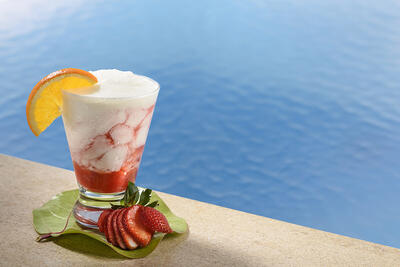 Made with coconut rum and light rum, your bartender will add bananas and strawberries before blending the cocktail with coconut cream and pineapple juice. The perfect drink for a day on the beach!
12. Pain Killer
If you're in the mood for something creamy but maybe not a piña colada, try ordering a pain killer with your cruise drink package!
Image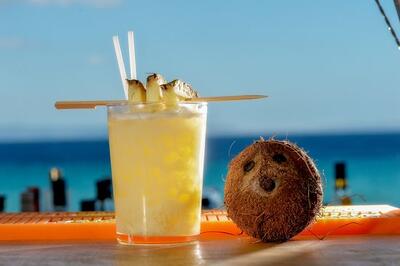 Made with pineapple juice and orange juice, along with splashes of rum and coconut, this is a great drink option for your cruise.
13. Superman
Remember that ice cream with blue, red and yellow colors that you used to love as a kid? Well, there's an adult cocktail version that you absolutely will want to try! This is a great drink for when the Caribbean sun is out in full force.
Image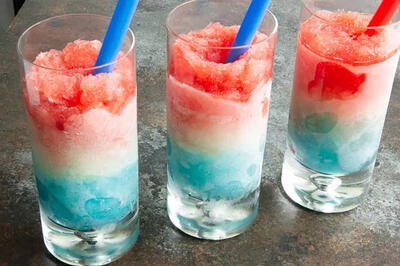 This frozen cocktail is made with one third frozen Blue Curacao, one third blended strawberry daiquiri and one third frozen piña colada. The final product is a brightly colored, frozen cocktail that your inner child will go totally nuts for!
14. Sex on the Beach
This one is a classic cocktail with a name that will (likely) make you giggle when you order at the bar. No cruise vacation is complete without ordering this deliciously fruity cocktail - which will certainly get your money's worth from the cruise drink package.
Image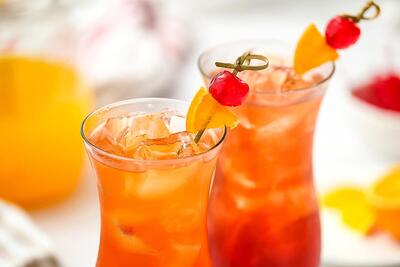 Served on the rocks, Sex on the Beach is made with a combination of vodka and peach schnapps, along with splashes of pineapple juice, orange juice and cranberry juice. It's the perfect poolside cocktail for your sea days! 
15. Frozen Margarita 
If you're cruising to Mexico, it's a cardinal sin to NOT have at least one margarita on your cruise.
Take it to the next level by opting for a blended cocktail instead of one on the rocks - it will taste even more refreshing on your cruise. You can even add fun flavors, like strawberry, watermelon and blackberry.
Image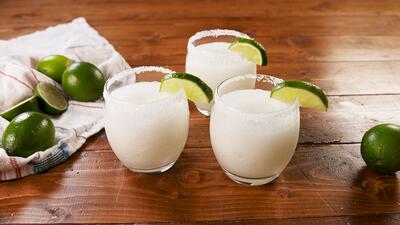 Margaritas are mixed together with silver tequila, cointreau liquor, fresh lime juice and a splash of simple syrup. It's a classic - you can't go wrong!
16. Bay Breeze
If you prefer a simple and sweet drink on the rocks, consider ordering a bay breeze!
Image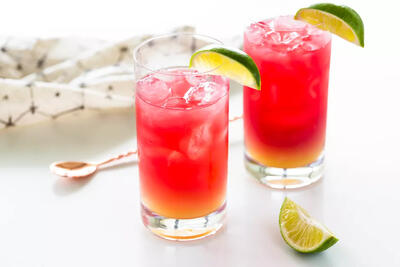 A bay breeze is made with a combination of both cranberry juice and pineapple juice and a big 'ol splash of vodka. 
17. Amaretto Sour
This is one of my husband's favorite cocktails when we go cruising - so it had to be included in this list. Amaretto sour (or even a whisky sour) is a sweet and tangy drink that will definitely help you get your money's worth from your cruise drink package. 
Image
Made with amaretto liqueur and bourbon, an amaretto sour is mixed with lemon juice, simple syrup and topped with whipped egg white. Most of the time, you'll receive your cocktail garnished with brandied cherries and a lemon twist. 
18. Paloma
If you love grapefruit, then you need to order a Paloma with your cruise drink package. This is another simple and classic drink option, but this one won't be overly sweet thanks to the grapefruit juice. 
Image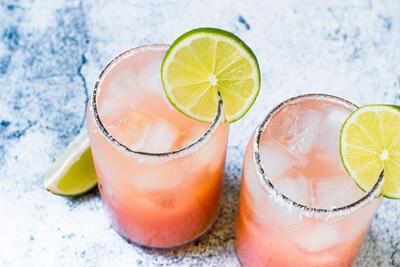 Served on the rocks, Palomas are made with a combination of grapefruit juice, lime juice, agave syrup, and club soda. Don't forget the big serving of tequila as well!
19. Bushwacker 
As a Florida resident, no list would be complete without this Florida beach favorite - the bushwacker! Even my grandma loves this one, so you know it's a winner!
Image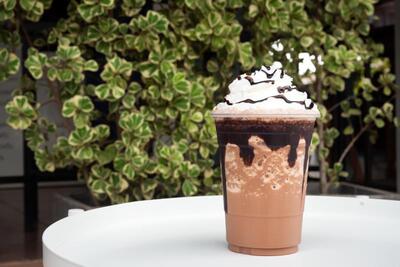 This frozen milkshake blends together rum, Kahlúa, creme de cacao, cream of coconut, and milk for this deliciously creamy cocktail. 
20. Espresso Martini
Is there ever a bad time for an espresso martini? Nope - there isn't (unless you are caffeine sensitive like me - then don't drink this one before bedtime!).
Image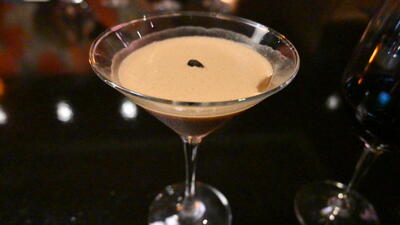 After a big dinner in the dining room, sometimes a jolt of espresso is the energy you need to get through the night. Espresso martinis are made with vodka, Kahlúa coffee liqueur, freshly brewed espresso and simple syrup.