When preparing for your upcoming cruise, you will want to make sure that you have an outfit for formal night.
While the actual terminology varies from cruise line to cruise line (Carnival, for instance, calls it "elegant night"), it's a great opportunity to dress up, take some family photos, indulge in a delicious three-course dinner, and enjoy the evening's festivities. 
You might be wondering what to pack, though. Is a cocktail dress appropriate, or should you pack one of your floor-length formal gowns?
If you have waited until the last minute, you might be struggling with finding time to run to the store, too. Below are some great dresses for cruise formal night available on Amazon that won't break the bank and can be worn again for other upcoming functions!
Please note that we've linked items on Amazon, which contains an affiliate link. This affiliate link costs you absolutely nothing extra, but Cruise.Blog makes a small commission if you purchase it.
WOOSEA Women's High Neck Split Bodycon Mermaid Evening Cocktail Long Dress ($65.99)
Image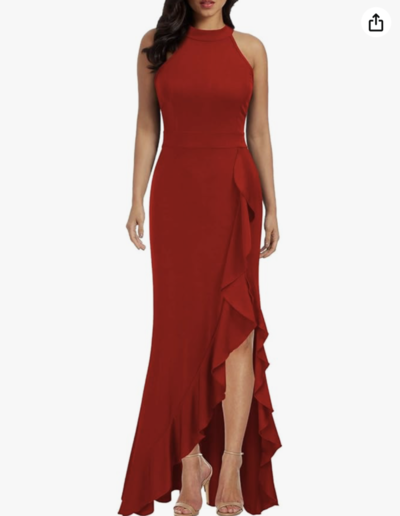 Out of 19,100 reviews, this floor-length mermaid dress has over 16,200 four- and five-star reviews. It ranks #3 for Women's Cocktail Dresses and #7 for Women's Formal Dresses. Plus, there's a variety of different colors to choose from, including red, black, green, royal blue, or magenta if you want a more colorful dress. 
Ever-Pretty Womens Vintage V Neck Irregular Hem Lace A Line Chiffon Cocktail Dresses ($52.99)
Image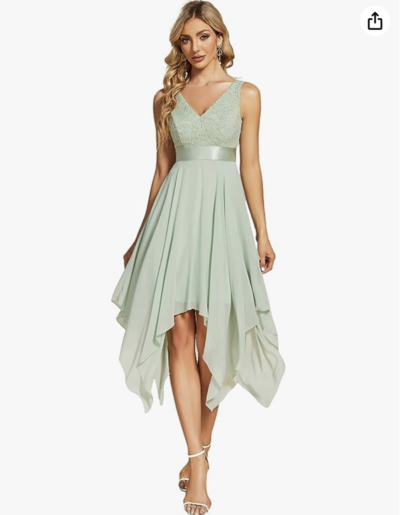 This stylish and affordable cocktail dress is great for those who want something a little bit different than a traditional evening gown. Not only is it flowy and breathable, but the lace detailing will make you stand out without feeling over the top. There are 19 different colors, so there's the perfect option for everyone!
Ever-Pretty Womens Off The Shoulder Ruffle Party Dresses Side Split Beach Maxi Dress ($49.99 - $79.99)
Image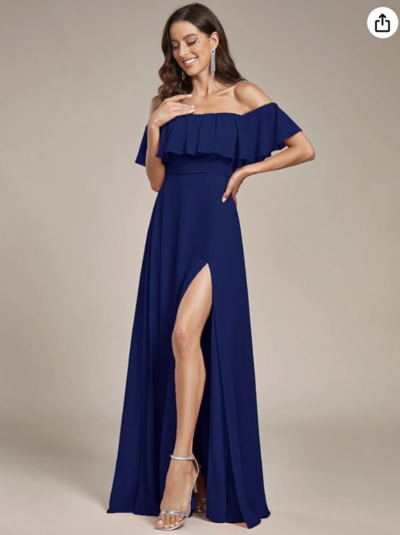 This floor-length, off-shoulder dress can be styled in four different ways: off-the-shoulder, strapless, one-shoulder, and with-shoulder. The thigh-high slit is great if you want to show off your shoes in pictures, too. Note that if you do not plan on wearing heels, many reviews suggest getting it tailored, so the dress does not drag on the floor. 
ANRABESS Women's One Shoulder Cocktail Short Dress Glitter Sexy Ruched Bodycon Party Prom Formal Mini Dress ($45.99)
Image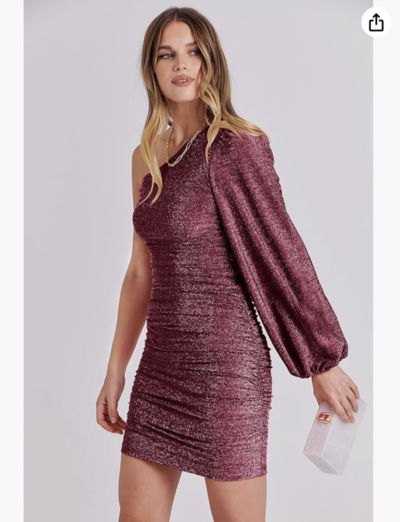 Maybe you are someone who wants to wear something a little flashier. In that case, consider wearing a shimmery dress! This one-shoulder dress from ANRABESS is a more elegant option compared to some sleeveless and spaghetti-strap dresses. Plus, the ruched bodycon style will enhance your curves and give you a more flattering figure. As with most dresses with glitter or sequin, some reviewers do complain about it being itchy. 
FQA Long Black Evening Gowns for Women Formal Dresses for Women Evening Party Elegant V Neck Sleeveless Split Wrap ($55.87 - $57.87)
Image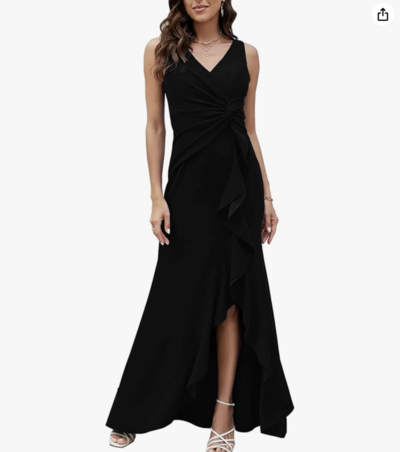 This evening gown is ideal for women who want to focus more on accessories. There are not a ton of different color options, meaning that while simple, this dress can be elevated with a nice necklace, a pair of earrings, and perhaps this Swarovski tennis bracelet.
Lulus Women's Kiska Wide-Leg Jumpsuit with Sheer Lace Back, Burgundy ($65)
Image
You don't have to limit yourself to a dress for formal night onboard a cruise ship. Consider wearing a jumpsuit, like this one from Lulus, and dressing it up with a clutch and nice pair of heels. Lulus is one of my favorite brands, too. I have never been disappointed with the quality of any dresses I have bought from them, and the sizing is usually accurate. 
Newshows Women's Summer V Neck Spaghetti Strap Floral Sleeveless Casual Split Long Maxi Dress ($36.99 - $40.99)
Image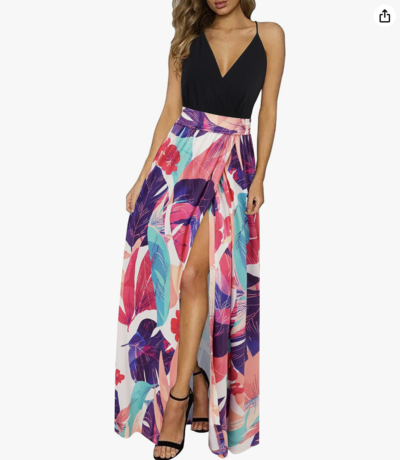 Today, many mainstream cruise lines are much more casual than they used to be. Still, though, you should plan on putting forth some effort, even if it is just with a simple sundress! Newshows has an option on Amazon with over forty different designs. Whether you want an all-red dress or something with more color, you can dress it down during the day to wear ashore, come back on the ship, put on a nicer pair of shoes, and head straight to dinner! 
MEROKEETY Women's Sleeveless Lace Floral Elegant Cocktail Dress Crew Neck Knee Length for Party ($53.99 - $65.99)
Image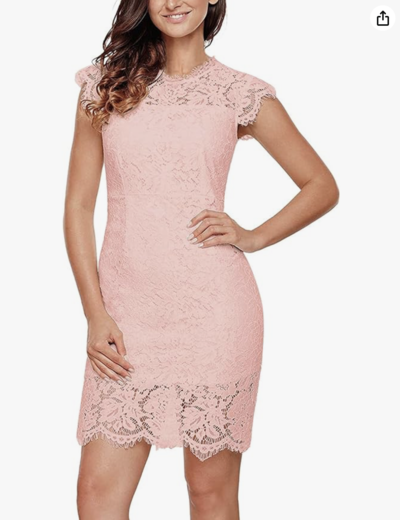 This lace cocktail dress has gotten over 16,200 four- and five-star reviews on Amazon. It's classic and charming; you will not feel over or underdressed. Subtle color options include beige, black, navy, and green. If, however, you want to make a statement, choose the neon yellow option. All eyes will be instantly drawn to you. 
Cruise ship formal night FAQ
What is formal night?
Image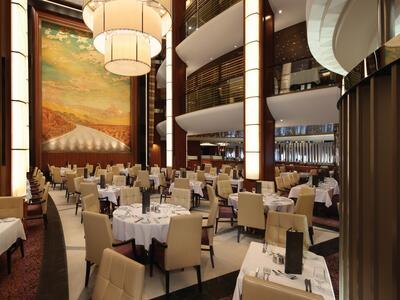 Like the name implies, formal night is the evening on the cruise when guests tend to put on their best, rather than wearing something more casual to the ship's dining room. 
Usually, you will see people wearing anything from tuxedos and ballgowns to slacks and a button-up shirt and sundress. 
The more elegant ship-wide dress code is accompanied by upgraded offerings in the dining room. Depending on the length of your cruise, as well as what cruise line you're sailing with, you might see anything from lobster tails, to better cuts of steak, etc.
Read more: 15 Packing Tips for First-Time Cruisers (2023)
Do all cruises have formal night?
Image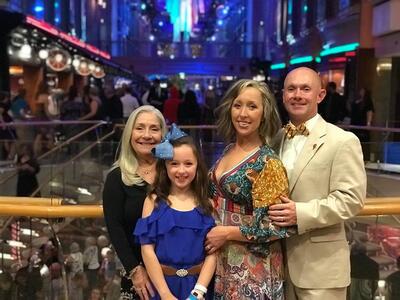 If your sailing is five nights or less, you may board to find that there isn't a designated formal night. Of course, you'll still have an opportunity to dress up if you wish, but you won't find any special menus. 
Even on cruises with a formal night, guests' attitudes towards it may be more relaxed. Norwegian, for instance, you may see a night with a dress code "dress up or not" or "Norwegian's Night Out." 
Their freestyle cruising approach means that they're different from other mainstream cruise lines. Onboard, you won't find any assigned dining times; you are at will to choose from any of the complimentary venues when hunger strikes. 
Image
If you're sailing with Royal Caribbean, Carnival, MSC Cruises, or Disney Cruise Line, you will find that there are people who want to fully participate in formal night and those who are okay wearing athletic clothes to eat in the ship's buffet. 
Read more: Cruise packing list: What to bring on a cruise
When will formal night take place?
Image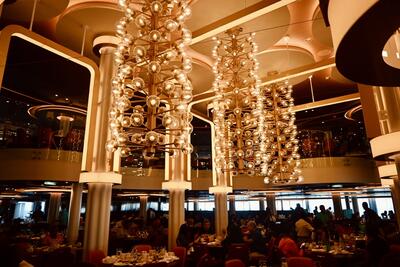 Formal nights are usually held on sea days. Nobody wants to rush back from being ashore all day and have to get ready for a gala dinner. You'll rarely have formal night on the first or last night of a cruise, too. 
In fact, the first night of the cruise tends to be the most casual. It's hard for cruise lines to implement any kind of dress code or theme, as bags can sometimes be delayed, and passengers will have to go to dinner in their embarkation clothes. 
How many formal nights do cruises have?
Image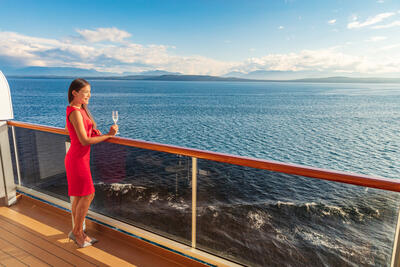 The number of formal nights on a cruise varies by ship length and cruise line. Shorter sailings will usually have only one formal night, whereas longer sailings can have 2, 3, or even 4 formal nights.
You should expect the typical weeklong cruise to have 2 formal nights, regardless of the cruise line. 
Do I have to participate in formal night?
Image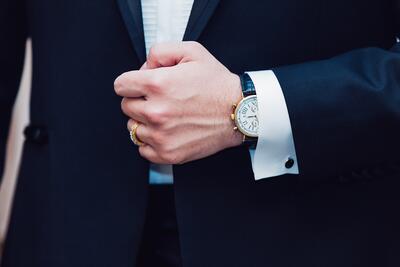 Unless you're sailing on a luxury line like Regent Seven Seas Cruises, Seabourn, or Crystal, the extent to which people dress up varies. Some may opt to completely forego formal night and head to the buffet instead. That being said, you'll rarely be turned away from the ship's dining room, even if you do not dress up. 
When I took my first Carnival cruise, I was shocked at how casual elegant night felt! Don't get me wrong, there were definitely some people dressed to the nines; however, there were just as many people sporting casual attire, such as shorts and t-shirts.