After stepping foot on a cruise ship, you may see lots of people wearing matching t-shirts. Whether commemorating an anniversary or birthday, sailing with a bachelorette or bachelor party, or a group of family members traveling together for a vacation, wearing matching t-shirts is a fun way to celebrate a special occasion.
Even if you're not in a group, individuals can wear a cruise-themed t-shirt to get in the spirit of cruising. Walking around the ship, you will be sure to spur conversation with fellow travelers!
If you want to purchase your own matching t-shirts for your next cruise, we have 20 ideas for you to consider.
Please note that we've linked items from Amazon, which contain an affiliate link. This affiliate link costs you absolutely nothing extra, but cruise.blog makes a small commission if you purchase it.
1. Blame It On The Drink Package
Image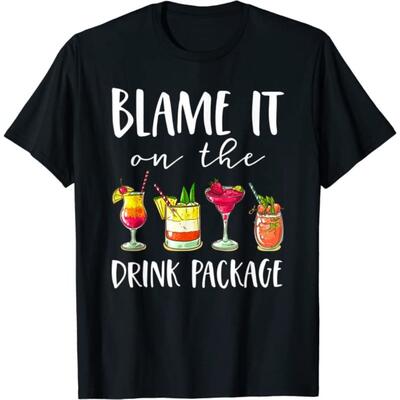 Available in: 
Fit type: Men and women
Colors: Black, navy blue, asphalt grey, cranberry red, brown, dark heather grey, heather blue, pink, purple, royal blue
Sizes: XS to 3X
2. The One Where They Go On A Cruise
Image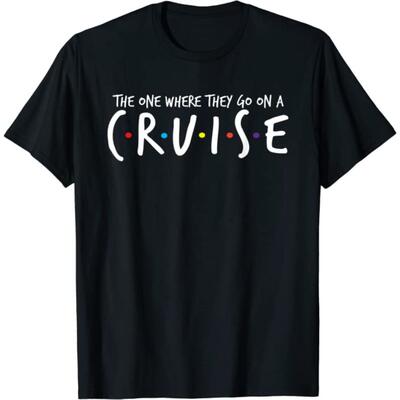 Available in: 
Fit type: Men and women
Colors: Black, navy blue, asphalt grey, baby blue, brown, dark heather grey, heather grey, heather blue, pink, purple
Sizes: XS to 3X
3. Countdown Is Over, It's Cruise Time
Image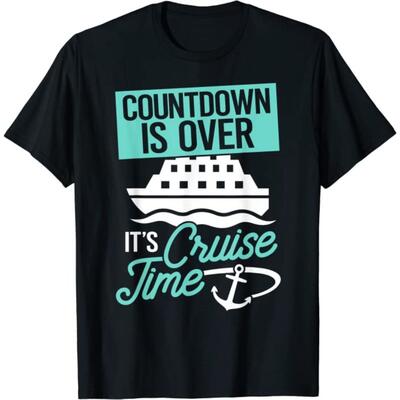 Available in: 
Fit type: Men and women
Colors: Black, navy blue, dark heather grey, heather blue, royal blue
Sizes: XS to 3X
4. On Cruise Mode
Image
Available in: 
Fit type: Men, women, and youth
Colors: Black, navy blue, baby blue, dark heather grey, heather grey, pink, purple, red, kelly green, royal blue
Sizes: 2T to 3X
5. Birthday Cruise Squad
Image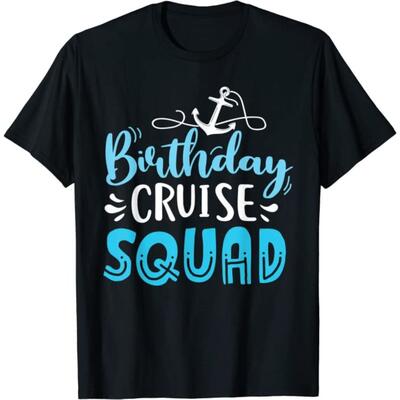 Available in: 
Fit type: Men, women, and youth
Colors: Black, navy blue, asphalt grey, slate grey, cranberry red, red, kelly green, brown, dark heather grey, royal blue
Sizes: 2T to 3X
6. Cruise Ship Calories Don't Count
Image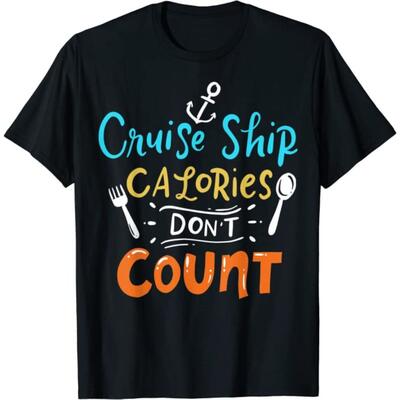 Available in: 
Fit type: Men, women, and youth
Colors: Black, navy blue, asphalt grey, slate grey, baby blue, dark heather grey, heather grey, heather blue, pink, royal blue
Sizes: 2T to 3X
7. I Love It When We're Cruising Together
Image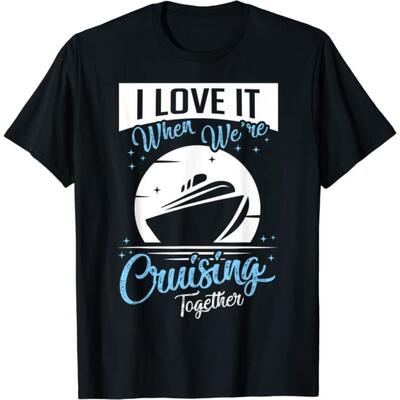 Available in: 
Fit type: Men, women, and youth
Colors: Black, navy blue, asphalt grey, kelly green, brown, olive green, dark heather grey, heather blue, purple, royal blue
Sizes: 2T to 3X
8. This Week I Don't Give A Ship
Image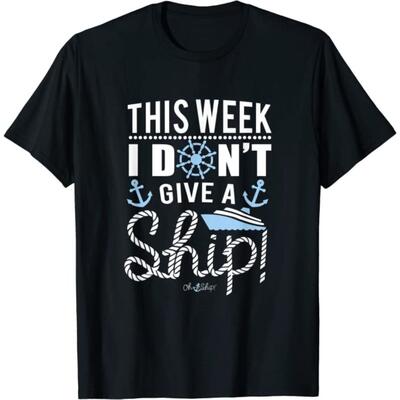 Available in: 
Fit type: Men and women
Colors: Black, navy blue, red, kelly green, heather blue, purple, royal blue
Sizes: XS to 3X
9. Living Life One Cruise At A Time
Image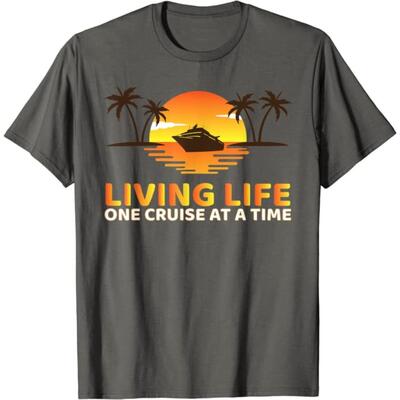 Available in: 
Fit type: Men, women, and youth
Colors: Asphalt grey, slate grey, cranberry red, dark heather grey, heather blue
Sizes: 2T to 3X
10. I Like Big Boats And I Cannot Lie
Image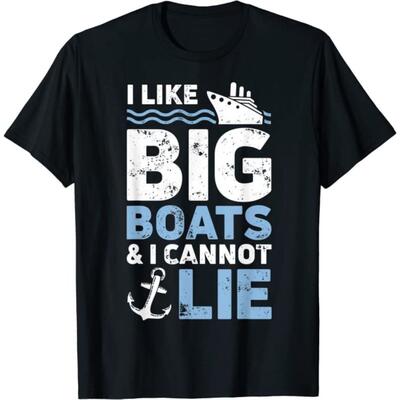 Available in: 
Fit type: Men, women, and youth
Colors: Black, navy blue, heather blue, purple, royal blue
Sizes: 2T to 3X
11. Husband and Wife Cruising Partners For Life
Image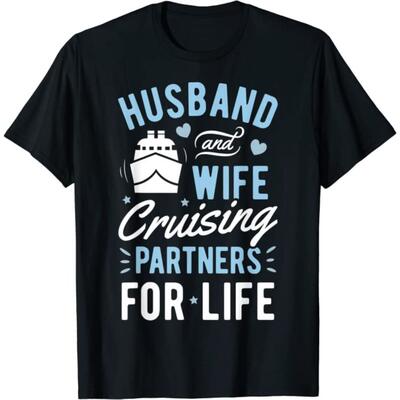 Available in: 
Fit type: Men, women, and youth
Colors: Black, navy blue, heather blue, purple, royal blue
Sizes: 2T to 3X
12. Today's Forecast Cruising With A Chance of Drinking
Image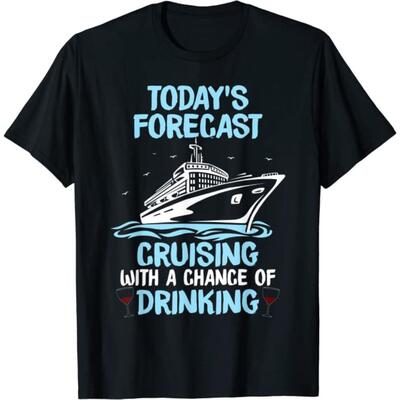 Available in: 
Fit type: Men and women
Colors: Black, navy blue, asphalt grey, cranberry red, kelly green, olive green, dark heather grey, heather blue, purple, royal blue
Sizes: XS to 3X
13. Vacay
Image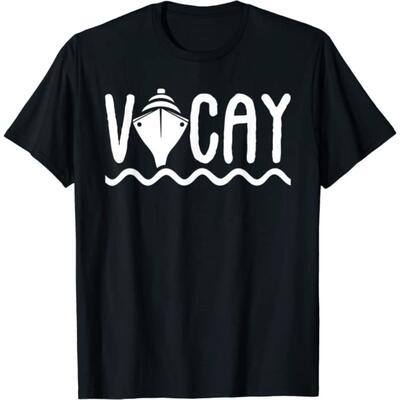 Available in: 
Fit type: Men, women, and youth
Colors: Black, navy blue, asphalt grey, cranberry red, kelly green, brown, olive green, heather blue, purple, royal blue
Sizes: 2T to 3X
14. I Don't Need Therapy I Just Need To Go On A Cruise
Image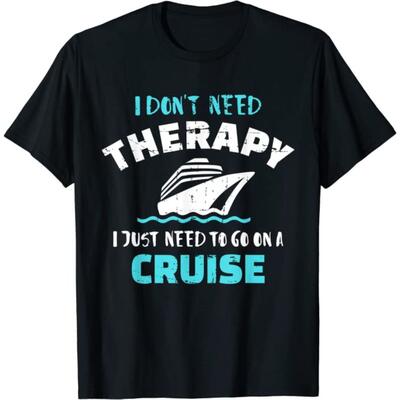 Available in: 
Fit type: Men and women
Colors: Black, navy blue, baby blue, red, kelly green, dark heather grey, heather grey, pink, purple, royal blue
Sizes: XS to 3X
15. Family Cruise
Image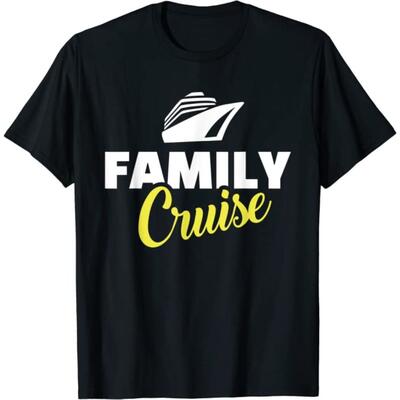 Available in: 
Fit type: Men, women, and youth
Colors: Black, navy blue, baby blue, red, kelly green, dark heather grey, heather grey, pink, purple, royal blue
Sizes: 2T to 3X
16. Couples That Cruise Together Stay Together
Image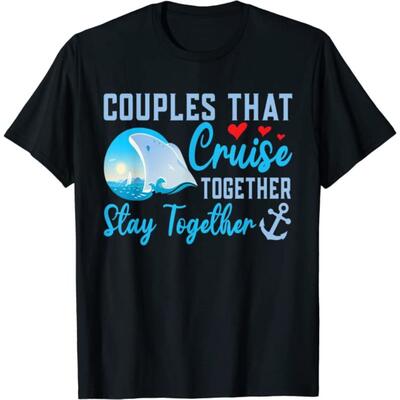 Available in: 
Fit type: Men and women
Colors: Black, navy blue, white, red, kelly green, lemon yellow, heather grey, pink, purple, royal blue
Sizes: XS to 3X
17. Oh Ship It's A Girls Trip
Image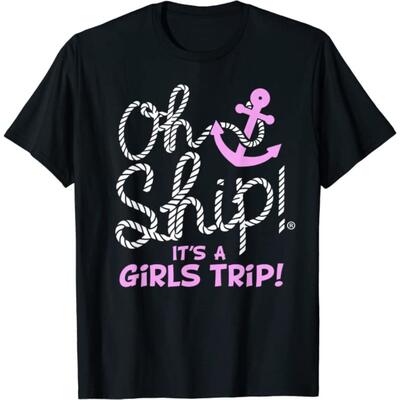 Available in: 
Fit type: Men, women, and youth
Colors: Black, navy blue, kelly green, dark heather grey, heather blue, purple, royal blue
Sizes: 2T to 3X
18. This Is My Cruising, Drinking, Relaxing Shirt
Image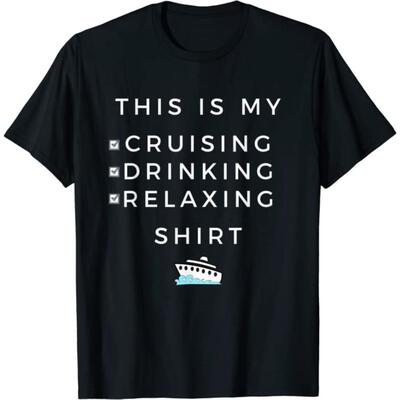 Available in: 
Fit type: Men and women
Colors: Black, dark heather grey, heather blue, royal blue
Sizes: XS to 3X
19. Apparently We're Trouble When We Are Cruising Together Who Knew
Image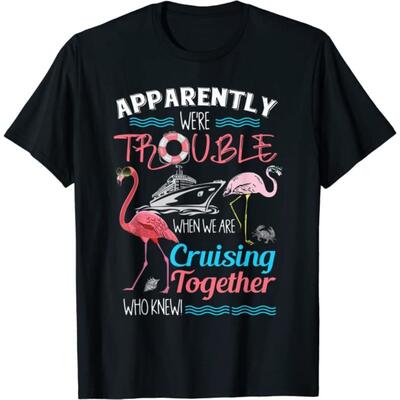 Available in: 
Fit type: Men, women, and youth
Colors: Black, navy blue, asphalt grey, cranberry red, brown, olive green, dark heather grey, heather blue, purple, royal blue
Sizes: 2T to 3X
20. Things I Do In My Spare Time
Image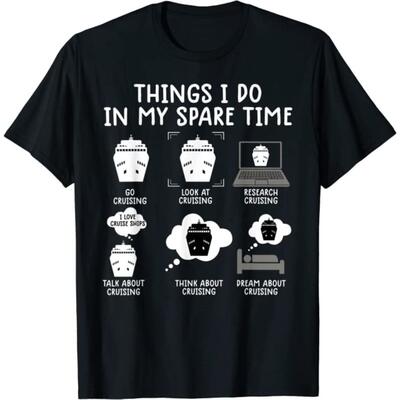 Available in: 
Fit type: Men, women, and youth
Colors: Black, navy blue, asphalt grey, cranberry red, brown, kelly green, dark heather grey, heather blue, purple, royal blue
Sizes: 2T to 3X