Packing for your first-ever cruise can be overwhelming! You want to make sure that you have everything that you will need without going overboard. 
Stateroom storage space is pretty limited, especially if you have three or four people sharing one cabin. If everyone packs too much, it is easy to run out of space and to create a cluttered "home away from home." On the other hand, you don't want to encounter a situation where you forgot a must-have item. 
Unlike land-based vacations, you cannot run to the nearby drug or mega store to pick up something that you may have forgotten, such as your go-to pain reliever or pajamas. 
Here are 15 packing tips for first-time cruisers to help you pack the most efficiently. 
Make sure you check your passport's expiration date at least six months before your cruise 
Image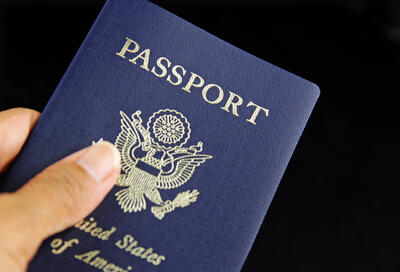 Before you make your deposit, you will want to ensure that all of your documentation is valid. When cruising with a passport, it must be valid at least six months after the cruise. If you find that yours is set to expire, you want plenty of time to renew! 
Those booking a last minute cruise will want to look extra carefully, as you most likely won't have time to wait for your renewal to arrive. In this case, you might have to resort to the birth certificate and government-issued photo I.D. method. 
Of course, this won't work for all sailings, such as those departing from a foreign country like Italy or that begin and end in different U.S. ports. 
If you aren't cruising with a passport, you will want to ensure that you have an appropriate birth certificate. 
Read more: Where can you cruise without a passport?
Pack a separate carry-on bag to bring with you onboard on embarkation day
Image
When you arrive at the terminal on embarkation day, you will be greeted by a porter who will assist you with your larger pieces of luggage. You will not see your bags again until later in the afternoon when they're delivered to your cabin.
Because of this, you will want to make sure that you have everything valuable on your person, such as your passport and other boarding documentation, jewelry, medications, etc. Some people even like to bring a change of clothes, so they can be one of the first to hit up the lido deck. 
In rare instances, your bags can be delayed. It's not unheard of for people to bring a change of clothes for dinner, too! Of course, the first night is the most casual, so as long as you don't show up in your swimsuit, you'll be fine. 
Create your own DIY first-aid kit, so you're prepared for anything
Image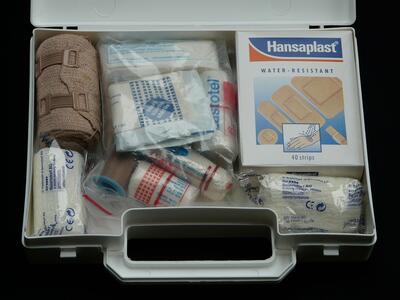 Accidents happen, even when you are on vacation. A-do-it-yourself (DIY) first aid kit is a great way to make sure that you are ready for any minor injuries. You're also able to customize it to your liking, so you can have your favorite brand of pain reliever on hand in case a dehydration headache strikes. 
You should not worry too much since there are medical centers on every cruise ship. They are not, however, open 24/7. Sometimes, it is also an inconvenience to go out of your way just for a band-aid or seasickness medication. The medical center isn't available on land, either.  
I once found myself feeling under the weather while on a Carnival cruise. I had forgotten my DayQuil and had to spend time going to Walgreens while docked in San Juan— there were certainly other things I could have been doing instead that were more fun. 
Read more: How to make your own DIY cruise first aid kit
While important, you might need more than just sunscreen
Image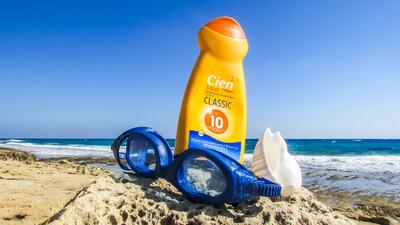 Do not get me wrong, sunscreen should be on your packing list no matter where you are going, and it is something that you should apply even if it is a little cloudy outside. 
There are some destinations, however, that might require other protective sprays. Alaska, for instance, is notorious for bugs, so you will want to have plenty of bug spray on hand for your days ashore. 
Even if you're going to the Caribbean, you should think about what excursions you have planned. If you're going to be hiking or zip lining through the forest, it might be wise to bring some. 
Research your ship's nightly events in advance, so you can pack themed attire 
Image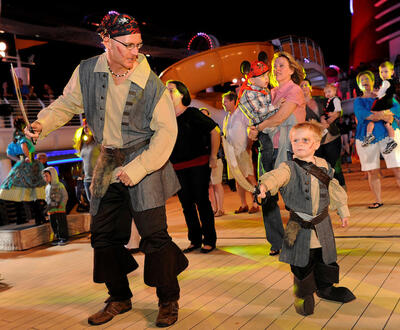 Theme nights are extremely popular on cruises. Don't be surprised if you board your ship and see everyone decked out in all-white clothing one night. There might even be a hoedown or throwback decades night! 
Disney Cruise Line is well-known for their Pirate Night, which features fireworks and Disney characters decked out in their best pirate gear. 
You can, of course, expect a formal night, where everyone dresses their best. While cruises are less formal than they used to be, many passengers still prefer to pull out their outfits. You'll see people wearing anything from simple sundresses to elegant ball gowns! 
Pro tip: it's a great time to get your family Christmas card while everyone is looking snazzy. 
Read more: 40 Fun Things to Do on a Cruise Ship
The top deck can get chilly at night, so you'll want to bring a light jacket or sweatshirt 
Image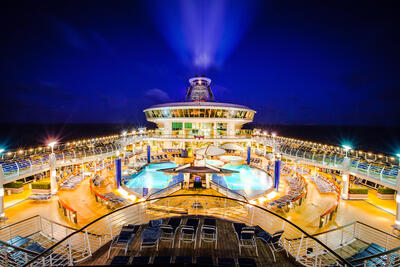 When your ship is sailing at full speed, the top deck can get windy, especially after the sun goes down. Plus, you never know when you will encounter a cold front. 
When I went on my first-ever Mexican Riviera cruise onboard Navigator of the Seas, I was shocked when our first day at sea was pretty chilly! I figured since it was June that we'd have warmer weather. 
Had I done a little bit of research, I would have learned about "June Gloom," which is when the area is subject to overcast skies, cooler temperatures, and rain! A light jacket would've been great, so I could have enjoyed the outdoors during that sea day. 
If you want to participate in onboard activities, make sure that you understand the dress code
Image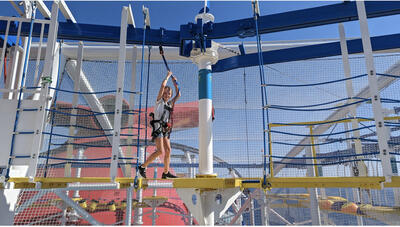 Today, cruise ships have more activities onboard than ever. Have you ever wanted to ride a roller coaster at sea? What about racing your friends around a go-kart track, trying a skydiving simulator, or soaring across the ship on a zip line? 
Oftentimes, you will have to adhere to a certain dress code in order to participate. To ride a zip line onboard Oasis Class ships, for instance, you have to be wearing closed-toed shos that can be tied. Moreover, you'll have to wear long pants if you want to ice skate at sea. 
When you book a ship, spend some time researching what clothes you should pack, so you can take advantage of everything that's onboard!
Older ships have fewer outlets 
Image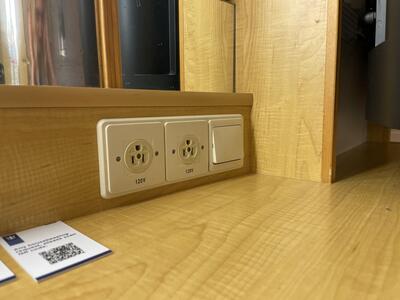 The older the cruise ship, the fewer outlets you are likely to find in your stateroom. When I sailed on Navigator of the Seas, a Voyager Class ship that launched in 2002, I was disappointed to find that there were only two American outlets. There was, however, a third outlet that was outfitted for European plugs. 
You will want to pack either a non-surge power strip, European power adapter, or both to take advantage of all the charging options in your stateroom, especially if you're sailing with three or four people in a single room. 
Read more: Why smart cruisers bring a European power adapter on a cruise ship
Pack wrinkle release spray instead of steamer 
Image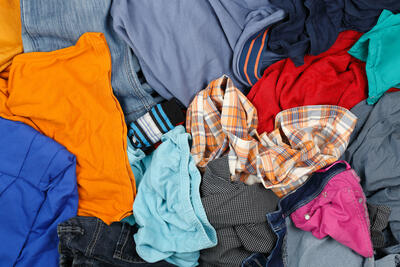 Did you know that steamers are banned by most cruise lines? This means that you will have to get creative when fighting the inevitable wrinkles in your clothes. 
Personally, I find that hanging the article of clothing that I'm wanting to wear in the bathroom while I shower is sufficient; however, wrinkle release spray is a popular alternative, too.
It can be purchased on Amazon for less than $10. Plus, if you buy the Bounce Rapid Touch-Up, you'll get more than just a standard wrinkle remover. This particular spray is a 3-in-1 product that also refreshes clothing, as well as removes static!
Please note that we have linked an Amazon item above, which contains an affiliate link. The affiliate link costs you nothing extra, but Cruise.Blog will make a small commission if you purchase the item through the link. 
Read more: 20 best things to bring on a cruise that cost less than $10
On that note, read into what other items that you cannot bring onboard
Image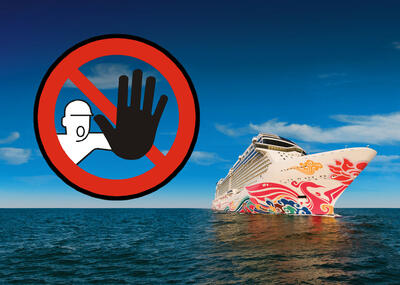 Cruise lines don't allow other items to be brought on by passengers, either, and it is important that you read up on what you can and cannot bring, so you do not end up in a situation where you are kicked off! 
In September 2023, for instance, a cruiser was kicked off of Mariner of the Seas while the ship was docked in Falmouth, Jamaica after being caught with medicinal marijuana. @infamousxdrew shared his experience via his TikTok. 
Thankfully, he learned from his lesson, saying, ""Definitely didn't want any of this to happen, but you know what? It's okay, we're going to make the best of it." His mom, as well as his best friend, left the ship with him, and they ended up staying at the Holiday Inn in Montego Bay until they were able to fly back to the United States. 
Of course, nobody wants their vacation to come to an abrupt ending. While in most cases, you won't actually be kicked off of the ship, you may find that your item was confiscated by the port authorities to be returned when you disembark. 
Read more: 20 things cruise lines really do not want you to bring on ships
Toiletries will be limited, so you want to bring your own 
Image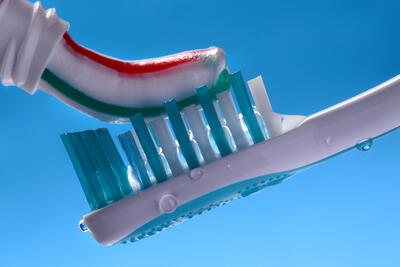 Unlike most land-based hotels, you won't find mini toiletries in your cabin's ensuite bathroom. Some cruise lines do provide a soap dispenser in the shower; however, it is best to bring your own products. This includes shampoo, conditioner, body and face wash, toothpaste, etc. 
Another tip is to bring your own hand soap, too. Some cruisers complain about the bar that's provided, stating that it dries their hands out. 
Rather than bring full-sized bottles, I recommend purchasing a set of travel bottles off of Amazon. There's not a ton of storage space in the bathroom, and if everyone in your party brings full-sized bottles, you will run out of space pretty quickly!
Pack according to your cruise destination
Image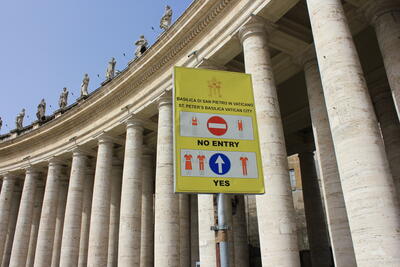 Are you dreaming of digging your toes into the white sands of the Caribbean? What about hunting some amazing wildlife in Alaska? Your cruise destination will determine your overall packing list. 
Those, for instance, heading to Alaska will want to focus on layers, while those sailing to The Bahamas and Caribbean will want to pack tropical gear like bathing suits, sundresses, and flip-flops. 
Additionally, those cruising around Europe should pack some modest attire if you are planning to visit any kind of religious landmarks. Otherwise, you may be denied admission!
The Vatican in Italy, for instance, requires that both men and women cover their knees and upper arms. Shorts or skirts that fall above the knee, sleeveless tops, and low-cut shirts are prohibited.
Likewise, the Sagrada Familia in Barcelona also has a dress code and does not allow visitors who are wearing see-through clothing, swimwear, bottoms that don't come down to at least mid-thigh, or any "special clothing to celebrate any sort of festivities, nor with any decorations designed to distract or draw attention for artistic, religious, promotional or any other purposes."
Invest in packing cubes
Image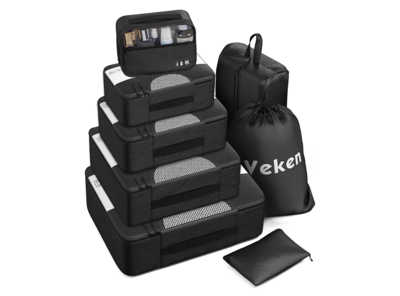 Packing cubes are great because they can be used time and time again for all your future vacations, whether it's a week-long trip to Europe or a short weekend stay in New York City. 
Using packing cubes allows you to fit more into your suitcase, as they condense the total amount of space that your clothes take up in the bag. They can be used with larger pieces of luggage or carry-on bags for those who might want to avoid paying to check any bags through your airline. 
They also allow you to stay more organized. When the time comes to unpack your suitcase, you can simply place the cubes on closet shelves or in drawers. The less time you spend unpacking, the more time you get to have fun on the ship!
Consider some cruise cabin hacks to make your living space more functional 
Image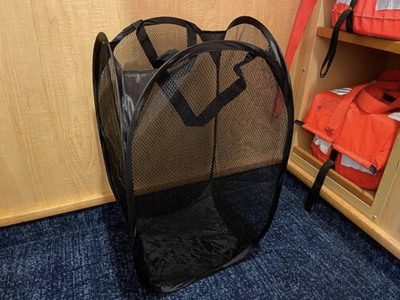 Before you book a cruise, it's important to understand just how tiny some cruise ship cabins can be. While you won't be lacking any essentials, the amount of space may fall short of being able to meet all of your needs. 
Even if you only have two people staying in your cabin, keeping it organized can be a challenge. To make the most of the space, you will have to be creative and use some smart cruise cabin hacks to help improve your cabin's functionality.
Some cruisers love to bring magnetic hooks to give them more storage space, as most cabin walls are actually magnetic! Others like to bring a collapsible hamper (or trash bag) to hold their dirty laundry. 
Read more: Top 25 cruise cabin hacks to improve your stateroom's functionality
Don't forget to get some cash from your bank's ATM to avoid pesky onboard fees
Image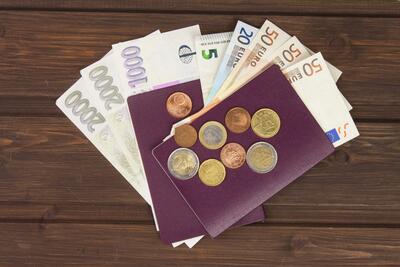 Once you get onboard your ship, your cruise card will be your lifeline. You will use it for things like opening your stateroom door, making onboard purchases, and even tapping on and off of the ship when going ashore. 
Sometimes, however, it is nice to have some cash on hand, whether you want to tip your favorite bartender or do some souvenir shopping in port. ATM fees onboard aren't cheap, either. 
If you know you'll be visiting other countries, you might want to go ahead and get some local currency, too. When I sailed around the Mediterranean in June, I realized that I didn't have enough Euros for all my post-cruise cabs, as I was staying in Milan for an extra night after my ship returned to Genoa. 
Thankfully, I remembered a hack to avoid onboard ATM fees, although if you can avoid it by bringing enough cash, you won't have to panic! If you find yourself in a situation where you need cash, simply visit the ship's casino and upload some money from your onboard account. Before actually gambling, cash out and visit the cashier! 
Read more: How much cash should you bring on a cruise?