Before you leave for your next cruise, you need to make sure that you buy a European power adapter. 
When I cruised on MSC Seashore in June, I was surprised to see that the vanity had a built-in wireless charger in addition to multiple outlets and USB ports. This is a relatively new ship, having set sail in August 2021. I loved all the charging options in my updated stateroom. 
I sailed on Navigator of the Seas, a Voyager Class ship that launched in 2002, a few weeks later and was disappointed to find that there were only two American outlets. Had I thought ahead, I could have had three by bringing a European power adapter. 
Image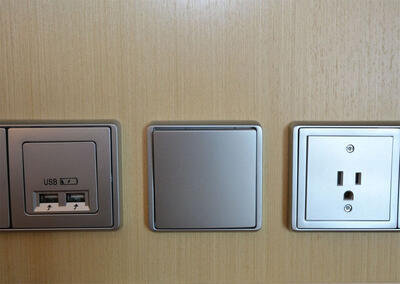 Whenever I cruise from now on, I am always going to make sure that I have a European power adapter, and here is why other smart cruisers should, too. 
Note that if you are a European, it would behoove you to do the opposite! Instead of bringing European adapters, you will want to purchase American ones. 
Please note that we have linked Amazon items in this post through an affiliate link. The affiliate link costs you nothing extra, but Cruise.Blog will make a small commission if you purchase the item through the link. 
Cruising with more than two people in your cabin? You will need it
Image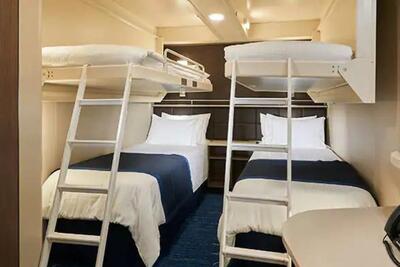 Some cruise ship staterooms are able to accommodate up to four guests. If, however, there are only two useable outlets, you might be out of luck!
When I was on Navigator of the Seas, I was only cruising with one other person, so we were able to make use of only two American outlets. Had a third person been with us, we would have had to rotate who was able to charge their phone and when. 
Even with only two people, it is likely that you both will have more than one device you want to charge. 
From phones to smart watches, ear buds, iPads, and portable chargers, you never want to be in a position where you have to decide what device you want to be powered the most, especially on the last night of your cruise when you have an imminent travel day approaching. 
They are an economical purchase
Image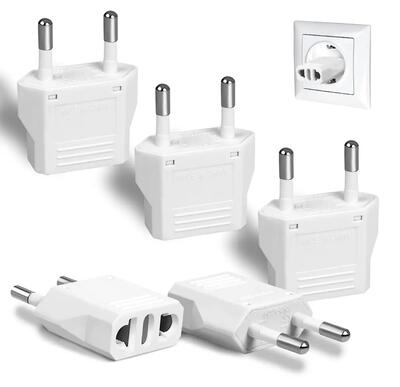 A six-pack of European power adapters can be purchased for less than $10 from Amazon. What makes this great is that, while you won't need all six for your cruise -- unless you are traveling with a large group --, you can reuse them on future European vacations!
When you travel to Europe, you will need an adapter for every plug, as they won't have any American outlets. As you start to plan your next European trip, you will already have the plugs handy, even if they have been shoved into a drawer in your kitchen. 
American outlets are not common in public areas
Image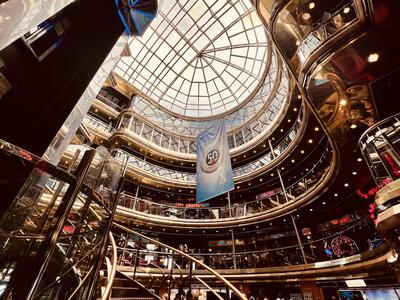 When I was onboard Navigator and Freedom of the Seas recently, I was disappointed to find that there were not really any American outlets in public areas, such as the Royal Promenade. 
On both cruises, I sat in the Solarium to do some work until my laptop died. Since it was pretty warm outside, this happened quicker than usual. 
Because I did not have a power adapter on either sailing, I had to return to my interior cabin while it charged. Had I brought a European power adapter, I could have searched elsewhere for a place to work. I hate spending too much time in my stateroom when I could be taking in the cruising atmosphere elsewhere. It's fun to people watch this way, too! 
What are some other alternatives?
Image
If you think you can just bring a random extension cord that you have lying around on your cruise, you are wrong. 
Like irons and steamers, these cords, along with surge protectors, are considered a fire hazard and are banned by many cruise lines. If you plug too many items into one plug, you could potentially start a fire! 
Read more: 20 things cruise lines really do not want you to bring on ships
While European power adapters are a great way to work around this restriction, there is another option: a non-surge power strip. 
Image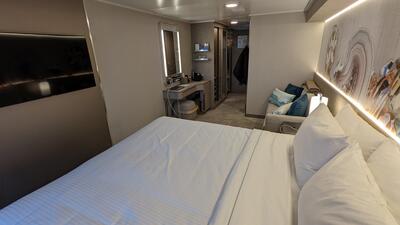 The latter is more expensive and bulkier, meaning that it will take up more space in your luggage. It is, however, more versatile. You can plug in three American plugs, as well as use standard USB cords. This is something that you can usually only do on brand-new ships! 
On some older ships, like Carnival's Fantasy Class ships, you will only find one American outlet in the room. This means that a European adapter won't do you much good. Sometimes, a non-surge power strip is the way to go!
Image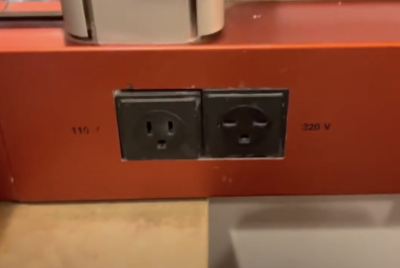 Read more: I sailed in Carnival's newest and oldest interior cabins - see how they compare
On Amazon, you can buy a non-surge power strip for around $25. 
You can also bring a portable charger. Not only are these great to keep on your person during port days, but they can also be used to charge your phone at night if you do not have an outlet or cable that can reach your bed. 
Image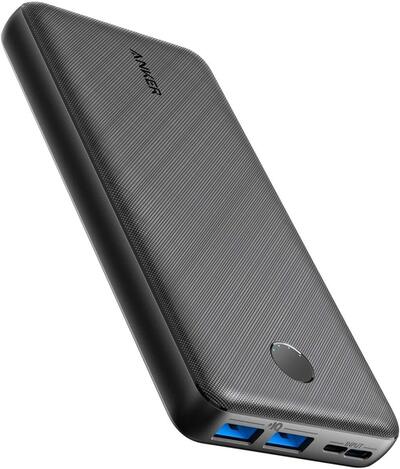 My favorite charger is a little on the bulky side; however, I don't have to recharge it after every single use. I can leave it charging in my cabin on a sea day and know that I can get a few charges out of it. 
Plus, I'm able to use it to charge more than one device at a time. In fact, it has been great to give my laptop a little extra juice when I am working at sea, rather than having to return to my cabin. 
It can be bought on Amazon for $42. 
Image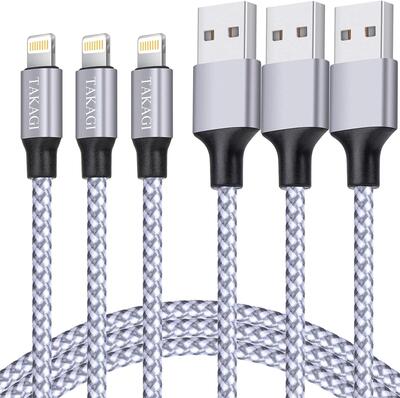 I also love bringing longer charging cables because, as mentioned earlier, sometimes the only outlets in the room are located at the vanity area. It probably would force me to get up a little earlier if I had to get out of bed to turn my phone's alarm off, but I am someone who likes to keep my phone close by when I fall asleep. 
Braided ones, like this 6-foot one, are great because they are more durable than standard Apple cables!