Sailing in an inside cabin might not be the most glamorous option on a cruise ship, but these tiny staterooms are both practical and affordable. Although I love splurging on a balcony stateroom when possible, I typically reserve an interior stateroom when I cruise because of the budget-friendly price tag.
Within the last year, I have sailed on Carnival Cruise Line three separate times. My first cruise with Carnival was last summer on Carnival Ecstasy, right before the ship's retirement. The 31-year-old vessel was nearly at the end of her life, just waiting to head to the cruise ship graveyard for scrapping.
I found a very cheap sailing leaving from Mobile, Alabama for a 4-night itinerary to Cozumel. I decided to book the cheapest cabin onboard this old vessel: an inside stateroom guarantee. 
Image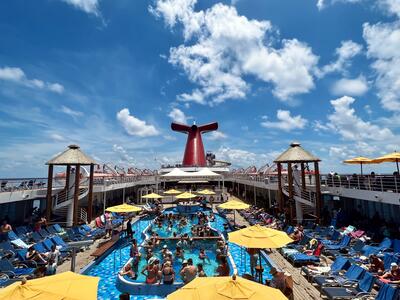 Although the ship was old and small, I loved the Carnival experience so much that I couldn't wait to book another sailing with the cruise line. 
This time, I wanted to see the best of what Carnival had to offer. So, I booked a 7-night sailing onboard the swanky new Carnival Celebration when the ship debuted late last year. Because new ships are inherently more expensive, I decided to book another inside cabin to save some money.
Read more: 10 things Carnival got right with Carnival Celebration
Image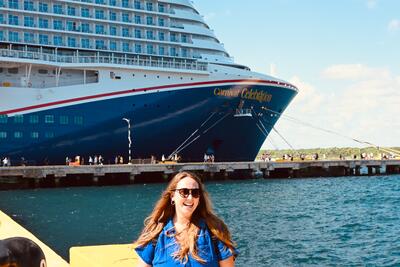 Within a few months, I sailed in Carnival's newest and oldest interior cabins with a 31 year gap between the two. Here's how the inside cabins compared on the oldest and newest Carnival cruise ships.
Inside Cabin Overview
Image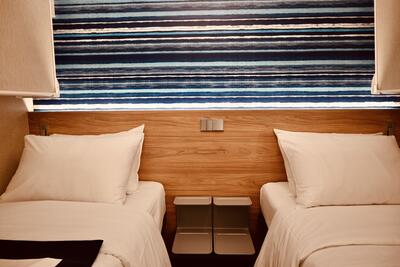 Regardless of which cruise line you sail with, inside cabins tend to be small but very functional. You'll find a place to sleep each evening, along with a bathroom, closet, vanity, and usually a couch or loveseat.
If you're someone who does not want to spend much time in your cabin, then an inside stateroom is perfect for you. You can also save substantial money on your cruise by choosing to sail in an interior cabin.
For an inside stateroom, the beds are configured as two twin beds or combined as a king. During Carnival's online check-in process, the cruise line asks if you prefer your beds to be together or separate. For both of these cruises, we chose to have separate beds, as I was sailing with my sister. 
Image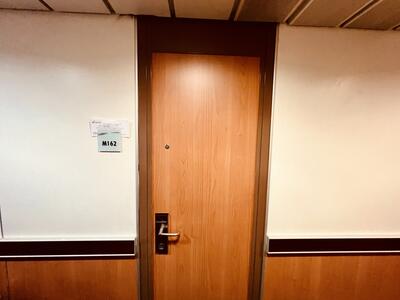 Our inside cabin on Carnival Ecstasy was located on Deck M. The ship was so old that we did not know ships had decks that were labeled with letters instead of numbers. We figured out that Deck M was equivalent to Deck 5 onboard. Since Carnival Ecstasy only had 9 decks, we were very centrally located to everything we wanted to do onboard.
Even though Carnival Ecstasy was 31-years-old, we found the inside cabin was clean and fairly spacious. Of course, the decor was a little outdated, especially the bathroom. We also found it interesting that the beds were perpendicular towards one another instead of parallel.
Image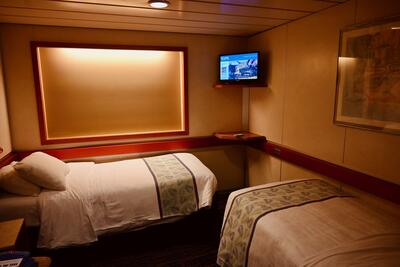 On the flip side, when we boarded Carnival Celebration a few months later, we found our inside stateroom to be compact, stylish and well designed. Our cabin was located on Deck 4. 
The first evening, we noticed the walls were more soundproof in the newer cabin compared to our older stateroom on Carnival Ecstasy. We were never able to hear our neighbors during the evening hours, which was a stark contrast to practically hearing every conversation from our neighbors on Carnival Ecstasy. 
Image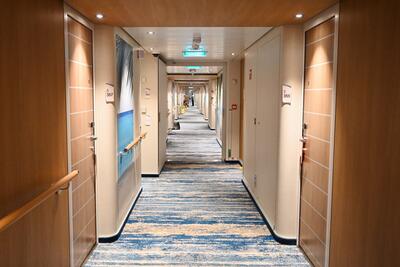 Since Carnival Celebration has nearly 18 decks, being on Deck 4 meant we were not as centrally located. However, we don't mind getting some steps in during our cruise, so we certainly had a little extra exercise taking the stairs around the ship.
Image
Again, we had our beds separated into two twin beds, which made the inside stateroom feel more open. The bathroom was very spacious and modern,  although our cabin did not have a place to sit other than the bed. Overall, we were impressed by the inside stateroom. It was also the first time we had sailed in a practically brand-new cabin! 
Cost
Image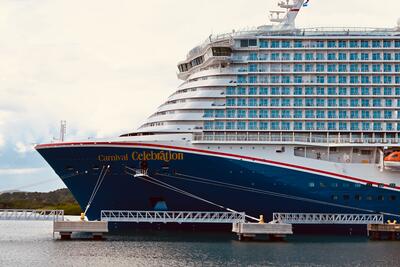 One of the biggest discrepancies between these two Carnival inside cabins was the cost. Here is a breakdown of what we paid for our 7-nights on Carnival Celebration compared to our 4-night sailing on Carnival Ecstasy.
Because cruise lines inflate fares for newer ships, it's not surprising that our cabin on Carnival Ecstasy was cheaper than Carnival Celebration. Since we were sailing on one of the inaugural cruises onboard Carnival Celebration, we anticipated that we would be spending more to experience this brand-new ship.
We paid $1,300 for our inside cabin on Carnival Celebration, which is fairly reasonable considering this was only the second sailing for the new cruise ship. This is around $92 per day for each guest, including food, drinks, entertainment and accommodations. 
Image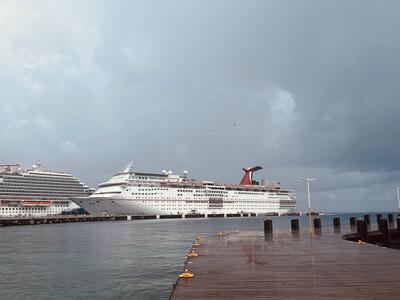 On the other hand, Carnival Ecstasy was just a few weeks away from her retirement. The ship was scheduled to be scrapped in the cruise ship graveyard the following month after our sailing. Because demand for this cruise was pretty low, our sailing was ridiculously cheap.
Our inside cabin on Carnival Ecstasy cost $500 total for the 4-night sailing to Cozumel and back. This prices out to be $62.50 per person for each day of the cruise for our inside cabin, or about about $30 cheaper per person for each day of the cruise. 
Size
Image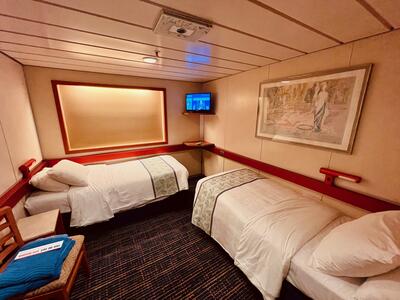 Much to our surprise, our inside cabin on Carnival Ecstasy felt pretty spacious. I had low expectations for the room's size, but it appears as though inside cabins have been getting smaller in size overtime as ships become bigger.
We had plenty of room to unpack for the four nights onboard Carnival Ecstasy. The inside cabin measured a very roomy 185 square feet. This is on the higher end of the spectrum for an average size of an inside cabin, as most standard inside cabins will likely fall between 150 and 190 square feet.
When we were onboard Carnival Celebration, the cabin felt smaller and less roomy. Although the room was quite small at just 162 square feet, the lighting and design of the cabin made it feel more spacious with the space being well utilized.
Image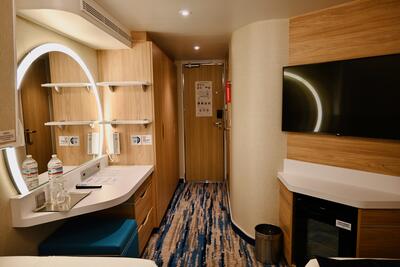 Neither ship had an additional seating area inside the cabin. Instead, we had to resort to sitting on our beds anytime we were in the cabin.
One of the biggest disappointments, though, with our cabin on Carnival Celebration was having two exposed, unused bunk beds in the stateroom. Because our inside cabin could sleep four people, the stateroom featured bunk beds hanging from the sides of the cabin. However, most cabins have these bunk beds stored in the ceiling when they are unused, so as to not waste space.
Image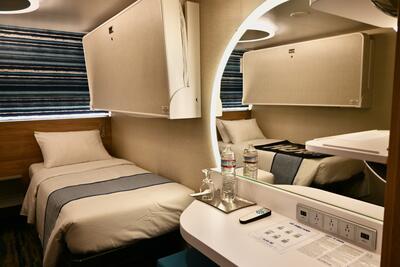 Having the bunk beds exposed from the wall made the small area feel more cramped, especially considering we could only sit on the beds when inside the cabin. With two people sailing on Carnival Celebration, the inside cabin was comfortable but it would feel cramped with more people.
Read more: I stayed in a $1,300 stateroom on Carnival Celebration — see what my room on this new cruise ship looked like
Design and Decor
Image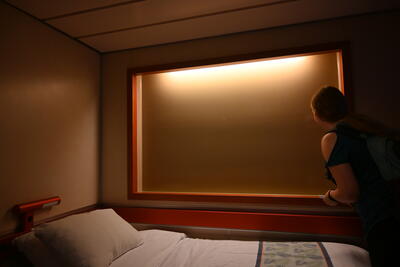 It's tough to justifiably compare the design of these two staterooms considering Carnival Ecstasy's cabins were designed 31 years ago. Just as anything else, trends have changed with a shift towards lighter woodwork and brighter finishings.
Look at any house that was built 31 years ago, and you'll certainly notice the differences in design. This was the case with Carnival Ecstasy, although the cabin was not as outdated as I anticipated.
Read more: Carnival Ecstasy Live Blog - Day 1 - Embarkation Day
The stateroom featured a prominent frame at the back of the room, which resembled the shape of a window. Perhaps this was a mirror at some point, but it added some dimension to the cabin. There was a generic piece of wall decor on the adjacent side of the cabin. It certainly did not impress us, but it was better than expected.
The closet and vanity all featured dark woodwork, which was common in the 1990s. This made the stateroom feel extra warm and cozy. Of course, without any window, we were able to take naps whenever we wanted at all hours of the day.
On the other hand, our inside cabin on the brand-new Carnival Celebration was beautifully designed. The stateroom was brighter with more character, including light woodwork, white countertops and pops of the signature Carnival-blue.
Image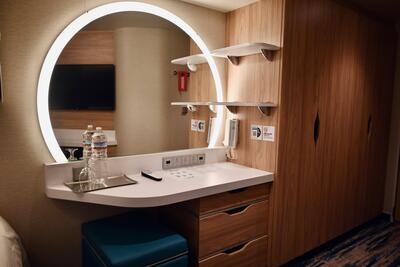 The lighting in our Carnival Celebration cabin was also brighter thanks to an LED fixture on the ceiling and mirror. Surprisingly, both cabins featured very similar bedding even though Ecstasy's cabin was drastically older. We found both beddings to be soft and comfortable during the time we spent in these small staterooms.
Functionality
Image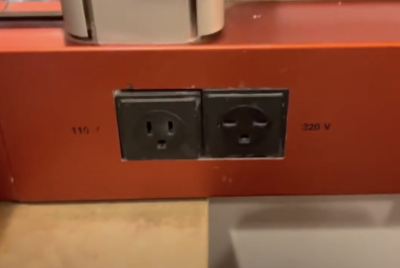 Inside cabins might feel even smaller than your typical studio apartment, but cruise lines make every effort to ensure the stateroom is functional. While you won't find many frills, you will find everything you in an inside stateroom on a cruise ship.
Because Carnival Ecstasy was so old, we did anticipate having some disappointing aspects of the cabin. For example, older cruise ships tend to not have as many power outlets available onboard. Back in the 1990s, cell phones were just becoming part of daily life.
The most disappointing aspect of our inside cabin on Carnival Ecstasy was having one single outlet to use. Between my sister and I, we had multiple devices that required nightly charging, so we had to strategically plan when to charge our devices. It might not seem like a big deal, but this was a nuisance. 
Image
With just one outlet, we were wishing we had packed a portable charger or a USB extender. The only USB extender that I cruise with plugs into European outlets, which has always proven to be useful. This time, however, there was no European outlet in the cabin so my extender was worthless. 
On the other hand, our cabin on Carnival Celebration was the complete opposite with more outlets than we needed! Our inside cabin featured three outlets and four USB plug-ins on the vanity counter. 
We even had USB chargers near our nightstands so we could have our phones charging near the bedside. Having so many outlets to charge made the stay in our inside cabin even better; this was a notable difference after sailing in Carnival's oldest inside cabin. 
Bathroom
Image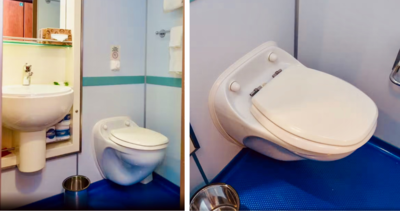 Another big discrepancy between the oldest and newest inside cabins on Carnival was the improvement in the stateroom's bathroom.
While our inside cabin on Carnival Ecstasy did not feel super outdated, the bathroom certainly did. The flooring was bright blue and squishy, with the toilet so close to the wall that we nearly had to sit sideways. The shower was small and only had a clingy curtain, which left sitting water on the floor for longer than I would prefer.
There was hardly any counter space near the bathroom sink, instead featuring a small shelf behind the sink. Overall, the bathroom space felt poorly designed and out of style.
Image
Comparatively, we were amazed by the bathroom on Carnival Celebration. Although we had booked the cheapest and smallest cabin onboard, our bathroom felt modern and spacious. There was ample space on the vanity with shelves for storage, which is a huge perk of having a modern bathroom design. We had shelving above and below the vanity in the bathroom as well.
Image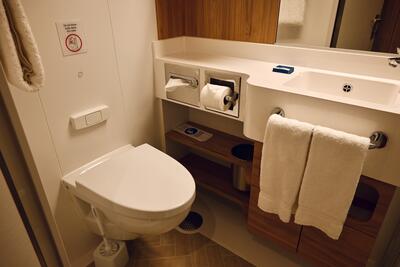 Finally, the cabin's shower was the most pleasant surprise on Carnival Celebration! Most of the time, inside cabins feature small, capsule-shaped showers with very minimal space. 
Image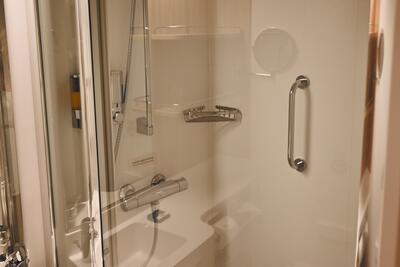 It was clear that Carnival had allocated more room in the bathroom for shower space. The shower even featured a real door instead of a clingy shower curtain. This made the experience so much more enjoyable. 
Storage
Image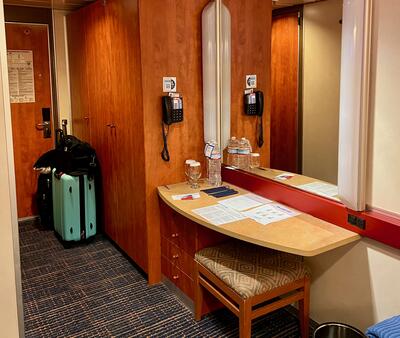 Having ample storage in an inside stateroom is very important because of the cabin's overall small size.
In both inside cabins, we found there to be not only a closet, but also drawers and shelves to use throughout the cruise. Since we were only onboard for four nights when sailing on Carnival Ecstasy, we were able to unload our clothes into the closet. With such a short itinerary, we did not have much to unpack.
Because we were sailing on Carnival Celebration for seven nights, we inherently had more luggage packed for the week. Similarly, the cabin's closet featured hangers and shelving for us to unpack our suitcases, which we stored under the bed once we unpacked.
Image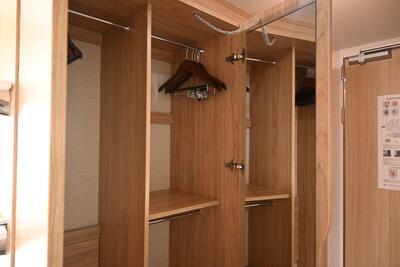 Our cabin on Carnival Celebration also had more shelving in the room, which we appreciated. With such little space overall, having areas to be organized improved the functionality of the space.
Final Thoughts
Image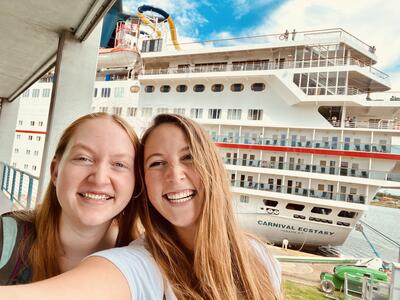 Sailing in Carnival's newest and oldest inside cabins last year was very interesting to see just how far cruise cabin design has come in 31 years. Over the span of three decades, cruising itself has been transformed.
When Carnival Ecstasy debuted in 1991, the ship was one of the biggest in the world. Now, it doesn't even come close to the biggest cruise vessels sailing the oceans. I'd conclude from these experiences that while cruise ships have gotten bigger, inside cabins are getting smaller.
Image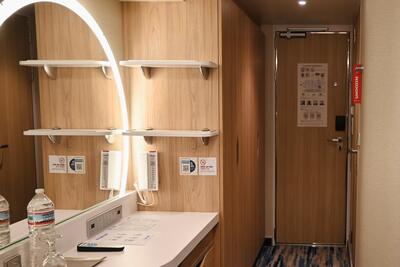 However, the design, features and amenities have evolved too. Cabins have more thoughtful storage, better bathrooms and more outlets to accommodate our digital everyday life. With more to do onboard, passengers are likely spending less time than ever before in their cabins anyway.
Regardless, both inside cabins provided cozy and enjoyable stays during our Carnival cruises. I would not hesitate to book another inside cabin with Carnival, although I would love to see how other stateroom categories compare.