I sailed on Carnival Cruise Line's brand-new cruise ship, Carnival Celebration, in the cheapest cabin available. 
Image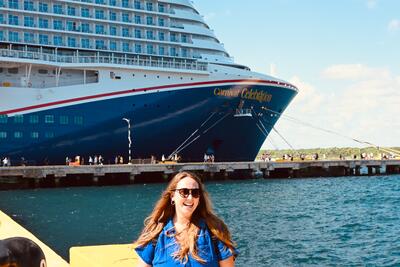 Carnival Celebration is the second ship in the cruise line's new Excel-class of ships; this means Carnival Celebration is the cruise line's newest, biggest and most modern cruise ship to date. 
Image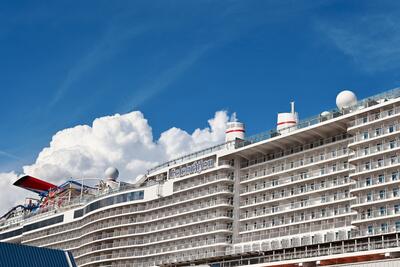 For only $1,300, we stayed in an inside cabin guarantee, so we weren't assigned a cabin until right before departure. This price also included gratuities. 
Image
I'm no stranger to inside cabins, as this is my preferred cabin category because of its affordability. As an avid cruiser, I've sailed in more than 20 different inside cabins.
Image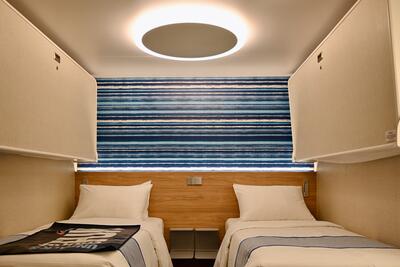 At just 162 square feet, our inside cabin on Carnival Celebration was equally stylish as it was functional. Our beds were separated into two twin-sized beds, making the space feel more open. 
Image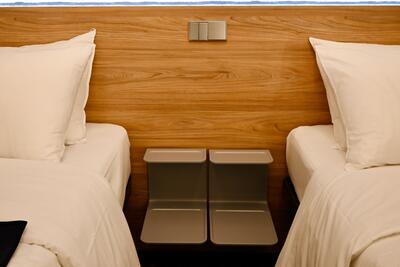 We appreciated the USB outlets located near the beds to charge our phones each night, along with light switches that controlled the cabin. These small, minimalist-style nightstands were functional, although an actual nightstand would have been preferred. 
Image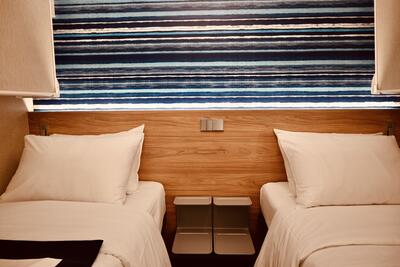 The small beds in our cozy inside cabin were comfortable, although the unused bunk beds atop each made the sleeping area feel more cramped. 
Image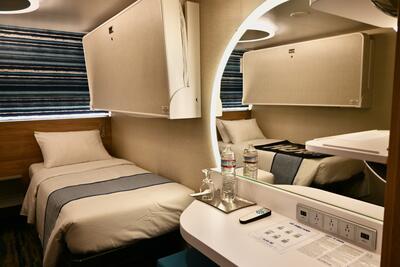 Although this cabin was comfortable for two of us, we agreed it would definitely be a tight squeeze to have a family of four in here.
Image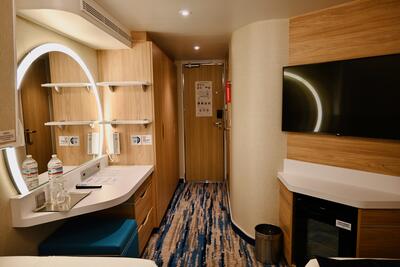 Our inside cabin on Carnival Celebration featured a vanity with exposed shelves, drawers and an ottoman that served as additional storage or seating. Decoration in the cabin was minimal, only relying on the blue accents of the backsplash, carpet and ottoman. 
Image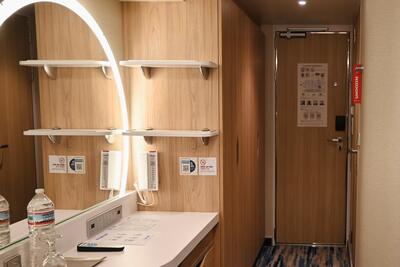 For our 7-night cruise, the vanity quickly became occupied with our laptops, cameras, chargers and cords. The side shelving helped keep the vanity slightly more organized.
Image
Newer cruise ships have started to add more outlets and USB ports for charging - and Carnival Celebration was no exception. With three different outlets and four USB ports, we had plenty of space to charge our numerous devices each night. 
Image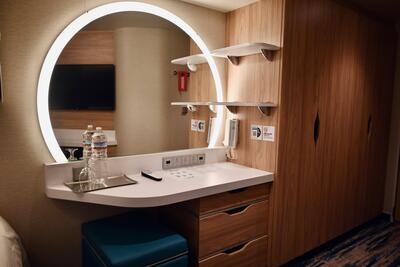 The large mirror, illuminated with a ring light, was perfect for doing our makeup and hair each day. It also made the room feel brighter and certainly added a nice aesthetic. 
Image
Three drawers under the vanity were used to store our garments, swimsuits and pajamas; the ottoman was mostly used for seating since this was, unfortunately, the only place you could sit other than the cabin's beds. 
Image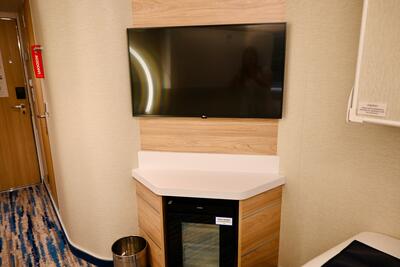 Our inside cabin also features a small miniature fridge and large flatscreen TV, much to our surprise. The added countertop space above the fridge helped maximize the cabin's space. 
Image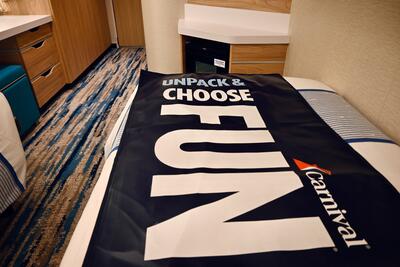 Carnival Cruise Line is all about having fun, dubbing their ships the "most fun ships at sea". This fun-branded luggage mat was great for unpacking with our dirty suitcases on the bed while still protecting the cabin's new bedding. 
Image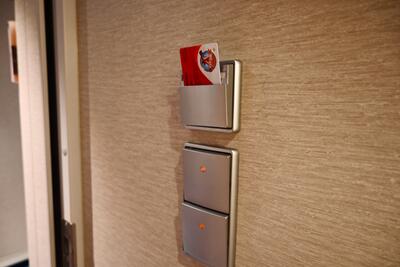 In an effort to be more sustainable, our cabin featured a key slot that powered on the air conditioner and light switch only when you were actively in the cabin to preserve energy.
Image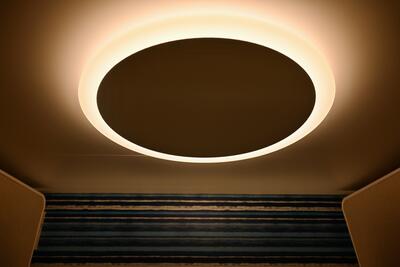 A warm light on the ceiling also brightens up the space, which made our tiny inside cabin feel cozy and welcoming during the week.
Image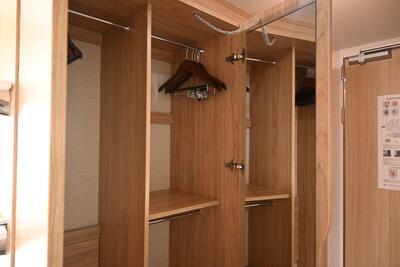 While the inside cabin was only 162 square feet, the closet was massive. We had plenty of space to each have our own closet and unpack a week's worth of clothes for the cruise. 
Image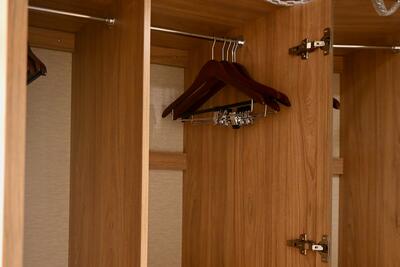 It's always great when you find enough hangers in your cruise cabin to hang up everything you need to; we found there to be more than enough hangers for us to each use in the closet. 
Image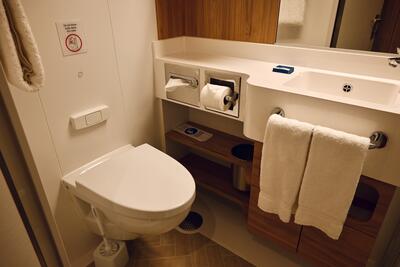 The bathroom was small but modern in design; it's not uncommon for cruise cabins to have small bathrooms. Halfway through the cruise, our toilet had issues flushing, but this was promptly fixed. 
Image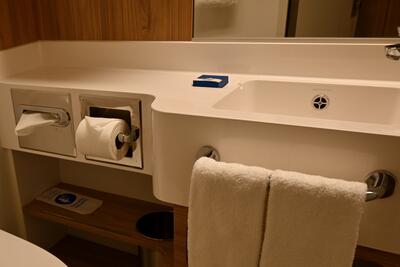 There were multiple spaces to store cosmetics with shelving both above and below the sink. The towel rack directly under the sink might not feel noteworthy, but it's a thoughtful touch and utilizes the small space well.  
Image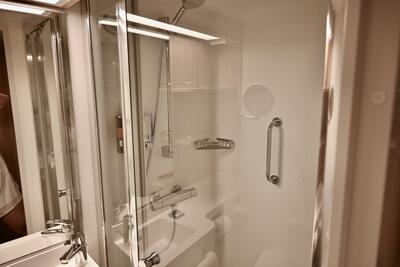 Perhaps the most surprising element of our inside cabin on Carnival Celebration was the size of the shower. Most of the time, inside cabins feature tiny capsule showers with annoyingly clingy curtains and cramped walls. 
Image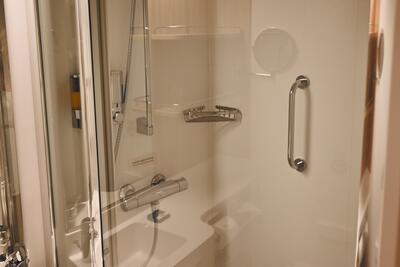 The shower in our cabin was relatively large for an inside cabin with a plexiglass door that maneuvered inward when opened to ensure the bathroom space wasn't sacrificed.  
Image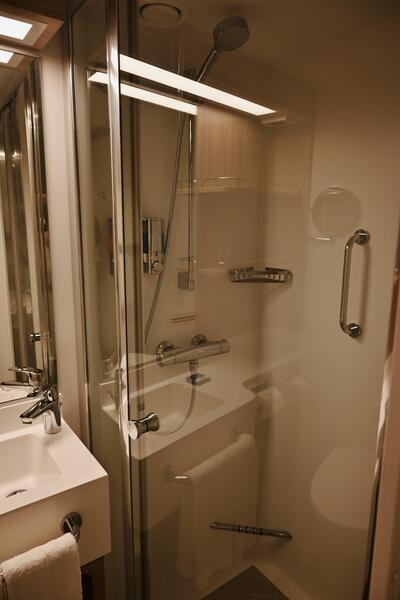 We never once hit the soap dispenser, handle bars or shower head - which simply proves how spacious and well-designed the shower was. 
Image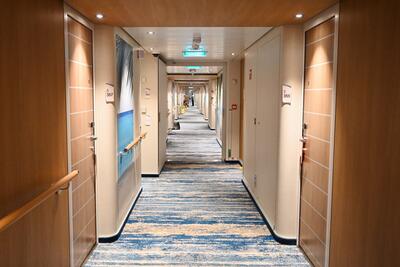 The hallways on Deck 4, where our cabin was located, featured pictures of palm trees and beaches - appropriate for our Caribbean sailing. Individual lights above each cabin was another thoughtful design element. 
Image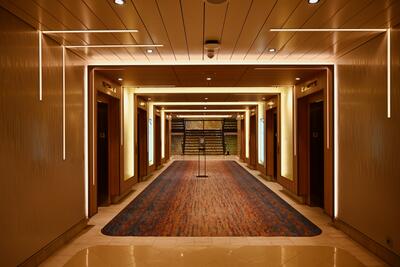 The elevators were located not far from our stateroom. Since Carnival Celebration can hold nearly 6,000 passengers, having 8 elevators on each deck is necessary although we tried to take the stairs as often as possible. 
Image
For less than $100 (per person) each day, we were pleased we our inside cabin accommodations, especially considering Carnival Celebration has so much to do onboard that we rarely spent any time in there. 
Image
I wouldn't hesitate to book another inside cabin on Carnival Cruise Line, although I would love to see what some of the bigger and more luxurious cabins onboard have to offer.