Hello from Carnival Ecstasy! We're on our way to Cozumel right now, where we should arrive on Saturday. We had a busy day today getting to the port, settling into our cabin and exploring the ship.
I am sailing this weekend with my sister, Angie.
Around 11:30 a.m. today, Angie and I started our drive from Florida to Mobile, which took us just under 2 hours. As we drove into downtown Mobile, we could see the famous Carnival tail in the distance.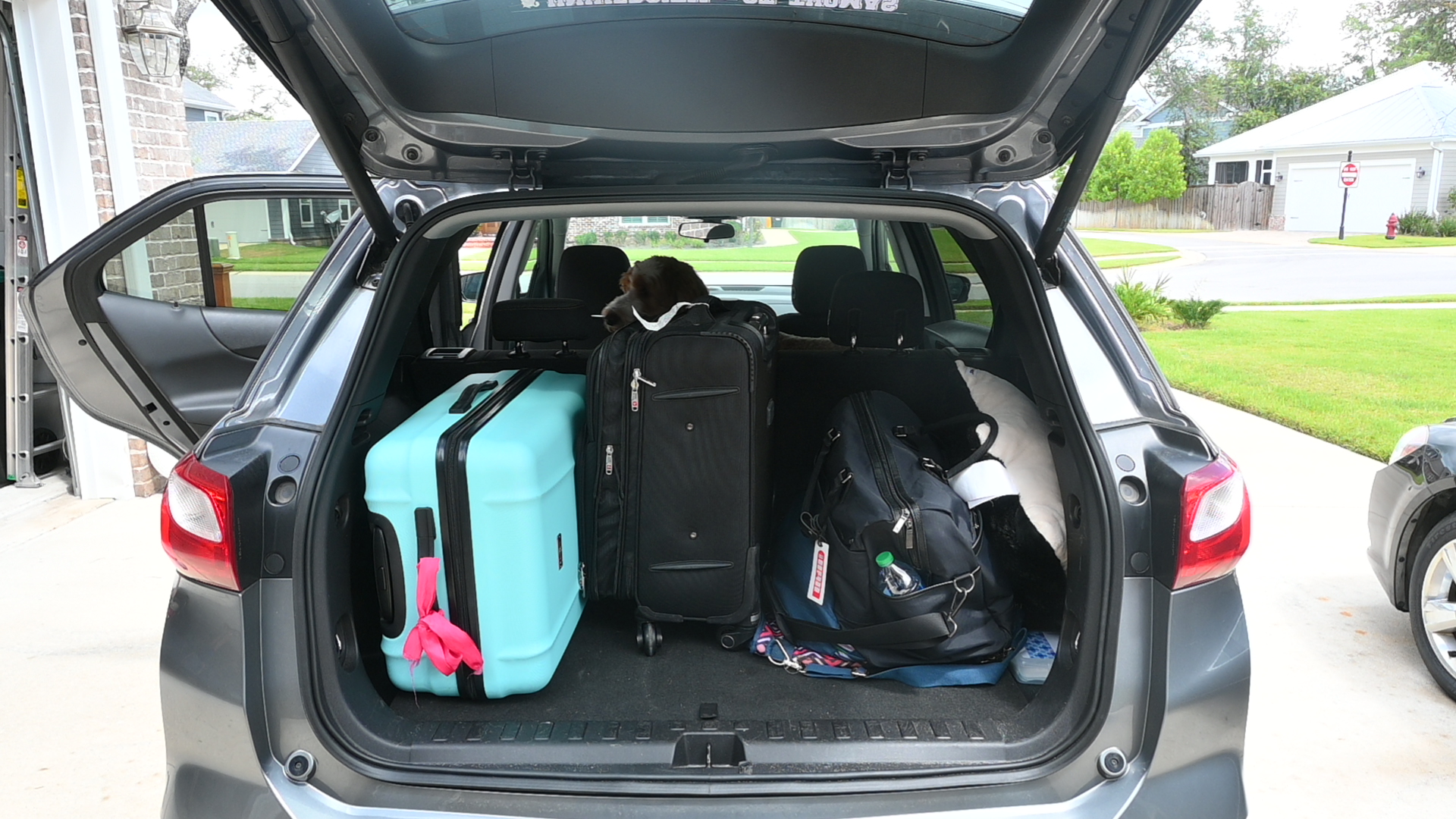 The cruise terminal is small and nestled right into the downtown area. When we got our first look at Ecstasy, we were shocked by how small she seemed! Holding just 2,600 passengers, this ship is definitely considered a small-sized cruise ship by today's standards.
Checking In
We had to park offsite and wait about 30 minutes to get a free shuttle back to the terminal.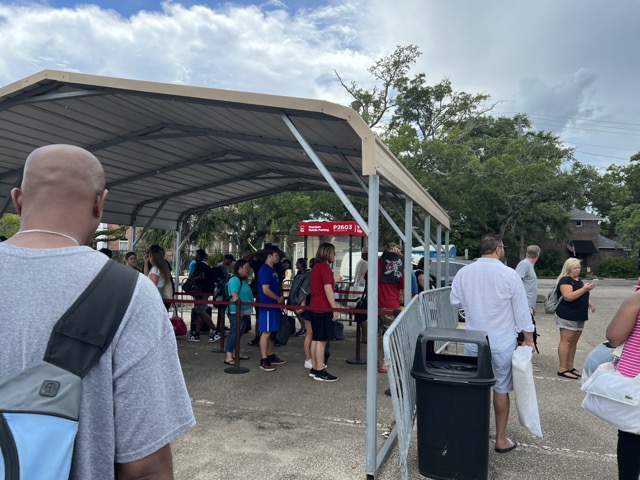 Boarding took another hour once we got inside, in which we had our printed boarding passes scanned, vaccine cards verified and passports checked.
There were signs in the terminal that said 'Masks Required' but when I inquired about whether we truly needed a mask, the staff member said it wasn't necessary. We also didn't need a negative COVID-19 test because Carnival just dropped their testing requirement for short sailings.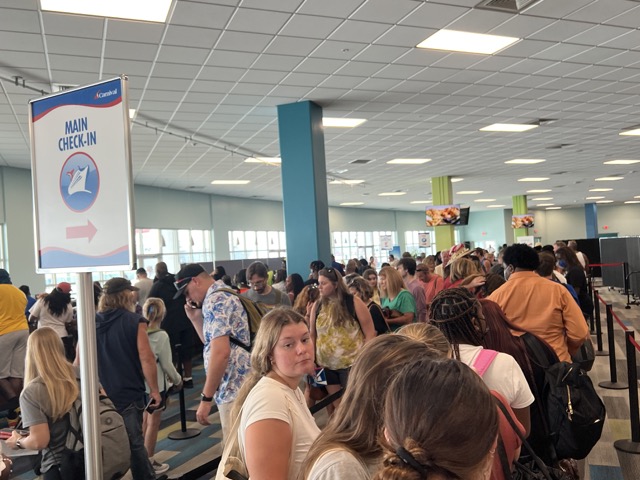 This was a nice change of pace to save $60 on COVID-19 tests. I did use an at-home test last night to make sure my seasonal allergies were just that.
We were surprised how long it took to get checked in, as it took almost 2 hours from the time we pulled up to the port to the time we walked on the ship.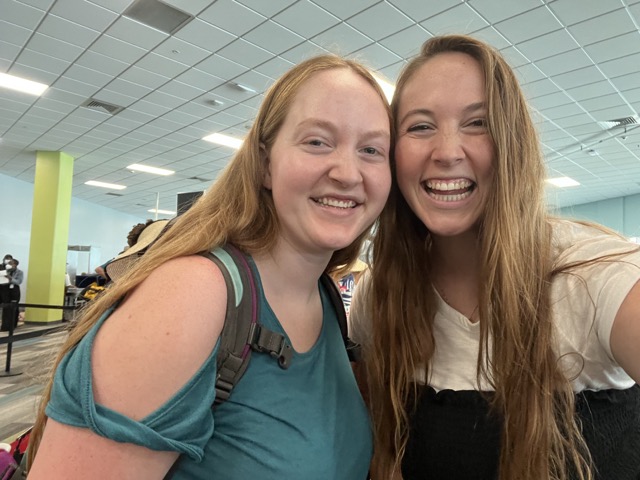 Onboard
Between being loyal Royal Caribbean cruisers and Carnival Ecstasy being one of the oldest cruise ships operating from the United States, we were totally lost trying to navigate around the ship.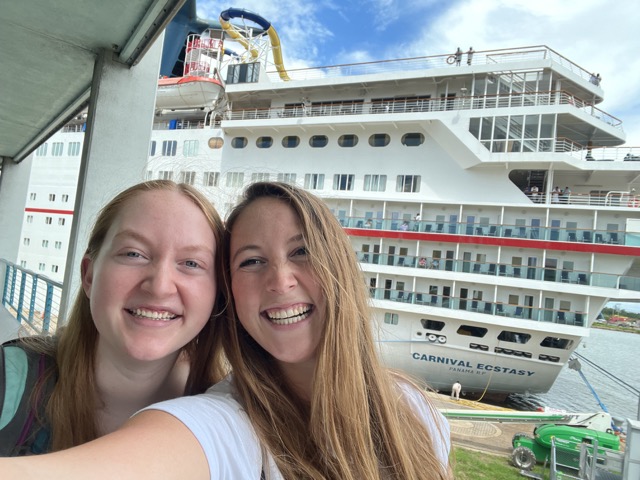 Carnival Ecstasy was built in 1991 while Norwegian and Royal Caribbean's oldest ships currently operating were built in the late 90s. She's getting sent to retirement in the scrapyard in October. Of course, cruise ships are designed totally different today.
To start, our stateroom is M162 located on Deck M. Apparently we boarded on Deck 7 and Deck M was really Deck 5. The decks have both letters and numbers, making it hard to know where you are going.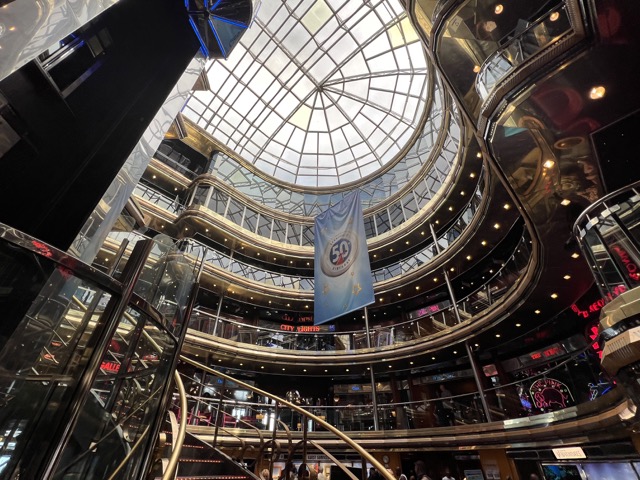 There are 3 staircases on Ecstasy: one in the front, one in the middle and one in the back. We found that you can't just go across the decks if you need to get somewhere on the other side of the ship. We've had to go up or down a deck to cross over, but luckily the ship is small so you're never too far from where you want to go.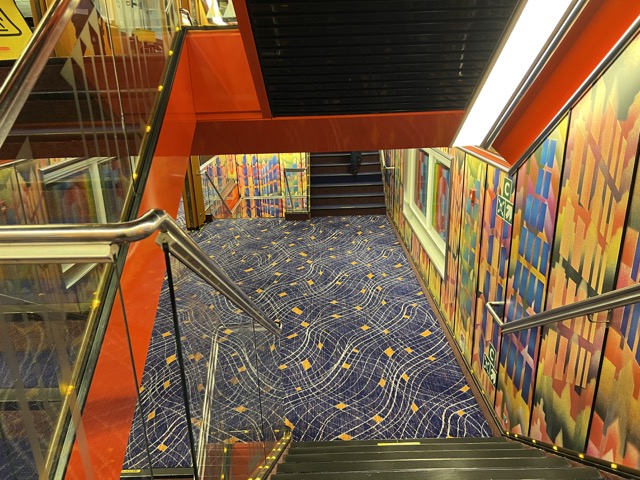 Stateroom
Once onboard, it was already close to 3:00 p.m. so staterooms were ready. We didn't give our bags to the porters since we just had carry-on luggage, so we were ready to drop off our stuff finally.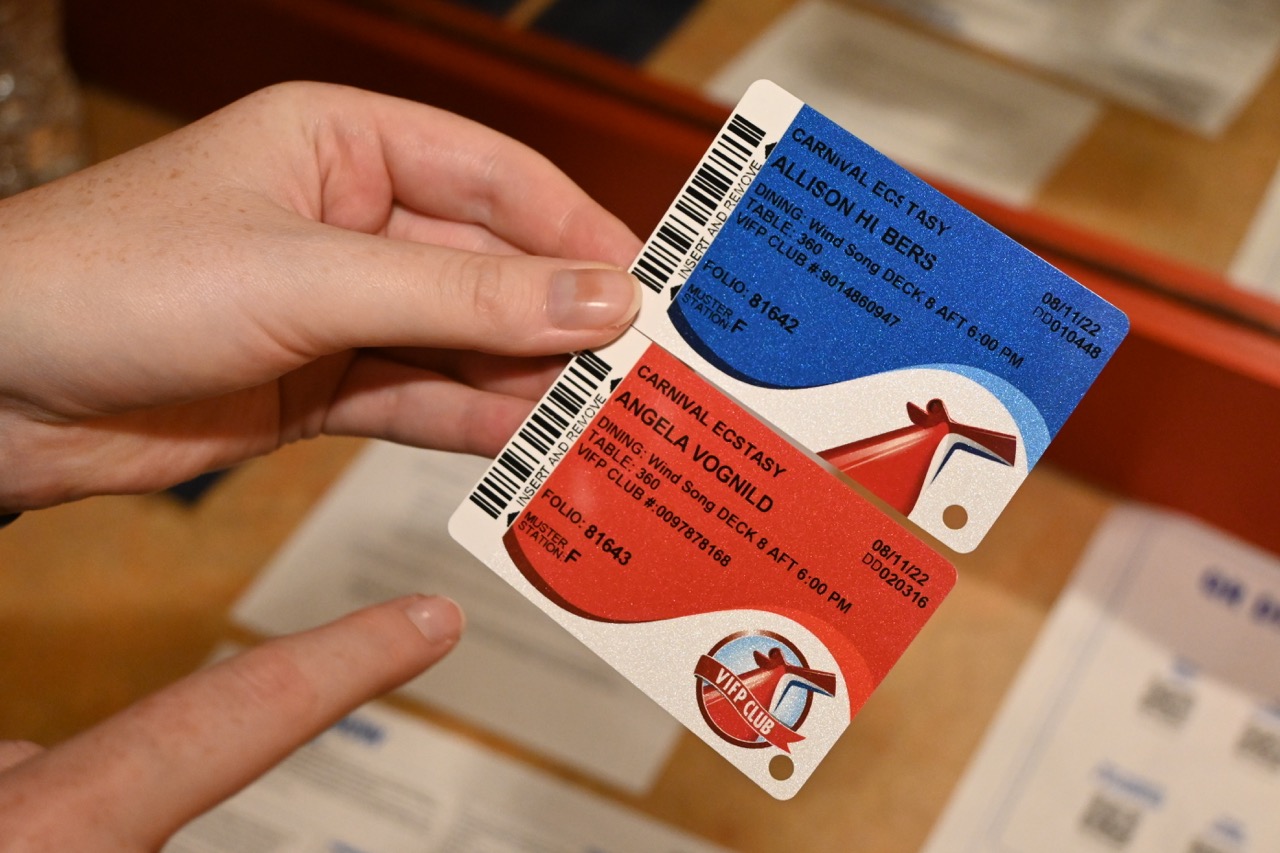 We navigated to our stateroom, which is an inside cabin. The hallways are wider than any ship I've been on before and we agreed the ship felt like it was in good condition.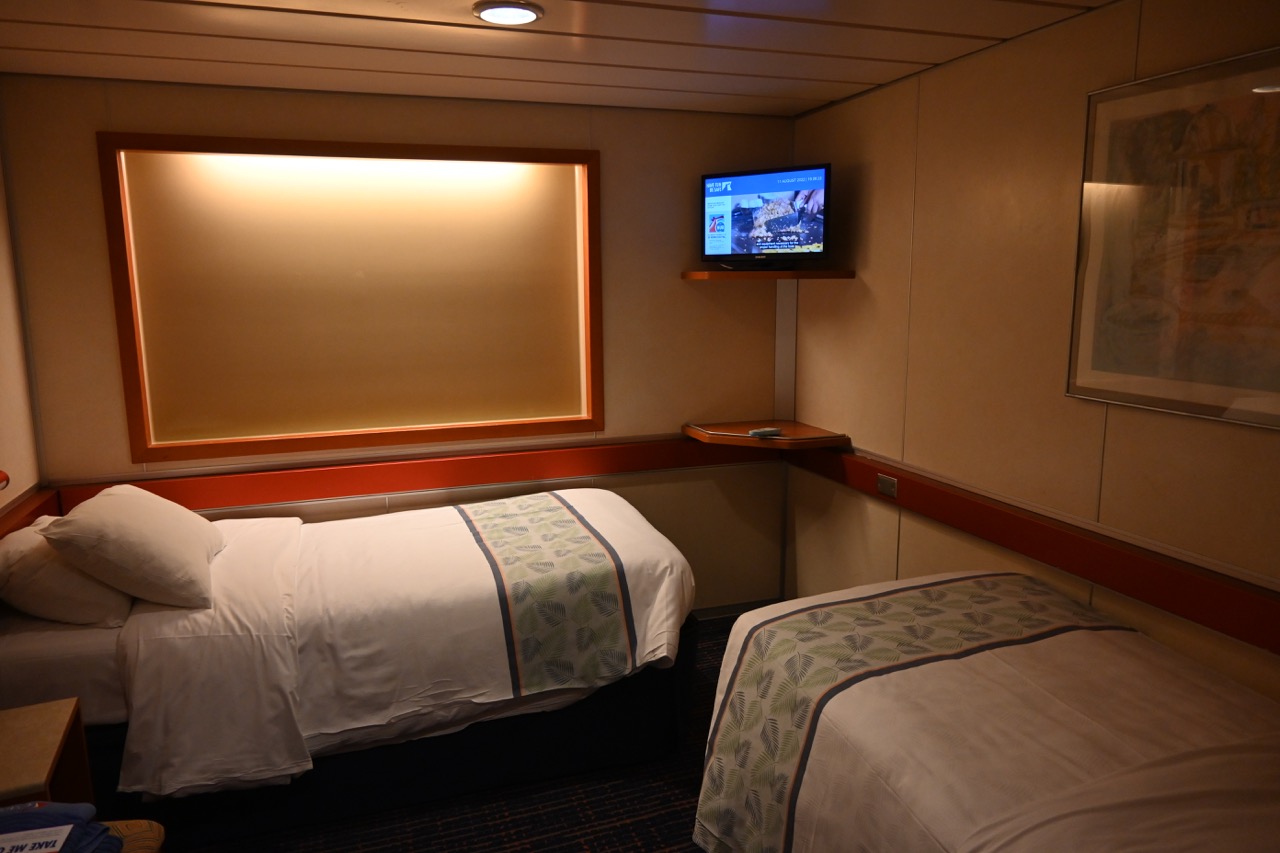 Our stateroom is modestly sized, similar to every other inside cabin we've sailed in. The beds are aligned perpendicular instead of parallel. I did appreciate that Carnival asked during the online check-in whether we wanted a king bed or 2 separate beds; when we arrived, they were already separated.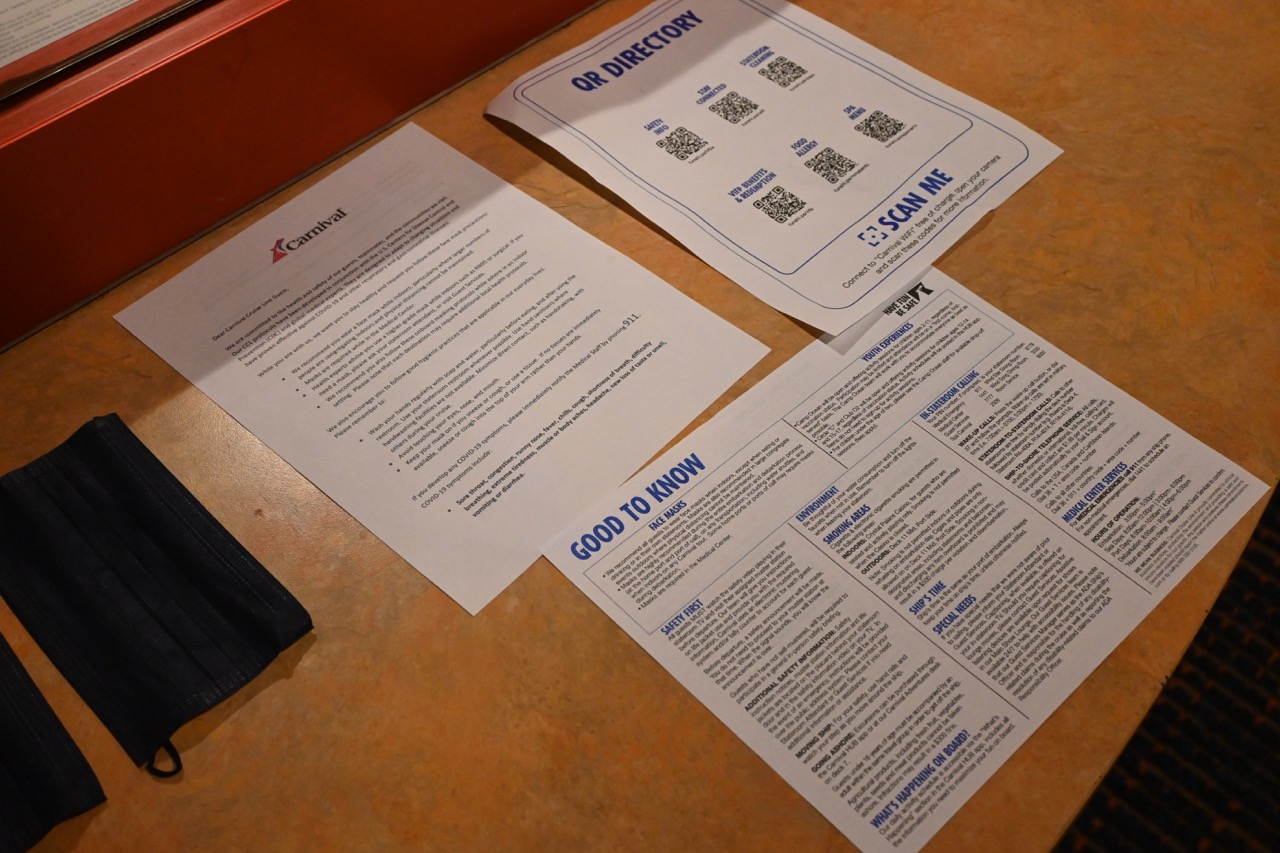 The inside cabin has plenty of space for us during these 4 nights. We found it to be clean and seemingly well maintained.
The closet has shelving and hangers, along with a vanity with drawers. There's only one plug in on the counter, which will be difficult to allocate between the 2 of us and all of our electronics.
I suppose 30 years ago when Ecstasy was built, we didn't have laptops, iPads, cell phones, Apple Watches, etc. among multiple people in the cabin. How times have changed!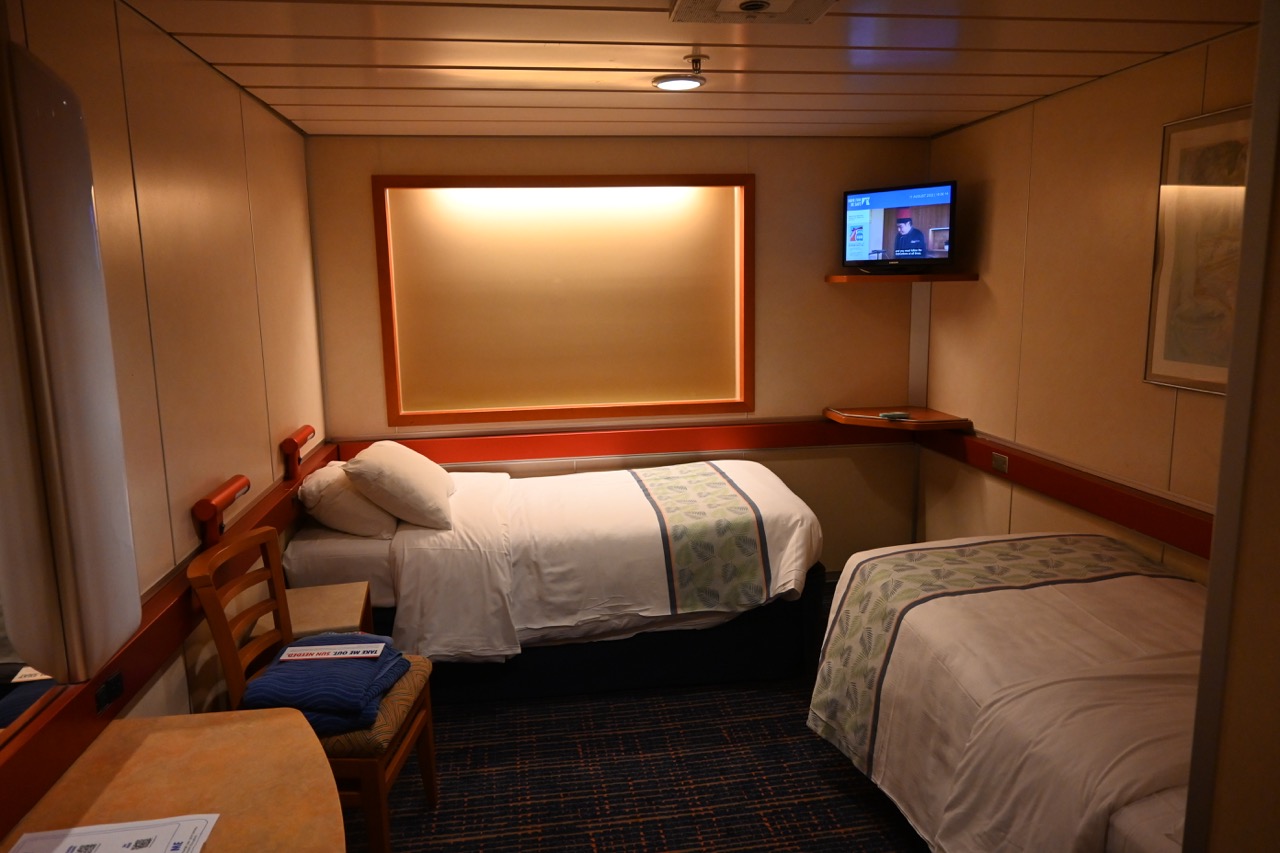 Angie and I both laughed when we looked inside the bathroom. We opened the door to find bright blue, bumpy and squishy flooring. The bathroom is definitely where our cabin shows its age.
After settling in, we went up to the pool deck to finish our muster drill training (which we mostly did on the app) and watch the sail away from Mobile.
Lunch Time
We were pretty hungry by this point, so Angie and I decided to see what we could find for food. The pool deck was very busy, although there was just one pool and two hot tubs.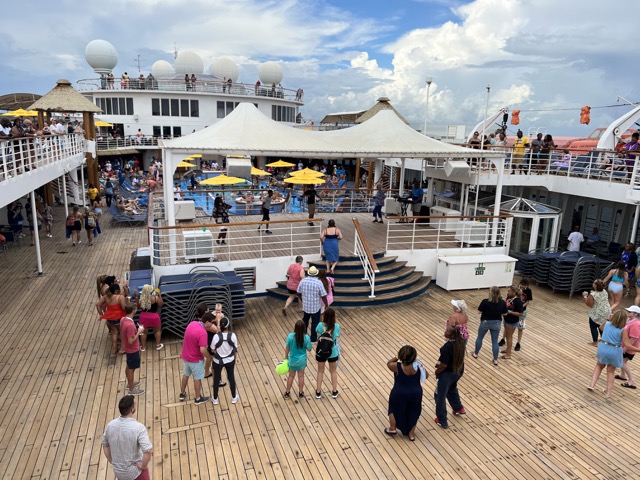 It was 90 degrees today, so I can't imagine why so many people crammed into the hot tub - but more power to 'em!
I opted to try the Blue Iguana Cantina, which was located right on the pool deck. It was busy with everyone getting lunch at either the cantina or nearby Guy's Burger Joint.
The chicken tacos looked good, so I snagged a few of those. The toppings bar looked like it had seen better days, but I really enjoyed the tacos.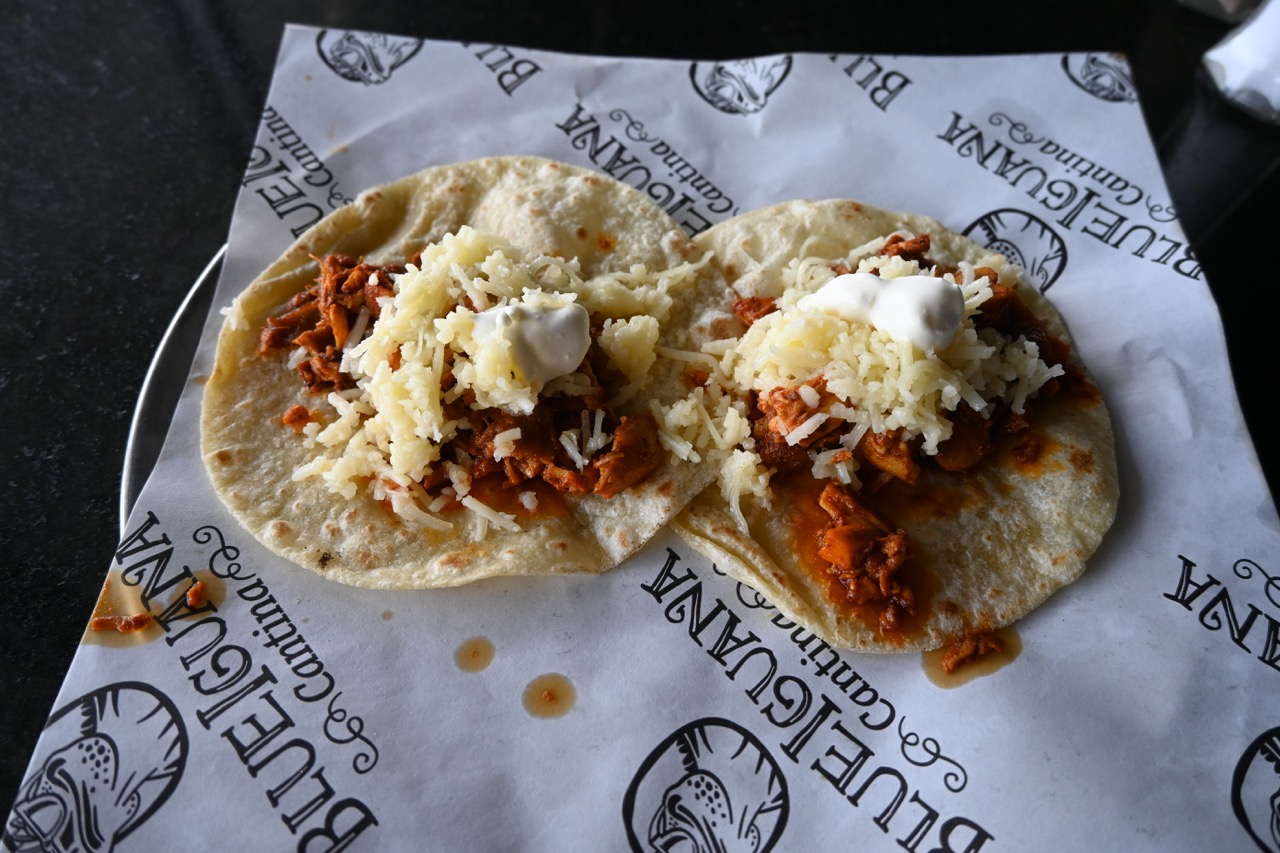 Angie wanted to see what the buffet was offering, so we made our way inside. Things were starting to close down since it was nearing 4 p.m., so she decided on a Meatball sub from the Carnival Deli.
To both of our surprise, the food tasted really good! We could hear the music starting to play on the pool deck, so we made our way back outside to watch the ship sail off.
Sailaway Party
Since this was my first time in Mobile, I wasn't sure what to expect. It was nice to see the downtown from the top deck of the ship, although the city doesn't seem to be huge.
The DJ started to play some fun tunes and the first person on the dance floor was a really rowdy granny! We all smiled as she did her best moves - even getting up on the platform.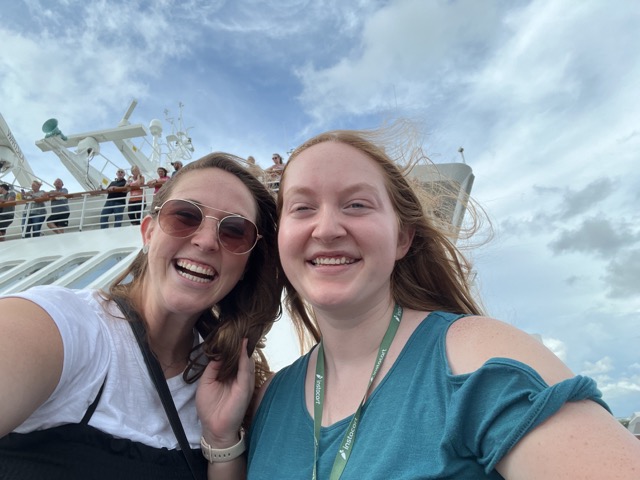 There was a whole crew of Carnival workers who came out to dance and get the party going. The cruise director introduced himself and I couldn't believe how young he was! Most of the time, cruise directors are much older so seeing someone in their 20s or early 30s was very fun.
This definitely plays into the 'Most Fun Ships at Sea' slogan that Carnival has.
Mobile wasn't anything beautiful to watch as we sailed away, which is about what I expected. We did sail by Dauphin Island, which is somewhere I've wanted to visit on the Gulf!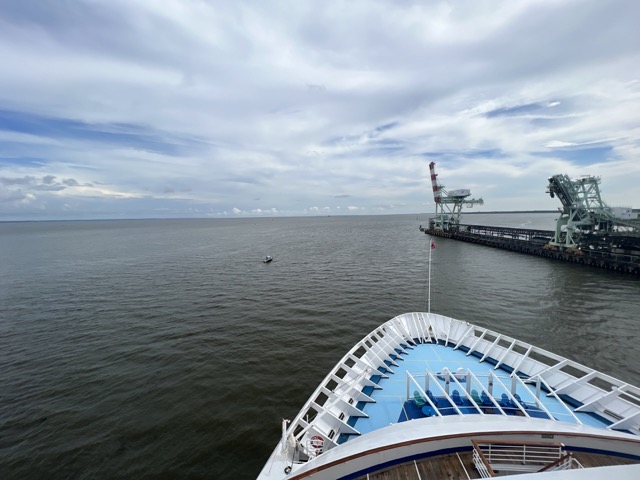 Since the scenery was lackluster, I opted for a trip to guest services to figure out why I couldn't get connected to the Wi-Fi. Apparently the card that I put on file had not registered or something, but luckily, guest services was able to resolve my problem quickly.
After adding a different card to my file, I was successfully able to purchase an internet package for the cruise. This was actually a relief to me, as I had been trying to connect most of the day. When you rely on the Internet to work while cruising, it really is a necessity!
Evening Dinner and Entertainment
Angie and I made our way back to the cabin to relax for a little while before dinner at 6:00 p.m. We had scoped out the dining room earlier while exploring the ship, but we couldn't find our table.
When we arrived, we were seated at a large table of 8 with 4 other ladies already seated. They looked similar in age, so we were excited to have the opportunity to mingle.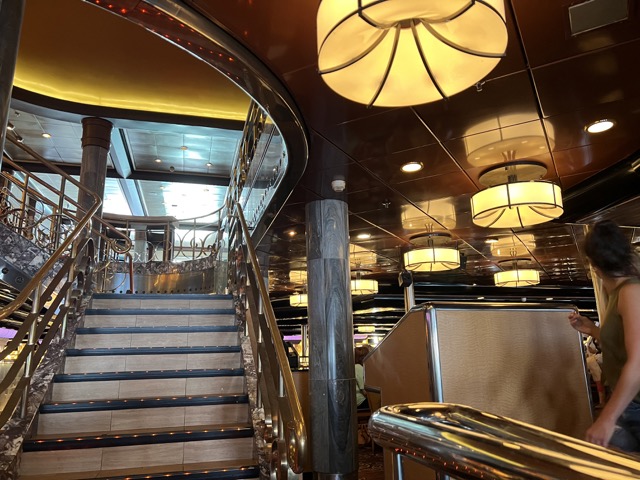 Our 3 waiters introduced themselves and we ordered our meals. Service overall was good, but a little slow. I didn't mind though - I have nowhere to be!
It was different to have the waiters bring a selection of bread around, as this is something Royal Caribbean used to do, but has since stopped.
Angie and I both started with strawberry bisque soup, which is a classic favorite of ours. I had the brisket and Angie had lasagna for main entrees. My brisket had good flavor, although it was a little overcooked. Angie's lasagna was good, but could have been served warmer.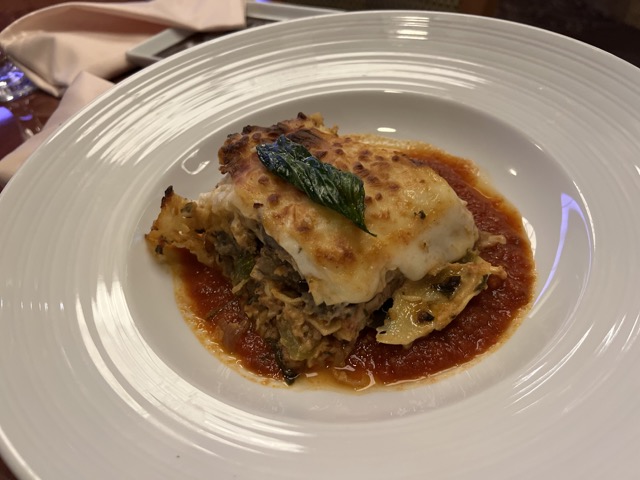 The head waiter announced there would be a dance party in the middle of the meal. All of the waiters got into the spirit and danced while the lights went dim. It almost felt like a nightclub!
We ended the meal with Carnival's chocolate melting cake, which was absolutely delicious.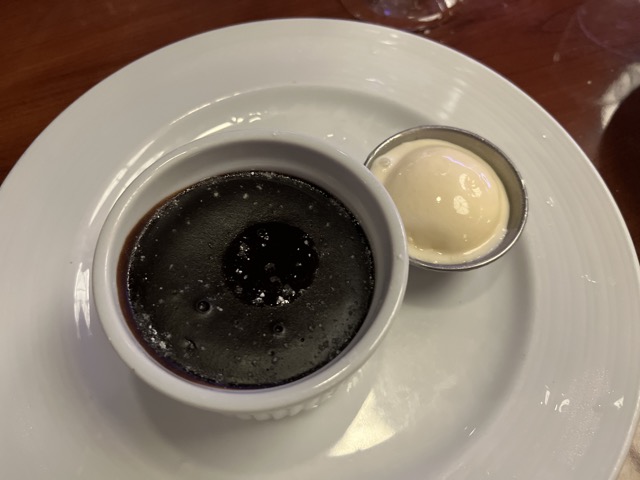 Angie and I made our way to the comedy club for a family-friendly show. I would love to do the adult-only show, but 10:30 p.m. gets a little late for me these days.
I grabbed a drink at the Alchemy Bar - one of Carnival's signature venues. I tried a Revved up Mojito Martini, which was very good and strong. It was $15 after tip, so it wouldn't take long to rack up a bill if you wanted to have a few drinks.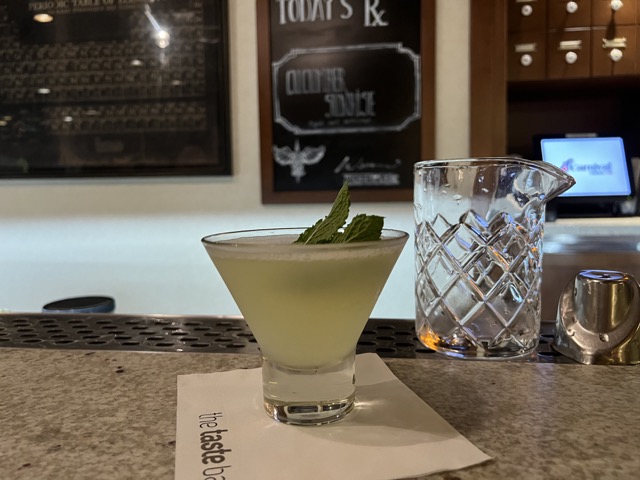 We both enjoyed the comedy show in the Punchliner Comedy Club and it was busy with people of all ages!
I made my way back to the stateroom to start blogging while Angie decided to go to the Welcome Aboard show in the theatre. She said it was a variety show that was fun and entertaining.
Tomorrow is a sea day, so we plan to sleep in and try Carnival's signature Sea Day Brunch. The menu looks really good, so we are hoping that lives up to the hype. There's also afternoon tea that we plan to do, along with checking out the Serenity area.
Stray Observations
A 4-night, weekend cruise on Carnival screamed 'huge party scene' to us and that seems to be living up to the stereotype.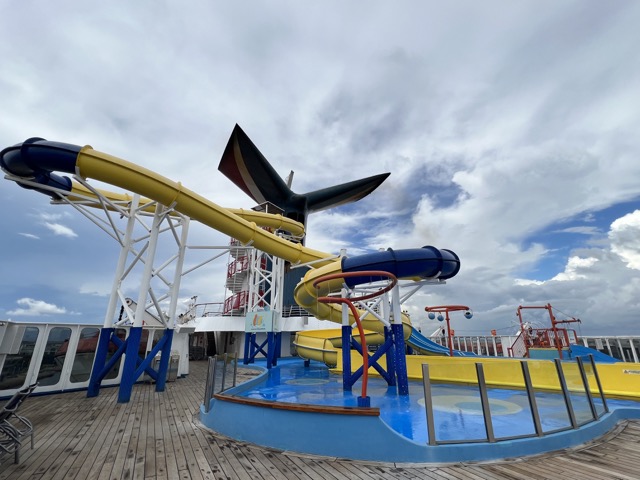 The demographics onboard are very different than most of the cruises I've done in the last decade. After living in the south for 2 years, it feels representative of the area. Most people sailing on this cruise are definitely from the south, especially given the number of times we've heard 'Roll Tide' in just one day!
It's really nice to have the option to cruise from Mobile given its proximity to a lot of cities nearby. I really loved not having to factor in 6-7 hours to get to Port Canaveral.