Back in August 2022, I set sail on Carnival Cruise Line for the first time in my adult life. A quick getaway from Mobile, Alabama, which is just 1.5 hours from my house, was an eye-opening experience to the cruise line, to say the least.
The proximity of the departure port - and cheap cruise fare - enticed me into booking a cruise on Carnival Ecstasy. While I have loyalty status on Royal Caribbean from decades of cruising, I had not really considered sailing on Carnival until I moved to the Florida Panhandle. With major cruise ports taking at least six to twelve hours of driving, Mobile was a quick hop on the highway.
However, there was a catch. was 31 years old, which was older than both me and my sister. I did not think too much of the ship's age because you can still have a fabulous experience on an older, smaller cruise ship.
Image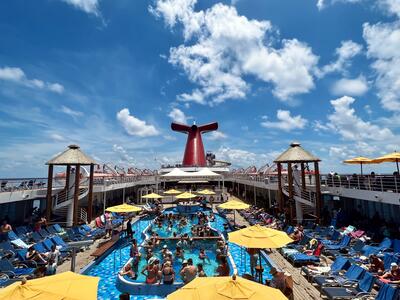 Little did I know that the ship would soon be sent to the cruise ship graveyard to get scrapped right after our sailing. Carnival Ecstasy was sailing her final season from Mobile
But, booking a small ship for my first adult Carnival experience was undoubtedly my biggest regret - here's why.
Now, you probably don't need me to tell you that Mobile, Alabama is not the most popular cruise port in the country. In fact, Carnival is the only cruise line that offers sailings from the tiny port - and only seasonally now. Mobile is convenient for those of us living in the South.
Image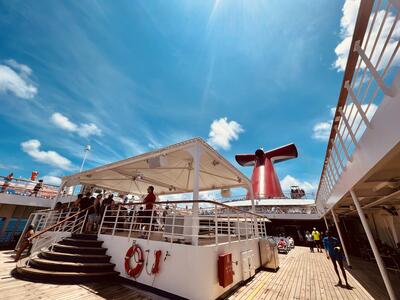 Carnival Cruise Line is branded as having 'The Most Fun Ships at Sea'. We learned quickly that cruisers either love Carnival or they love to hate on Carnival. I honestly worried that "fun" was a diplomatic way of saying "wild". I'd also argue that the cruise line has more stereotypes than any other cruise line in the industry - mostly for the onboard experience being too rowdy for some cruisers' liking.
Regardless of stereotypes, I wanted to go into this experience with an open mind. I knew that a 31-year-old cruise ship wouldn't have all the bells and whistles of newer ships, nor did I expect anything to be new or modern onboard.
Image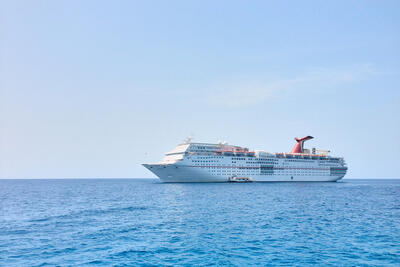 In fact, the tiny vessel could only hold around 2,000 passengers. Back when the cruise ship first debuted, she was actually one of the biggest cruise ships in the industry. By today's standards though, Carnival Ecstasy is a baby cruise ship.
When my sister and I arrived at the port, we were quite surprised to see people boarding the ship without traditional luggage.
Instead, some passengers chose to board with plastic grocery bags for the quick 4-night hop to Cozumel and back. We were surprised to also see many people boarding with 12-packs of soda and snacks (but, we've come to know that boarding your ship with a pack of soda in hand is the Carnival way).
Image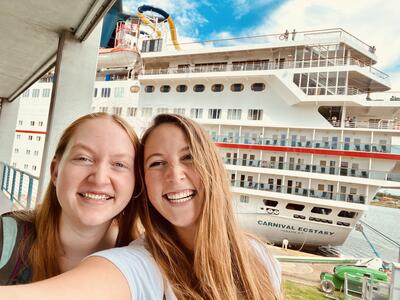 Carnival Ecstasy was smaller than almost any cruise ship we had sailed on. Normally, cruise ships stick out like a sore thumb in a cruise departure port because they tower above the buildings. But, the tiny Carnival Ecstasy was barely noticeable in Mobile's modest downtown until we drove right up to the terminal.
Carnival's fun branding was everywhere in the terminal! It was like the cruise line wanted me to think of the word every moment of this cruise.
Once onboard, it felt like we had stepped into a time machine with Carnival Ecstasy transporting us to a different century.
Perhaps this sounds dramatic, but Carnival Ecstasy was built in 1991 and represents a totally different era of cruising. When the ship first debuted, she was snazzy, bold and bright with innovative glass elevators in a dazzling atrium.
Image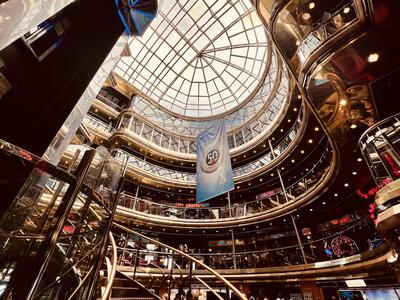 Today, the neon colors and dark spaces felt slightly dated and gaudy, although Carnival Ecstasy certainly had a lot of character. While newer cruise ships are designed with more neutral and light palettes, Carnival Ecstasy is anything but.
Image
Of course, this didn't surprise or disappoint us. We knew the 31-year-old cruise ship would be very outdated. However, with Carnival Ecstasy's retirement in the scrapyard just a few weeks away, we wanted to see if the cruise line paid any attention to the ship's condition and maintenance.
We booked an inside cabin for this cruise. The bright blue, squishy bathroom floor surprised us the most!
When booking this cruise, we opted to sail in an inside cabin guarantee. This meant that we couldn't choose our cabin and instead would be assigned one close to departure.
Image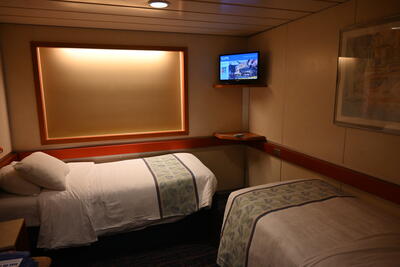 Our inside cabin was spacious and featured two twin beds. The cabin only had one outlet for us to use for the entire cruise, which was the most disappointing aspects of the cabin. We should have packed a USB extender, as the only one I had packed was for a European outlet.
Image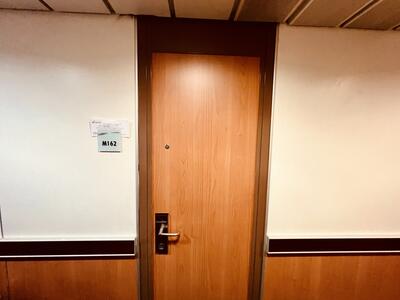 The biggest surprise was the bathroom! The flooring was blue and squishy - unlike anything we've experienced in a cruise ship bathroom. The toilet was so close to the wall that we nearly had to sit sideways. Finally, the shower featured a clingy curtain that barely contained the water and left some across the flooring for longer than we would have liked.
Image
Regardless, the cabin had everything we needed for a comfortable stay during our 4-night sailing to Cozumel and back. Most importantly, everything looked clean, which we appreciated.
On the top deck, we waived goodbye to Mobile and partied to Carnival's famous Sailaway Party.
We had heard from many people that Carnival's sailaway parties are not to be missed. The ship's Fun Squad made their way to the stage and a DJ started blasting party tunes. Everyone made their way to the pool deck with a drink in hand.
Image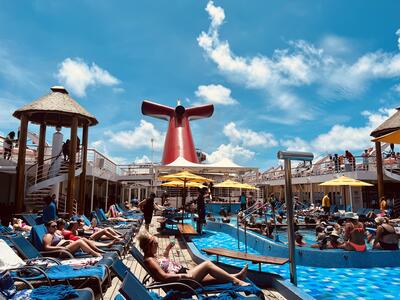 This Sailaway Party was no joke! It was an absolute riot with people letting loose and dancing the afternoon away! During the party, the entire activities staff dance was dancing with everyone. It was unlike anything we had experienced on Royal Caribbean, that's for sure!
Even better, our mouths dropped when we saw a granny make her way to the stage and put on quite the performance! It was something we had never seen before.
I wouldn't describe this party as wild or rowdy, but was certainly high-energy and upbeat. Everyone was having a lot of fun, and it set the tone of the rest of the cruise.
Carnival Ecstasy had more activities and parties than we expected, especially for a 31-year-old cruise ship.
Based on what we had heard about Carnival and even recent news headlines of fights onboard, we anticipated things to be out of control at times. But, this wasn't the case at all during our cruise.
While we were certainly hesitant at the beginning of the cruise, we started to have a lot of fun with everyone onboard by the end of the weekend.
Image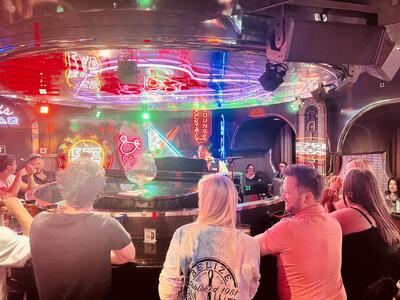 The first evening, we attended the Punchliner Comedy Club for a nightly comedian and really enjoyed it! The itinerary showed that there would be daily comedy shows for both families and adults throughout the cruise. We planned to attend each evening to see the rotating comedians.
Image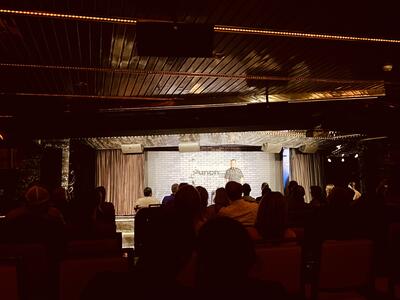 We also enjoyed stopping by the piano bar in the evening where guests could make song requests on the spot, all while sitting around the piano. The atmosphere was very lively with great music playing into the evening.
During the day, we attended - and dominated - the pop music trivia! It was so fun to have music geared towards our demographics.
The ship's condition was about what we expected for a ship nearing it's retirement, although the duck taped window was a sight to see!
With Carnival Ecstasy's age, we expected to see quite a bit of rust around the ship. Older ships are inevitably going to have more wear and tear onboard compared to newer vessels.
Image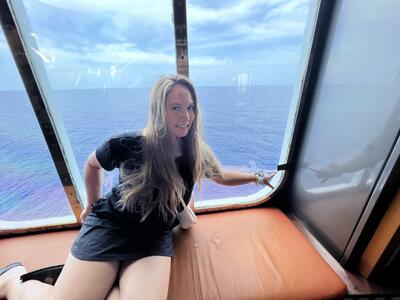 While wandering around the ship on the first day, we were taken aback to see a large piece of duck tape on one of the windows! Hopefully this was simply a safety precaution. We also saw a few broken tiles on the ground throughout the ship, although this felt cosmetic.
Something else we noticed on Carnival Ecstasy was the ship's poor design and layout. We found ourselves getting lost time and time again, even though this ship was small! It was definitely representative of how far ship design has come.
We were very impressed by how many signature Carnival venues we found onboard, including Guy's Burger Joint and the Alchemy Bar.
When sailing on an older cruise ship, you normally do not expect find all of the cruise line's newest dining and drink amenities. Newer ships have more space onboard for these types of venues. Most of the time, cruise lines would rather allocate spending towards their newer ships rather than amplifying older vessels.
Image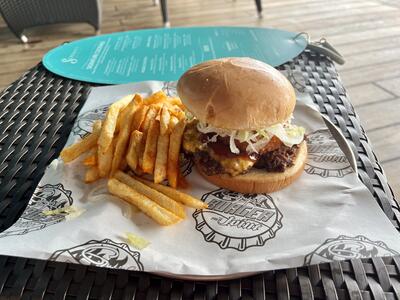 However, we were blown away to see many of Carnival's signature venues onboard Carnival Ecstasy. The ship featured Guy's Burger Joint, RedFrog Tiki Bar, BlueIguana Cantina and the Alchemy Bar. We could also enjoy Carnival's famous pizza and paninis in the buffet area.
It was a pleasant surprise to see all of these venues offered on such an older and small cruise ship, especially one nearing retirement.
Guy's Burger Joint serves up some of the best burgers at sea thanks to a partnership with celebrity chef Guy Fieri. We also loved the tacos and burritos at BlueIguana Cantina.
Image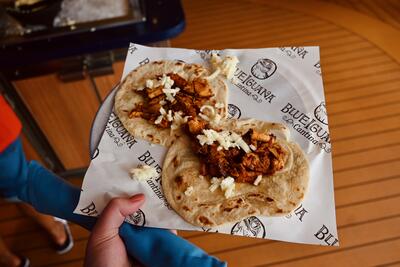 Before the comedy shows, we had to try the Revved-Up Mojito from the chemistry-themed Alchemy Bar. The cocktail was delicious and I loved all of the science references at the bar.
Image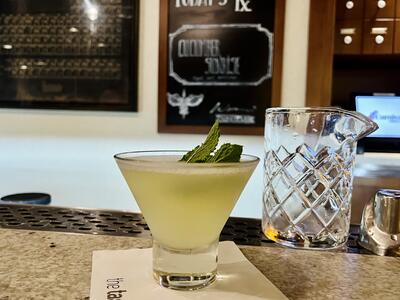 Of course, we had to try a pina colada from RedFrog Tiki Bar during our day at sea, as this is one of Carnival's most popular bars onboard their ships. The drinks did not disappoint!
Image
The food onboard was surprisingly delicious, with the exception of Carnival Ecstasy's buffet.
In comparison to other cruise lines, Carnival has taken a different approach to dining with an emphasis on quick, casual eateries onboard. In fact, the cruise line's newest ships have more than 20 eateries onboard!
As such, we barely had time to try all of Ecstasy's dining options onboard. Everything from the pizza to the tacos and burgers were excellent. We were very impressed by all of the options onboard.
Image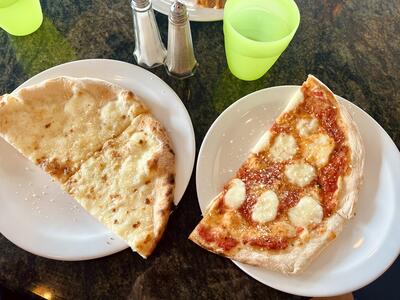 One of the dining highlights of our cruise was SeaDay brunch. As the name implies, Carnival hosts a brunch during sea days in the main dining room. SeaDay brunch is available into the early afternoon, which makes for a great option when you've stayed up too late and want to sleep in.
Image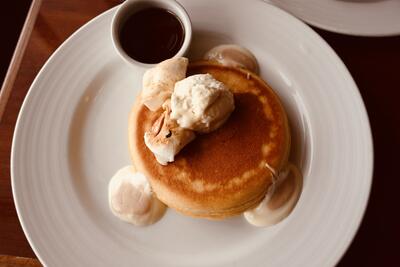 The brunch featured some of the best French toast I've ever had in my life - soaked and caramelized in peaches for 12 hours. We also loved the skillet pancakes, topped with ricotta and marshmallows.
Another nice touch from Carnival was afternoon tea, which was also available on sea days in the dining room. During afternoon tea, we were able to enjoy freshly made pastries, cakes and other goodies.
Image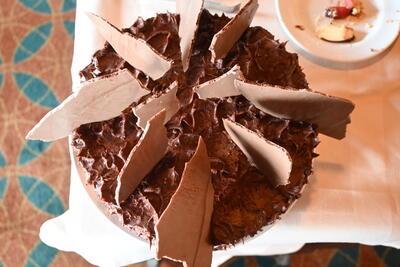 While we enjoyed dinner in the dining room each evening, we were disappointed by the food available in the buffet. The buffet area lacked any variety and everything we tried was bland and tasteless. Luckily, there were many other places onboard for us to enjoy and we certainly did not go hungry.
Overall, the food onboard Carnival Ecstasy blew us away! We never expected the ship to have so many places for us to eat, let alone some of Carnival's best eateries.
Because we had such a positive experience, I wished we had spent the time and money to book a newer and bigger ship to have the full Carnival experience.
Although we had our hesitations when booking this cruise, my sister and I had a fantastic time onboard Carnival Ecstasy. It really piqued my interest in the cruise line, as my prior experiences from childhood were distant memories.
Image
During the sailing, I wished we had spent more time and money to have the full Carnival experience. With limited vacation time and money, I truly wish we had splurged a little more to sail on a newer and bigger cruise ship because we enjoyed our time on Carnival Ecstasy so much.
I think if you can enjoy yourself on a cruise line's oldest vessel, it's almost guaranteed you will have an even better time on a newer, bigger and more modern ship.
Image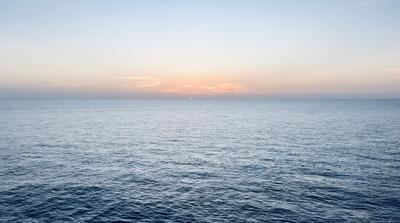 Carnival Cruise Line has recently unveiled its newest class of ships, the Excel-class, with the biggest and most modern vessels to date for the cruise line. These new ships are 40% bigger than anything Carnival had built before - and the ships are jam-packed with amenities and things to do.
Once we returned home from our weekend getaway, I immediately booked a sailing on Carnival Celebration for later in the year. If you had told me this before boarding Carnival Ecstasy, I would have never believed you!
Image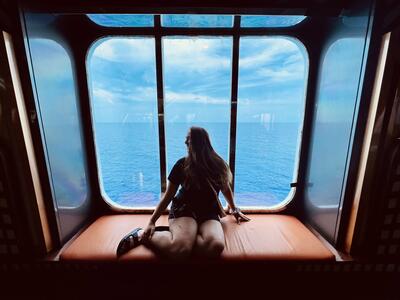 I was eager to see what the Carnival experience would be like on a brand-new ship with top-of-the-line amenities. If Carnival was able to provide such a great vacation experience on their oldest and smallest cruise ship, then I was positive that Carnival Celebration would have an even better experience.