I took my first European cruise onboard MSC Seashore and stayed in an interior cabin, which was the cheapest available option. 
Image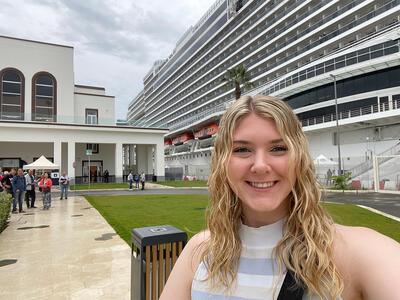 While MSC Seashore is not the cruise line's newest ship, she is not the oldest, either. She embarked on her maiden voyage in August 2021 from Barcelona, Spain. 
Image
MSC Seashore is part of the Seaside EVO class, which is essentially a subset of the cruise line's Seaside class. She is larger than her two younger sisters and has some notable differences. You will not, for instance, find a zip line onboard. There's still plenty to love about her, though. 
Image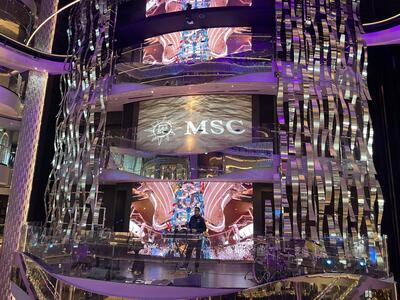 As I am sailing solo, I paid more than I would have if I was sailing with someone else. In total, my stateroom cost $1,176.69, including gratuities. 
Image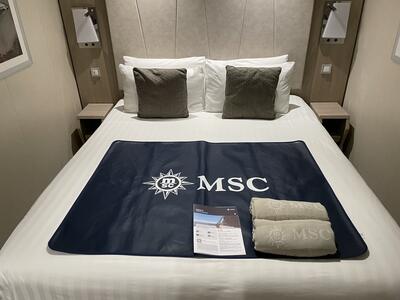 As soon as I stepped inside of the stateroom, I noticed that the coloring was light and neutral. It made the 150 square foot cabin feel more spacious. 
Image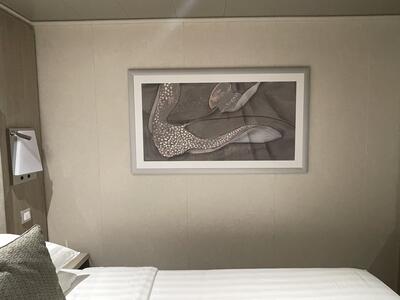 Even the exterior hallways were pretty neutral and did not have much color to them. 
Image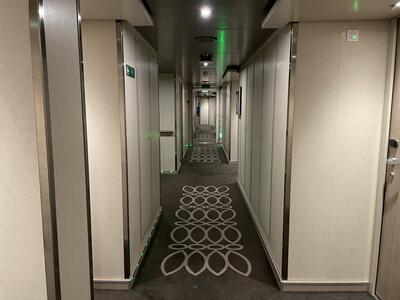 And unlike other interior cabins I have stayed in, I was surprised to find that there was not a couch or loveseat. The only additional seating, aside from the bed and a small stool underneath the vanity, was a single chair. I did appreciate the large mirror behind it, though. 
Image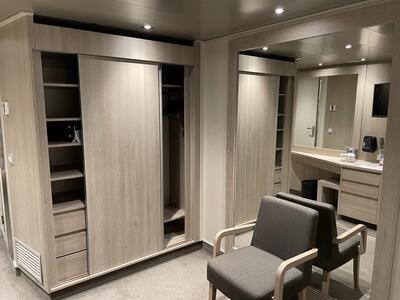 Likewise, there was not as large of a vanity area as I have seen on other ships. It was quite narrow, and I found myself having to sprawl my makeup items across the desk. 
Image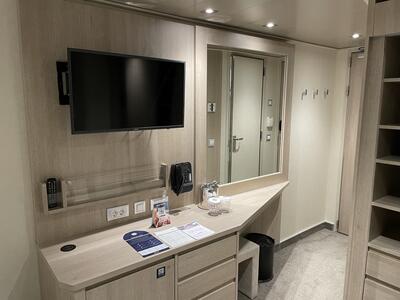 The mini bar came pre-stocked, meaning that I was unable to use it to keep any beverages cool. It was pricey, too! A bottle of water cost €2.25, while a single 50ml bottle of liquor was €9.00. 
Image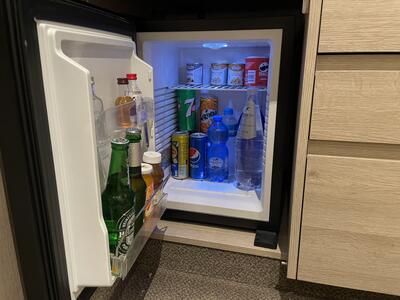 Something I found interesting was the trash can. On American cruise lines, it is typically just a standard bin for all waste. In my cabin on MSC Seashore, it was divided into three different sections: plastic, food, and paper. 
Image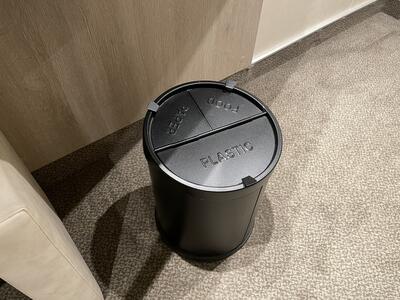 There was no shortage of outlet options, especially if you were like me and came prepared with European adapters. The room was equipped with two European plugs, three USB ports (with one being located beside of the bed), and two American outlets. 
Image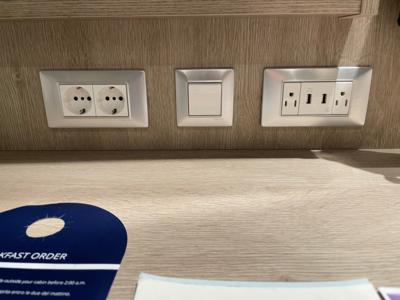 There was even a wireless charger on the desk for mobile phones, bringing the total available charging options to eight. 
Image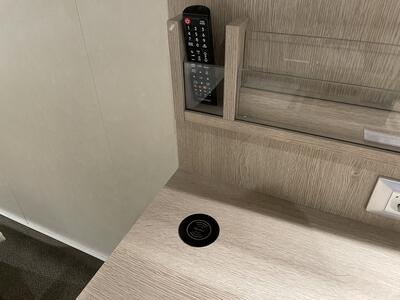 In addition to the wireless charger and various outlets/ports at the desk, there is another USB port next to the bed, bringing the total number of charging options to eight. 
Image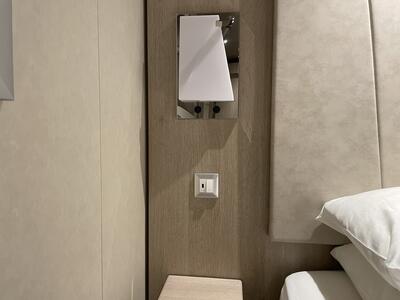 There are also four lights beside of the bed: two on each side. There is a lamp attached to the wall, as well as a small reading light. Both can be turned on and off via the switches located directly underneath them. 
Moreover, you can turn off the main lights from beside of the bed, too. This means that you will not have to worry about walking to the entrance when you are ready for bed. 
Image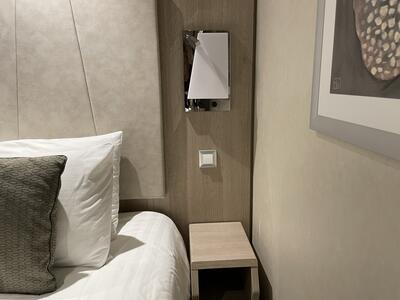 In order to have the lights turn on, you will need to place a cruise card in the slot by the cabin door. When you are ready to leave, you can remove your card, and the lights will switch off momentarily. This is done to help conserve energy. 
Image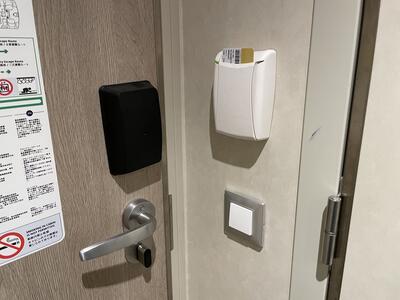 Above the slot for the card were two buttons that indicated whether I wanted the room attended to or not. This was different than my past Royal Caribbean cruises, as they always provide a magent that you have to place on the exterior of your cabin door. 
Image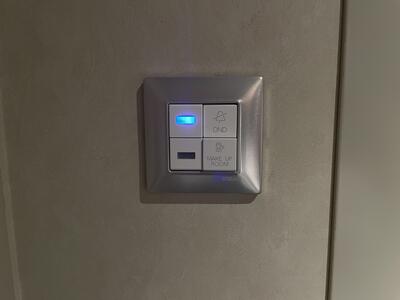 I loved how modern and updated the bathroom felt. I found there to be plenty of storage between the two shelves and space available underneath the sink. 
Image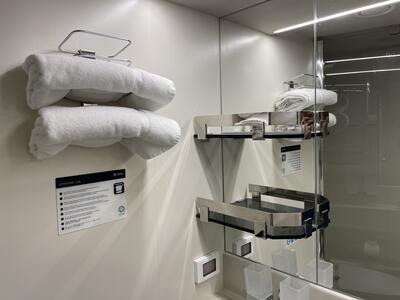 Having a glass shower is a plus, too. I hate that some cruise ships still use curtains! 
Image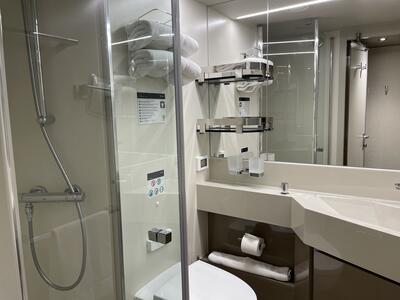 I will admit that the design of the sink makes it jet out more so than other stateroom bathroom sinks that I have seen. When I used the restroom, my left knee would sometimes hit the corner. 
Image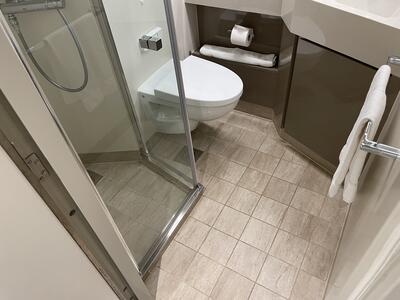 Inside of the shower, there is shampoo and body wash. Since I traveled alone, there was just enough space inside the shower for my toiletries on the single shelf. And yes, the warning is correct! The water did get really hot. 
Image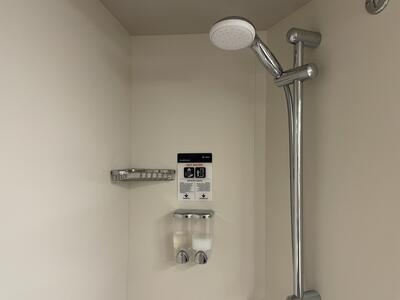 The wardrobe was spacious enough, with one half dedicating to hanging clothes and the other shelves and drawers. On the side with the shelves was a safe. It was a standard size for a cruise safe, so you should not expect to be able to fit any large electronics, such as a laptop, inside. 
Image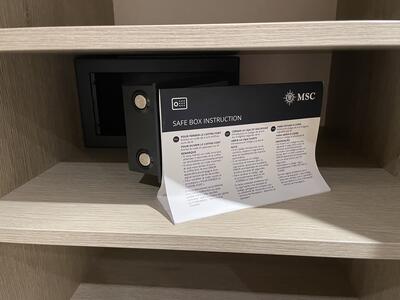 For a 7-night cruise, this stateroom cost me around $168 per night. Had I been traveling with someone else, it would have been less than $100 each per night. 
Image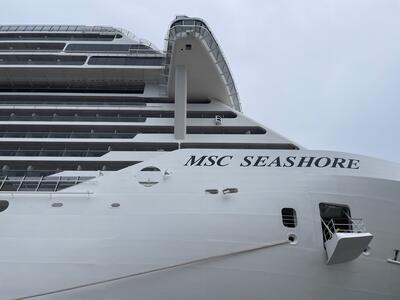 While I was not unhappy with my stateroom by any means, I would considering booking another interior cabin on MSC if I was sharing a cabin with someone else. I believe I can get more value for the same price elsewhere as a solo traveler. 
Image