First time cruisers often ask if they need a passport to go on a cruise. The answer is that you generally need a passport to travel to a foreign country, but select itineraries sailing roundtrip from U.S. homeports do not require passports as travel documents.
Here, we answer the most common questions about passports for cruises. Remember: It's always the traveler's responsibility to make sure they have the correct identification and documentation for your cruise. Otherwise, you could get turned away at the cruise port without a refund. 
Which cruise ports require a passport? 
Image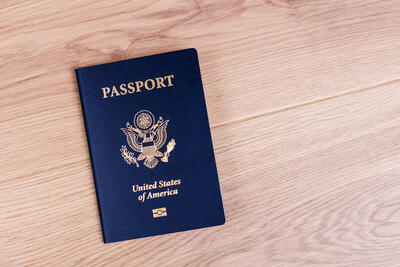 You need a passport for any cruise that departs out of a foreign port that you need to fly to. Cruises departing from Europe, South America, Asia, Africa and Australia require passports. If you're flying to Caribbean islands like Barbados or the Bahamas, or Canadian homeports, such as Vancouver and Montreal, you will need to carry a passport for these cruises as well. 
Remember that cruise ports such as San Juan, Puerto Rico, and St. Thomas, U.S. Virgin Islands, are actually part of the U.S. Treat those flights as domestic travel.
If you are sailing out of one U.S. homeport and disembarking at the end of your voyage in a different one, you also need a passport for your cruise. For example, a Panama Canal cruise that leaves from Miami and ends in Los Angeles will require a passport. 
Does a child need passport for a cruise?
Image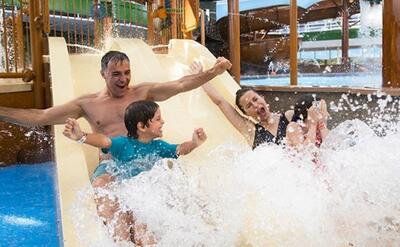 Yes, if an adult needs a passport to cruise then a child will also need a passport. Passports for minors (defined by the U.S. State Dept. as children under age 16) are only valid for 5 years – as opposed to 10 years for adults – so be sure to check the expiration dates of your kids' passports well before your departure date. If possible, I'd recommend close to six months prior to your vacation. 
Can you go on a cruise without a passport?  
Image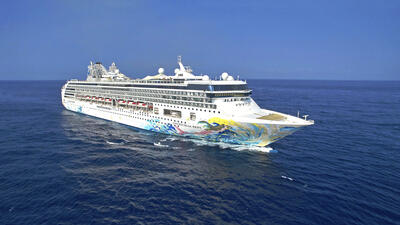 Yes. Americans do not need to cruise with a passport on select sailings out of U.S. homeports, though they will have to show proper identification.
First, you do not need a passport for any U.S.-based cruises that visit no other countries. These could include Norwegian Cruise Line's Hawaii sailings that sail roundtrip from Honolulu, and UnCruise (or other small ship) cruises in Alaska, Hawaii, and the Pacific Northwest that operate wholly within U.S. waters.
These sailings are somewhat uncommon; however, the Western Hemisphere Travel Initiative (WHTI) created the concept of closed-loop sailings from U.S. homeports, and these cruises also do not require a passport.
Image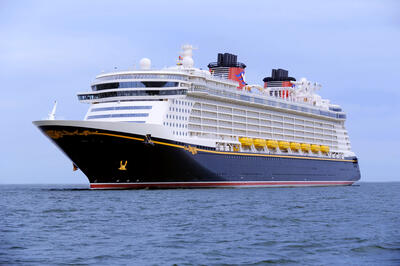 A closed-loop sailing is a cruise that travels roundtrip from the same U.S. homeport and only visits ports in the Western Hemisphere – namely, in Canada, Mexico, the Caribbean, and Bermuda. These itineraries are very common – think Caribbean and Bahamas cruises roundtrip from Florida or Texas, Mexico cruises out of L.A., and Bermuda cruises out of New York or Boston.
Note: Closed-loop cruises do not require a passport for reentry to the United States. However, some ports of call on your itinerary, such as Martinique and Guadeloupe, may require passports for entry onto their shores. Double-check the ports on your itinerary for any additional requirements.
See closed-loop sailings for more information on itineraries that depart from and return to the same port. 
You would still need to adhere to the documentation requirements for your cruise. A passport is an eligible form of identification, but it's not the only one. You need to show a government-issued photo I.D. (such as a driver's license) and proof of citizenship (such as a birth certificate or certificate of naturalization).
However, just because you can go on a cruise without a passport does not mean you should. You'll be better prepared in case of an emergency debarkation due to a health crisis or mechanical issue with your cruise ship if you're in possession of a passport, which you'll need to fly home from a foreign port. During the current pandemic, we would argue that it's more important than ever to cruise with a passport.
Can I go on a cruise with just a driver's license?
Image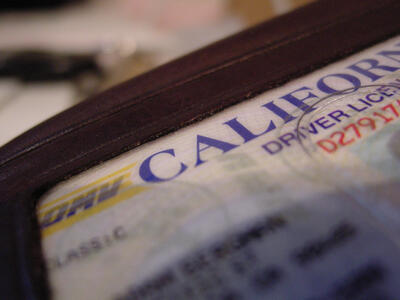 It depends on the cruise – and the driver's license. 
If you're sailing on an entirely U.S.-based cruise, such as in Alaska or Hawaii, a driver's license would be sufficient identification.
If you're sailing on a closed-loop cruise out of a U.S. homeport, you would need to pair your driver's license with a proof of citizenship, such as a birth certificate. However, if you possess an enhanced driver's license, that I.D. would function like a passport and you would not need additional documentation.
For any other cruise, a driver's license would not be sufficient documentation, and you would run into trouble at the airport or cruise port.
Can I go on a cruise with a passport card?
Image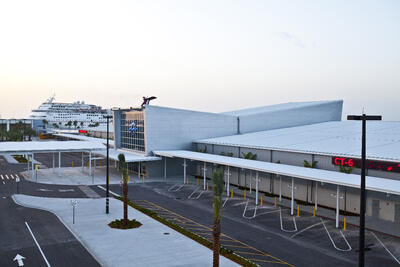 Again, it depends on the cruise.
If you're not familiar with a passport card, it's a government-issued I.D. that is the size of a driver's license. A passport card is different than a passport book, the multi-page booklets that customs officials stamp as you enter a country. 
You can cruise with just a passport card if you're sailing within the Western Hemisphere to the Caribbean, Bermuda, Canada, Mexico, or Puerto Rico, as long as you don't need to take an international flight to get to or from your ship.
Can you go on a cruise with an expired passport?
Image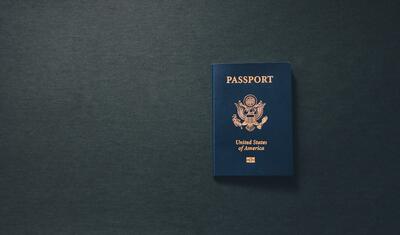 No. An expired passport is not a valid travel document.
However, your passport may officially expire earlier than you think. Infrequent travelers, take note: Many countries require that your passport be valid for six months after the date you arrive in that country. If your cruise takes place in August, you will be traveling for just a week or two, and your passport expires in October of the same year, you might think it's acceptable documentation. It isn't.
What happens if you go on a cruise without a passport? 
Image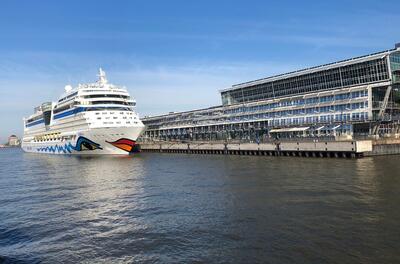 The only way you'll board a ship without a passport is if your cruise does not require one.
Staff at the cruise terminal will check your travel documents before they assign you a key card (or RFID bracelet) and send you up the gangway to the ship. If you need a passport, and you don' t have one to show, you will not be allowed to board. You likely won't get your money back either, and if you traveled domestically to the cruise homeport, you'll need to make your own arrangements to book a hotel or change your flights back home.
If you're trying to fly to an international cruise port without a passport, you won't get past airline check-in. 
What other documents do I need to go on a cruise?
Image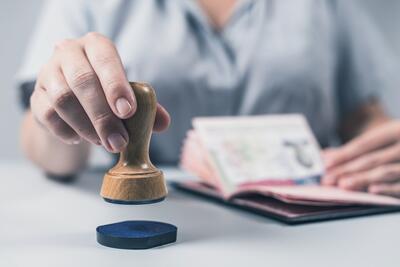 If you're traveling internationally, a passport might not be the only document you need. Certain destinations, such as China and Russia, may require visas for arrival into the country by air or independent exploration ashore.
In some cases, where you're arriving in a country by sea (rather than flying in to board your ship), the cruise line will handle visa procurement for you. This is often the case for Mediterranean cruises that visit, but don't embark or debark in, Egypt. (The rules are different for Nile River cruises that start and end in Egypt.)
It's the passenger's responsibility to check with the appropriate government agencies and their cruise line to determine what documentation is required.
Should you take your passport with you on shore excursions?
Image
Your passport got you onto the ship, but can you get off the cruise ship without a passport or do you need to take it with you on shore excursions?
In general, you are not required to bring your passport with you when you go ashore for the day, either for a tour or to explore on your own. Certain ports are exceptions, such as St. Petersburg, where you'll need to go through a passport and visa check. 
You might also need a passport for shore excursions that take you from one country to another, such as certain tours on the White Pass and Yukon Route Railroad that takes passengers from Alaska into Canada. 
Image
Even though you're not required to take your passport ashore, opinions are mixed as to whether it's a good idea to bring it anyway. Proponents say that it's best to have your passport in case you miss the ship; you'll have an easier time getting to the next port of call or back home if you don't need to seek out an emergency passport from the local U.S. embassy. 
Opponents argue that the chance of you missing the ship is low, and it's more likely that your passport will get lost or stolen while you're exploring in port. In that case, your passport is better left in the safe in your cabin.
Some cruisers take a middle-of-the-road approach, and bring a photocopy of their passport ashore (or have a photo of it on their phone), but leave the actual book on the ship. This way, if something does go wrong, it's easier to prove your identity and citizenship.
Regardless of what you decide, you should always bring some form of official photo I.D. with you when you leave the ship.
Frequently asked questions
Image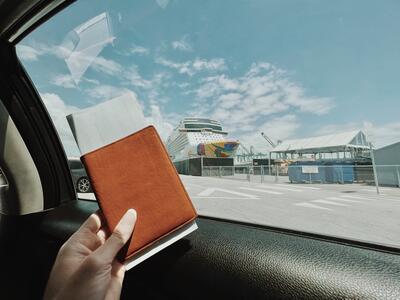 Here are more questions about cruising with a passport you might be wondering.
What happens if you go on a cruise without a passport?
Image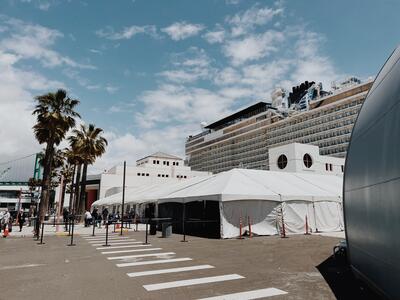 If you're on a closed-loop sailing that allows passengers to sail without a passport, you can still board the ship assuming you have an original birth certificate and state issued ID.  Keep in mind this is only available for United States residents on a cruise that begins and ends in the same port in the United States.
Otherwise, you'll be denied boarding and the cruise will be cancelled without a refund.
It's your responsibility to research the proper documentation in order to cruise, and if you go on a cruise without a passport, you won't be allowed on and risk the entire cost of the cruise.
Can you go on a Caribbean cruise without a passport?
Image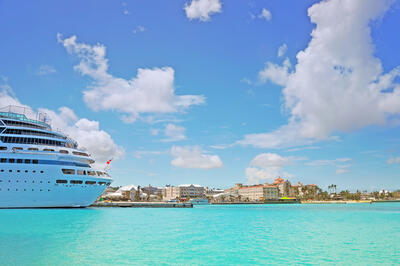 Yes, if your cruise leaves and returns to the same origin port in the United States and you're a U.S. citizen, then you can sail instead with a birth certificate and state issued identification.
Be sure to bring the original birth certificate, and not a photocopy.