What Is A Closed-Loop Sailing?
A closed-loop sailing is a cruise ship voyage that begins and ends at the same port and in the same country. It is the most common type of cruise offered by cruise lines because the logistics for passengers is very simple for getting to/from your cruise. 
By beginning and ending in the same port, roundtrip flights can be arranged and anyone that drives to the port, will have their vehicle available to them when it concludes. 
The issue with a closed-loop sailing is because the cruise ship has to get back to the homeport, it cannot travel as far due to the time necessary to return. It is the alternative to an open-jaw sailing, where the cruise begins in one port and ends in another.
Key Takeaways
Closed-loop sailings begin and end in the same port of call.
These are the most popular type of cruise.
The downside to a closed-loop sailing is your voyage will visit less ports since your ship has to be able to return to where the cruise began.
If you cruise frequently out of the same port, you may find yourself returning to the same ports of call. There are only so many ports that a cruise out of Miami can visit in 7-nights. 
Understanding what a closed-loop sailing is
Closed-loop sailings are cruises where the voyage begins in a specific port and then returns to that port at the conclusion of the cruise. This is the predominant type of cruise option because they make planning the cruise for passengers simple, and cruise lines can plan on ending one sailing and beginning the next one just a few hours later.
Most cruises on mainstream lines from the United States, Europe, and Australia and closed-loop sailings. Because cruises need to turn around and sail with a new group of passengers constantly, these types of cruises make the most financial sense.
In the case of closed-loop cruises from the United States, these voyages must also include a stop in a foreign port in order to satisfy U.S. maritime law. As regulated by the Passenger Vessel Services Act (sometimes referred to as the Jones Act), a closed-loop sailing from the United States by a foreign flagged vessel needs to make a stop somewhere outside the country.
The below itinerary for a sailing on the Celebrity Edge is a closed-loop cruise. It begins in Fort Lauderdale, Florida on November 7, 2022, makes a single port of call in Cozumel, Mexico on November 9, and returns to Fort Lauderdale on November 11. It satisfies the Passenger Vessel Services Act because it makes a stop in a foreign port. In this case, it is Mexico.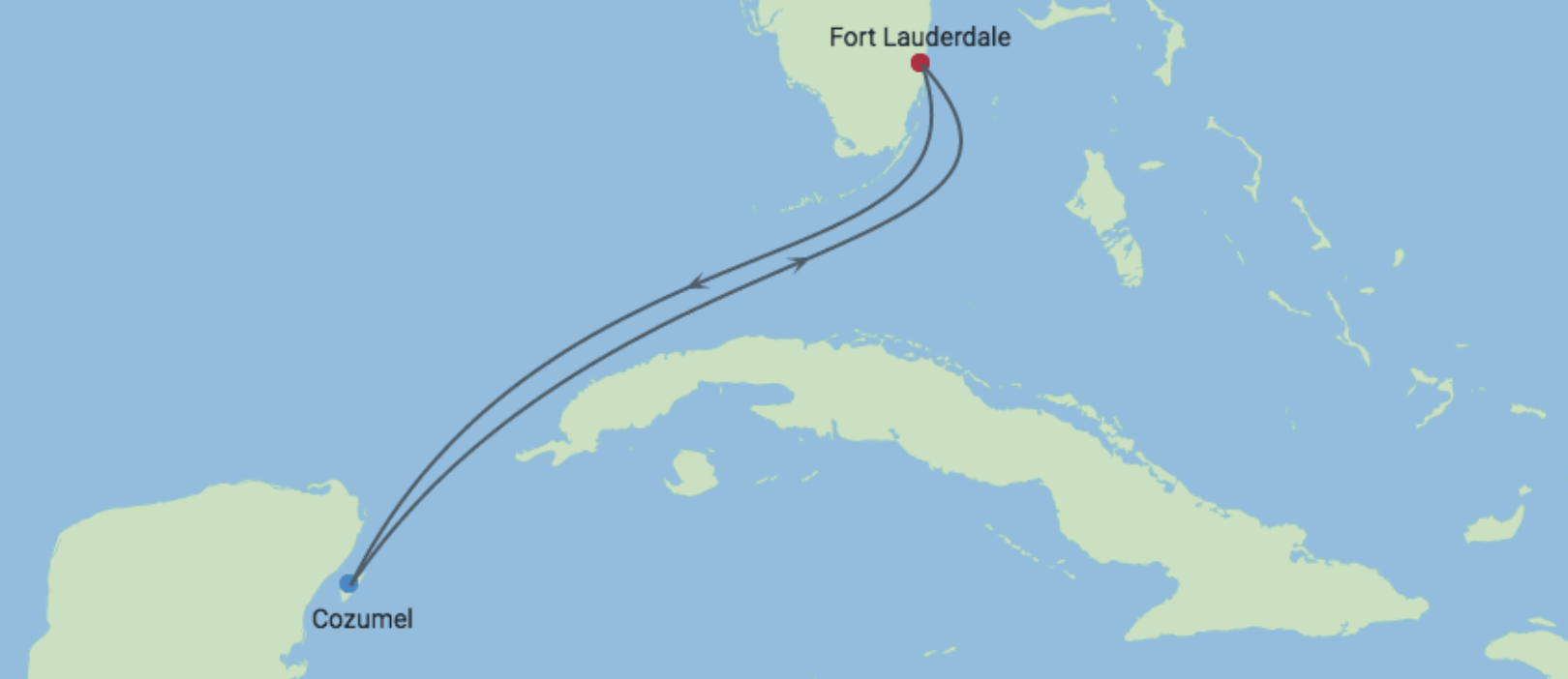 What is the opposite of a closed-loop cruise?
If your cruise begins and ends in a different port, it is referred to as an open-jaw sailing. For these cruises, it is almost guaranteed that you will have to arrange transportation, as you cannot leave your car parked at the embarkation terminal when you are disembarking elsewhere. 
Often, booking two one-way plane tickets can be most costly than a roundtrip. That is something to consider when you are faced with a great one-way cruise itinerary. 
The below itinerary is an open-jaw sailing onboard Sapphire Princess. It begins in Anchorage (Whittier), Alaska and concludes 7-nights later in Vancouver, Canada. 
Image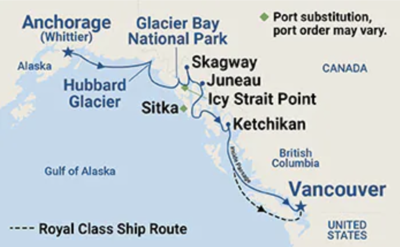 Do you need a passport for a closed-loop cruise?
If your cruise is sailing from the United States on a closed-loop sailing, U.S. citizens are not required to have a passport. Instead, they can sail with just an original birth certificate.
Americans under the age of 16 can go on the sailing if they have one of these documents:
An original, notarized or certified copy of their birth certificate
Consular Report of Birth Abroad issued by Department of State
Certificate of Naturalization issued by U.S. Citizenship and Immigration Services
Regardless, it is highly advisable to get a passport anyway.  Having a passport ensures if you were to be stuck in any foreign country, you could easily return home without any problem.
While closed-loop sailings may not require a passport for U.S. citizens, some countries have their own rules and mandate everyone have a passport. There are relatively few of these countries, but it includes Martinique, Cuba, and Barbados.
Read more: Where can you cruise without a passport?