When Norwegian Cruise Line introduced its Breakaway Plus class of ships, it introduced a revolutionary new onboard form of entertainment to the cruise line industry - the Norwegian Speedway. 
Norwegian Cruise Line's Speedway is the first of its kind; a real life race track at sea. This completely unique experience allows guests to drive a go-kart-like car around tight turns and speed down straightaways as they reach up to speeds of over 20 miles per hour. 
Because of its uniqueness, this onboard attraction is often popular amongst Norwegian Cruise Line guests. I recently returned from a sailing onboard Norwegian Cruise Line's ship the Norwegian Bliss, where I had the opportunity to test out the Bliss Speedway for the first time! 
Come along with me as I break down exactly what is included in the extra cost of racing along this Speedway - and wether or not I think this extra-cost experience is worth your $15. 
Reservation Experience
Image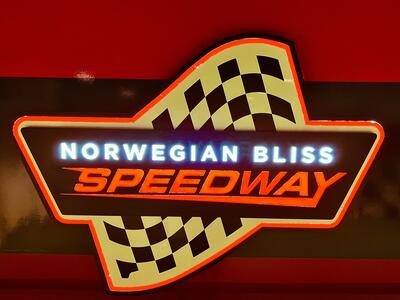 Something important to know about Norwegian Cruise Line, is that most activities onboard, even the complimentary ones, require a reservation. Some reservations are mandatory, while others are highly encouraged. Because of this fact, I would highly recommend proceeding to the ship's Box Office on the day of embarkation, and pre-arranging all activities such as theater shows, comedy shows, and more ahead of time for a cruise sailing. 
The Box Office can be found right next to the Theater onboard. While reservations for shows can be made at the Box Office, reservations for the Speedway can be made at the entrance to the Speedway. 
The Speedway does highly encourage guests to make reservations, as this activity tends to be very popular and can fill up throughout a cruise voyage. Due to the limited number of race cars, and the fact that the Speedway is open during only certain hours, I recommend visiting the Speedway as soon as possible on the first day of your cruise and making your reservation as soon as possible should you choose to participate in this activity. 
It is important to note, that as soon as you make a reservation at the Speedway, even if it is for days later into the cruise sailing, your onboard account will be charged the $15 per person immediately after the reservation is made. 
There are two types of Speedway race cars available for guests to reserve - a one person car and a two person car. The cars capable of fitting two people are meant for a parent and smaller child, or a driver and one passenger who does not wish to drive. While these two-people cars are available, we were told by a crew member that the one-person cars are usually more fun and the most popular choice amongst guests! 
In our personal experience, we found the reservation process to be very easy. We visited the Speedway on the first day of our cruise, at around 5pm, and asked if we could have a reservation on the second-to-last day of the sailing for two people in two separate cars. At the time, the crew members indicated to us that there was plenty of open reservations still available. 
I also noticed throughout the sailing when I went to check in on and watch the Speedway that there seemed to be openings at many different times and days throughout the voyage. 
Speedway Facts
Image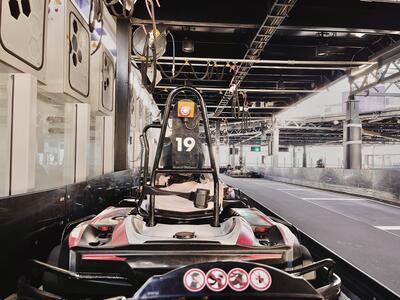 "Zoom around hairpin turns in excess of 20 mph as you race for the checkered flag on a thrilling, two-level race track in the middle of the ocean," says Norwegian Cruise Line about their unique and exciting activity at sea. 
Children younger than the age of 16 may participate in this experience, and drive their own car. However, all drivers and riders must be over 55 inches in height. Additionally, guests wishing to drive a race car at sea must weigh in at no more than 265 lbs. 
Guests must wear close-toed shoes in order to ride and drive, and are not permitted to bring with them cameras, phones, or any loose items into the car. 
The cost to race on the Speedway is $15 per person, for both children and adults. This $15 cost includes approximately 10 minutes of racing on the track. 
Also offered at the Speedway at the time of our sailing was an unlimited race pass. This pass costs guests $199 U.S. dollars per person, and allows a guest to race on the Speedway as many times as they wish during its open hours during a cruise sailing. 
The Bliss Speedway is located on the very top decks of the Norwegian Bliss, Decks 18 and 19. This means that it offers spectacular ocean views as guests zoom around the track. There is also a viewing area for guests who wish to watch other race around the Speedway. This area is a great place to not only watch the fun activity, but to also catch beautiful sunsets off the back of the ship! 
During our sailing, the Speedway was open everyday from about 5pm to 9pm each day. This means that guests have the opportunity to race during both sunset, during the later part of the afternoon, and at night. We chose to race during the earlier reservations, but we did check out the Speedway during the nighttime and it looked really fun to race at night as well. 
Tutorial and Safety Briefing
Image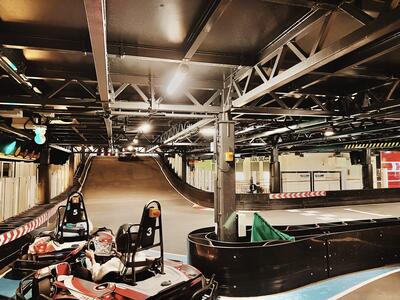 As is true with every cruise line activity, safety is the top priority. These go-kart-like vehicles are not bumper cars, and any guest that intentionally hits another car, or the walls of the Speedway, will be removed from the experience and not permitted to race further. 
Prior to getting into their race cars, all guests will go through a mandatory safety briefing leading them through how to control their car and how to properly put on their helmet. 
All guests are loaned a helmet that will properly fit their head. All guests are secured into their car with a seatbelt that goes across guests' chests. From my personal experience with this onboard activity, I felt very safe! 
An additional satay measure that is put into place, is that there is a crew member sitting at a strategic position near the race track, with a control panel that allows them to control the speeds of all the race cars as well as control the max speeds of particular cars. This means that the crew members are able to slow down or stop all of the cars on the track at any point should they need to. 
Racing Speed and Difficulty
Image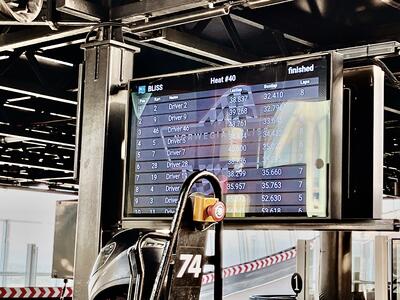 When first looking at the race cars, they may be intimidating to some guests. The cars do move rather fast, however controlling the cars is also very easy. To slow down or stop, drivers only need to let up on the go pedal or take their foot off the pedal all together. 
If a guest would like to drive slower than some of their fellow racers, all they need to do is move to one side of the track and let other drivers pass by them. 
I found driving the car to be very easy. I also noticed that the cars are able to turn quite well and it is easy to take the sharp turns while maintaining the car's speed. 
Guests' racing laps are also timed, which is a fun feature that makes the experience feel even more like a real race track. Guests are able to see their final lap times after they are done driving. 
Something that I did notice, is that this activity may be intimidating to younger children. We had several younger guests driving in our group, and they seemed to have a more difficult time driving quickly around the track. However, it did seem that all who participated had a great time  racing at sea! 
Why the Speedway is worth it
Image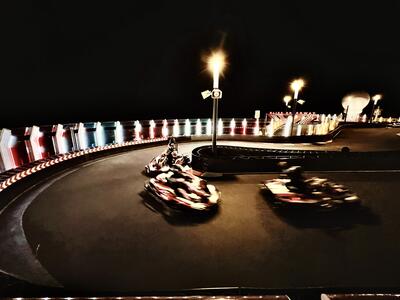 I personally believe that the extra cost of the Speedway was well worth the extra cost! For roughly the price of one alcoholic drink onboard, guests have the opportunity to experience something completely unique while on a cruise ship at sea. 
The race car did feel to go quite fast around the tight turns, and I personally felt that it offered the perfect amount of thrill and adrenaline rush, while still feeling safe and not overwhelming. 
I believe that almost everyone would find this activity fun. I think this would be a great activity for a family with older children - for kids and parents to race each other. Or maybe a group of adult friends, or even a couple looking for an interesting thrill. 
I highly recommend trying out this activity onboard with Norwegian Cruise Line should you have the chance! Because the cost of this unique experience was about the same as a drink onboard, the cost is justified in my mind. 
Why it might not be
Image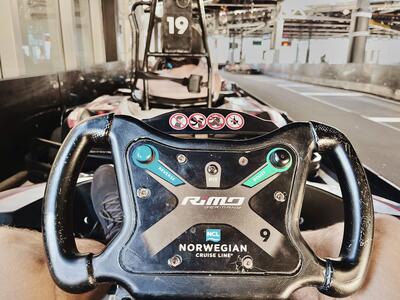 The Speedway may not be worth the extra cost if you are someone who is overwhelmed by thrilling experiences such as high speeds or loud noises. 
I also think that someone who could be sensitive to abrupt jolting or sudden movements, should not participate in this activity. It is likely that the go-karts could hit each other, or bump into the walls. No serious injuries can come from this, however, I do think guests should keep this in mind before choosing to race, should that have any health risks. 
Additionally I personally think that very young children, even if they meet the height requirement, should consider either not driving their own car, or riding in a two-seated car with an older driver. Because the race participates are of all ages, this means that adults who wish to drive the cars at max speeds will be on the track, and this could prove either overwhelming, too intense, or intimidating for young guests. 
Conclusion
Image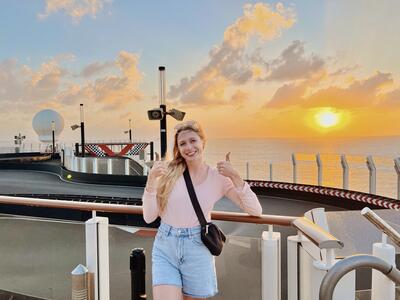 The Norwegian Cruise Line Breakaway Plus Class Speedways feature race tracks that span two decks, and with the introduction of the Norwegian Prima Class ships, there is now a race track spanning three decks! I am eager to see the innovation and thrills that the newest Norwegian Speedway is sure to bring onboard the cruise line's newest ship this summer - the Norwegian Viva.
I had a thrilling time participating in Norwegian Cruise Line's, revolutionary Speedway at sea experience! Because this is truly a fun and entertaining activity onboard, I would personally recommend it to all guests choosing to sail with a Norwegian Cruise Line vessel that features the Speedway! 
This unique experience has the potential to create once in a lifetime memories for cruisers, and therefore should definitely be on your list of must-do activities onboard your next Norwegian Cruise Line sailing.