When you book your cruise vacation, you will notice that you have two options for dinner. You can either select a set time, meaning that you will dine at the same time each evening, or a flexible option that allows you to either make reservations in advance or show up to the main dining room whenever hunger strikes. 
There are pros and cons to each option, so you need to consider which makes the most since for you and your travel party. Do you, for instance, want to have the same wait staff each evening to build a relationship with them, or do you value the freedom of being able to dine at a different time each night of your cruise? 
Here is a guide to flexible dining vs traditional dining on a cruise ship. 
Read more: Your really dumb cruise ship dining options answered 
What is the main dining room?
Image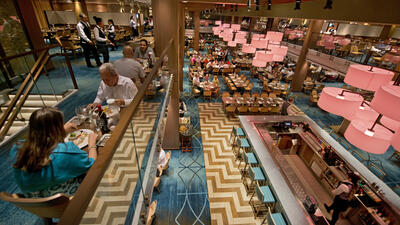 The main dining room on a cruise ship is the traditional sit-down restaurant that serves three-course meals for dinner each night of your cruise. Some ships have multiple main dining rooms, while others will have a single one. 
When you are seated, you will be presented with a menu that contains appetizers, main courses, and desserts, and you are free to order whatever sounds appealing. In other words, you are not limited to item from each course, so if you want to try two appetizers or two desserts, you can!
Image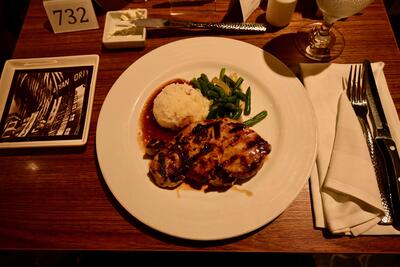 While the main dining room is often open for breakfast (check the ship's daily schedule to confirm once onboard), your dining option is not applicable. Breakfast is first come, first serve. 
Another complimentary dinner venue available on every ship is the buffet. While you might miss out on the white table cloth experience, there is no harm in passing up the main dining room for this more relaxed dinner, especially if you spent a long day ashore. 
If you do decide to go with traditional dining, you may compromise by going to the buffet a few nights during your cruise!
Read more: Why you should eat dinner in the buffet
What is traditional dining?
Image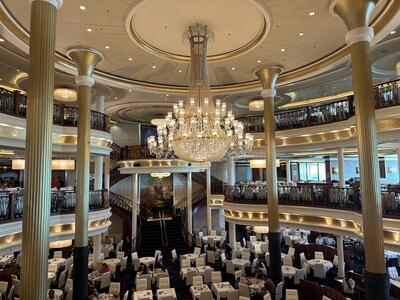 When it comes to traditional dining, you will be able to select one of two times. The first is an earlier seating, usually somewhere between 5:30pm and 6:00pm. The second is considered late dining, and you can be expect to dine anywhere from 7:45pm to 8:00pm each evening. 
You will eat at the same table with the same waiters and companions, too. Of course, you do not have to eat in the main dining room every night. If you get back from port late and realize that you will not be able to shower and change before your dinner time, you are free to go to the buffet or make a reservation at a specialty restaurant. 
Since you have an assigned time and table, you will not have to worry about making reservations. Simply show up to the main dining room when it is time for dinner and head to your table! You will be greeted by your waiter with menus after you sit down. 
Early versus late seating
Image
The early seating usually commences around 5:30pm or 6:00pm; however, the exact time varies based on cruise line, ship, and itinerary. This seating is popular because you free up your evenings for shows and other activities taking place around the ship, whether that is a comedy show, listening to live music, etc. 
For those who are not night owls, the first seating is great for people who to retire early, such as families with young children. Rest assured that you can be in bed 9:30pm, so you will be well-rested for the next day.
One concern you might have is that you will get an itching for a late-night snack. Many cruise lines have venues open past the later dinner service, such as a quick-service pizza joint or 24-hour café. You can always grab some snacks from the buffet to keep in your stateroom, too. 
This tends to be the most popular dining option, so you should book your cruise as early as possible in order to confirm this time, if this is the one you are interested in. 
Read more: How Far in Advance Can You Book a Cruise?
Image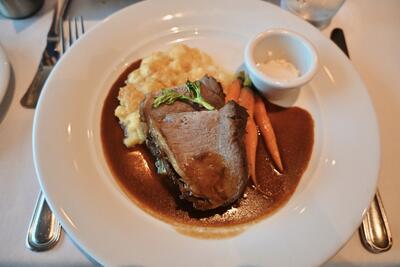 The second option is the later seating, which usually takes place around 8:00pm. It happens after the first seating has finished, giving the wait staff enough time to reset all of the tables. 
This seating is ideal for those who want to spend more time in the afternoon on the pool deck or exploring ports of call, as you will not feel rushed in the afternoon. 
Rather than heading back to your stateroom around 4:00pm, you can enjoy the top deck as those with the early seating begin to head out, as those with this dinner time will have to wrap up earlier in order to allot enough time for everyone to shower and change. 
What is flexible dining?
Image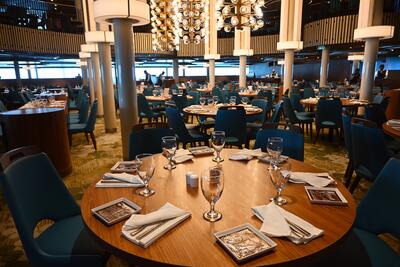 Each cruise line calls this something different. Royal Caribbean, for instance, refers to it as "My Time Dining," while Carnival Cruise Line dubs their flexible dining option "Anytime Dining." 
Rather than be assigned a table and set time in advance, you will eat at a different table each night, based on what is open when you arrive to the main dining room. 
Without reservations, you may show up and realize that there is a long wait, which is why if you have the option to reserve a dining time in advance that you do so. Cruisers have reported having to wait, sometimes up to 45 minutes for a table, without reservations. 
While this still means you have to put forth a little bit of thought into when you want to eat, rather than decide the day of, you will appreciate the time spent thinking about it in advance! 
Image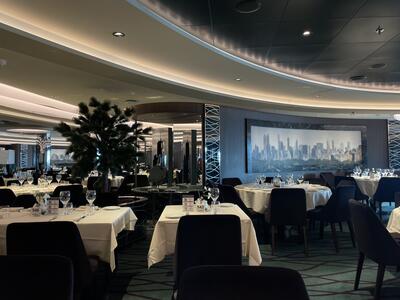 If you have a larger group, you may find that traditional dining is easier. Royal Caribbean, for instance, does not allow more than eight people to make reservations for My Time Dining. With traditional, you can easily ensure that all guests in your party will be seated at the same table each night of your cruise, even if everyone does not join. 
Moreover, since you will not have the same wait staff every night of the cruise, you will have to be proactive in communicating any dietary restrictions to each new waiter. To some, this could become annoying, as if you have traditional dining, they will quickly learn. 
Image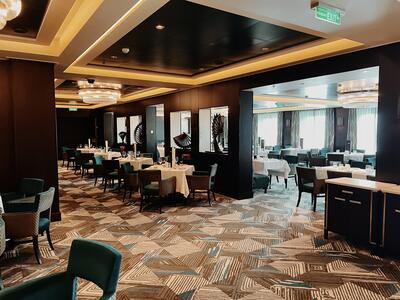 Two mainstream cruise lines, Norwegian and Virgin Voyages, have a different approach to dining. On these lines, you will not find traditional or flexible options. Instead, both have a more flexible approach. 
You will hear the phrase "Freestyle Dining," when on a Norwegian cruise. This means that you are able to dine when and where you want; there are no with no fixed dining times or pre-assigned seating. Like other lines, you can choose from complimentary restaurants or specialty ones that incur a fee. 
The most different is Virgin Voyages. There is no main dining room, and they abandoned the specialty dining concept. Every restaurant is themed and serves a specific cuisine, whether it is Mexican, Korean BBQ, seafood, Italian, and more. 
Image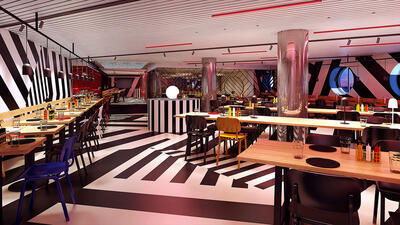 Moreover, there are no set dining times. Whenever you get hungry, you can simply head to the restaurant you want to dine at!
Read more: What it's like to sail on Virgin Voyages