While most people will dine in the cruise ship's buffet at least once for breakfast or lunch, it is often overlooked when dinner time rolls around. With so many other options, such as the complimentary dining rooms and specialty restaurants, you might be looking forward to the elevated dining experiences on your cruise. 
You will, of course, miss out on the white tablecloths, but eating dinner in the buffet has its advantages. Perhaps, for instance, you have had a long day ashore and would like to rest for awhile instead of going to the dining room for your assigned early seating. 
Here's why you should eat dinner in the buffet at least once on your next cruise vacation.
Read more: Your really dumb cruise ship dining questions answered
Flexible dining times
Image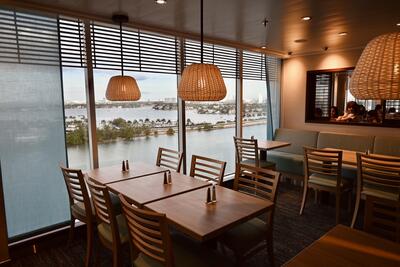 You can eat in the buffet at any time during the dinner service, which usually lasts for about three or so hours. 
Most mainstream cruise lines have three dining options for dinner in the main dining room(s): an early seating, late seating, or flexible options that allows you to show up anytime or make reservations in advance. 
Even if you select the flexible option, you will be responsible for planning ahead or may face a long wait-time if you show up during the peak dinner time. 
With the buffet, you will not have to worry about any of that. You can have dinner whenever you are ready. 
If, for instance, you have the early seating but want to stay ashore as long as possible, you may not be ready to sit down for a long dinner service in the main dining room. Likewise, perhaps you would rather spend time by the pool when there are fewer people around. 
You do not have to sacrifice any other experiences just for the sake of dinner!
Everything is included
Image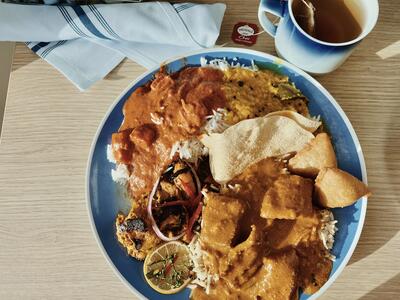 The cruise buffet is one of the complimentary dining venues onboard. It is open for breakfast, lunch, and dinner, and you will never have to pay extra to eat there. 
If you opt to eat at a specialty restaurant, you may find yourself paying $30+ per person. While some people can justify the splurge, others like to get as much value as they can out of their base fare!
Read more: Are cruises all inclusive?
Different options to choose from
Image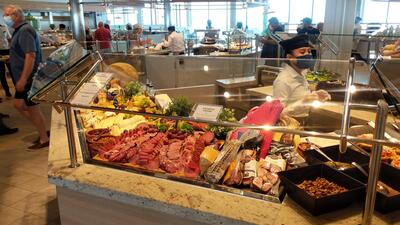 No matter what you are craving, you will find something at the buffet, whether it is a burger, pasta, fish, fresh cut of meat from the carving station, tons of different sides, or something else. Sometimes, there are made-to-order stations where you can get a freshly prepared entree. 
If you are not sure what you would like to eat, you start with small samples and return to get what you liked the most! Plus, you do not have to stick to any "theme." If you want a taco, mashed potatoes, and french fries, you can certainly do so. 
Easy alternative for families with kids
Image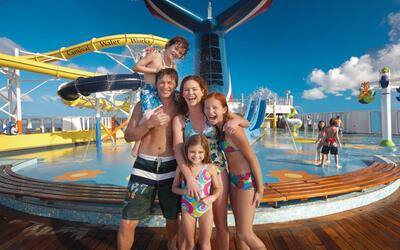 Let's face it--kids do not always act on their best behavior during long meals. While you may want to enjoy the main dining room and other specialty restaurants each night of the cruise, it might be a nice break for the kids to eat in the buffet one night. 
Faster dinner service
Image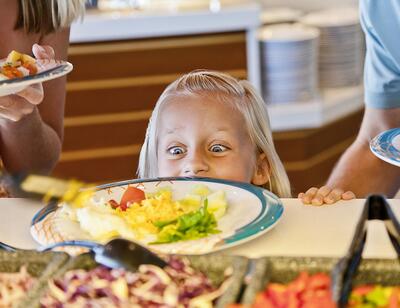 Sometimes, especially if you are on a longer cruise, you may not want to spend an hour or more at dinner every night. If you choose to eat in the buffet, you can be in and out in just about no time. 
Since the buffet is self-service, you can help yourself to additional servings as soon as you finish. You will not have the wait-time that you get between courses when dining in the main dining room or specialty restaurants. 
It will save time and let you get back to other evening activities! 
All-you-can-eat
Image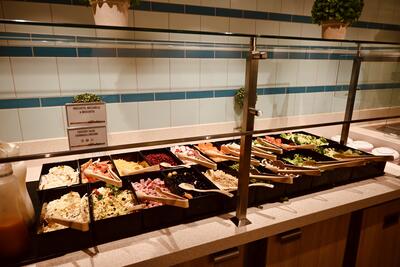 The great thing about the buffet is that you can eat as much (or as little) as you would like. You are able to go back for as much food as you want! 
Maybe you had a busy day in port and were not able to eat a proper lunch. Show up hungry, and you will be satisfied in no time. There is no rule as to how much you are able to eat. 
On the other hand, maybe you have been snacking throughout the day and would be okay with a smaller dinner. It is hard to pass up a course in the main dining room or specialty restaurant if you paid extra for the experience. Eating at the buffet, however, you can grab a single serving of whatever you are in the mood.
Grab & go
Image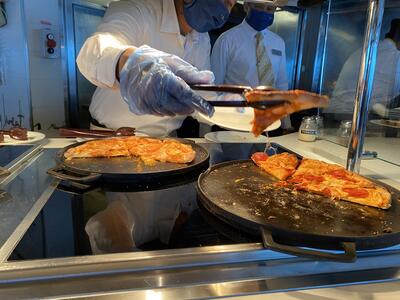 Just because you are getting your food from the buffet does not mean that you have to eat there. You can grab what you would like to eat and take it elsewhere, whether that is your stateroom's balcony or the pool deck to eat in the fresh air before hopping back into one of the pools and/or hot tubs. 
If you have had a long day, you might want to return to your stateroom and have a lazy dinner and movie night before heading back out to enjoy the ship's evening activities. While there is so much to do on a cruise, you also have to take care of yourself and listen to your body if it is tired. Getting burnt out is no fun!
Casual environment
Image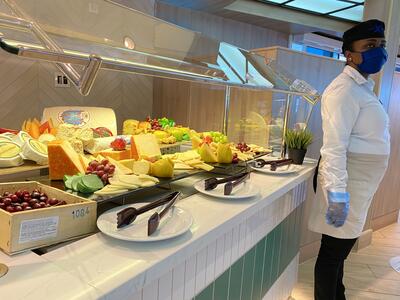 Each night of the cruise, there will be a dress code that applies to the main dining room. Other restaurants, such as specialty venues, have their own that supersedes what is suggested for the main dining room. 
Regardless, the buffet will always be casual. You, within reason, can show up wearing whatever you want to-- if you show up in a swimsuit without shoes, you might be told that you need to cover up. 
While cruise dress codes are not always enforced, formal night is a time in which many cruise passengers dress their best! If you do not want to participate and want to dress in a comfortable t-shirt and pair of shorts, you will not feel out of place eating at the buffet. You may not find lobster, but there will be elevated dining choices. 
Read more: Cruise Line Dress Code: What to Wear on a Cruise
Proper buffet etiquette 
Image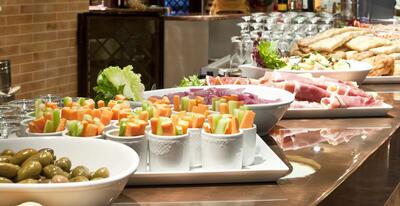 While eating in the buffet is more relaxed than the main dining room, there are some useful things you should know in terms of proper behavior. 
First, make sure that you wash your hands prior to entering. You also do not want to reuse your plate; it is frown upon because it can lead to the spread of germs. When returning to the buffet for another serving, leave your dirty plate at your table and grab a new one. A crew member will clear the table, most likely, while you are gone and at the end of the meal. 
You also do not want to cut the line. Everyone is hungry, and being patient is important. You will get your food soon enough, and when you do, wait until you have returned to your table to start eating. 
Moreover, when serving yourself, be sure that you place the tongs in the correct place. You do not want to cause any cross contamination!
Finally, while the dress code is casual, you should always wear shoes and some sort of cover up. Athletic clothing is acceptable and swim attire is not. 
Read more: 20 rules of cruise ship etiquette no one ever tells you (but should)
Cruise ship buffet frequently asked questions
Can I still eat in the buffet if I have a food allergy or other dietary restriction? 
Image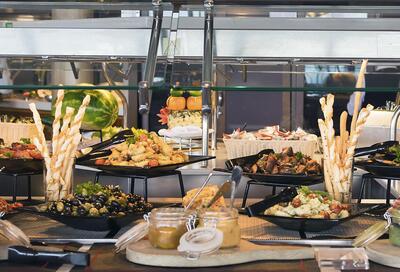 Regardless of what cruise line you are sailing with, you will want to notify them in advance of your specific dietary requirements. 
When eating in the buffet, there will often be a gluten-free station. If you do not see anything that interests you, ask the staff. There is a chance that there are additional gluten-free options available that are not set out. Similarly, there will be vegetarian options. 
Note that contamination is more likely in buffets than it is in other dining venues onboard. You never know when another passenger will put back a tong in the incorrect place!
Will I have trouble finding a seat?
Image
During peak dining times, it can be difficult to locate a place to sit. Oftentimes, however, dinner is less crowded than breakfast or lunch. If you are having trouble, speak with a crew member, and they will help you find a table!
Are there drinks available in the buffet?
Image
Of course. The buffet has a selection of complimentary drinks from self-serve dispensing machines. You will usually find water, juice, coffee, and tea. Depending on your cruise line, there may be iced tea, lemonade, and/or hot chocolate, too. 
Plus, most cruise ship buffets will have a bar where you can order for-fee drinks, including cocktails, beer, wine, soda, and other non-alcoholic beverages. 
What are the hours of the buffet?
Image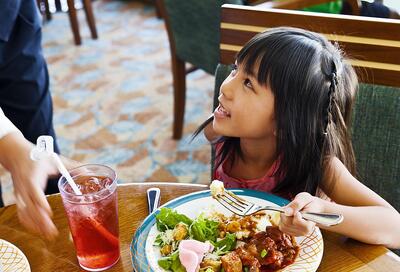 Cruise ship buffets are not open 24/7. They are, however, open for breakfast, lunch, and dinner. The hours vary based on cruise line, but the times for each service will be long enough to accommodate a range of preferred dining times. 
When, for instance, going to the buffet for breakfast, it does not matter if you are an early riser or prefer to sleep in! And for dinner, you can show up as soon as the buffet opens or wait until later. On average, this tends to be around 9:00pm.