When Virgin Voyages first announced the start of their new, adult-only cruise line, the inaugural voyage was planned for 2020. After a Covid-related delay, the first ship, the Scarlet Lady, is now sailing out of PortMiami. While we are used to sailing with kids, we took the opportunity to check out this new way of cruising, and really enjoyed our Virgin Voyages experience. Here's what it's like to sail on Virgin Voyages now.
Like most cruise lines, you'll need to download their app to get the best onboard experience. Virgin Voyages is different in many ways, but one of the biggest differences is noticeable before you even cruise. There's no buffet and no main dining room on the ship. Therefore, you'll need to make reservations for the included specialty restaurants in advance.
Guests are able to make one reservation per restaurant. With six restaurants and only four days on board, we had some choices to make. According to crew members, we were sailing with only 800+ guests, so none of our chosen restaurants were full.
Embarkation
Image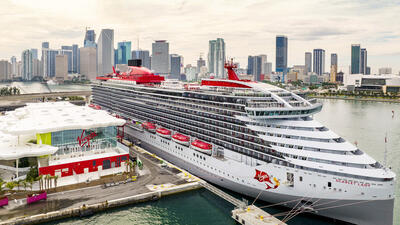 The Scarlet Lady sails out of the brand-new Terminal V at PortMiami. Before you leave, you'll need to fill out a health form online and submit documentation. Covid tests are required for all sailors. Free testing is available at the port, or you can arrive with a negative test in hand. See their website for the most up-to-date information before you go so you have the proper test and documentation.
Virgin Voyages generally allow guests to stay on board a little later than other cruise lines on disembarkation day. This means that the earliest boarding time is later than normal. Our boarding group time of 1:30pm was the earliest offered, with the ship typically opening to sailors at around 2pm.
Upon port arrival, there were two areas that guests were directed to - one to have the results you brought with you verified, while the other was to register for port testing. Each area had several lines separated by upcoming port arrival times, so while you can arrive a bit early, you won't get to board early. For our 1:30 port arrival time, there were lines for 1:30, 1:45, and 2:00pm.
Image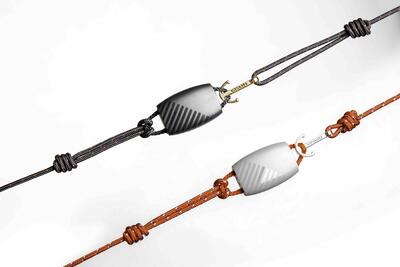 Virgin Voyages offers a wearable band in lieu of a traditional key card. This makes things so much easier, because you are never having to reach for your card to pay for a purchase or to enter your stateroom. Wearables are sometimes sent home in advance, although ours were not. We were able to get them when we checked in.
Unlike our experience on other cruise lines, our staterooms were already ready when we arrived on the ship. Rooms have a small tablet to control the television, the mood lights, and the balcony blinds. There are even some mood settings to choose from, instead of manually choosing each setting. Luggage arrived early in the afternoon.
It's unclear if this is due to their "we do things differently" mantra or Covid protocols, but the muster drill was very quick and simple. After watching a video in our stateroom (which definitely followed the rock star theme), we had to check in at our muster station to get a brief life jacket demonstration.
Virgin Voyages shows
Image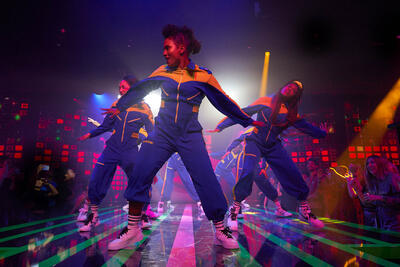 While restaurant reservations and shore excursions (called Shore Things on Virgin) can be made in advance, show reservations need to be made once you are onboard. Entertainment is more adult-focused on Virgin Voyages, and there aren't any of the musical-style shows seen on other cruise lines. Instead you'll find acrobatic shows, game shows, adult-themed cabarets, and more.
With such a limited number of guests on board our sailing, it wasn't difficult to get reservations for anything. Full capacity sailings may result in a little more urgency to make those bookings early.
Image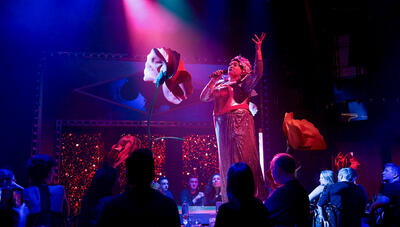 Each night (and during the day on our day at Bimini), there is a fun ship-wide party. The highlight of these is Scarlet Night, where everyone dons their best red apparel and dances the night away on the pool deck.
Because of the smaller number of passengers, and the size of the entertainment venues, we felt that we saw our fellow passengers a lot more. By the end, it was apparent that many new friendships had formed among the different passengers.
Cruise Director
Image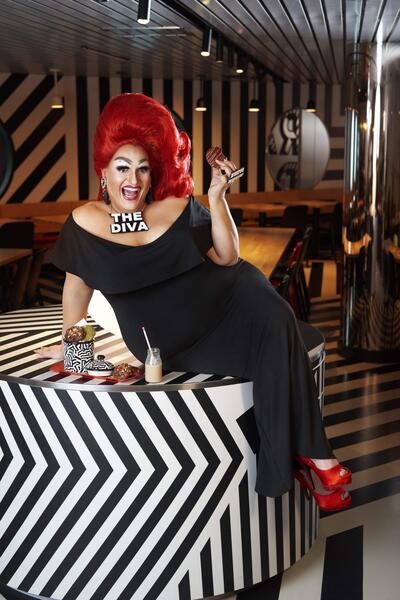 One of the other changes that Virgin has made to the cruising experience is the elimination of the traditional cruise director role. Instead, they have the "Happenings" cast, which is made up of 12 different energetic personalities, with titles like "The Hype" and "The Foodie". We encountered these crew members throughout our voyage, and they really lived up to their names.
All Inclusive Experience
Image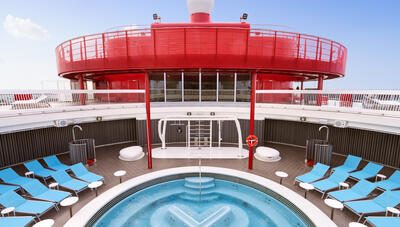 Virgin offers an all-inclusive experience, which was refreshing to experience. This includes the following:
All gratuities
Specialty dining is all complimentary. There were a few items that were offered as an upcharge (like the raw bar tower in the Wake, for instance). "Essential" drinks, like water (filtered or sparkling, no bottled water is offered on the ship), soft drinks, juice (non pressed), tea, and standard coffee are included. There's an additional fee for alcoholic and specialty beverages and coffees.
Basic WiFi is free and higher speeds are offered at an additional fee.
Group workouts are included but may require advance signup.
There are some additional things on the ship offered for an extra fee. These include port excursions (called Shore Things), afternoon tea (available with or without a glass of champagne), Bingo, a Shot for Shot mixology/photography class, and a paint night style class.
Restaurants on Virgin Voyages
Image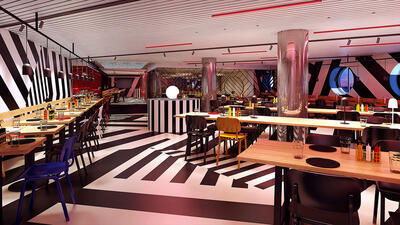 There are so many dining venues on the ship, including the six main venues. These include:
Pink Agave, a Mexican restaurant that was my favorite restaurant on board
Razzle Dazzle, a vegetarian restaurant offering a few "naughty" (meat-based) options
The Wake, a steak and seafood restaurant
The Test Kitchen, offering an experimental 6-course menu
Extra Virgin, an Italian restaurant
Gunbae, a Korean BBQ restaurant offering communal dining and drinking games
In addition, there's the Galley, which replaces the traditional buffet. Instead, it's more of a food hall with small themed kiosks. Choose a seat, scan a QR code, and a server will take and deliver your order. I really enjoyed this concept, and there were enough choices for most preferences.
There are other places to get food during the day, including the Dock offering Mediterranean appetizers, the Pizza Place, and the Sun Club Cafe offering poke bowls. Room service is also offered.
Operating Hours
Image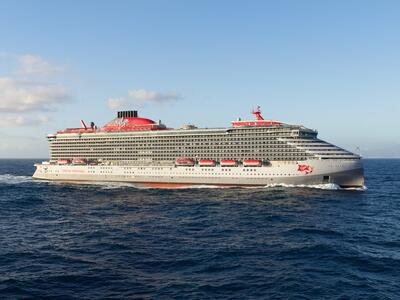 With fewer passengers on the ship, I was concerned about operating hours of restaurants and other venues. I didn't notice any changes, however - everything seemed to be open when I expected it to be open.
While the Virgin Voyages experience is definitely different from any cruise experience I've had, it's a refreshing change. It's not for everyone, but it's a fantastic addition to the cruise industry.