Having cruised 15 times in my life, I am no stranger to the cruising world.
While I typically cruise with Royal Caribbean, I had been tempted by all of the marketing I've seen focusing on the relatively new Virgin Voyages brand. They promote adult-only sailings, with upscale food, a private beach club, themed parties, and a trendy vibe.
I was interested to see if what they were promoting was true and what an adults-only cruise would be like. I was thrilled when I ended up finding a 4-night sailing onboard Virgin's Scarlet Lady, sailing from Miami and visiting Key West and Bimini.
With it being a newer cruise line and ship, I had high expectations for this cruise. I was hoping that it would live up to the hype that I had seen and heard from others, but I was also nervous after seeing a few negative reviews on TikTok recently. We decided to go for it and sail onboard the Scarlet Lady to find out for ourselves. 
Here are 12 things that surprised me about my first cruise with Virgin Voyages.
1. The easy boarding process
Image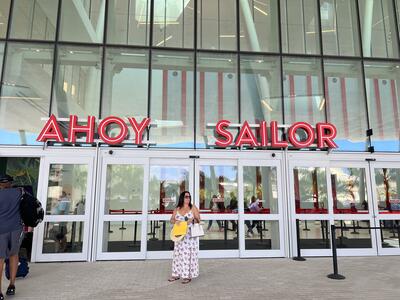 The boarding process for a cruise ship is easily my least favorite part of the cruising experience. Even though most cruise lines have moved towards cruisers needing to reserve arrival times to mitigate the clogged terminals and long lines, I find that it is often still a time consuming process.
Unlike other cruises that I have been on, there were no cruise documents for you to download or print and bring with you. We didn't receive luggage tags or a boarding pass. Instead, we filled out all of our information within the app, such as passport information, emergency contacts and more. With no information to bring, I was concerned for what the terminal would look like.
When booking our cruise, I noticed that the first available times to reserve to board the Scarlet Lady were 2:00 PM. I am used to seeing the first times closer to 11 AM and was intrigued why it would start so much later, as the embarkation day is considered to be your first "full" day of your cruise. 
By the time we got to select, 3:00 PM was the first time available, so that is what we chose. We arrived at the terminal around 2:30 PM, and after parking and walking over, set foot in Terminal V at around 2:45 PM. We were immediately greeted by the porters and opted to drop our bags with them.
We were able to immediately enter the terminal to begin embarkation, and were quickly ushered upstairs and to a port agent to assist with checking us in. Once there, we went over the details we had submitted in the app, were given our bracelets that acted as our sail pass, and were guided to go through security. In total, we were on the ship in under 15 minutes. Not only was this the fastest amount of time it's taken for me to get through a cruise embarkation process, it was also the easiest.
Read more: Cruise boarding times: how early to arrive to the terminal
2. The all-inclusive price
Image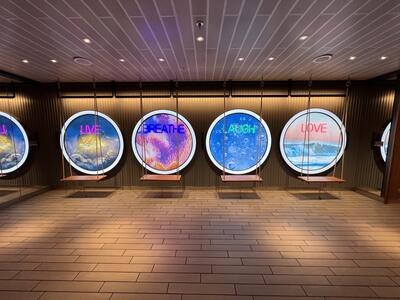 When I had previously looked at sailings onboard Virgin Voyages in the past, I was initially put off by the price. For a 4-night sailing, the lowest price I found this fall was for $1,734, which was in one of their interior cabins called the Insider. For comparison, I have sailed on 5-night sailings on Royal Caribbean in the last year for just under $1,000 in a balcony room.
When comparing these prices, I had failed to realize just how much was included in that price. Virgin Voyages promotes "Always Included Luxury," which includes all food venues onboard, Wi-Fi, gratuities, unlimited group workouts, and essential drinks.
When sailing with other cruise lines, we almost always add on a drink and Wi-Fi package, which end up adding hundreds of dollars to our cruise total. Sometimes, we will also add on speciality dining packages as well, raising our total up even higher.
So while the base fare when booking the cruise seems higher, we ended up cruising without purchasing any additional add-ons, keeping our total cost lower in comparison.
3. The food options were better than I anticipated
Image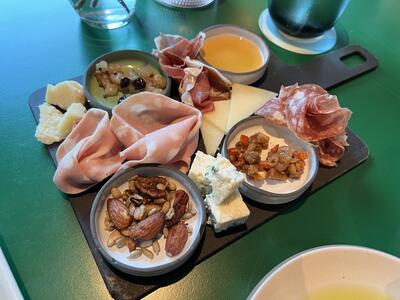 Virgin Voyages is known breaking away from the traditional cruise ship dining model. Onboard, you won't find any kind of main dining room or buffets, and this left me wondering how the eating experience would be. I'm a fan of cruise line buffets for quick breakfasts or easy meals when you don't have the energy to sit down for a full service meal. I also enjoy the main dining room on other cruise ships, as you get to know your wait staff and know what to expect from the experience.
On Virgin Voyages, all of the dining venues are included in your cruise fare. There are no up charge speciality dining venues. Instead, the different venues were equal to the quality of speciality dining venues on other cruise lines. On Scarlet Lady there were 20+ eateries to choose from for all of your meals.
They heavily promoted their six reservation-only venues for dinners and brunch. These upscale venues catered toward certain themes, such as a steakhouse, Italian restaurant, Korean BBQ, and more. If you wanted something quicker or with more variety, The Galley was the perfect place to find food. 
This is the most similar to a buffet on other cruise lines; however, instead of serving yourself, there were eight quick service vendors. Here, you could either sit down and place your order with the waitstaff or stand in line and place your own order for food from their menus. Options ranged from burgers to salads, all-day breakfast, ramen, and more.
They also had various other venues available onboard, such as their made-to-order personal pizzas, a diner, and even fresh-scooped ice cream. We were surprised to find various grab-and-go options around the ship too, mainly consisting of salads, sushi, and sandwiches that were pre-packaged and ready to take with you wherever you wanted to be on the ship.
4. The pools left us wanting more
Image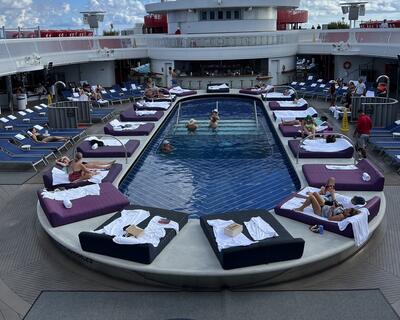 Since Virgin Voyages do not allow kids onboard, I knew that I wouldn't be finding waterslides and splash pads on their pool deck. However, once getting onboard I was surprised to see that the pool deck consisted of only two pools. These pools were extremely small, even considering we didn't have to fight for space with children. We were concerned for our sea day with not only being able to find seats around the pool, but also finding space to get in the pool itself.
When we finally got to our sea day, our concerns were played out. At one point, I counted 45 people within the pool and the sun shelves on each side. This many people meant that there was no actual room to swim. Instead, it felt like you were sitting on top of strangers. While there were plenty of hot tubs around the ship, it was too hot on our sailing to use them during the daytime.
We were surprised that there were not adequate pool and/or water features for the amount of cruisers onboard. On other cruise ships I've sailed on, there have been plenty of water areas for people to choose from, and sea days meant most of the indoor venues would be quiet. 
This was not the case on Virgin, and after giving up on having a pool day on our sea day, we went and explored the ship and found many people in the same boat. The indoor venues were just as busy as they were at night, as many other people did not want to fight for a tiny spot in an overcrowded pool either.
5. The evening entertainment options
Image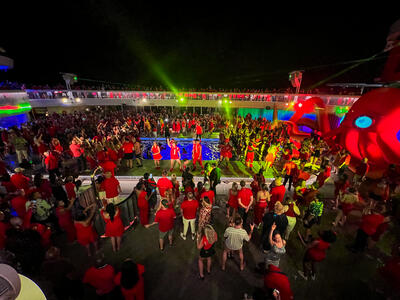 When I cruise, I always enjoy seeing what headliner acts will be performing during my sailing and oftentimes try to see as many as I can. When getting ready for this cruise and looking at the itinerary, it did not seem that there were as many options to choose from each day. There were 1 or 2 primetime shows in one of their venues, and they often repeated throughout the length of the cruise, meaning if you saw it the first day, there wasn't much else to do the other days.
While the lack of variety was disappointing, the quality of the entertainment was exceptional. We ended up watching just two shows: a comedy set that had us rolling and an impressive one-woman 80-minute drag show that was unlike any other show I've seen at sea.
Aside from the shows, each night also boasted a theme night ending in a giant party. From the PJ party to Scarlet Night, I have never seen so many cruisers join in on a theme. For Scarlet Night, not only could you count on almost every cruiser wearing a splash (or whole outfit consisting) of red, the night ended in the most insane pool party I have ever seen on a cruise ship.
This pool party began with the activities team performing choreographed dances and acrobatics and ended with them encouraging cruisers to jump into the pool themselves. It was extremely fun to see so many people engage with the theme and be ready to party their butts off night after night.
6. The confusing ship layout
Image
One thing that really threw me for a loop was the layout of the ship. I'm fairly good with directions and can usually get my bearings within my first few hours on a new ship; however, I was still finding myself lost by our last day when trying to navigate around Scarlet Lady.
While most ships utilize the center of the ship for their main centrums or promenades, Scarlet Lady utilized the sides of their ships. This meant that you could be walking down the port side trying to get to a specific venue, only to run into a dead end and have to back track.
We also oftentimes couldn't find public bathrooms, as the signage for these consisted of a small sign showing a mermaid and merman, with a vague arrow essentially meaning "head this way until you find the next sign with another arrow."
While the venues themselves were well thought out and beautifully designed, we oftentimes ran into other passengers experiencing the same problem. Virgin Voyages sleek and trendy design meant that you were often left wondering exactly where you were on the ship as signage was minimal.
In fact, towards the end of our last day, we stumbled into a random corridor that revealed a third set of elevators in the aft of the ship. It turns out that you could access these from most of the public decks; however, they were tucked away in areas that often felt like they weren't meant for cruise passengers.
7. The wide array of drinks for every cruiser
Image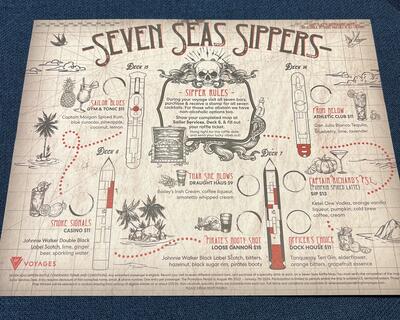 Virgin Voyages does not offer drink packages and instead allows their cruisers to pre-purchase a "bar tab" prior to getting onboard. For those who don't purchase a bar tab, they can pay for their drinks as they go, but the bar tab is a good way to help budget before sailing.
Oftentimes, you can find a booking promotion that will include a bar tab on Virgin. We were lucky to get $300 when booking. We weren't sure what the costs of drinks would look like once we got onboard,or what the offerings would look like. They ended up ranging between $5-8 for a beer, $9-13 for a cocktail, and $9-11 for most wines. Of course, they had high end options for all categories that well exceeded these prices.
We were surprised to find that each bar onboard had their own custom menu, offering unique drinks. On other cruise ships we've sailed on, the same bar menus tend to be found across multiple venues onboard. Not only that, but Virgin also had a mocktail section on each of their menus, offering thoughtful alcohol-free drinks. With this being an adults-only cruise, we weren't expecting them to cater that well to those that didn't drink, but we were impressed with their booze-free options everywhere.
Additionally, not only did the bars offer the typical drinks you would find, but there were always plenty of unique canned cocktails and beers, even a Virgin Voyages signature craft beer.
8. The room layout and amenities
Image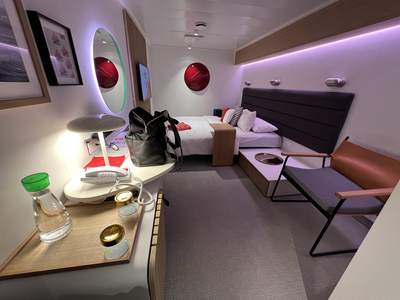 Much like most of their ship, Virgin Voyages staterooms are also different from other cruise lines. While I went in expecting modern and trendy rooms, I was still surprised at just how much our room had to offer.
I stayed in one of their interior cabins, called the Insider, which was 177 square feet. While this size is on par with other cruise lines, they maximized the space better than I had ever seen from other interior cabins. The room's layout left us with plenty of space and nothing felt crammed, as is usually the case on other cruise lines. With two people, we had more than enough space for all of our belongings and ourselves.
The technology within the room was also a surprising perk. Being able to control the lights and temperature of the room, as well as control the television, from the provided tablet felt like a fun, unique way to take cruise cabins up a notch. We also appreciated the electronic door signs to let the cabin steward know if you wanted your cabin serviced or didn't want to be disturbed.
Read more: I stayed in a 177-square-foot room on a Virgin Voyages cruise that starts at $1,734 for almost a week. For a tiny space, it was big on luxury
9. The Beach Club
Image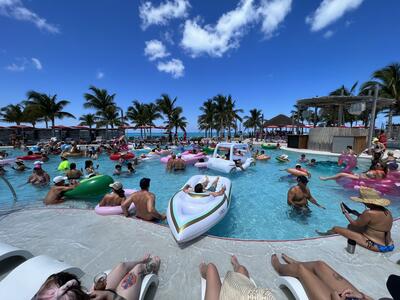 Most of Virgin Voyages Caribbean itineraries feature a stop at their private destination, Virgin Voyages' Beach Club at Bimini. While not a private island like some other cruise line offers, this beach club is located on the island of Bimini in The Bahamas and only accessible to those sailing on a Virgin ship.
Honestly, I wasn't expecting much when it came to this beach club. I haven't traveled to Bimini before, but I've traveled to the Bahamas frequently and assumed it would be the same beach experience that you can get on any of the islands. Turns out, I was extremely wrong.
Not only was the beach club beautiful and more spacious than other beach clubs I've visited, but they also had a full line up of activities, most notably their pool float party, and some of the most intricate food I've seen offered on a private cruise destination before. We left our day at the beach club impressed, and remarked that a stop to this destination would make any of their itineraries worth it for us.
10. The fun onboard activities that were available
Image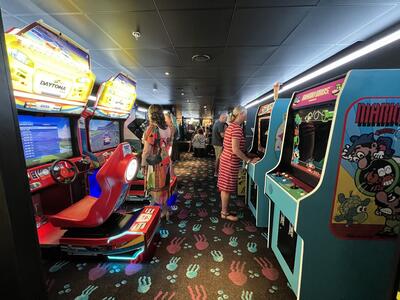 When sailing on an adults-only cruise line, the last thing I expected to find was an arcade and library of board games. When we first stumbled upon these, I was a little confused; however, we quickly realized that this was the best thing they could have added to the ship.
As childless millennials, we have never set foot in an arcade on other cruise ships. I mean, there was no real appeal of touching sticky game consoles in an area meant specifically for children. However on Scarlet Lady, not only were these machines not sticky, they were also stocked with throw-back games and allowed cruisers to enjoy their inner child.
They also had an impressive board game library for cruisers to use when they wanted, and I have never seen so many adults taking part in playing games while cruising before. In fact, one of the sea day hosted activities was a puzzle race that was completely full by the time we wandered over to the area.
Even more, when walking around the top decks, we noticed that there were a few seesaws and swings, which again allowed us to bring out our inner child and have some fun nostalgic moments.
Read more: 25 Fun Things To Do on a Cruise Ship Sea Day
11. The clunky and confusing app experience
Image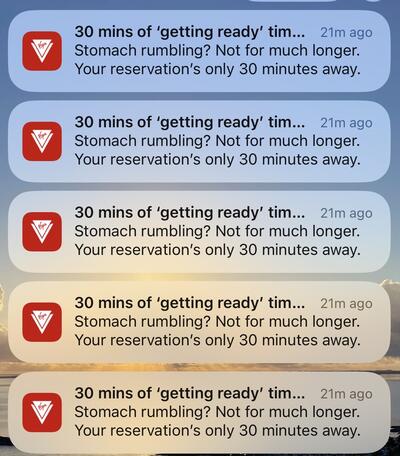 With Virgin Voyages being the beacon for trendy and modern cruises, I had high hopes for their cruise app. Immediately upon downloading it, I couldn't help but notice the low 1.6 star rating. I wasn't sure how a cruise app could score that low, but as it was required to prepare for our sailing, I went ahead with the download.
Almost immediately I realized that the scores were likely right. Virgin Voyages encourages you to pre-book your dining reservations, as the popular times tend to fill up quickly, and they can't always accommodate walk ups. Not only were all of the popular times filled when we downloaded the app 44 days prior to our sailing, but each time you wanted to book something, it brought you back to the home screen where you had to navigate to the dining section all over again.
We also got a ridiculous amount of repeat notifications when we did have a dining reservation or selected that we were interested in attending an event. 30 minutes before dinner we would get 5-6 of the exact same notifications informing us our reservation was only 30 minutes away, each time.
This clunky interface continued even once on the cruise, and much like the layout of the ship, it often felt like you didn't know where you were on the app and where you needed to get to. In fact, once onboard we went to one of the restaurants to help with our dining times, and after figuring it out, we had to help other cruisers around us as they were also totally confused.
12. The amount of fun we had
Image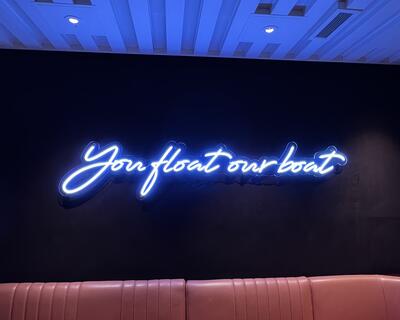 I went into this cruise thinking it would be a great experience to try a new cruise line, but that it would likely be a one and done for me. By the end of the first night, I was already extremely impressed, and my husband and I both commented that we would not only cruise on Virgin Voyages again, but we would also recommend it to many of our friends who hadn't cruised before.
Between the amazing food, fun themes, and general vibe amongst the cruisers, this was easily the most fun cruise we have sailed on. Even though we couldn't keep up with the late night parties all the time and we would like to see an improvement when it comes to the onboard pools, there is no denying that Virgin Voyages has set a new bar for modern cruising.
After 15 cruises I didn't think that I could be surprised by what a cruise line had to offer, but Scarlet Lady constantly kept us on our toes and left us wanting more. 
Read more: 10 weird things about Virgin Voyages (and why you should sail with them)