When planning your cruise vacation, the itinerary is one of the most important considerations. And while the destinations themselves are important, so is the number of sea days that you will have-- you want to be able to enjoy everything that the ship has to offer!
Sea days are great for relaxation, staying busy, or a combination of the two! Unlike port days, you will not have any scheduled tours that will keep you preoccupied for a chunk of the day. Instead, you can plan the day around your interests and preferences. Maybe that means not having a plan at all!
That being said, in order to make the most of your time on the cruise, here are 17 mistakes you shouldn't make on a cruise ship sea day. 
Sleeping in too late
Image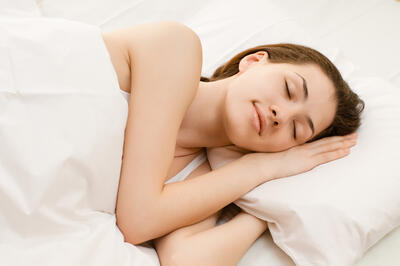 There is nothing wrong with night owls who prefer to sleep in; however, there are some drawbacks to starting your day later on a cruise, with the first being a larger crowd at the buffet for breakfast. 
It is common for a surge of passengers to visit the the ship's buffet during the latter half of the breakfast service. The earlier you go, the more peaceful you will find it to be. 
Plus, some cruise lines (like Carnival Cruise Line) offer sea day exclusive brunches. These can be pretty popular, and you might be subject to a wait if you show up later. 
Forgetting to take seasickness medication
Image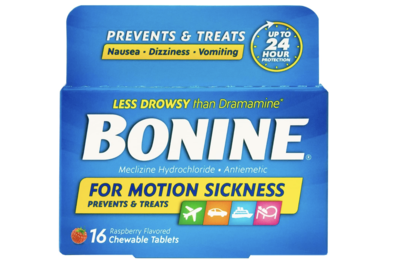 While cruise ship captains will do everything in their power to avoid choppy waters, some people are a little bit more prone to motion sickness than others! As a preventative measure, you should take your seasickness medication-- you do not want to waste any of your precious vacation time feeling ill. 
Read more: Bonine vs. Dramamine for Motion Sickness: Which Is Better for a Cruise?
Not checking the daily schedule
Image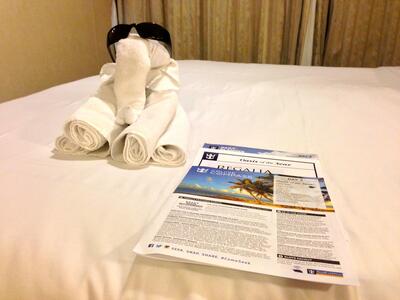 Whether it is the night before or the morning of, you should take a look at the cruise ship's daily schedule, which will either be delivered to your stateroom at night and/or available 24/7 on the ship's mobile app. You never know what activities will interest you and your travel party. 
...and therefore missing out on fun activities 
Image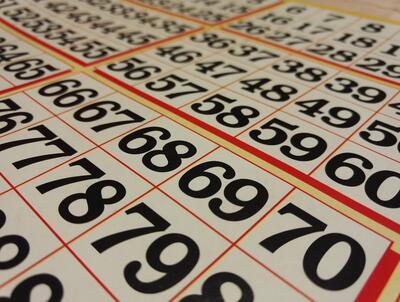 If you do not look at the daily planner, you will have no idea what is going on around the ship. 
Since there's so much happening, the crew members are unable to make public announcements alerting passengers as to every event that is going on. You do not want to miss bingo, trivia, sports competitions, live music, etc. 
Going to the spa
Image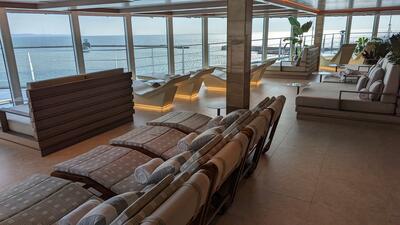 If ultimate relaxation is your goal, then you will benefit from a trip to the spa, where you can be pampered with a massage, facial, and more. 
If, however, you want to visit the spa and save some money, you will want to consider going on a port day, as cruise lines usually discount treatments when the ship is docked as an incentive to get guests to stay onboard. 
Head to the spa on embarkation day to see if they have any ongoing promotions. If not, it does not hurt to check back in throughout the cruise!
Read more: 30 cruise ship embarkation tips and tricks
Expecting to find a pool chair in a prime location in the middle of the afternoon
Image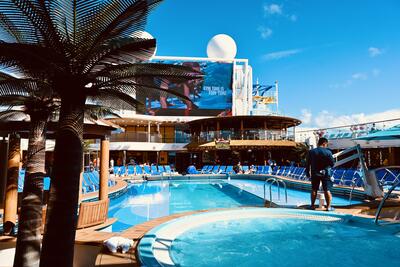 With live music, entertaining activities, and the incredible ocean views, it is no surprise that the pool deck is one of the most, if not THE most, popular place to be on a beautiful sea day. 
For that reason, it is many people's first stop in the morning. They will leave their belongings on a chair, even if they do not intent to return until later in the afternoon. As the day goes on, more and more people will begin to flood to the lido deck, making it even more difficult to find a great place to call "home" for awhile. 
While you should not hog any chairs, if you want to enjoy the pool deck before it gets too crowded, your best chance is the morning!
Do not be a chair hog
Image
Hogging chairs on the pool deck is considered poor cruise ship etiquette. Today, many cruise lines have begun implementing policies to prevent this from occuring. If, for instance, you break for lunch and do not take your things with you, you may return to find that yout stuff has been removed by crew members. 
Read more: 20 rules of cruise ship etiquette no one ever tells you (but should) 
Waiting until later in the evening to visit the casino
Image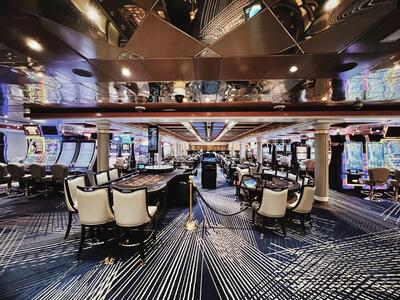 Since you are at sea, the casino will be open for most of the day! You do not have to wait until after dinner to try your luck at some table games or slot machines. Plus, there might be some tournaments or beginner classes that are hosted, which is another reason why you want to read your daily schedule! 
If you are not old enough to gamble on land, you might be able to while in international waters! On most cruises, the minimum age to gamble is 18-years-old. Note, though, that some cruises to Alaska require you to be 21.
Spending the entire day in one place
Image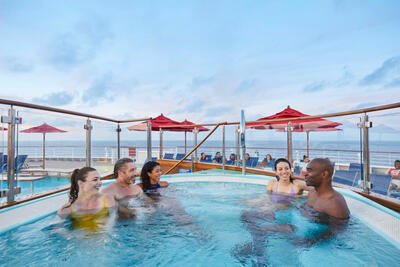 It is your vacation, so you can spend it anyway that you like! If, however, you spend the entire day by the pool, you might miss out on other unique experiences. It is good to find a balance and switch up your scenery, so you can take advantage of everything that the cruise ship has to offer. 
Do not eat in a specialty restaurant for dinner
Image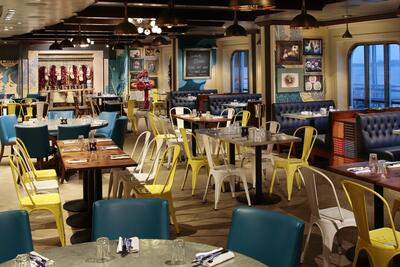 Depending on what cruise line you are sailing with, you might be able to eat at a specialty restaurant for lunch for less than what it would cost you to eat there for dinner. 
On my last cruise onboard Symphony of the Seas, for instance, I ate at Jaime's Italian for around $25, which is about half what Royal Caribbean charges for dinner! 
Since you are on the ship all day anyways, you have the flexibility to choose when you would like to eat lunch. You will not be off exploring ports of call, in which your only option would be dinner. 
Read more: 16 tips to not waste money on your first cruise
Not utilizing the time to book shore excursions, if you have yet to do so
Image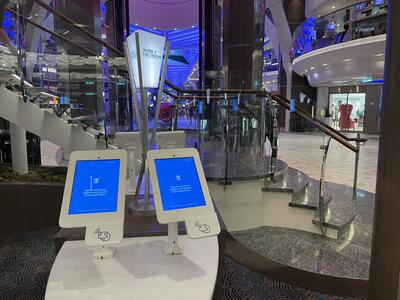 Even though you should research your ports of call in advance, time might slip away from you! Before you know it, your cruise is right around the corner, and you are worried about packing and other travel logistics. 
Do not worry-- you will be able to book your shore excursions once onboard. You will, however, want to do it as soon as possible! If you forget on embarkation day, the best time to get this done is the first sea day. You do not want to be scrambling the night before each port to figure out what you will be doing. 
Do not forget to make reservations for onboard activities 
Image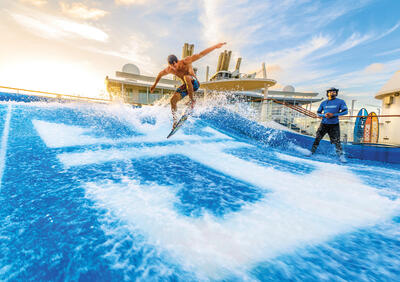 While not all onboard activities require reservations, some do! If, for instance, you are sailing on a Royal Caribbean ship with a FlowRider, you can pay for a semi-private or private lesson, and slots on sea days are likely to get booked up pretty quickly.
Most activities that require reservations will be those that incur an additional fee and/or those that are booked by the timeslot. 
Read more: 14 cruise ship extra charges you should know about
If the activity does not need reservations, arrive as soon as it opens
Image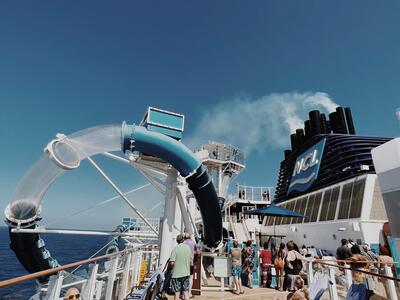 If the activity you want to do does not take reservations, try and get there as soon as it opens! Otherwise, you may find yourself spending the day waiting in line, and there are other things that you would certainly rather be doing. 
On Disney Cruise Line, for instance, the line for the AquaDuck can get pretty long in the afternoon. Likewise, open (complimentary) boogie boarding and/or surfing on Royal Caribbean can be subject to lines, too. 
Be sure to budget time for family and friends
Image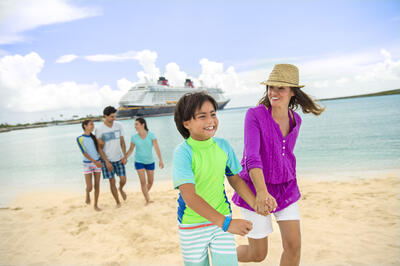 It is easy for everyone to want to go off and do their own thing, but you are all on the ship together for a reason. During the day, let the kids take advantage of the youth programming onboard while parents get a much deserved break, or vice versa! Maybe you want to spend the day together and then have time apart in the evening. 
Regardless, make sure that you spend time with everyone to make some memories together. 
Do not skip the fitness classes
Image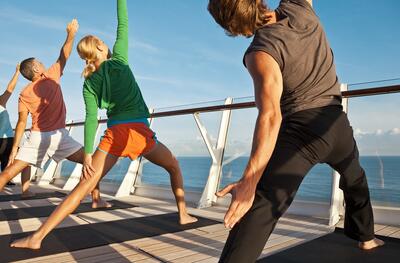 A great way to wake up and get your body moving before a day of potentially eating and drinking more than usual is with a fitness class! 
Some are free, while others are offered for a nominal fee, usually anywhere from $12-$20 per class. Your ship may offer spin classes, pilates, or even personal training sessions, which are the most costly. Note, too, that you will often be required to sign up for the classes in advance. 
If group classes are not your thing, do not miss the opportunity to walk around the ship's outdoor track and get some fresh ocean air!
You may be able to pick up a new skill
Image

Sitting in a class might not be your idea of a "fun" vacation activity; however, cruise ships have unique options, such as sushi making, origami, napkin/towel folding, cocktail making, cooking, painting, and more. 
Moreover, more upscale cruise lines will sometimes offer lectures, particular those sailing to places like Alaska, where you can learn about wildlife from a naturalist or the local cuisine. 
Not partaking in duty free shopping
Image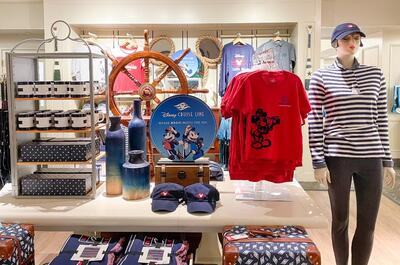 Since shops onboard cruise ships are duty free, meaning that that they are tax free, they are only open in international waters. A sea day is a great time to browse for souvenirs or take a look at any ongoing sales. 
Pop-up sales are also common during sea days, and you can find some great deals on watches, jewelry, t-shirt, cruise line specific merchandise, alcohol (to be consumed after disembarkation), and more.