Few experiences can railroad your cruise like sea sickness; the last thing you want is to be sidelined by nausea or dizziness when you should be lounging by the pool or taking in a show. 
While there are plenty of remedies, over-the-counter medicine of Bonine and Dramamine are the two most popular.
They're relatively inexpensive, easy to take, work quickly, and are highly regarded among people that go on a lot of cruises.
Cruise ships are usually quite smooth, but rough ocean conditions can turn even the most seasoned cruiser a little green.
So, what's the difference between Bonine and Dramamine, and which is better? The answer depends on several factors, including your age, health conditions and preferences. 
We will investigate the treatment options each brand offers and discuss the active ingredients in each to help you pick the best option for your first cruise.
Editor's note: Cruise.blog makes no warranties with regard to the safety or effectiveness of Bonine or Dramamine. Always consult with a physician to get professional medical advice prior to taking any medication, especially if you have existing medical conditions, you're pregnant or you're already taking other medications.
Dramamine vs. Bonine Overview
Image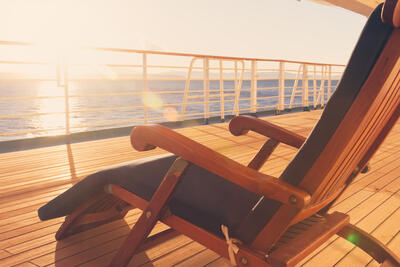 Both Dramamine and Bonine have the same goal: to prevent motion sickness. Dramamine originally did it using dimenhydrinate -- a synthetic antihistamine drug that has been around since the late 1940s and is used to treat nausea and vertigo. It works well for seasickness, but it often causes drowsiness.
Enter Bonine, which formulated chewable pills that combat motion sickness using meclizine hydrochloride -- a synthetic antihistamine that was developed in the early 1950s and is also used to treat nausea and vertigo. This option offers consumers the same benefits with less drowsiness.
In the years following Dramamine's and Bonine's initial race to be number-one, both brands have developed other products that include natural non-drowsy formulas using ginger and general anti-nausea pills for pregnant women experiencing morning sickness. For the purposes of this article, we're excluding pills for general nausea, as a more comprehensive motion sickness pill is what you'll need for a cruise.
Here, we'll compare the two similar types of offerings that the brands share and highlight two additional options sold by Dramamine.
Bonine Original and Dramamine All Day Less Drowsy
Image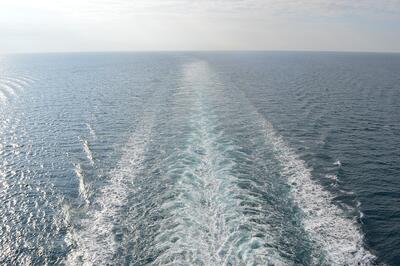 When consumers took to Bonine's less-drowsy alternative to original Dramamine, Dramamine developed its All Day Less Drowsy Dramamine formula.
Both of these use 25 mg of meclizine hydrochloride per tablet as the active ingredient, and the dosing is the same. The packaging advises cruisers 12 years of age and older to take one to two tablets about an hour prior to sailaway. Only one dose is needed per day.
While both of these options come in a raspberry-flavored chewable tablet, Dramamine All Day Less Drowsy also comes in a tablet that's meant to be swallowed whole with liquid. Dramamine All Day Less Drowsy also only comes in a travel-sized pack with eight tablets for the swallowable version and 12-tablet packs for the chewable, whereas original Bonine can be found in both eight- and 16-count packages.
Because some drowsiness can still occur, product warnings caution against operating machinery, driving or consuming alcohol while taking these pills. Cruisers are also advised not to use these products if they have breathing problems, glaucoma or enlarged prostates. They are advised to ask a doctor first if they're pregnant, taking sedatives or are younger than 12 years old.
These products both contain lactose, so they're not ideal for vegans.
Recap: These products are a good choice if you want to avoid seasickness with less drowsiness and only want to worry about one dose per day. They aren't for young children, vegans, or cruisers who want to consume alcohol during their voyage or who have certain medical conditions.
If you don't like chewables, opt for Dramamine All Day Less Drowsy. If you need a pack with more than 12 pills, go for original Bonine.
Bonine Ginger Softgels and Dramamine Non-Drowsy
For travelers wanting a more natural motion sickness pill, these do the trick with different types of ginger. Dramamine Non-Drowsy uses 500 mg of ginger root per pill, but Bonine Ginger Softgels employ 60 mg of ginger extract in each pill. (According to Bonine's packaging, 60 mg of ginger extract is equal to 1000 mg of ginger root.)
Dosing is different, as well. Cruisers are advised to begin treatment 30 minutes prior to sailaway, but for Bonine Ginger Softgels, anyone 6 years or older should take 1 capsule every 12 hours. For Dramamine Non-Drowsy, anyone younger than 12 should be given one tablet every 12 hours, and anyone 12 or older should take two tablets every 12 hours.
While both of these types of ginger remedies are intended to be swallowed without chewing, Dramamine Non-Drowsy can be sprinkled on food or in a drink for younger kids if they have issues swallowing pills. In terms of pill quantity, Dramamine Non-Drowsy comes in packages of 18, and Bonine Ginger Softgels are sold in 20-packs.
Both of these medications contain gelatin, and Bonine Ginger Softgels also contain beeswax, so neither is appropriate for vegans.
It's a good idea to consult a physician before using either of these options if you're pregnant or before giving them to children younger than 6 years old.
Recap: These natural pills are ideal for anyone with underlying medical conditions who might not be able to take other seasickness medications or for anyone who prefers a less synthetic treatment.
Don't take these pills if you're vegan. Because Bonine Ginger Softgels use a more potent ingredient, they're a better choice for adults who want to take fewer pills in each dose.
Dramamine Non-Drowsy is better for kids who have trouble swallowing pills because it can be taken in food or a drink.
Dramamine Original Formula and Dramamine Chewable
Dramamine Original Formula continues to be a stalwart in motion sickness treatments, thanks to its fast-acting properties. This swallow-whole pill is sold in packages of 12 or 36 and treats seasickness with 50 mg of dimenhydrinate in each tablet.
To further compete with Bonine, Dramamine also created Dramamine Chewable, an orange-flavored chewable version of Dramamine Original Formula that comes in packages of eight. The chewable contains the same active ingredient -- 50 mg of dimenhydrinate -- as the original, but it's safe for vegans (which the original isn't because it contains lactose).
Cruisers taking either one should start their first dose at least 30 minutes prior to the ship's leaving port. Children between 2 and 5 years old should take one-half tablet every six to eight hours, 6- to 11-year-olds should get one-half to one pill every six to eight hours, and anyone 12 or older should take one to two pills every four to six hours.
Before taking Dramamine's original or chewable formulas, consult a doctor if you are pregnant; take sedatives; suffer from glaucoma, an enlarged prostate or breathing problems; or plan to give either medication to a child younger than 2 years.
Because marked drowsiness can occur, avoid driving, operating machinery or drinking alcohol while taking either of these pills.
Recap: Both of these are good choices for fast-acting, on-the-spot relief from motion sickness symptoms, as dimenhydrinate works more quickly than meclizine hydrochloride or ginger. One of the common side effects is that it also causes more drowsiness than meclizine hydrochloride or ginger.
Go with the chewable pill if you're vegan or have trouble swallowing pills. Choose the original if you want a pack with more than eight tablets. Avoid both if you plan to drink alcohol or have certain medical conditions.
Either is OK to give children as young as 2 years old.
Dramamine for Kids
Image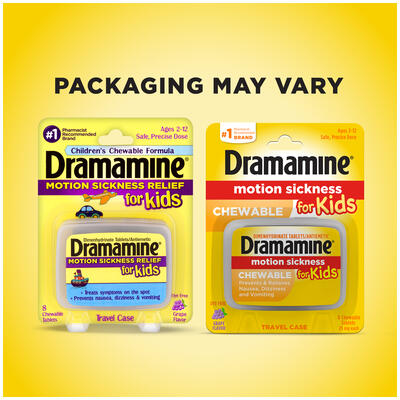 Dramamine has also created a grape-flavored chewable tablet for the littlest cruisers. The pills, which come in packs of eight, contain a lower dose (25 mg) of dimenhydrinate -- the same ingredient as Dramamine Original Formula and Dramamine Chewable -- which is specifically designed for kids from 2 to 11 years old.
Like other types of Dramamine, the kids version provides rapid relief and can cause significant drowsiness, but it is safe for vegans.
Start the following dosages at least 30 minutes prior to sailing: one-half to one pill for kids ages 2 to 5 every six to eight hours (no more than three tablets in 24 hours) or one to two pills for kids ages 6 to 11 every six to eight hours (no more than six tablets in 24 hours).
Consult a doctor before giving Dramamine for Kids to children younger than 2 years of age.
Recap: Like Dramamine Original Formula and Dramamine Chewable, Dramamine for Kids contains dimenhydrinate (which means it can make your kiddos seriously sleepy) and is safe for kids as young as 2.
Choose Dramamine for Kids if your children prefer a chewable that's grape (instead of orange) flavored or if you want to give them a lower dose pill; that does mean you'll be dosing them more times throughout the day, however. This special version for kids is also vegan-friendly.
Which should you pick?
For best results, you need to know what may be right for your body.
The good news is both drugs tends to be quite mild, with adverse reactions minimal. Of course, you may want to seek medical help from a health care provider before picking one or the other.
Don't overlook natural remedies as alternatives to taking over the counter medication. This includes ginger ale, ginger tablets, ginger candy, or sea bands. Some people find one or more of these to provide the best results for their body.