When you check in for your cruise, you will either be assigned a check-in time or be able to select one yourself. This means that your cruise is approaching quickly! 
Do you have to stick to this time, though? What happens if you have to check out of your pre-cruise hotel hours before your scheduled time? 
Arrival times are meant to stagger the number of passengers boarding the ship at once.  It would not be fun if thousands of people all had the same idea of wanting to board the ship as early as possible. 
When should you arrive at the terminal? And an even better question, when should you arrive in the terminal's city? Here are all the answers to your questions about embarkation day arrival times! 
If I am flying to meet my ship, when should I schedule the departure for?
Image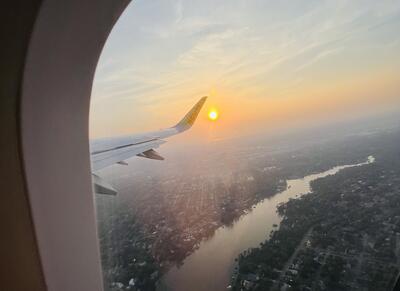 Not everyone is fortunate enough to live within driving distance of a cruise port. Even if they do, sometimes options are more limited at the smaller ports. 
I reside in North Carolina and am about five hours from Norfolk and three from Charleston. While I love knowing that I can easily book a cruise within driving distance, if I want to sail on a newer ship or on a cruise line other than Carnival, I will have to look elsewhere, which means I'll most likely be flying! 
One of the cardinal rules of cruising and flying is that you should never book your flight for the same day as your cruise is planning to depart. 
Image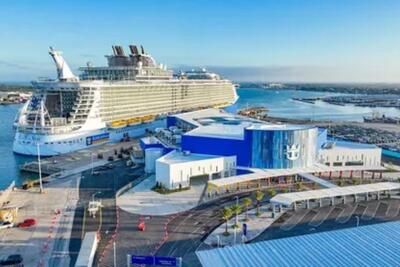 When taking a land-based vacation, it makes sense to book a flight for the same day as your hotel or rental reservation is set to begin. Why would you book a cruise for the day before and have to stay elsewhere? 
Cruise ships operate on a tight schedule, and they will not wait for you if your flight happens to get delayed. 
To minimize the risk of you missing your ship, you should always fly in the night before. While this means having to budget for a hotel, there is no price to the peace of mind you will have waking up minutes from the ship. 
Plus, there are ways to help offset this cost, like by using credit card points! 
Read more: The costly cruising mistake newbies make planning their first cruise
When do cruise ships begin the boarding process?
Image
Usually, you can expect boarding to begin an hour or two after all passengers from the previous voyage completed the disembarkation process. For the most part, all guests are off the ship by 10:00am, with the earliest check-in time beginning somewhere around 10:00am to 11:00am. 
This, of course, varies. If the ship has a later return into port, then boarding for the following cruise will be later. 
You will want to adhere to your check-in time. Otherwise, you may find yourself waiting in line to be let inside! I have experienced being forced to wait and being allowed inside early. It all depends on which cruise line you are sailing with and how busy the terminal is. 
Boarding will continue up until one to two hours before the scheduled departure time. If you arrive at the terminal a few minutes before the ship's departure, you will not be allowed on. 
This is usually in the late afternoon or evening. I've been able to check-in for a cruise as early as 10:30am and as late as 3:00pm before. 
You can usually gauge the ship's last call by looking at the ship's itinerary. If it says the departure time is 5:00pm, you will want to be at the terminal no later than 2:30pm, just to be safe. 
Should I select an early or late check-in time?
Image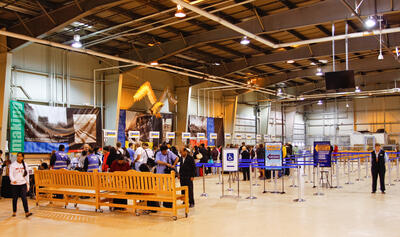 When you get the notification that check-in is available for your cruise, you have an important decision to make: what time do you want to select?
The online check-in process varies from cruise line to cruise line. Royal Caribbean's opens 45 days before your sail date, while Carnival's only opens 14 days!
Regardless, you will have to decide whether you want an earlier check-in time or later. If you want an earlier time, you'll have to be vigilant in making sure that you select your time as early as possible, as these tend to be the most desirable times.
If you're flying in the night before, an earlier time means that you will not be stuck waiting around at your hotel after you check out. Or, if you're driving, you will find that parking is less of a hassle, as the majority of passengers have yet to arrive. 
Image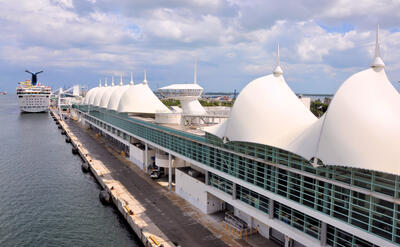 Read more: 12 reasons to get as early a check-in time as possible for your cruise
Once you get onboard, you will essentially have an entire day to explore the ship and get a lay of the land before you set sail. How you spend this time is up to you. Do you want to cross any must-do activities off your list, or do you just want to relax by the pool and start working on your tan as early as possible?
Alternatively, if you are driving, you may not want to feel rushed to make an 11:00am check-in time. In this case, you may not mind a 2:00pm time if that means you can finish up any household chores or sleep in a little bit longer. 
How can you board your ship faster?
Image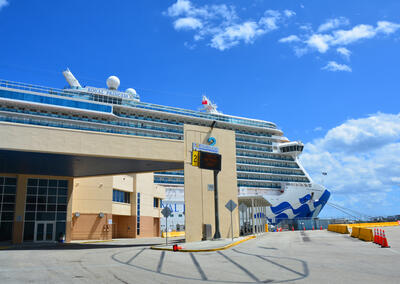 Nobody wants to be stuck waiting in line or sitting in the terminal steps away from all the fun, and there are some tips to help you board your ship as fast as possible. 
While the actual amenities you will get vary based on cruise line and suite booked, many come with priority boarding. Carnival Cruise Line's website, for instance, states that suites get priority check-in, embarkation & debarkation; priority dinner reservations and main dining room time assignment; two complimentary large bottles of water; pillow-top mattresses; and bathrobes. 
Certain cruise lines also offer certain packages that allow you to board early, such as Royal Caribbean's "The Key," Carnival Cruise Line's "Faster to the Fun," and Norwegian Cruise Line's "Priority Access." 
Image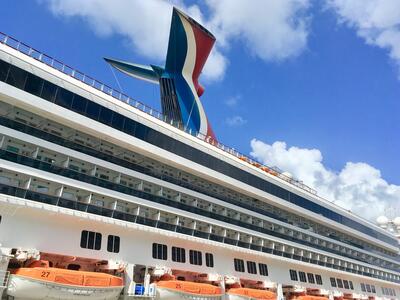 The price and perks of each package varies. Carnival's, for instance, includes priority boarding, and once you are onboard, you are able to access your stateroom to drop off your carry-on bags, rather than carrying them around until rooms are ready. 
Additionally, your luggage will be delivered sooner, you'll have a dedicated Guest Services phone number throughout your cruise, priority Main Dining Room and specialty restaurant reservations, priority water shuttle boarding at ports that require tenders, and your choice of disembarkation times. 
The cost varies by length of cruise and ship. For sailings that are 3-nights, you can expect to pay $59.95 per stateroom (not person), while the price of "Faster to the Fun" for those that are between 4- and 5-nights increases to $89.95 per cabin. 
The price for 6-, 7,- and 8-night cruises depends on the ship you're sailing on, with Carnival Celebration, Mardi Gras, and Carnival Jubilee costing $149.95 per cabin. Every other ship in the fleet only costs $129.95. 
Read more: 15 ways to board your cruise ship faster
What should you expect when you get to the terminal?
Image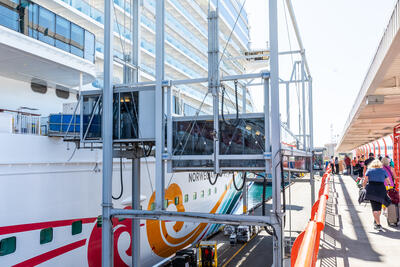 Before you arrive at the terminal, you'll want to make sure that you have all your important documents in your carry-on bag, rather than your checked luggage (they won't go inside with you). Prior to entering the terminal, you will be met by a porter, who will assist you with these larger bags. 
To speed up the process, make sure you have your luggage tags printed out before you arrive. While they'll have extras on hand, if you already have them stapled on or inside of a plastic luggage tag sleeve, you will be able to drop them off faster!
After you have dealt with your bags, you will head inside and begin the check-in process. This entails going through security and having a port employee check your documents (i.e., passport, birth certificate, etc.).
Depending on your cruise line, you may or may not be holding your cruise card at the time of check-in. Royal Caribbean, for instance, places them outside of your stateroom to be picked up once all cabins are ready. On the other hand, MSC Cruises hands them to you when you get your documents checked. 
Read more: 30 cruise ship embarkation tips and tricks