When planning any vacation, nobody wants to think about wasting money. In fact, you want to do the opposite; you want your money to go as far as possible! 
On a cruise on Symphony of the Seas in January 2023, I booked a last-minute excursion to the water park on Perfect Day at CocoCay. I paid about $149 for this experience, while a family that I met onboard said that they secured tickets during a Black Friday sale for around $50 each. 
I realized that I could have gotten the same excursion for far less had I planned ahead. This is true for other aspects of the cruise planning process, too. If, for instance, you are interested in booking a drink package, it is often advisable to do so prior to embarking on the trip. 
The most costly mistake, however, is booking your flights the same day as your ship's scheduled departure. Not only does arriving early mean that you can sleep in and not have to worry about sleep deprivation on the first day of the cruise, but you will also have less to worry about. There is no need to constantly check the airline app to ensure that your flight is on time, as that would put your entire vacation at risk. 
Why you should never book your flight the same day as your cruise
Image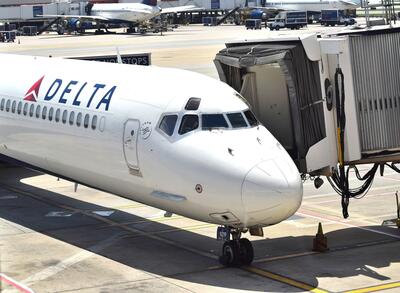 Imagine the sheer panic that you would feel if you got to the airport only to learn that your flight was delayed or worse, cancelled. All of the money that you spent on your cruise vacation would be jeopardized. Unfortunately, the cruise ship will not wait for you, as they run on a tight schedule. 
When taking a land-based vacation, it makes sense that you would schedule your flight for the same day as your hotel reservation is set to begin. Why arrive the night prior and have to stay elsewhere? 
With a cruise vacation, however, you are not able to arrive and check-in whenever is convenient for you. Sure, a flight delay might mean getting to the hotel or resort later than you anticipated, but it is not the end of the world. With a cruise, you may arrive to the terminal and realize that your ship is long gone. 
Image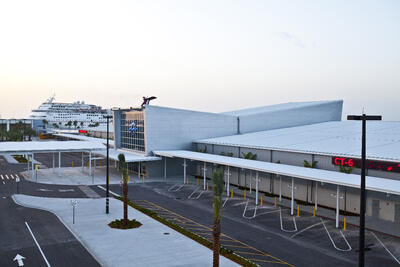 While you might find a flight with a good arrival time, you need to consider how long it will take you to deplane and collect your luggage, as well as get to the cruise terminal. The two hour buffer that you left might end up not being enough, especially if your flight is delayed. 
It is also important to remember that the cut-off for embarkation is earlier than the sail away time listed on the ship's itinerary, meaning that even if you arrive at 3:45pm when the ship is slated to leave at 4:00pm, it is unlikely-- nay impossible-- that you will be allowed to board. 
Some travel insurance policies may help with some of the costs of missing your ship, but you will be unable to set sail on the vacation that you have been planning. 
Plan to arrive the night before
Image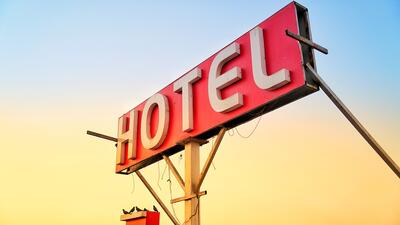 There are many benefits to arriving the night before your cruise, with the most notable being that unforeseen circumstances are less likely to impact your travel plans. 
By flying in one day early, you will have the chance to make another flight or other travel arrangements, even if they are less ideal. Driving ten hours to the port is not fun, but at least you would be able to relax with a cocktail poolside instead of angrily sitting in an airport. 
If you are concerned about the cost of the hotel, consider using credit card points to help offset the cost. If you have enough accumulated, you may be able to get away with spending little to nothing!
What if I booked my flights directly with the cruise line?
Image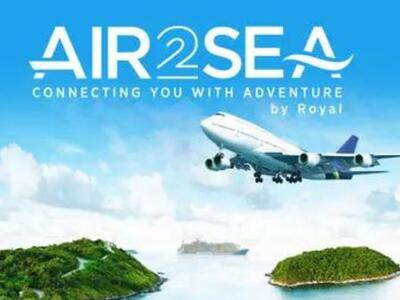 Most cruise lines have programs that allow you to book your airfare through them. Carnival Cruise Line, for instance, calls this "Fly2Fun." 
Unfortunately, even if you book through the cruise line -- whether that is Royal Caribbean, Carnival, Norwegian, etc. -- the ship will still leave on time, regardless of whether you are onboard or not. 
Per Carnival's website, "We'll make alternate flight, hotel and/or ground transportation arrangements and do everything we can to get you to the cruise port in time to board the ship, at no expense to you." 
While having someone else making secondary arrangements is a great benefit, you will still miss out on valuable time onboard the ship. What if you had a specialty restaurant booked the first night that you were looking forward to? Perhaps there was a show that peaked your interest. No matter what you were excited for, having less time on the cruise ship than anticipated is going to be a disappointment to all in your travel party. 
Image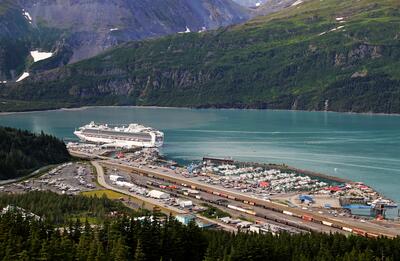 Sometimes, you may not even be allowed to join the cruise ship in the next port of call. 
The United States, as well as other countries, have certain laws that prevent foreign-flagged ships from picking up and dropping off passengers in any port. This is why all foreign-flagged ships that depart out of the U.S. are required to make a stop in a foreign port. 
This simply means that no cruise line can allow you to embark and disembark the ship at a United States port, unless you are visiting another distant port, such as Jamaica or St. Maarten. 
Read more: What happens if you miss your cruise ship
What is the Passenger Vessel Services Act?
Image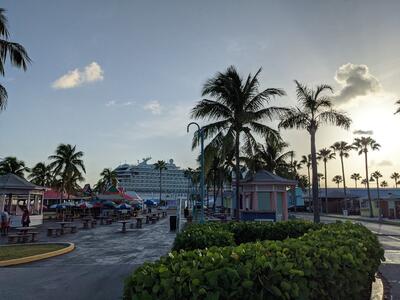 The Passenger Services Act of 1886 forbids foreign-flagged vessels from transporting passengers from one U.S. port to another. This means that all cruise ships sailing from U.S. ports itineraries must include a stop at a "distant foreign port" are exceptions to this rule.
If you miss your ship in Fort Lauderdale, for instance, and the first port of call is Key West, Florida, you will be unable to join your ship until it docks in a foreign port, such as Cozumel or Ocho Rios. 
Similarly, if you are sailing on a Bahamas cruise from New York and the first port of call is Port Canaveral, Florida, you will not be able to join the ship until it actually reaches the Bahamas. This means that you may end up missing half of the cruise since so much of the first half is at sea. 
Read more: What Is the Jones Act, and How Does It Differ From the Passenger Vessel Services Act?
Other ways to save money on your next cruise
Book your cruise in advance
Image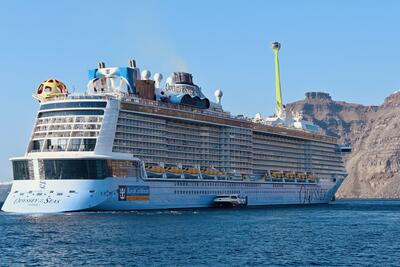 Cruise veterans will advise you to book your cruise as far in advance as possible. This is to ensure that not only you get the best rate possible but also to make sure that you have the best cabin selections possible. 
As staterooms book up, the cost of the cruise will increase, as there is less availability on that particular sailing. This is especially true for holiday cruises, such as those that depart over spring break, Thanksgiving, and Christmas. 
Read more: 16 tips to not waste money on your first cruise
Research your ports of call and shore excursion options
Image
Just because your cruise line has shore excursions in each port does not meant that you have to book one! Perhaps you are sailing to the Caribbean and want a simple beach day. Often, the cruise line will charge more for a bus with strict return times versus a cab that allows you to leave whenever you would like. 
Recently, I sailed on MSC Seashore to Rome and was not impressed with MSC's shore excursion options. Instead of spending the day on the ship or venturing around Civitavecchia, I booked a small-group tour with a third party. This was going to be my first time in Rome, and I wanted to make the most of it! 
While there is no denying that my time in the city was rushed, I was glad to have been able to at least see (from the outside) all of the major attractions. With MSC's options, I would have had to pick two or three things that I wanted to see or have been responsible for planning everything on my own (including return transportation), and neither of those options sounded appealing to me! 
Aside from having better options, you may be able to find cheaper tours with third parties, too. 
Read more: 10 tips for getting the best cruise shore excursion values