The time has finally come. You are ready to splurge on a suite instead of staying in a standard cruise ship balcony stateroom, or are you?
While suites are not practical investments for many travelers, you may find that it is worth the price tag depending on how you like to travel. 
Cruise ship suites not only offer more living space than other cabins, but they come with better amenities. While what you will actually get varies from cruise line to cruise line, you can expect a more elevated cruising experience. 
Image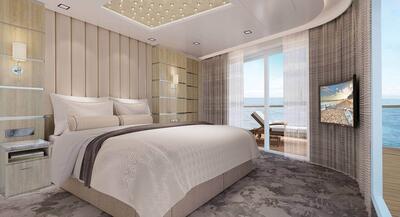 When deciding what cabin to book on your next cruise, you should consider how much time you will actually spend in the room. If you are someone who prefers to stay active and busy, you may find that paying for a suite means that you won't get to enjoy all of the benefits as much. 
Here are 8 signs that you are ready to move up from a cruise ship balcony to a suite on your next vacation. 
You want to be one of the first people onboard the ship
Image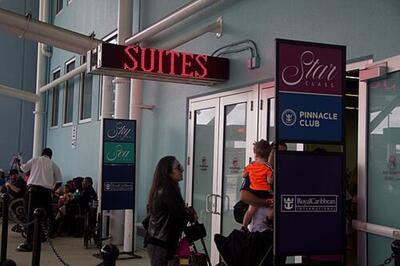 Lines are never fun, especially when you are on vacation. If you are someone who likes to avoid waiting as much as possible, then booking a suite might help you! 
Most suites come with priority boarding on embarkation day, as well as a dedicated check-in desk just for suite guests. 
This means that not only will you be waiting around fewer people before you are able to board, but you will also be one of the first to step foot on the ship, giving you priority access to the buffet with minimal lines, as well as the concierge to assist with making reservations for specialty restaurants and other cruise add-ons. 
Read more: 15 ways to board your cruise ship faster
You have sailed on the same ship before 
Image
Let's say that you have cruised onboard either Carnival Celebration or Mardi Gras a couple of times. You know the lay of the land and have done all the onboard activities, including the BOLT roller coaster, mini-golf, ropes course, and water park. 
Perhaps you'd rather spend more time relaxing in your cabin during the day. If so, you will want to consider booking an Excel suite. 
Not only will you get all the benefits as other suites, but you'll also get complimentary access to Loft 19, as well as complimentary room service, upgraded bathroom amenities, and free on-demand movies to enhance your in-cabin experience.  
Read more: 10 cabin locations to avoid booking on a cruise ship (2023)
You enjoy being pampered
Image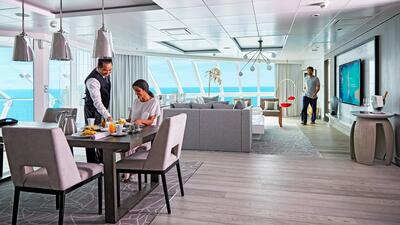 Let's face it, nothing sounds better when on vacation than being waited on hand and foot! While not all suites come with a dedicated butler, many do! If this is a service that interests you, consider booking a suite within MSC Cruises' Yacht Club, Norwegian Cruise Line's The Haven, Royal Caribbean's Star Class, or Celebrity Cruises' The Retreat. 
Your butler will go above and beyond to make sure that every request is met. They'll do anything from unpack your suitcases to book specialty restaurant reservations, organize a cocktail party, deliver afternoon tea, draw a bath, and even offer advice on how to make your cruise even more special. 
Even if you book a suite without a butler, you will most likely have access to a concierge, who will be able to provide some of the same services, such as booking cruise add-ons and assisting with tender tickets, as well as helping you arrange for your disembarkation. 
You want a bigger stateroom
Image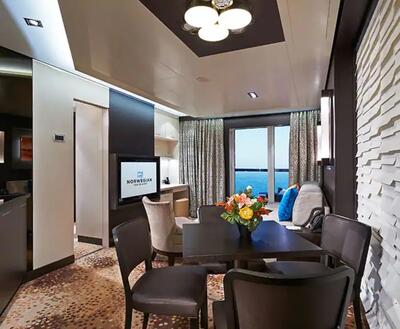 Every suite guarantees that you'll have more living space than standard accommodations. This is a must for some, as traditional cruise ship cabins can often feel cramped, especially if you are sailing with multiple people in one room. 
It is not uncommon to find suites with multiple bed and bathrooms, as well as larger common areas. Some Norwegian ships, for instance, feature a three-bedroom Garden Villa. This expansive suite measures up to 6,694 square feet.
In comparison, most interior rooms onboard a cruise ship tend to be around 150-200 square feet. 
Of course, not all suites are this large. Onboard Carnival Celebration and Mardi Gras, for instance, the largest suite onboard is the Excel Presidential Suite, which gives you 475 square feet of interior space, as well as a 645 square foot balcony. 
You want to access exclusive areas onboard the ship
Image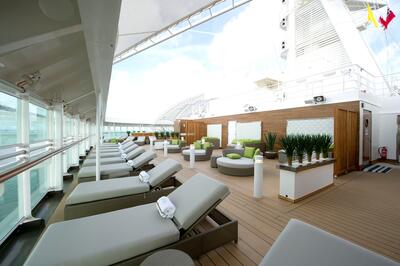 The last thing you want to do on a beautiful sea day is deal with chair hogs. Some cruise ships, notably those with a "ship-within-a-ship" design, have exclusive areas that can only be accessed by those staying in a suite, meaning you may not have to ever step foot on the pool deck! 
Guests staying in a suite within Royal Caribbean's Royal Suite Class, for instance, may dine in Coastal Kitchen, the suite-only main dining room. Similarly, they can also relax on the suite-only sun deck during the day. 
Like with cruise ship suite butlers, not all ships have dedicated suite-only areas. If, for instance, you are looking to sail on an older Royal Caribbean vessel, like Freedom or Voyager of the Seas, you may be disappointed when you board and realize there's no Coastal Kitchen onboard.  
Similarly, Norwegian's The Haven allows guests to access similar amenities, like a beautiful sun deck, exclusive restaurant, and private lounge perfect for a pre- or post-dinner cocktail. 
Your cruise has a lot of days at sea
Image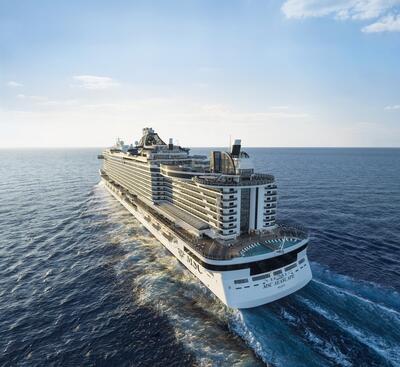 If you are going to be spending a lot of time ashore, like on a Mediterranean or Alaskan cruise, you might not want to shell out the extra money for a suite. 
Itineraries with a lot of sea days, however, are the perfect opportunity to kick back, relax, and enjoy all the perks that accompany booking one of those spacious rooms! 
There is no rush to get up and moving on a sea day. In fact, you can spend all day in your suite if you want! 
Read more: 17 mistakes you shouldn't make on a cruise ship sea day
You want a more inclusive cruise experience
Image
Unfortunately, cruises are not an all-inclusive vacation, especially if you are sailing on a mainstream cruise line like Carnival, Royal Caribbean, or MSC. 
Again, while the actual perks will vary, some ships offer suite guests a more inclusive vacation, ranging from a complimentary drinks package to Wi-Fi, gratuities, specialty dining, and more. 
It is important to note that if you are looking for a truly all-inclusive cruise, you will want to consider a luxury line, such as Regent Seven Seas or Viking Cruises. Even if you book Royal Caribbean's Star Class, you'll still have to pay for extras like shore excursions. 
You're celebrating something special
Image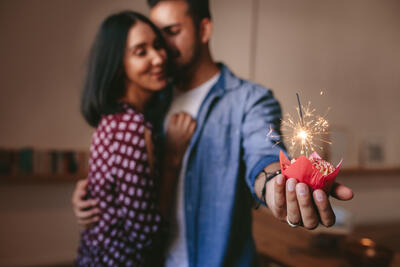 You do not have to splurge on a suite every single time you cruise. Maybe you are celebrating your retirement, a graduation, or a special birthday. In those instances, booking a suite might feel warranted, as the cruise's primary purpose is not just for vacation; it is a celebration! 
Don't forget that you can decorate the room to make it feel even more special! Many cruise lines have stateroom decor packages that you can purchase ahead of time, so the room is decked out upon embarkation. Of course, you can always bring your own stuff from home to make it feel more personal. 
What happens if I am offered a cruise ship cabin upgrade?
Image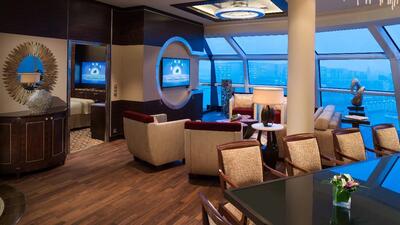 Some cruise lines will send your offers prior to your cruise offering you the chance to upgrade to a better cabin for a fraction of the cost. Other lines, like Royal Caribbean, have a bidding system in place, allowing you to choose how much you feel comfortable spending. 
Nothing is guaranteed, though, especially with more and more ships sailing closer to full capacity. However, let's say that you are offered an incredible upgrade from a balcony to a spacious suite! Is it worth the cost?
First things first: you will have to be okay with shelling out more money. While it is often less than you would pay if you were to book the suite outright, that money can be put to use elsewhere, like shore excursions or even transportation to the cruise port. 
Image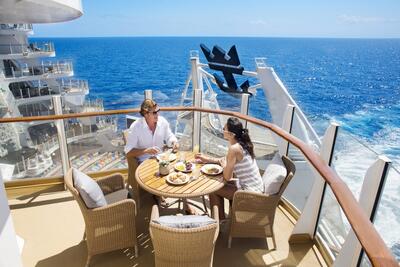 Moreover, you will be unable to select your stateroom's location. To some, this may not be a dealbreaker; however, if you like to be close to a certain bar or part of the ship (i.e., a specific deck to help mitigate the feelings of motion sickness), it is best to decline the upgrade. 
Another reason you might want to stick with your original cabin is if you booked two. This is a popular option for families, as sharing one stateroom can often feel cramped. If you want your cabins to be close together, there is no guarantee that the upgraded suite will be close by, meaning one room could be at the front (forward) of the ship, while the other's at the back (aft).