Sometimes, you may be presented with the opportunity to upgrade your cruise ship cabin. At first thought, why wouldn't you want to move from an interior room to an ocean view or from a balcony to a suite?
While some cruise lines will simply email you an offer, others -- such as Royal Caribbean -- allow you to place a bid for a nicer cabin. Usually, you will pay less for the nicer stateroom than you would if you were to book it outright. 
If you worked with a travel agent, they will often inform you of any available offers, too. In fact, I recently had my travel agent email me an offer for an upcoming sailing onboard Carnival Celebration. I did not even have to check! 
Savings hundreds, maybe even thousands, of dollars on a spacious suite sounds like a dream, right? Well, there are some reasons why you should decline a cruise ship cabin upgrade.
You will have to pay more money
Image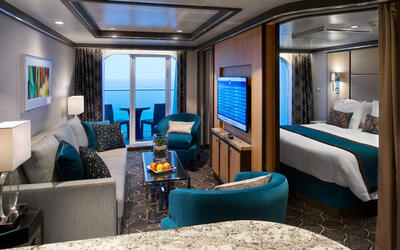 For those on a budget, it is unwise to spend money on a cruise ship cabin upgrade. While it might seem like a deal to pay $200 per person to upgrade to a suite, that could easily put you out an extra $400 if you are traveling with just one other person. 
There are a lot of other ways that you can allocate that money to make the most out of your cruise. You can, for instance, use it to help cover transportation costs to the cruise port, book a couple shore excursions, or try out a specialty dining restaurant. You could even put the money towards another cruise!
How much time are you planning on spending in your cabin, anyway?
Read more: 16 hidden cruise ship extra charges you should know about (2024)
You will be unable to choose your cabin's location
Image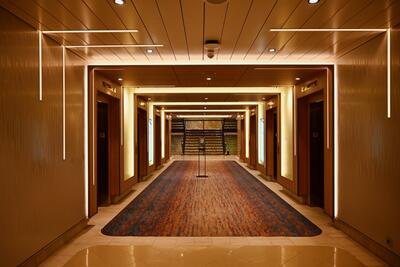 What you deem the best room on a cruise ship might be someone's least favorite. It really comes down to preference, which is why so many cruisers love being able to choose their stateroom's location when booking. Do you want to be close to the youth clubs? What about the adults-only deck? Dreaming of waking up each morning to a view of the ship's wake? 
When you upgrade your cruise ship cabin, you give up control over the location. The cruise line will choose the specific cabin that is assigned to you. In short, it is kind of like booking a guaranteed stateroom! 
If you are worried about being located near a noisy public venue or at the very back (aft) of the ship, you will want to decline the upgrade. 
Some people do not have much of a preference, especially if they have the opportunity to stay in a nicer cabin for a cheaper price. It is just important to be aware that you will not be able to choose the specific stateroom that you will be staying in. 
Read more: Top 10 cabins you shouldn't book on a cruise ship
You booked two staterooms
Image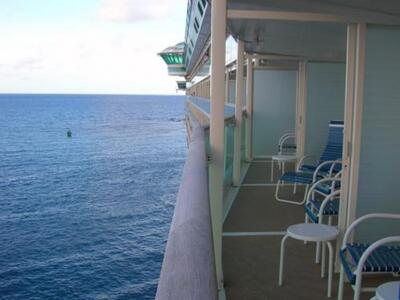 Rather than trying to cram everyone into a single cabin, some families opt to book two staterooms in order to have more space and an extra bathroom. If you book early enough, you may even be able to snag adjoining rooms! 
Even if the rooms themselves are not connected through the inside, you might be able to open the divider on the balcony, making it easier to access one room from the other. Plus, this will make your verandah feel akin to the larger suite balconies!
If, however, you upgrade one of your cabins, there is no guarantee that it will be close to the other room that you booked. This is an important factor for families, especially if traveling with younger children. You would not want one room midship on Deck 8 and another at the very front (forward) on Deck 10. 
You are happy with your stateroom
Image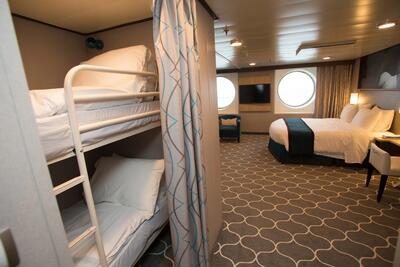 By doing research before booking your stateroom, you may be able to snag a special cabin that is in high demand. If you choose to upgrade, you'll lose this selection.
Maybe you booked an inside cabin that features a window overlooking the interior of the ship or a virtual balcony. For those interested in a balcony, you may have a preference for view. Do you want a room that's centrally located on the port or starboard side of the ship, or would you prefer an aft cabin that overlooks the ship's wake? Some staterooms even have extended balconies that offer more outdoor space, too!
If you were able to score a room that you're content with, do not accept an upgrade offer. 
Upgrades are completely random
Image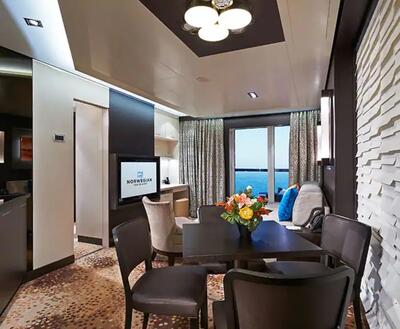 Let's say that the difference between an interior and a balcony is $300 per person at the time of booking and you decide to go with the interior with the hope of upgrading to another cabin for less money. 
While you might think that you can score a balcony for less closer to the sail date, there's no guarantee that there will be an offer available, especially if you are sailing during peak season or over a holiday when ships are more likely to book up well in advance. 
If you are booked on a cruise line that accepts bids, you do not know what price will actually be accepted. This means that you could place a bid higher than the minimum and still not win the upgrade. 
For those who do not want to deal with the uncertainty of cabin upgrades, book the room that you'll be happiest in from the beginning. 
You might have to pay more in gratuities
Image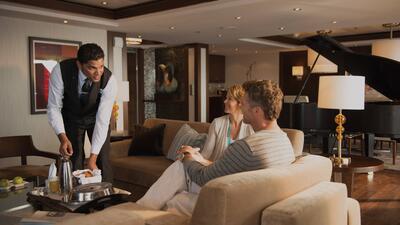 The daily gratuity rate for those in standard cabins (i.e., interior, ocean view, and balcony rooms) is less than those staying in suites. If you elect to upgrade to a suite, you will be subject to paying the higher rate. 
On Royal Caribbean, for instance, the daily service charge for standard staterooms is $16.00 per person, per day, while those staying in suites pay $18.50 per person, per day. Similarly, Carnival charges $16.00 per person, per day in standard rooms and $18.00 per person, per day for suite guests. 
You will need to keep this in mind if you want to upgrade to a suite. For a 7-night cruise, this means paying an additional $17.50 in gratuities if sailing on Royal Caribbean and $14 on Carnival. 
Don't forget that if you happen to get a butler, you might want to tip them extra, too. 
Read more: Tipping on a cruise ship: Guide and what to do
You'll end up loving the higher-category cabin
Image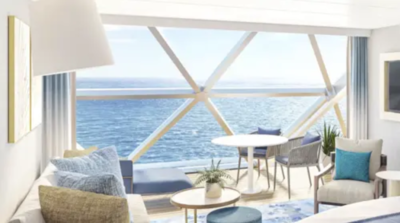 Let's say that you booked an ocean view room and scored an incredible upgrade to a suite. What happens if you fall in love with the suite experience? From priority boarding to spacious cabins, personal butlers, and private sun decks, you might not want to go back to cruising in standard cabins!
These, however, cost a premium when booked outright. You might have to save up for a while in order to be able to justify spending that much on a cabin at once. This means that you'll end up being able to cruise less! 
Are cruise ship cabin upgrades a good deal?
Image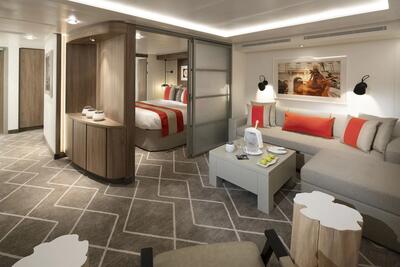 Only you can decide that. Some may think that spending an extra $1,000 on a nicer stateroom is well worth it, while others would prefer to allocate that money elsewhere. It comes down to how much money you are willing to spend on your accommodations. 
Unlike hotels, you should know that complimentary cabin upgrades are extremely rare. If, however, you want a chance of receiving an upgrade without paying anything extra, consider booking a guaranteed room. 
While nothing is certain, you are promised a room in at least the category that you booked, meaning that if you selected an ocean view guarantee, you will not be assigned to an interior room, and there's always a slight chance that you could get a balcony room. 
Image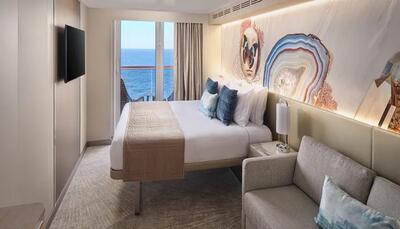 Moreover, cruise lines will sometimes have promotions that advertise a free cabin upgrade. When cabin upgrades are offered as a booking perk, it will either be for a better room within the selected category (i.e., a balcony that's more centrally located versus one located at the very back of the ship) or from one category to another, like from an interior stateroom to one that has a view of the ocean. 
At the end of the day, a cabin is a cabin, and there's so much to do and see elsewhere on the ship.