Planning any cruise is exciting! From booking fun shore excursions to browsing onboard activities and cruise add-ons, there is so much that goes into making sure you have the perfect vacation. 
If you are brand-new to cruising, you might bypass some fun traditions, one of which being cruise door decorations. 
Decorating your stateroom door is a fun way to add some personality to it. It is not uncommon to see decor commemorating a special occasion, such as a honeymoon or wedding anniversary, graduation, birthday, etc. Of course, you do not need to be celebrating anything to make your cabin door stand out from the rest!
Before you go purchase any decor, there are some rules and policies that you should be aware of. If you are sailing on Norwegian Cruise Line, for instance, they do not allow any door decorations. They banned them in 2019, stating that they are a fire hazard. If you decide to decorate your door, your cabin attendant will remove it. 
Here is everything you need to know about cruise door decorations, as well as some inspiration from previous cruisers and where you can purchase magnetic door decorations online.
Please note that we have linked Amazon items, which contains an affiliate link. The affiliate link costs you nothing extra, but Cruise.Blog will make a small commission if you purchase the item through the link.  
What is the purpose of decorating your stateroom door?
Image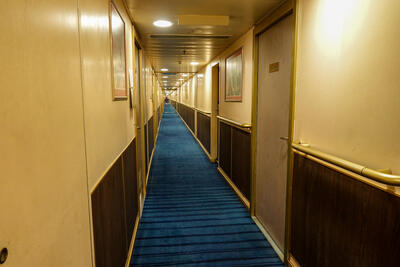 In short, decorating your stateroom door is another way to make your cruise vacation a little bit more memorable. If you are sailing with a group, perhaps you all want to be able to find each other's rooms a bit easier, or for those traveling with children, it is a fun way to get them excited about the trip! 
Since all doors look the same, decorating yours makes it stand out from the others on the hallway. Plus, it is fun for other guests to see. With a whiteboard, you can leave messages for friends, family, or other guests.  
Adding something unique will make your stateroom easier to locate, too. You will not have to pay attention to the cabin numbers while walking down the hall. Instead, you can look for your special door. 
Cruise line policies
Image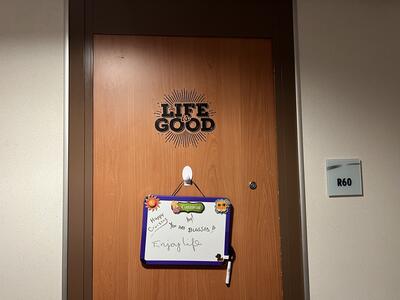 As mentioned earlier, door decorations on Norwegian Cruise Line are strictly prohibited, so unfortunately, you will be unable to participate in this cruising tradition. 
Prior to buying any decor, you will want to read up on your specific cruise line's policies. If you do note abide by them, you may find your decorations to be removed with no compensation provided!
No matter who you are sailing with, you will want to avoid anything vulgar. Even if the cruise line permits decorations, you may find it removed. Plus, you will have to remove them prior to disembarkation. 
Carnival Cruise Line
Image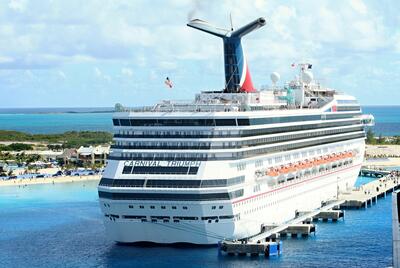 The most important thing to know about Carnival's policies regarding stateroom door decorations is that they must be fire retardant, and items sprayed with fire retardant spray are not acceptable. Moreover, you cannot use adhesives (i.e., tape, glue, etc.) to place the decorations; you may only use magnets or command strips. 
Likewise, they must be contained to the door itself, not the surrounding frame, walls, light fittings or fixtures, or railings. 
You are able to buy magnets directly from Carnival's website if you so choose. They have a couple of different packs that they offer, all of which are around $20.00. 
Celebrity Cruises
Image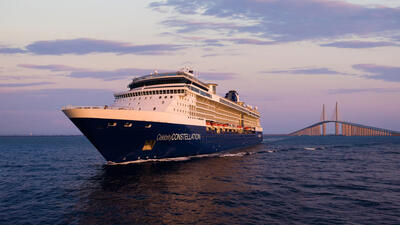 Cabin door decorating on Celebrity Cruises is less common than other cruise lines. If it is done, it is often more simple than what you would find on, for instance, Disney Cruise Line. 
Their website does not give any explicit guidelines; however, their guest code of conduct states, "Inappropriate or abusive behavior is not permitted. This includes...placing signs, banners, decorations, or other materials anywhere on the exterior of the ship; placing materials on stateroom doors, along corridors, or anywhere else on the interior of the ship without the express permission of ship management..." 
Knowing that, if want want to decor your cabin door on a Celebrity cruise, it is best to keep it minimal. 
Disney Cruise Line
Image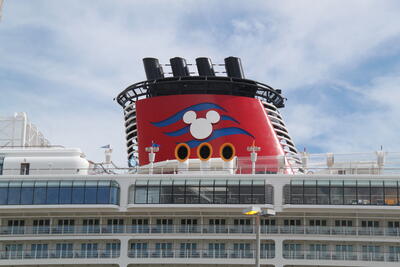 Per Disney's website, magnetic signs are accepted forms of decor. 
You cannot "...affix items to your stateroom doors using tape or any adhesive, including removable gel adhesives, as this can damage the doors' finish. Also, using over-the-door hanging organizers is prohibited, as they can scratch and/or disfigure stateroom doors and trim." Those who violate Disney Cruise Line's policies will be charged a $100 fee to cover the cost of repairs to the stateroom door. 
If you are staying in a Concierge stateroom on Disney Dream or Fantasy, note that you will have a wooden door. 
Holland America Line, MSC Cruises, and Princess Cruises
Image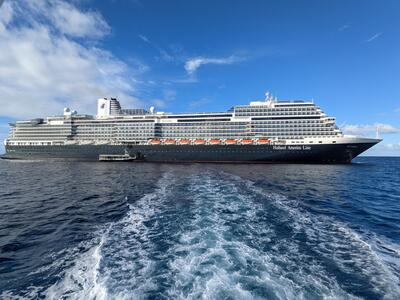 Like Celebrity Cruises, you will not find as many people decorating their cabin doors on Holland America Line, MSC Cruises, and Princess Cruises as you will on other cruise lines. None of their websites provide any guidance on door decor; therefore, it is best to keep it as minimal and tasteful as possible. 
We also advise making sure that everything is fire retardant. You will also want to ensure that none of your decor leaves a mark or damages the cabin door. 
Norwegian Cruise Line
Image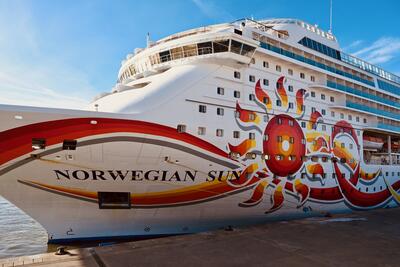 Door decor is prohibited on Norwegian Cruise Line. If you opt to decorate anyways, do not be surprised if you return to your stateroom and find that it has been removed.  
Royal Caribbean
Image
Royal Caribbean permits guests to decorate their cabin door. In fact, many of their decoration packages include a door magnet of some sort, and it is quite common to walk the hallways and find doors decorated. Like other cruise lines, you will want to ensure that your decorations will not scuff up the stateroom door. 
Their guest code of conduct reads similar to Celebrity's: "Inappropriate or abusive behavior is not permitted. This includes...placing materials (including signs, banners, decorations, etc.) anywhere on the exterior of the ship, placing materials anywhere on the interior of the ship (including stateroom doors, along corridors, etc.) without the express permission of ship management or which may be deemed by ship management as inappropriate..."
Virgin Voyages 
Image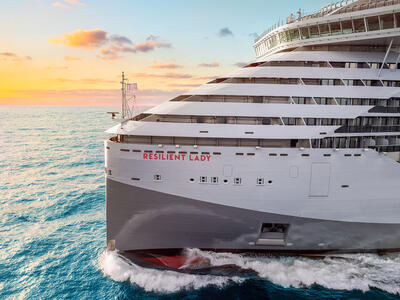 According to Virgin Voyages' website, "We think our lady ships look fabulous as they are, and door decorations inevitably lead to unsightly damage." Some people may still decide to bring their own decorates, but like Norwegian, do not be surprised if they get removed by the ship's crew!
Decoration inspiration
Image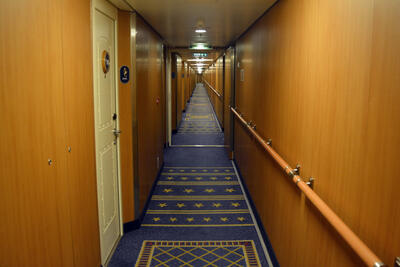 If you are celebrating a specific occasion (i.e., a birthday, honeymoon, anniversary, graduation, retirement, etc.), you may already know how you want to decorate your door. Another easy option is to decorate according to the holiday you are sailing for, whether that is St. Patrick's Day, Easter, the 4th of July, Halloween, Thanksgiving, Christmas, New Year's, etc. 
What if you are just cruising for fun? Just because you are not celebrating anything does not mean that you cannot decorate your door!
Tropical theme
Image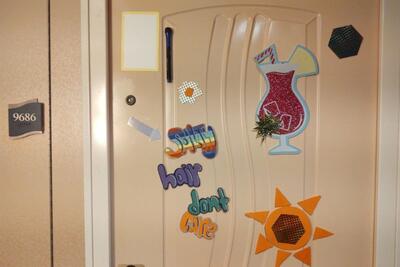 If you are sailing to the Caribbean or Bahamas, you may want your cabin door to reflect a tropical vibe. 
Royal Caribbean Blog user PPPJJ-GCVAB shared an image of one of her cabin doors. "I purchased some materials at Michaels and had my granddaughters help make the decorations," she wrote, "It was fun and they looked great! Was not very costly either! I bought a roll of magnetic tape which was so easy to cut and stick on the fabric…actually not fabric but foam rectangles which were also easy to cut into shapes."
The orange sun, "salty hair don't care" phrase, and drink glass really set the mood for this vacation! Other options might be a pair of flip flops, sunglasses, seashells, palm trees, seagulls, or anything else that makes you think of your favorite warm and sunny destination. 
An important thing to note is that if you are going to DIY your cabin door decorations, you will want to try to them fire retardant, especially if you are sailing on a cruise line like Carnival. 
Drink package warning
Image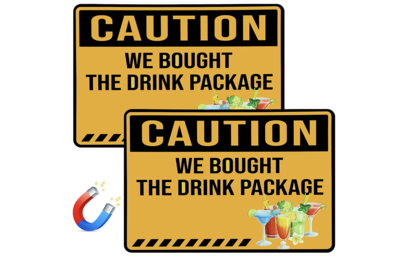 Buying a drink package on any cruise is often a splurge, and those who get one are looking to utilize its benefits.
Magnets that alert others about your drink package can be fun, so long as your usage does not disturb your neighbors! This 2-pack from Amazon costs $16.99 and can be written on with a dry erase marker to further customize it. Maybe you want to put your family's last name or let others know that this is your first cruise vacation.
You can even go one step further and get some individual drink magnets to place around the sign, such as these from Amazon that cost $14.99. 
Read more: 6 reasons why you should get a Carnival drink package
First cruise celebration 
Image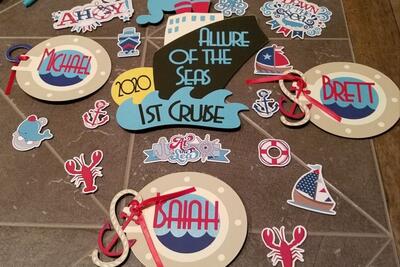 Royal Caribbean Blog user QB7002 went on their first cruise on Allure of the Seas in January 2020, which is certainly something to celebrate! 
While they opted to order personalized magnets and get a little crafty with card stock, you can find ready-made magnets to commemorate your first cruise. Amazon sells a four-pack for $14.49. Plus, they include the year "2023!"
You can also purchase blank nautical themed magnets for $13.99 and customize them with a dry erase marker! Some people may opt to write that it is their first cruise or the ship's name, while others may prefer a funny cruise-related phrase.
Cruise line specific magnets 
Image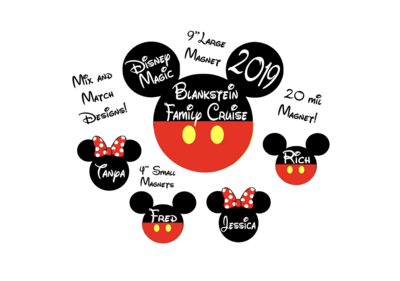 It is not uncommon, especially if you are on a Disney cruise, to see doors themed to the cruise line. On Amazon, you can buy a set of five Mickey ear magnets for $29.99 and have them customized! You are also able to choose the design for some of the ears, whether it be your favorite Disney character, a holiday-themed Mickey, or something as simple as a pirate. 
If you are sailing on Royal Caribbean, you could get a magnet of the cruise line's infamous Crown & Anchor logo. Likewise, Carnival is known for their red, white, and blue funnel. 
Where else can you buy cruise door decorations?
Image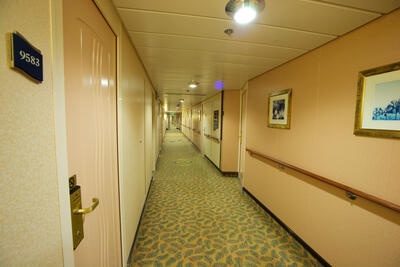 In addition to Amazon, Etsy, an online marketplace where you can find lots of handmade items, is a great place to look if you want something customized. Searching "cruise door decorations" yields over 8,800 results!
Of course, since they will most likely be personalized, they will not ship as fast as other online retailers like Amazon. If you are planning on searching for the perfect door decorations on Etsy, give yourself time to account for the items to be customized and shipped. 
If you are on a time crunch, check out your local craft store. While you may be a bit more limited in offerings, you are sure to find some magnets that you can take with you! Craft stores are also great places to go if you are hoping to make your own decorations to get inspiration and/or materials. 
If you plan on making your own, you might want to purchase magnetic paper from Amazon for $15.99. This will also ensure that the decor works for any cruise line, regardless of their flame retardant policies. If you were to try and use printed paper with a magnet glued to the back, they may be removed from per the rules of certain cruise lines. 
You may even be able to purchase them directly from the cruise line. You may get more than just door decorations, too. Select Royal Caribbean packages, for instance, come with door magnets and other decorations for the stateroom that are not visible from the exterior.  
Final thoughts
Image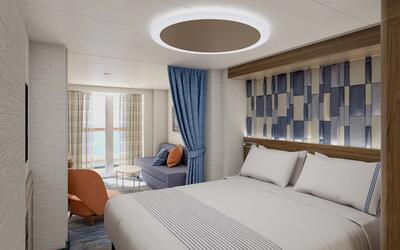 While there are hacks to make the inside of your cabin more livable and feel like a home away from home, decorating the exterior of your stateroom door adds more personality than, say, some magnetic hooks to hang your baseball cap. 
You are not obligated to participate in this cruising tradition; however, it makes the planning process more fun because you can take a break from looking at logistical things and decide what fun decor you would like. It is meant to be fun and show more of your travel party's personality. 
When thinking about cruise cabin decorations, be sure to keep in mind your cruise line's specific policies. You would not want to return to your stateroom as a fun second day to find that everything was removed by staff.