MSC Cruises' premier Yacht Club experience offers guests a long list of benefits and unique services that make any cruise vacation better. This high-end style of cruising has a ton of extras, some of which you may be surprised to learn about. 
Whether it's saving you time, money, or one of a kind events, there are lots of ways to take advantage of all the perks and benefits that this ship category offers. 
This growing European cruise line's luxury suite experience has an intimate setting and customized service with a range of activities and entertainment that larger cruise ships provide. The best of both worlds. 
Here are our top 25 tips to make the most of your MSC Yacht Club cruise experience.  
Overview of MSC Yacht Club 
Image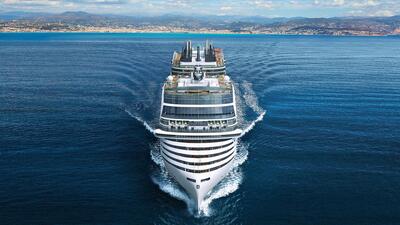 MSC Yacht Club is a ship within a ship concept that provides guests with a luxury cruise experience. This all-inclusive style of cruising includes ungraded suites, personalized service, and dedicated venues onboard, such as a private lounge, restaurant, and deck area.  
The extensive list of perks extends to customized port excursions as well as unique amenities at Ocean Cay MSC Marine Reserve, MSC's private island in the Bahamas. 
Yacht Club suites are currently available on MSC Bellissima, MSC Divina, MSC Fantasia, MSC Grandiosa, MSC Meraviglia, MSC Preziosa, MSC Seascape, MSC Seashore, MSC Seaside, MSC Seaview, MSC Splendida, MSC Virtuosa, MSC Euribia, MSC World Europa, and MSC World America, which is set to launch in the spring of 2025.  
With a wide range of benefits, here is what you need to know to maximize your Yacht Club experience.
1. Take advantage of priority embarkation
Image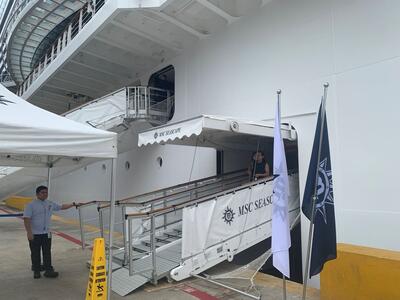 Once you arrive at the port, Yacht Club guests are directed to the check-in area with chairs and sofas. Enjoy a cool drink while you are quickly checked in. This is a perfect time to start your relaxing cruise vacation, chat with your butler or meet some other guests.
Onboard, you will be escorted to the Top Sail Lounge, where you can relax and have a tasty boarding day lunch while you wait for your cabin to be ready. Although MSC provides guests with a specific boarding time, there is much more flexibility with Yacht Club guests, who are usually allowed to board earlier than their assigned timeframe. 
2. Partake in the free premium drink package 
Image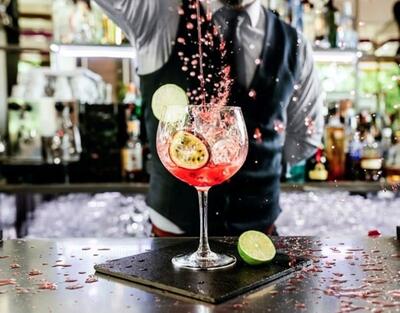 For many people, that first drink onboard is a celebratory kickoff to their vacation. As a guest of the Yacht Club, you receive the Premium Extra Drink Package as part of the cruise fare. This can be used all over the ship, so if you are enjoying a drink at the Sports Bar or a specialty dining venue, no worries, you are covered. 
The package applies to a wide selection of drinks up to $16 in value. Anything from a traditional cocktail to premium brand spirits and liqueurs, champagne and wine by the glass, draft and bottled beer, and bottled water. Another plus, gratuities are included in this drink package. With current prices at $497 per person for a 7-day cruise, this is a fantastic perk to utilize throughout the voyage.
Not only is the package good on the ship, but you can also use it at Ocean Cay MSC Marine Reserve. MSC's private island in the Bahamas. 
3. Enjoy the view at the Top Sail Lounge
Image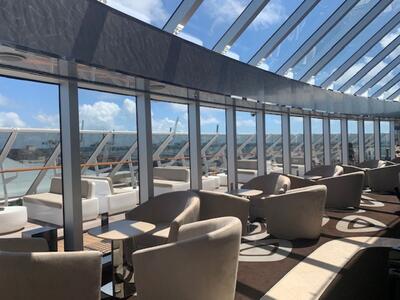 The top sail lounge is one of the main Yacht Club venues, a central hub of activity throughout the day. With its excellent location on the upper floors of the ship, it provides stunning views while guests enjoy drinks, music, and specialized events. It is a great place to meet other guests, relax before a meal, or enjoy a drink outside on the patio area. With a well-stocked bar, tons of comfy seating, and friendly bartenders, it is the ideal spot to make use of the complimentary drink package.
Guests may be surprised to know that they can even get their morning cappuccino or a nice pastry in the lounge. A good option if you don't feel like a full sit-down meal or want a quick bite before going onshore.
4. Dine at the Yacht Club private venue
Image
Eating is a major activity on a cruise ship, and MSC provides a private venue for its Yacht Club guests to enjoy superb meals throughout the day.  Open for breakfast, lunch, and dinner, the restaurant is on par with specialty dining restaurants in terms of quality and service. It features a rotating menu and some classics like filet mignon and salmon. A sommelier is on hand to help select that perfectly paired wine to complement your meal. 
No reservations are required, adding to the relaxing atmosphere of the venue. Another bonus, it has incredible views, particularly beautiful at sunset. While it is fun to try other options onboard, this is a don't-miss, especially on lobster night. 
5. Meet your butler
Image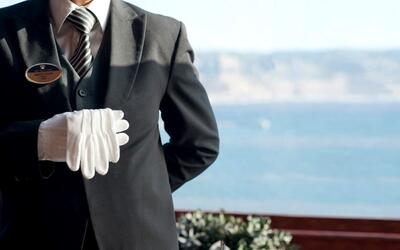 MSC offers Yacht Club guests a full-service team to ensure they have everything they need while sailing. A key component of this is a personal butler.
What does a butler do? One of the first things they do is escort onto the ship, heading to the Yacht Club area to have a cocktail and embarkation day lunch. This is just the start, though, as they guide you throughout your cruise, taking you where you need to go on the ship, like a specialty restaurant or the theatre. A major plus is priority disembarkation at ports and the last day of the cruise.
They also ensure you have whatever you need in your cabin, including the right pillow and drink of your choice 24 hours a day. They can even assist with packing and unpacking.
6. Get comfortable
Image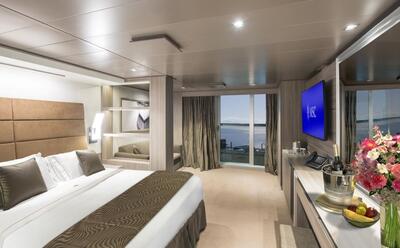 Once you have checked in, had your obligatory cocktail, and had a bite of lunch, it is time to check out your cabin. There are a number of spacious Yacht Club cabin options, and they all have upgraded finishes for a luxurious experience.  For the ultimate in comfort, passengers can expect fine Egyptian cotton sheets on a memory foam mattress. If you are fussy about your pillows and need that perfectly flat or fluffy pillow for relaxing and peaceful sleep, MSC has you covered with a selection of pillows. Before the cruise, guests receive an email to select preferences.
In addition, Yacht Club guests receive upgraded bath products, shampoo, conditioner, bath gel, and a plush bathrobe and slippers. If you need something, make sure to ask your butler or room attendant.
7. Treat yourself  
Image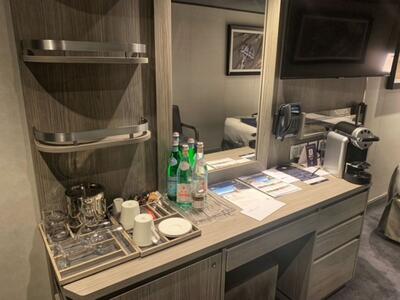 One of the nice perks of MSC Yacht Club is the free, stocked mini-bar, as well as a variety of water, teas, and coffees in your cabin. There is even a coffee maker in your room for those who want their java boose first thing in the morning. Your butler can customize drinks to your taste and will bring a bottle of liquor for your personal use.
Beyond beverages, you can expect chocolates, fresh fruit, afternoon pastries, or other bites of goodness. MSC has a partnership with the famed chocolatier, Venchi. Guests are treated to some of the finest truffles you have ever tasted. 
8. Talk to the concierge team 
Image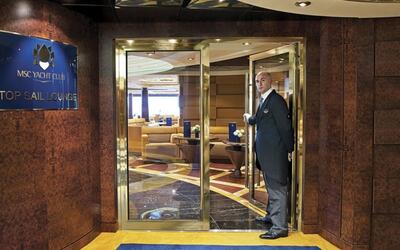 As part of MSC's premium service in Yacht Club, there is concierge service available 24 hours a day. While you may not need assistance in the middle of the night, it is nice to know that someone is there if you need it. 
One of the best things about the concierge desk is that there are no long lines. They can handle an array of questions and requests, including information on shore excursions, details about your bill, provide tech support, to name a few. Don't be shy to ask them questions; they make cruising even easier.
9. Relax on the private rooftop oasis 
Image
Hate looking for a free lounger on a sea day? Not an issue in Yacht Club as guests have their own private deck area with lots of loungers, tables, and chairs spanning the front of the ship. This prized location makes for perfect pictures.
Attendants are on hand to take drink orders while you take a dip in the section's private pool or hot tubs. In addition to this, enjoy buffet-style breakfast and lunch in a quiet and relaxing atmosphere.  
10. Use the free wi-fi 
Image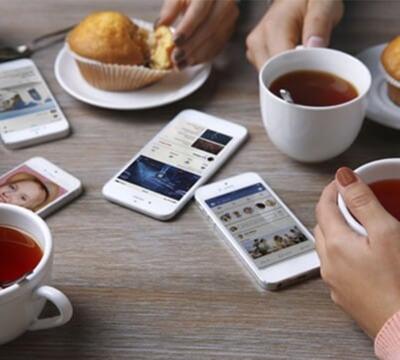 Each Yacht Club guest receives complimentary wi-fi throughout the cruise. This includes two devices per person while onboard, which is a nice benefit as guests cannot transfer between devices on MSC ships. Another bonus, this covers Ocean Cay when you visit for the day. 
You will get MSC's Browse package, which is best for emails/ and applications like WhatsApp. If you want to upgrade to the premium package, Browse and Stream, you can do this on board without having to pay the full package cost. 
11. Visit Ocean House at Ocean Cay 
Image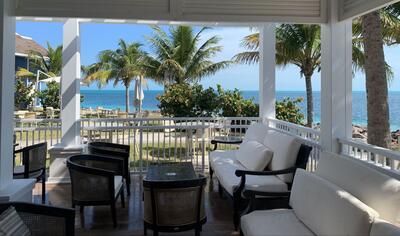 One of the major perks of staying in the Yacht Club is access to the suite-only area at Ocean Cay. MSC has gone to great lengths to reinvigorate these islands, planting thousands of bushes and trees, along with recolonizing coral reefs. The two islands that make up Ocean Cay are stunning and worthwhile exploring, but make sure to spend some time at Ocean House, the private Yacht Club area. 
Ocean House is tucked away at the northern tip of Ocean Cay, and guests can take private transportation if they don't want to walk. This suite-only area is your home base for the day, with plenty of loungers and a private beach with drink service. Enjoy a custom-made cocktail, and eat a tasty lobster roll as part of a three-course meal. There is no extra charge for any of this, and a complimentary drink package is valid on the island.
12. Get help with excursions
Image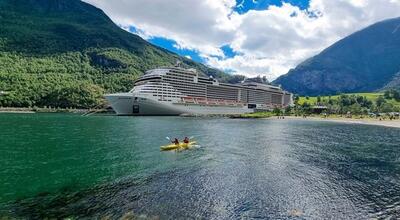 If you haven't selected your port excursions or want something different than what is offered, the concierge team is there to help. They can get additional information, see what is available, and book your preferred choice. Or, they can help with something as simple as directions to major tourist attractions, whatever you need. They can also help build your own custom port day tour, getting to all the places you want to see and experience. 
This is a significant advantage if you have any last-minute port changes, which can sometimes happen due to weather. No need to stand in a long line to select new activities for the day. 
13.  Chill out at the thermal spa
Image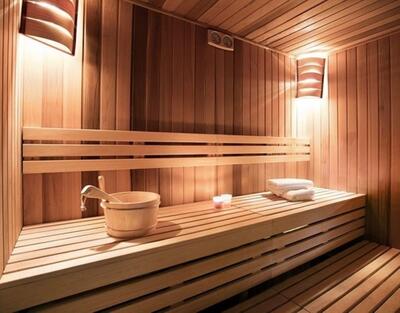 A trip to the spa is a perfect way to relax on a cruise vacation. MSC's Aurea Spa treats guests to a range of treatments and services, as well as having a lounge area and a thermal spa.
Yacht Club cruisers have free, daily access to the thermal spa area, where they can enjoy a sauna, steam room, cold room, and whirlpool for an extra relaxing day. On top of this, there are special discounts on prepaid spa packages. 
14. Try the elevator hack
Image
Many Yacht Club guests have talked about the special elevator hack that gives them quicker access/ priority.  While it is not officially listed as a perk, it appears to apply to forward elevators, which makes sense as Yacht Club cabins are located closer to the front of the ship. 
On newer ships like the Seaside and World classes of ship, MSC uses an advanced system where guests are asked to select their floor choice before entering the elevator, and the system assigns them an elevator to take.  
For a quicker ride, Yacht Club guests need to tap the number pad with their MSC for ME wristband or cruise card, and then select a floor to get a priority elevator.  
15. Get caught up with your favorite newspaper
Image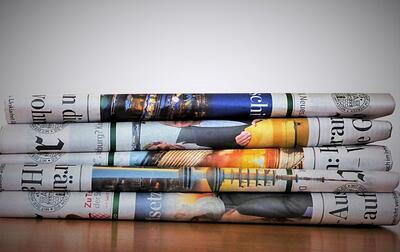 Although MSC Yacht Club guests receive complimentary internet access while onboard, there is also the option to have a newspaper printed and delivered to your cabin. Why not order some room service and slowly sip your coffee with your favorite morning read.
While this is not available for every newspaper worldwide, your butler will provide some choices. This is in addition to PressReader, an app that provides all MSC guests with free access to numerous daily newspapers and magazines. 
16. Maximize your discounts 
Image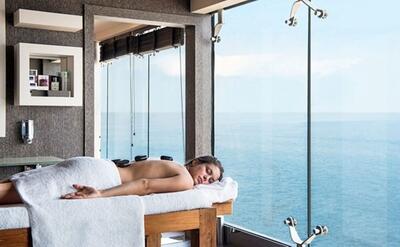 Although MSC's Yacht Club has many all-inclusive features, there are few products and services that have an extra charge. There are some special benefits for Yacht Cub guests, though. If you are interested in a traditional Balinese massage or feel like some freshly made sushi, you will get discounts. Don't hesitate to ask about them - it's part of the deal. 
Yacht Club guests are eligible for the following discounts: 
•    20% discount on a prepaid dedicated specialty restaurant package
•    40% discount on a prepaid dedicated spa package
•    10% discount on all spa treatments purchased on board
17. Customized private experiences 
Image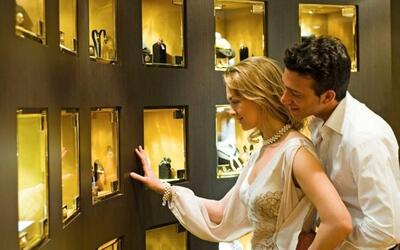 Did something special catch your eye while walking through the ship? Your personal butler can arrange a private shopping experience while onboard or, even better, a private showing in your suite. 
This extends to shore excursions, which can be tailored to suit your specific preferences. The service team can put together a plan (although this is an extra cost and depends on what you select). 
18.  Book an inside Yacht Club cabin
Image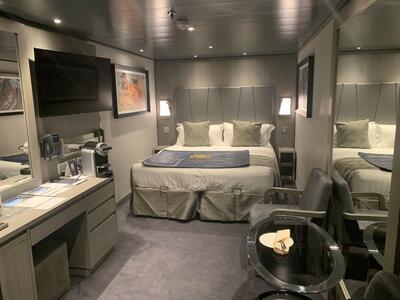 For those who want to try all the benefits of the Yacht Club but don't have the budget for a luxury two-story villa or spend little time in their cabin – a Yacht Club interior cabin might be the way to go. Depending upon the sailing, it can be only a few extra dollars compared to a standard balcony cabin.
Enjoy numerous perks, including a butler, free w-fi, a drink package, and access to private venues like the lounge, dining, and roof deck, at a lower-cost. This is a fantastic way to try out the Yacht Club experience. 
19. Sip some afternoon tea 
Image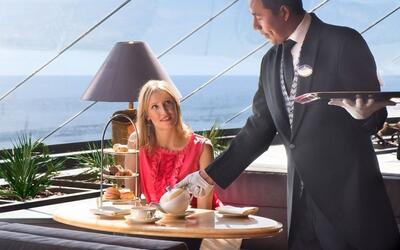 Many people love afternoon tea, a nice tradition and a lovely break in the middle of the afternoon. Look out for this on a sea day, as it is a worthwhile event to attend. An elegant gathering with some tasty treats is always a win, and it's free for Yacht Club guests. 
The staff set up a beautiful tea service with a variety of small sandwiches and treats served on delicate-looking cake stands. It practically feels like something out of Downton Abbey, although no corsets or suits are required. 
20. Attend special events
Image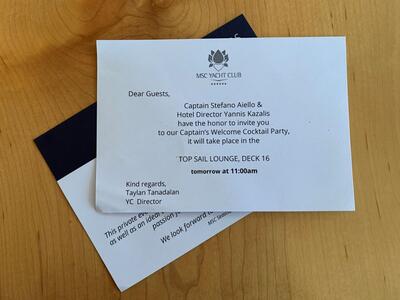 Don't miss special Yacht Club events. There tends to be a lot of paperwork that you get each day but have a quick glance to make sure you have not overlooked something you would love. 
While onboard, Yacht Club guests are treated to a Captain's party, where you get to meet the top officers of the ship while delighting in prosecco and canapes. Other events include a rooftop party with DJ and dancing.  What about a midday seafood extravaganza to make a sea day even more special? Dine on lobster, shrimp, and scallops while you relax. 
21. Order free room service 
Image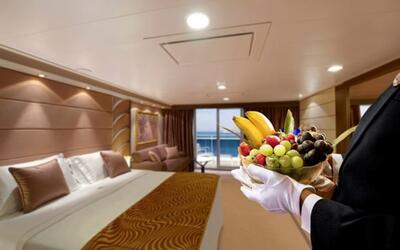 If you like to get up slowly in the morning, why not order breakfast and coffee to start the day off right? No matter what you like – a sumptuous plate of eggs benedict or just a bagel with fruit, room service has plenty of options to get your day started on the right foot. 
Guests staying in Yacht Club cabins get free room service, and that's not just breakfast; it is available throughout the day. 
22. Check out the Aurea experience area
Image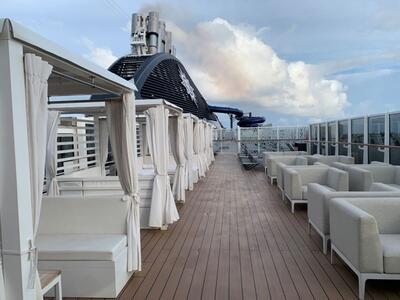 Not only do you have access to the top deck area, but Yacht Club guests can also visit the private Aurea area, one of the top-level experiences the cruise line offers. 
Located in the premium area of the ship, Aurea guests have access to a private solarium. It has lots of deck space, loungers, day beds, and a bar to sit back and relax. This can be another nice alternative, offering different views of the ocean or port.
23. Wear your free MSC for ME wristband 
Image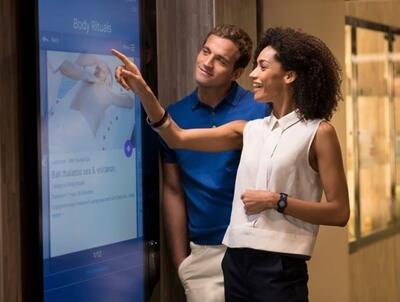 Another in a long list of inclusions, Yacht Club guests get a complimentary MSC for ME band that allows cabin and floor access in the Yacht Club area. The MSC for ME Wristband is a wearable, waterproof device for guests ages 12 and above.
It is another easy way to enjoy the ship, make purchases, book services, and unlock the cabin, and it also lets staff know you are staying in Yacht Club without having to dig through your bag each time. 
24. Relax in Yacht Club waiting areas
Image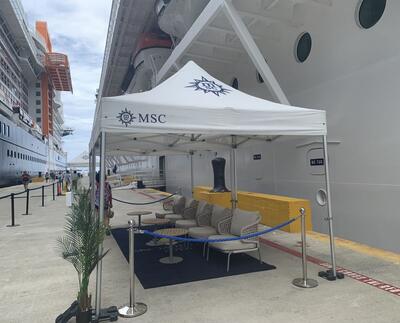 Waiting for transportation or some of the stragglers in the group, MSC has a nice dedicated spot for Yacht Club guests to relax in comfort onshore. A covered area/tent, it typically includes a couple of couches and chairs (and even a plant) where guests can wait out of the sun and cool off.
They are easy to find and set up in prime, can't-miss locations. At Ocean Cay, there is a spacious tent just inside the entrance where guests can have a cool beverage and wait in comfort while waiting for transportation to the suite-only area, Ocean House.
25. Make sure to get those extra loyalty points
Image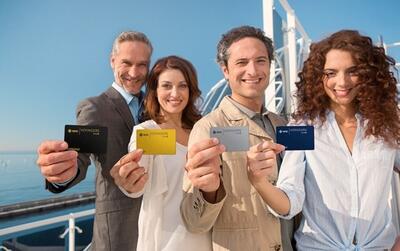 Similar to other cruise lines, MSC has a loyalty program called Voyagers Club which has a number of benefits as guests accrue more points. MSC awards points based on both the length of the cruise, as well as type of MSC experience booked.
Guests of the Yacht Club received 3 to 4 times as many points as those passengers in the Bella Experience. 
•    Cruise under 6 days receive 800 points 
•    Cruise 6-10 days receive 1500 points 
•    Cruises 10 days to more receive 2000 points
This is in addition to other general points bonuses such as prepaid or onboard purchases. Guests get 100 points for every $150 spent (not including the casino).