In recent years, MSC Cruises has begun to increase their presence in the North American cruising market. 
On March 29, they announced that sailings beginning in April 2025 onboard MSC World America, their newest mega ship, are now available for booking. This will be the cruise line's 23rd ship, as well as the second in their World Class. 
When she sets sail, MSC World America will be MSC's first LNG-powered cruise ship in North America! 
MSC Cruises' World Class
Image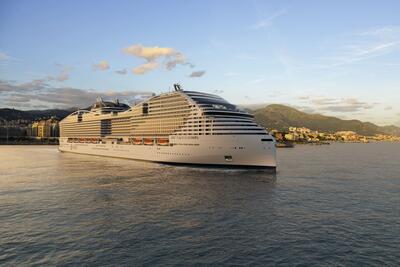 Upon her launch, MSC World America will be the second ship in the cruise line's World Class. As of March 2023, the first ship -- MSC World Europa -- currently holds the title for sixth largest cruise ship in the world by gross registered tonnage, following closely behind Royal Caribbean's Oasis Class. It was also the first ship by MSC Cruises to run on LNG-powered fuel. 
MSC World Europa was the first MSC ship to feature The Vendon Drop @ The Spiral, the longest dry slide at sea. Passengers who dare to take the drop will descend 11 decks, or about 242 feet! 
If you'd rather get a little wet, you certainly can do so! MSC World Europa currently has the largest waterpark at sea with virtural reality technology. There's also bumper cards, five full-scale theatre productions, roller skating, and more! 
Additionally, the ship is home to the cruise line's largest youth club, encompassing over 8,200 square feet of space with seven rooms dedicated to different age groups spanning 0 to 17. 
In terms of gross tonnage, MSC World America will measure the same as her older sister: 215,863 gross tons. However, she has been designed to cater to an American market, so there will be some distinct differences between the two ships. 
Read more: MSC Cruises ships by size
How will MSC World America differ from MSC World Europa?
Image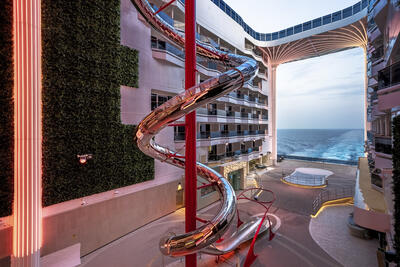 (Above is a rendering of the new World Promenade onboard MSC World America)
MSC World America will feature new bars, restaurants, and public spaces designed specially to cater to the North American cruising market. 
Redesigned spaces and entertainment
Image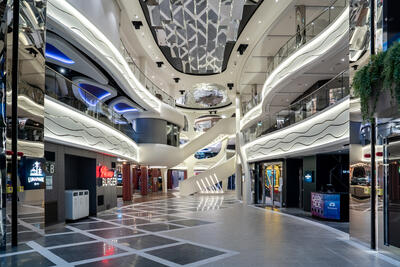 (Above is a rendering of the World Galleria onboard MSC World America)
First is The Harbor, a brand-new outdoor space on that is meant for families. Located on deck 20, you will find a waterpark with different interactive water features, High Trial course and zip line, sensory play area for younger children, and a thematic playground dubbed "Harbor Lighthouse." When guests inevitably start to get a little hungry, they can grab a bite from one of the food trucks!
Additionally, MSC World America will feature a redesigned outdoor World Promenade. Don't worry, though, the 11 story dry slide will still exist and let guests travel from the top of the ship to the lower decks while avoiding the elevators! The World Promenade will also feature LED light shows.
Image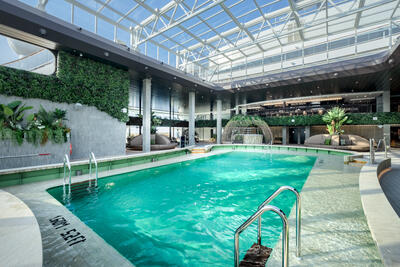 (Above is a rendering of the Botanic Garden Pool with retractable roof onboard MSC World America)
On the top decks, there will not be a shortage of pools or hotubs. Guests can choose from six different pools and fourteen hot tubs, including an indoor pool with retractable roof and two adults-only Zen pools that will be located at the aft of the ship. 
Three entertainment venues will be home to brand-new live entertainment and theatre shows that will not be found on any other MSC ship in the fleet. 
And, of course, there will be a youth club to keep the kids entertained while parents get some much needed alone time!
Accommodations
Image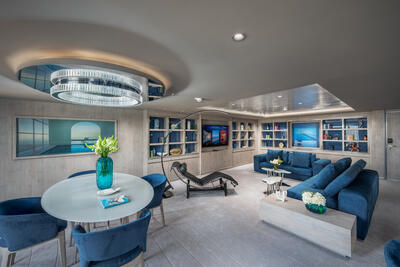 (Above is a rendering of an Owner's Suite in MSC's Yacht Club onboard MSC World America)
There will be a wide variety of staterooms and suites to choose from onboard MSC World America, ranging from standard interior cabins to infinite ocean view staterooms, connecting family staterooms, and balconies that overlook the World Promenade. 
Those looking to elevate their cruising experience may book a cabin in MSC's "ship-within-a-ship" concept known as the MSC Yacht Club. Here, you will find different categories of suites, as well as a private lounge and restaurant, pool and sun deck, and 24-hour concierge and butler. 
Bars and restaurants
Image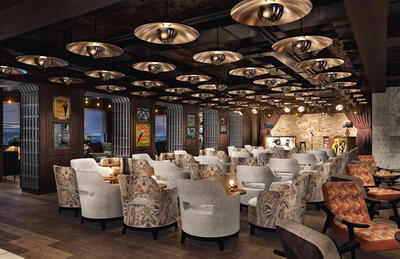 (Above is a rendering of the brand-new Comedy Club onboard MSC World America)
Foodies rejoice! MSC World America will have a total of 13 restaurants onboard, including two brand-new venues. Six restaurants will have an additional charge. Of course, fan-favorites, such as Butcher's Cut steakhouse, Kaito Sushi and Teppanyaki, and Hola! Tacos and Cantina, will be present, too. 
For those interested in complimentary options, there will be four main restaurants focusing on serving both global and American cuisine. There will also be two casual buffets, and for late-night snackers, you will be pleased to know that Luna Park Pizza & Burger will offer complimentary bites at any time of day. 
In addition to the thirteen dining options, there will be 20 bars and lounges, including the new Sports Bar. Here, guests can grab their favorite beer while snacking on bar bites and watching a sports game. There will also be some games, such as darts and foosball, for guests' enjoyment. 
Image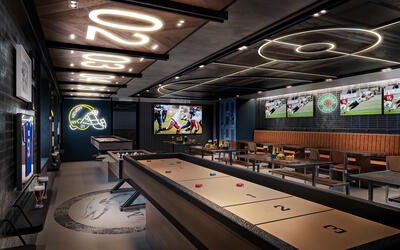 (Above is a rendering of the Sports Bar onboard MSC World America)
The Comedy Club is another new venue onboard MSC World America. Each night will begin with an interactive dueling pianos battle before hosting various comedy acts.
Previous MSC guests will notice some venues found on other ships, such as The Gin Project, Elixir - Mixology Bar, Masters of the Seas pub, Coffee Emporium, and Jean-Phillipe Chocolate Shop and Café. 
Where will MSC World America sail to?
Image
While the ship is not scheduled to launch until 2025, guests can look forward to visiting the Caribbean on one of the world's largest cruise ships!
MSC World America will be based out of Miami, Florida and sail to the Eastern and Western Caribbean, visiting ports such as Puerto Plata, Dominican Republic; San Juan, Puerto Rico, Costa Maya, Mexico; Cozumel, Mexico; and Roatán, Honduras. 
Of course, the ship will also stop at the cruise line's private island in the Bahamas: Ocean Cay MSC Marine Reserve. 
Read more: How to have a great time at MSC's Ocean Cay without spending any money
Commitment to the environment
Image
MSC Cruises commitment ot the environment is not new news. In fact, they have a goal of achieving net-zero emissions by 2050! By the end of 2019, the cruise line had reduced their carbon intensity by 28% compared to 2008. In their 2021 report, they claimed to be on track to meeting the International Maritime Organization's (IMO)  goal of a 40% reduction by 2027, or three years ahead of the industry target date. 
Not only will MSC World America being the first LNG-powered cruise ship in North America, but she will also feature a selective catalytic reduction system meant to reduce NOx emissions by 90% when the ship has to run on marine oil gas. 
Read more: Top 20 MSC Cruises questions answered