If you are cruising to Honduras, you docking in either one of two ports: Mahogany Bay or the Port of Roatán. The two cruise terminals are located about five miles of one another on the island of Roatán, which is located about 35 miles off the northern coast of Honduras. 
What cruise line you are sailing on dictates where you will dock. Mahogany Bay is only for cruise lines owned by Carnival Corporation & plc (i.e., Carnival Cruise Line, Princess Cruises, Holland America Line, and Costa Cruises). All other cruise lines -- think Celebrity Cruises, Royal Caribbean, Norwegian Cruise Line, MSC Cruises, etc. -- dock at the Port of Roatán.
Regardless of where your ship docks at, you can book many of the same tours. Some cruisers opt to visit West End, as the area is known for great snorkeling and scuba diving opportunities. Others might prefer to visit one of the numerous animal sanctuaries or beaches. 
Here are the best things to do on your day in Roatán!
Read more: Best Caribbean shore excursions
Snorkeling and scuba diving
Image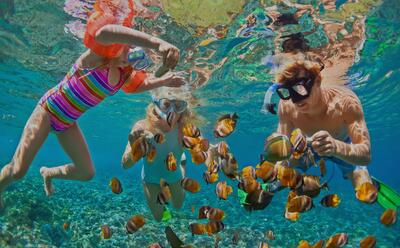 The Roatan Barrier Reef is part of the Mesoamerican Barrier Reef, which is part of the second largest barrier reef system in the world: the Mesoamerican Reef. For that reason, snorkeling and scuba diving is one of the most popular attractions in Roatán.
Excursions are available through your cruise line; however, there are tons of independent operators along the shore offering scuba courses and single-tank dives for certified divers, as well snorkeling tours. 
With Sun Divers, for instance, you can go snorkeling for two-hours for only $40 per person! The same company offers a "Discover Scuba" course for $110 for those who are not certified; a single-tank dive costs $45.
Roatan Divers has three single-tank dive time per day: 11:00am, 11:30am, and 2:30pm. One dive costs $50 and two costs $95, and the pricing includes all equipment (sans a dive computer, which is another $10), a wetsuit, taxes, and credit card fees. 
Snorkeling is also accessible from West Bay if you do not want to book a tour!
Relax on the beach
Image
Roatán has some beautiful beaches for cruise ship passengers to enjoy at their leisure. Among the most popular is West Bay Beach, which is about 25 minutes from the Port of Roatán and 40 minutes from Mahogany Bay. 
The easiest way to get to West Bay Beach is going to be to take a cab from either cruise port. You can expect to pay at least $20 per person for a round trip ride. Upon arrival, you can find beach chairs and umbrellas for rent from local bars and restaurants, as well as water sports like parasailing and paddle boarding for an additional fee. 
Bananarama Dive and Beach Front Resort offers packages for cruise ship passengers starting at just $35 per person. This includes round trip transportation, one beach chair per person, a welcome drink, and use of facilities. 
Alternatively, you could get an all-inclusive day pass to Infinity Bay Spa & Beach Resort for $80 per adult and $68 per child. If you would like the resort to take care of round trip transportation, they will do so for an additional cost. For this price, you will get a bathrooms, showers, Wi-Fi, beach chairs, a buffet-style lunch, as well as unlimited house liquors and cocktails from a dedicated day pass menu. 
Little French Key is another great option for beach lovers. It is a small island off the coast of Roatán that can be reached via boat. If you book directly through their website, you can get a package for as low as $69 per person that includes round trip transportation, beach chairs and palpa access, entrance to the private island, and a tour of the animal rescue. 
For $98 per person, you can purchase the "Full Island Package," which includes everything as the base package, as well as two wells drinks and a meal, snorkel gear, kayaks, and paddle boards. 
Maya Key is another small island that is located near the cruise terminal. It is an 11.5 acre oasis that offers two secluded beaches, a 70,000-galloon pool, lounge chairs, garden paths, and exhibit center. Passes start at $35 dollars and do not include food and beverage purchases. 
Animal sanctuaries 
Image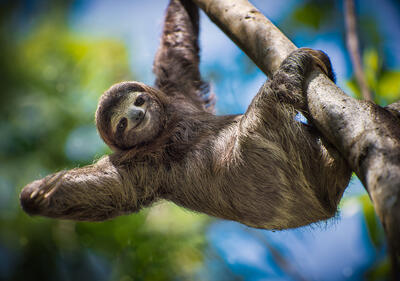 Roatán is home to a couple different animal sanctuaries. Depending on which one you choose to visit, you can hang out and interact with monkeys, sloths, and other birds for around $12 - $35 per person.
AJ's Monkeys and Sloths offers a tour for $35 per person that includes round trip transportation from the pier. Other companies, like Victor Bodden Tours, allows you to find your own ride to the sanctuary via taxi and charge $15 per person for admission.
Since visiting the sanctuary is not likely to take up your full day, it is best to pair the tour with another experience, like zip lining, an ATV adventure, snorkeling, or even just lounging at the beach! 
Book a private driver
Image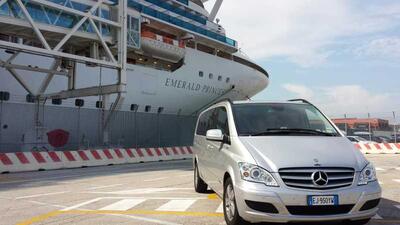 Hiring a private driver does not have to break the bank. In fact, sometimes it is an economical way to make the most of your time in a specific port.
If you have a specific itinerary that you want to follow, booking a private driver is going to ensure that you get where you want to go and return to the ship on time. Do you want to visit an animal sanctuary, go snorkeling, and relax on the beach? 
It is possible with a driver since you are not dealing with a large group and can easily fit more attractions into a single visit. Plus, you will not feel as rushed at each stop. 
Through Victor Bodden Tours, you can also arrange a private tour of the island that can be customized to your liking. They are not expensive, either! Their "Best of Roatan" tour can cost as little as $25 per guest if you have four or more people participating! 
Read more: 10 tips for getting the best shore excursion values
Food tours
Image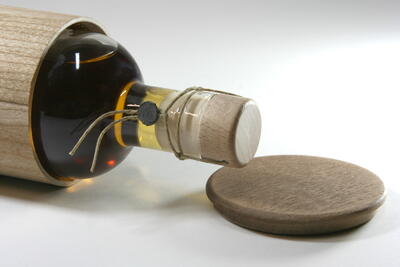 The Roatán Rum Company is located on the west side of the island between West End and West Bay. You can try samples of artisan rums and rum cakes. A bottle of rum is priced anywhere from $25 to $35, while the rum cakes are $7 to $39. 
Right across the street from the Roatán Rum Company is the lighthouse El Faro. Plus, there is a small market next to the lighthouse that is a great place to stop for souvenirs. 
If you like chocolate, you will enjoy visiting the Roatán Chocolate Factory, a local chocolate company that was founded in 2010. Once you sample a few different chocolates, you can purchase individual bars for $5 each.
Due to the size of the Roatán Rum Company and Chocolate Factory, pairing them together and visiting both in a single visit is ideal. 
While neither a food tour nor perhaps the most authentic experience, when I was in Roatán in February 2023, I ate at Snapper's Restaurant for a quick lunch before returning to the ship. For about $15, I got a refreshing handmade lemonade, fried shrimp, and fried plantains. If I were to go back, I would opt to order from the pre-made options served in the cafeteria-style line. They had beans, rice, and even jerk chicken! 
ATV or dune buggy tour
Image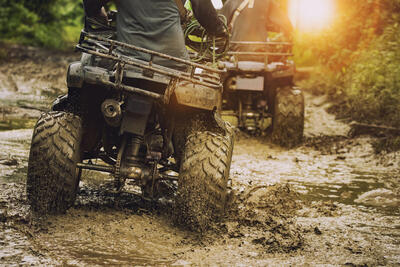 ATV or dune buggy tours are popular for those with a more adventurous side. Plus, they often add visits to popular tourist destinations, including an animal sanctuary or beach break. 
If you are sailing on Carnival, you can opt to book the "Jungle ATV Adventure & Beach Escape" excursion directly through the cruise line for $105 per person. Note, however, that there is a minimum age of sixteen-years-old. Likewise, Norwegian Cruise Line offers a similar tour for $139 per person that takes you off the main roads to look for wildlife before stopping at a private beach. 
If you have younger children, a Jeep or dune buggy tour might be more suitable. 
Gumbalimba Park
Image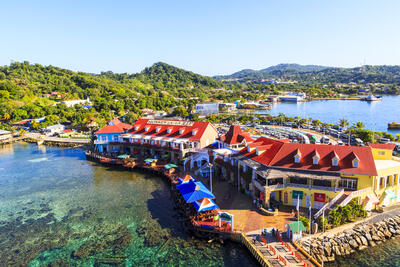 Gumbalimba Park is a privately eco-park that was established in 2003 and is about 25 minutes from the Port of Roatán and 45 minutes from Mahogany Bay.
Here, you will find free roaming macaws, white-face monkeys, and iguanas, and there are enough activities to satisfy everyone in your travel party:
A museum
Freshwater pool
Animal interaction center
A few botanical gardens with 200+ species of plants and trees, man made waterfalls, and a hanging bridge over a natural pond
Beach with select water activities
Admission starts as low as $35 per person. 
East End culture
Image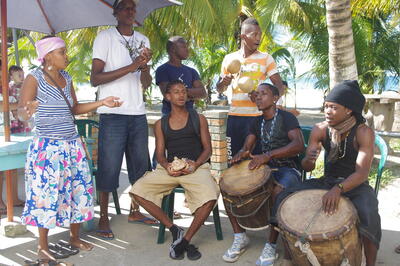 While the West End is known for famous beaches and dive spots, the East End, specially Punta Gorda, is known for being home to Roatán's indigenous Garifuna peoples. In the 18th century, the British exiled slaves from the island of Saint Vincent to the island of Roatán. 
This side of the island is sparsely populated and filled with lush flora and fauna, cattle ranches, and small fishing villages. It is a great way to explore the less touristy side of the things and experience native culture. Plus, you can find a great waterfront restaurant to enjoy an authentic meal in Punta Gorda!
If you decide to venture to the East End, you will most likely want to book a private driver, as it is close to an hour's drive away from the cruise ports. Having a driver not only help ensure that you return to the ship on time, but they may have recommendations on places to eat and how to further experience the local culture.