A suite with no balcony, does that even make sense? This was my initial question when I learned that MSC Cruises has inside cabins in their Yacht Club section. The European cruise line has developed a premium ship within a ship concept that they describe as an onboard sanctuary that provides an all-inclusive experience. And the interior cabin option has tons of unique benefits at a lower cost than a traditional suite. I was intrigued, to say the least. 
So, to best answer this question, I booked an inside cabin in the Yacht Club for a price of $1,689 per person on MSC Seascape, MSC's newest ship sailing in the Caribbean. I was wowed by her sister ship, MSC Seashore, when I sailed her last fall, so I was pretty excited to try out the next iteration in this sun-worshiping class of ships. 
Additionally, having sailed on Royal Caribbean and Celebrity in their suites, I was curious to see how the perks would stack up and whether an inside cabin upgrade makes sense for this price and experience.
Here is how my week went as I sailed out of Miami to the Bahamas and Eastern Caribbean, trying out the Yeach Club experience for the first time.  
MSC Seascape
Image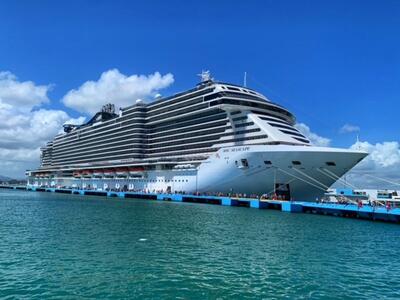 Launched in December 2022, MSC Seascape is the fourth Seaside class of ship in the MSC fleet. It welcomes up to 5,877 guests, spans 20 decks, has a range of cabin options, 20 lounges and bars, 13 pools/ water features, and an array of entertainment and dining options. 
MSC Seascape truly embodies all that is great about MSC and this class of ship. Sun-filled and elegant, it has numerous places throughout the ship to enjoy the warmth of the Caribbean. I particularly like the outdoor spaces around the specialty restaurants and bars on decks 7 and 8. They allow you to spend more time outside without the intense crowds of the pool area. A bit of a hidden gem on these ships. 
Other onboard offerings include a casino, theatre, fantastic Parisian-inspired cabaret, MSC Aurea Spa, water park, slides, and its newest feature ROBOTRON, a robotic thrill ride. It is a ship that has plenty for any age and a wide range of cruising preferences. 
Yacht Club interior cabin 
Image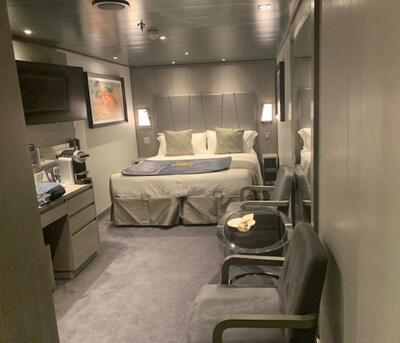 After a swift boarding process and a nice introductory lunch onboard, I headed to my cabin, keen to see what it looked like. At first glance, I could tell it was bigger than other standard interior cabins. According to MSC, a Yacht Club interior cabin is 226 square feet (compared to a 172-183 standard cabin. 
Image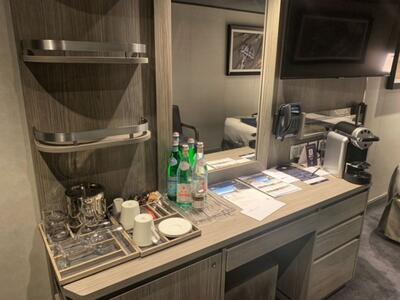 My new home for the week was elegantly decorated in soothing tones of grey, with lots of drawers, a closet, a desk, and a sitting area. The bathroom looked to be the same size as a standard interior cabin, which has a compact shower, but everything you need, including upgraded bath products such as shampoo, conditioner, and bath gel.  I think for the Yacht Club interior room, they could have dedicated a little more space to make a slightly bigger bathroom, including the shower. 
The premium cabin offers guests complimentary Italian water, a stocked mini-bar, and a coffee machine, as well as comfy robes and slippers. 
Image
Located on deck 16, I was a short walk to the Yacht Club lounge, which is incredibly spacious. All of the Yacht Club cabins and venues are located on decks 16-20 in the front area of the ship, so nothing is far. On my first day exploring the area, I did notice something odd – no deck 17. The concierge informed me that 17 is bad luck in Italian, something I had never heard despite traveling to Italy a few times.  
Although I love having my own private deck space, I spent lots of time in the quiet outside deck area of the lounge, which was just a three minute walk away. Not having my own private balcony was not a big deal at all. 
Top Sail Lounge 
Image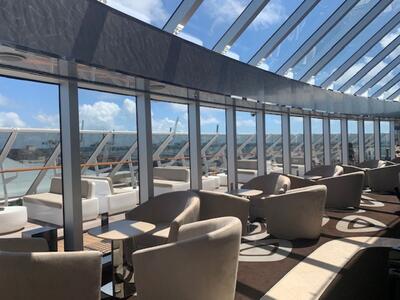 One of the biggest perks of Yacht Clubs is the dedicated venues, and the panoramic Top Sail Lounge is definitely an incredible area on MSC Seascape. Wide open with tons of light, it has two stories of windows spanning the front of the ship, and there are plenty of couches and chairs to relax. 
On our cruise, it quickly became a central hub of activity, with people hanging out throughout the day, taking in some specialty cocktails, and grabbing an afternoon snack or pre-dinner drink. It was well staffed, you never waited long for a drink, and always easy to find a seat. 
I particularly enjoyed the live music during the evening hours, from a very talented singer named Bernard. There was also a cocktail party with the captain and officers and a traditional English tea on our last sea day. 
Dining venue
Image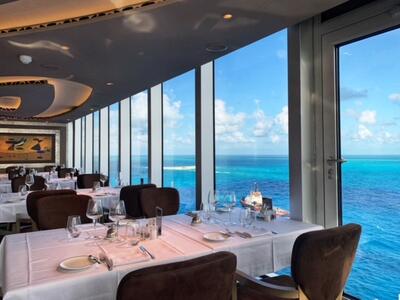 Within the lounge area is a crystal staircase that leads up to the Yacht Club dining room, which looks out over the lounge/ outdoor patios with equally impressive views. It seems to be a hallmark of MSC to have bedazzled staircases, making everything sparkly and magical. 
This Yacht Club dining room serves breakfast, lunch, and dinner every day. As with the lounge area, the staff were fantastic and became quickly attuned to drink and food preferences, with an excellent understanding of the menu. I am allergic to almonds, and the staff was very careful to check ingredients each meal, offering tasty alternatives where needed. 
Image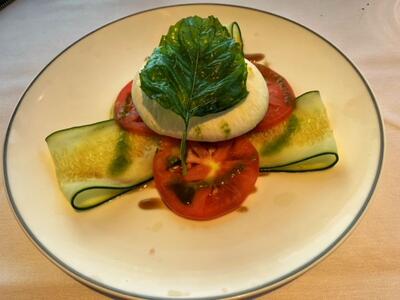 The lunch and dinner menu changes daily, but it also has everyday classics such as filet mignon, fish, and pasta, to name just a few. We dined on differing cuisines such as French, Italian, Indian, and Caribbean. The one thing I did not see was sushi, a popular cruise ship meal. MSC does have a specialty dining restaurant, including a steak house, sushi, Mexican, teppanyaki, and seafood, at an extra cost. While I have enjoyed these alternatives in the past, I found the Yacht Club's complimentary options more than enough for me.
Rooftop deck area  
Image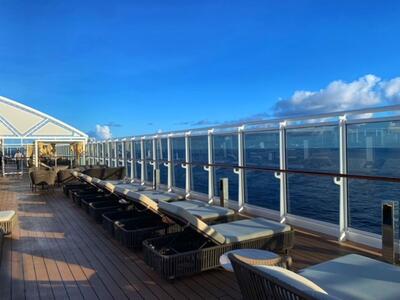 A crowded pool deck is a common occurrence on a sea day, making the Yacht Club's private roof deck area a great benefit. It has a fun beach club vibe with a pool, hot tub, tons of loungers, a bar, tables, and chairs, It was never hard to get a lounger, but the day beds seemed to be snapped up early on in the day, and they definitely could have used more umbrellas, as t was quite hot throughout our cruise. 
Another major bonus, guests were treated to breakfast and lunch buffets while basking under the sun. The area featured other events, like a private white party, with DJ, where we danced and had fun, and, on our last sea day, we were treated to a seafood buffet. 
This deck area is far more spacious than what I have seen on other cruise ships like Royal Caribbean or Celebrity. It was nice that the complimentary drink package is valid everywhere on the ship, including the rooftop.
Ocean Cay 
Image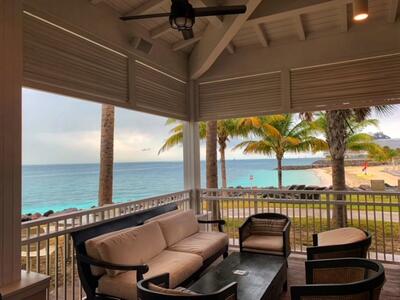 Ocean Cay, MSC's private island in the Bahamas, is one of my favorite port stops on a cruise. A repurposed industrial site, it has become a Bahamian oasis with pristine waters and 8 beaches. MSC Yacht Club guests get special access while visiting the island, which I think is one of the significant differences from other cruise line suite programs. 
At the far end of the island, Yacht Club has its own dedicated area featuring the Ocean House. It is a beautiful blue building that looks like a Bahamian house, with white rafters and Caribbean decor. Guests enjoy a complimentary bar, loungers in the garden area, as well as a private beach with drink service. The cruise line provides a seated 3-course lunch with specialty cocktails to top off the perfect day. 
Although you can rent cabanas, I personally don't think you need to, as there is plenty of shade and chairs. The beach is a little rocky, so water shoes may be a good idea, but the adjacent beach is very quiet and has soft sandy powder. Guests received private transportation on the island, which is convenient given Ocean House is on the far side of the island from the ship. 
Other complimentary perks and benefits
Image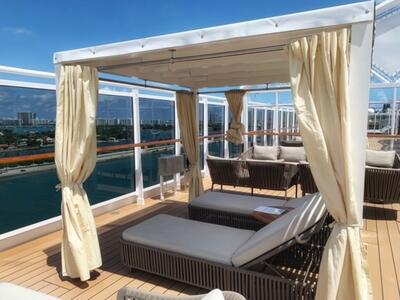 Aside from the major benefits and access already outlined, there are several other pros to booking a Yacht Club cabin, that may be of interest to cruisers:  
•    Wi-fi for two devices per person (browse only) 
•    Premium Drink package, which covers unlimited drinks up to $15, good at Ocean Cay and anywhere in the ship. 
•    Priority embarkation and disembarkation, including some ports. 
•    Access to the thermal spa
•    MSC for me cruise bands to cabin entry and payment 
•    24 hour concierge access and butler 
•    Cabin attendant with twice daily room service 
•    Access to Aurea area dedicated deck, loungers 
•    Discounts on specialty dining, and spa packages
Cruiser fare prices and value
Image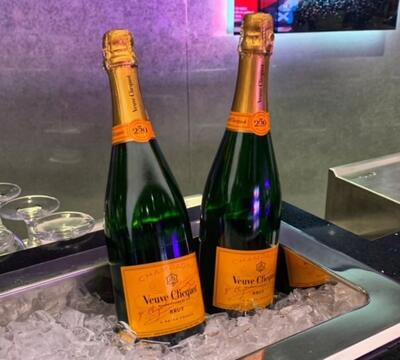 As I mentioned, this cruise cost just under $2000 per person, which is considerably more than a standard cabin, but it has many perks and benefits. Although prices vary by cruise, I had a look at an upcoming cruise on MSC Seascape in August for seven days to the Eastern Caribbean. The lowest fares for each cabin category were: 
•    Interior cabin $639 per person  
•    Balcony cabin $739 per person 
•    Interior Yacht Club Cabin $1,709 per person 
•    Balcony Yacht Club Cabin $2,740 per person 
For my cruise, the premium drink package was $497 per adult, and two device internet package was $134.26 per person. The thermal cruise pass was $130 per day. So this alone would almost make it worth the upgrade, with $760 in benefits. 
Bottom line, the extra space, and staff made everything feel easy and relaxed, right in the middle of a cruise ship with nearly 5000 guests. If you want to splurge on your cruise, the Yacht Club is absolutely the way to go.  
What could be improved? 
Image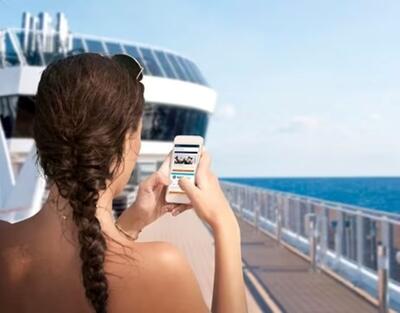 While my MSC Yacht Club experience was fantastic, there are a few areas that I think could be better. Although not indicated on the deck plan, my cabin, 16023, was located under part of the galley. My first evening, I heard people walking, random pounding, and some other strange noises. I am a light sleeper, so this did not work well for me. Thankfully, the next day I was able to move cabins. Later in my cruise, I talked to another couple that had the same issue. 
I did discuss the issue with the head Manager.  They seem to be aware of the problem, but ship design is not within their control. I was lucky I was able to move, but had they been full, that would not have been an option, and I would have been pretty upset to pay the upgrade cost for a cabin under the galley. 
Although the MSC website indicates that guests of the Yacht Club receive premium wifi, it is in their basic browse package, with an extra charge to upgrade to browse and stream. They do offer it for two devices per person, which is nice since you can't switch between devices on MSC. The wi-fi was fine for email and checking social media, but not great for streaming or uploading files. 
Final thoughts 
Image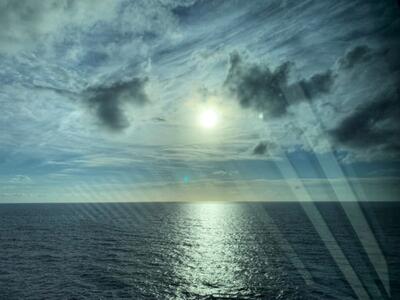 Overall I was thoroughly impressed by my Yacht Club experience, and I felt like they delivered a strong value proposition. Many of the cruisers I spoke to were experienced, having sailed Royal Caribbean, Norwegian Cruise Line, Celebrity and Princess , but wanted to try MSC. They were also quite impressed, with many of them booking future MSC cruises. Their Status Match program with other cruise ship and travel loyalty programs was also a big draw for many.
They provide a lot of value and great perks as part of the Yacht Club with so many dedicated spaces, friendly and well-trained staff, and upgraded benefits. The Yacht Club area is not stuffy at all, but rather I found the other guests were super friendly and spent evenings listening to music and getting to know people from all around the world.
Should you book an inside Yacht Club cabin? For those who love the extra amenities (and they are considerable), and and don't mind an inside cabin, the answer is yes, this is a great option.