As with most cruise lines, MSC Cruises has a wide selection of cabin options across its fleet. Whether it be a cozy interior cabin or the ultimate deluxe suite, there is something for every traveler.  
Ships offer a variety of accommodations to meet diverse needs, including solo travelers, those guests requiring accessible rooms, and solutions for larger families or groups who want to share common spaces.
One of the unique features of sailing with MSC Cruises is their custom MSC Experiences which offer a selection of benefits at different price points.   
Here is what you need to know about MSC's cabins and suites.
Interior Cabins
Image
The smallest amongst the cabin options, interior rooms vary between 129 -301 square feet, depending upon the ship. Perfect for cruisers who spend little time in their room and want good value for their money.
Interior rooms provide: 
Single beds that can be combined
Armchair
Interactive TV, telephone, safe and minibar
Bathroom with shower, vanity area and hairdryer.
Can accommodate 2-4 guests (with pullman beds)
Available with the Bella and Fantastica Experiences across the fleet
MSC offers a few different iterations within the interior room category, including the Interior Studio, which has one single bed and is 129 square feet. They are available on the Meraviglia class of ships.
The Seaside class of ships offer deluxe and premium interior cabins of 150 square feet and up, and larger interior stateroom options accommodating up to 5 passengers.
Ocean View Cabins
Image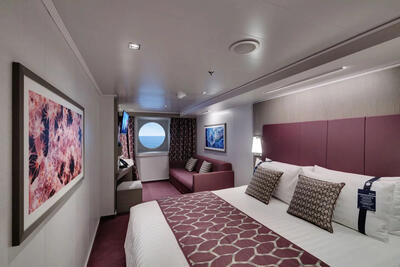 A good option for those who want a view of the ocean and some natural light, ocean view cabins are good value. This type of cabin is not as numerous and are often located on lower decks
Ocean view cabins provide:  
Window with ocean view
Single beds that can be combined
Armchair
Interactive TV, phone, safe and minibar
Private bathroom with shower, vanity area and hairdryer
Are available with Bella and Fantastica Experiences across the fleet
Range in size from 129 to 269 square feet.
For those passengers wanting more space, there are Junior Ocean View and Deluxe Ocean View cabins that accommodate up to 6 guests.
Balcony Cabins
Image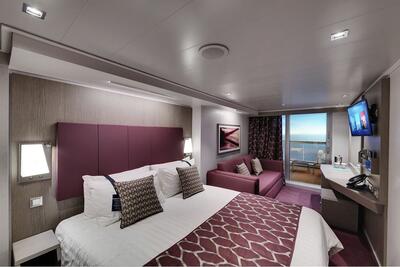 Balcony rooms provide guests with extra space and a balcony, a must have for many cruisers. Basic balcony cabins (often referred to as Deluxe cabins) are the most common type on cruise ships, providing guests with many options, including different price points and locations.
Balcony cabins provide:  
Single beds that can be combined
Balcony
Sitting area with sofa
Interactive TV, phone, safe and minibar
Private bathroom with shower, vanity area and hairdryer
Are available with Bella and Fantastica Experiences across the fleet
Range in size from 129 – 183 square feet
Balcony space of 43 to 97 square feet
Available for Bella, Fantastica and Aurea experiences
Some ships, like the MSC Bellissima, offer a studio balcony.
Aurea Balcony cabins tend to be in the best locations, midship and above. Passengers should be aware that some deluxe balconies have partial obstructions or metal instead of glass balconies.
Suites
Image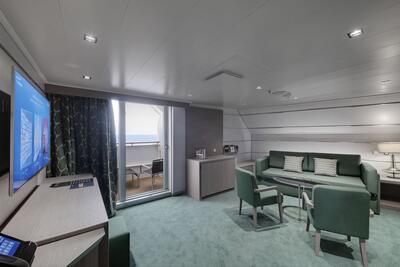 MSC offers a range of suite options, separate from MSC Yacht Club.
Suites provide:
Larger balcony
Sitting area with sofa / separate living area
Comfortable king or single beds that can be combined
Walk in closet
Bathroom with shower or bathtub, vanity area with hairdryer
Interactive TV telephone, safe and minibar
Located on higher decks
Most suites are available with the MSC's Aurea experience only, which provides several extra benefits.
Image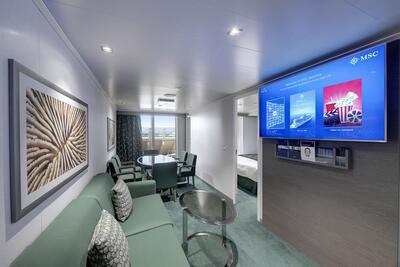 There are a number of room types within the suite staterooms:
Junior Suite is the smallest of the suites at 183 square feet plus a balcony of 172 square feet
The basic suite (often called Premium Suite) offers more room at 280-344 square feet and a balcony of 97-161 square feet.
Premium Suite Aurea accommodates up to 6 passengers and is 269 square feet plus balcony.
Grand Suites and 2 Bedroom Grand Suites provide even more space, with some having their own private hot tub.
For the ultimate in suites, there is the two-level Duplex suite, which has a master bedroom on the second level and two bathrooms.
MSC Yacht Club
Image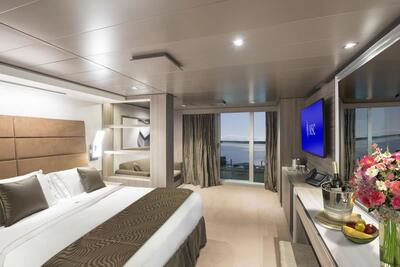 When booking a cruise, MSC offers guests several options to enhance their cruise experience, and the top level is MSC Yacht Club. It is available for select cabins on many cruise ships across the fleet.
Referred to as a ship within a ship concept, this is the ultimate in luxury for MSC cruisers. This all-inclusive style of cruising includes ungraded suites, personalized service and dedicated venues onboard such as a private lounge, restaurant and deck area. 
Image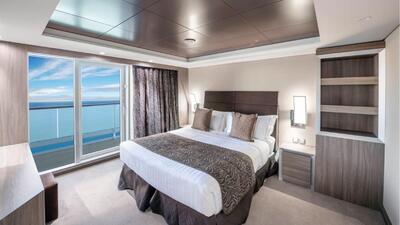 Surprisingly, there are some interior cabin options available in the MSC Yacht Club level, as well as spacious suites and balcony rooms. These cabins tend to be grouped together on the higher level decks of the ship, close by to dedicated MSC Yacht Club amenities.
Overview of MSC Yacht Club Suites
Image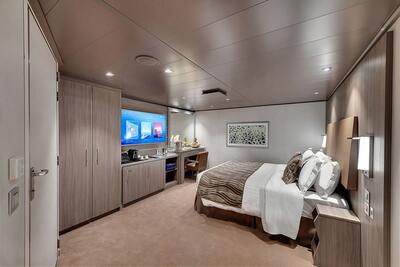 MSC Yacht Club Interior Suite has a sitting area with a total of 226 square feet of space.
MSC Yacht Club Deluxe Suite ranges from 269-366 square feet, with a 86 square foot balcony.
MSC Yacht Club Deluxe Grand Suite varies from 269-463 square feet has a separate living area and a balcony of 86-129 square feet.
MSC Yacht Club Duplex Suite has two levels and separate dining and living areas. It is 635 square feet, in addition to a 248 square foot balcony.
MSC Yacht Club Royal Suite has 667 square feet of space, with separate living and dining space. Its spacious balcony is 355 square feet with a private hot tub. 
At the top is the Owner's Suites with an expansive 1,055 square feet of space, including a separate living and dining area. Its 269 square foot balcony has a private hot tub and lots of room to lounge.
Included with these staterooms are a number of MSC Yacht Club perks:
Image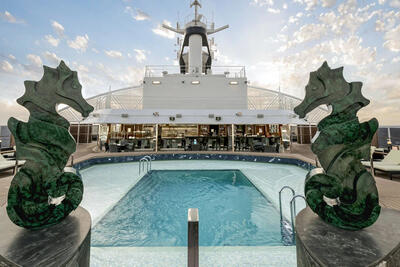 General
Dedicated priority check-in and check-out, along with priority departure and return on port days
24-hour butler and room service as well as a dedicated concierge
MSC for Me wristband (where available)
1 free cruise booking change
Custom experiences including onboard shopping and port excursions
Image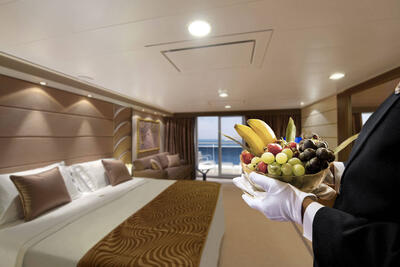 Cabin
In room welcome package (Prosecco + chocolate)
Memory foam mattresses, selection of pillows, bathrobe and slippers 
Luggage packing/unpacking service, newspaper directly delivered in cabin on request
Image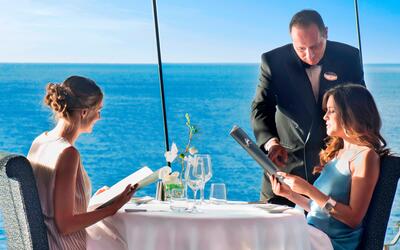 Packages / Services
Premium Extra Drink Package (includes all drinks up to 13$ in all ship areas)
Premium Internet package (Browse - 2 devices Unlimited Internet Package)
20% discount on a dedicated specialty restaurant prepaid package
Image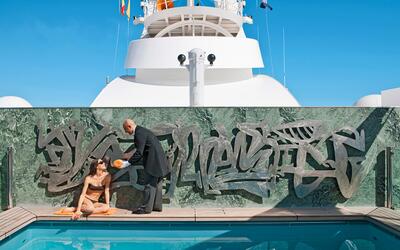 Private Venues
Dedicated, private area of the ship accessible only to MSC Yacht Club guests
Panoramic Top Sail Lounge with bar, afternoon tea service, snacks and live entertainment in the evening
Private and spacious pool deck, whirlpool baths, sunbathing area and an outdoor bar
Gourmet, Yacht Club restaurant with a la carte dining for breakfast, lunch and dinner
Image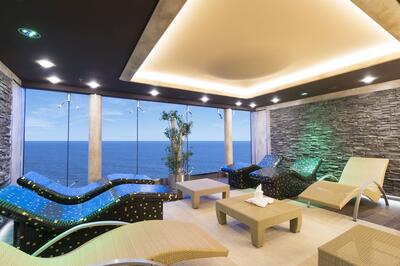 MSC Aurea Spa – MSC's Balinese style spa
Complimentary access to Thermal Suites at MSC Aurea Spa
40% discount on a dedicated Spa prepaid package
10% discount on all spa treatments purchased on board
Other cabin considerations
Image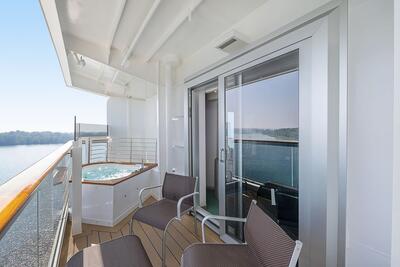 For those guests wanting accessible cabins, MSC offers ADA compliant wheelchair accessible cabins throughout the ship; however, they are a limited number.
There are some attractive cabin options for larger families and groups who want to share space:
Super Family Plus cabins combine 3 connecting rooms (1 Inside and 2 Balcony cabins for up to 10 guests
Super Family cabins combine 2 connecting balcony rooms for 6 guests
Family Balcony accommodations are 2 connecting cabins (1 Inside plus 1 Balcony or 1 Oceanview for a maximum of 6 people
Solo travelers often face limited options when selecting cabins without additional costs. MSC's Meraviglia offers single occupancy cabins, although less than 20 per ship.
Overview of MSC Experiences
Image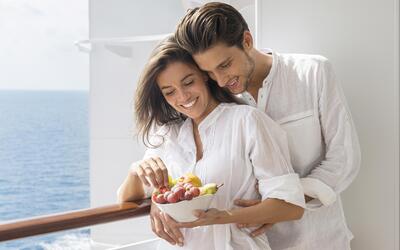 When booking an MSC cruise, passengers can select from five distinct MSC Experiences. It is essential to understand the cost and associated benefits of each tier and that not every experience is available for every room type
Bella Experience:
Marketed for those cruisers who want good value and a pleasant stay. This tier is available for balcony, ocean view, and interior staterooms. It includes:
Comfortable staterooms
Fee for cruise change
Discounted drink packages at the time of booking
MSC Voyagers Club Points
Fantastica Experience:
Suited to those passengers looking for comfort and flexibility, this tier is available for suites, balcony, ocean view and inside rooms. It includes:
Perks of Bella level
1 free cruise change
Opportunity to select cabin and superior locations
24-hour room service (delivery fee)
Free breakfast delivery
Preferred dinner sitting
20% off specialty restaurants (prepaid)
Complimentary picture at Mediterranean night
Aurea Experience:
For suites and balcony guests who desire a more all-inclusive vacation, this is the most deluxe tier. Benefits include:
Bella and Fantastica perks
1 free cruise change
Opportunity to select cabin and its location
Suites and balconies in best locations
Discount on drink packages
Prosecco and chocolate welcome package
24-hour room service (free delivery)
Free breakfast delivery
Flexible dining time
20% off specialty dining package
Access to private solarium
Bathrobe and slippers
Pillow options
40% off spa package
Priority boarding and luggage drop off
MSC Wellness Experience
Image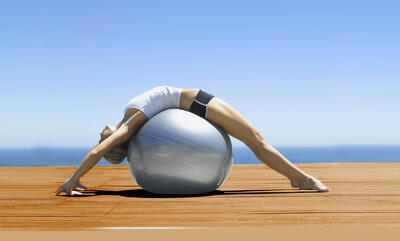 Available for any cabin type, this experience caters to wellness enthusiasts, providing unique benefits onboard and while onshore:
One complimentary sport drink each day
Personal exercise mat, Technogym Wellness Bag, towels and a sportswear kit
Personalized fitness schedules with a wide range of dedicated activities and facilities
50% off Tai Chi, Pilates and Yoga classes
Use of MSC's mywellness app
Complimentary internet access
On shore activities designed for Wellness Experience participants
Adult only