MSC Cruises made a big splash into mega-ship cruising with the successful Meravilgia class of ships. Veering in a different direction, the Seaside class of ships embarked upon a new strategy that is not reliant on the bigger is better philosophy.
MSC Seaside class has designed ships geared toward sailing in warmer climates such as the Caribbean and Mediterranean. As MSC describes it, they follow the sun. Given this, these ships have more outdoor venues for eating and relaxing and a unique seafront promenade that allows guests to best take advantage of the ocean views.
In 2021, MSC made a number of enhancements to the series, launching MSC Seashore, a subclass of Seaside series, with even more space and improved environmental technologies.
Here is what you need to know about MSC's Seaside class of ships.
MSC Seaside (2017)
Image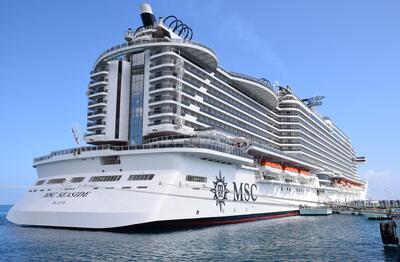 The first of the Seaside class of ships, MSC Seaside, is approximately 12% smaller (at 153,516 in gross tonnage) than MSC Meraviglia, which was also launched in 2017.
At 1,060 feet in length and 135 feet in width, the ship offers plenty of outside space, welcoming up to 5,079 guests. 
Image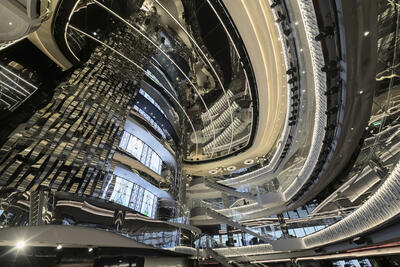 MSC Seaside is currently sailing on MSC Grand Voyages between South America and Europe. Later in the spring, it will homeport in Europe, leaving from Marseilles, Genoa, Rome and Valencia on Mediterranean cruises.
Ship highlights:
Waterfront Boardwalk with a glass skywalk
Miami Beach pool with views of the ocean
South Beach Pool 
Forest Aqua Venture water park
9 dining venues, 5 specialty - Pan Asian Marketplace, steakhouse and sushi
19 bars, including Venchi 1878 Cholate bar with gelato and crepes
Multi-level atrium with live entertainment
Broadway-style shoes at the Metropolitan theatre
Wide selection of accommodations, including specially designed combinable cabins for up to 10 guests
2 full sized bowling alleys
New kids area with partners Lego and kids brand Chicco
Spacious MSC Yacht Club and MSC Aurea Spa
MSC for ME app, providing guests with the ability to communicate onboard without internet
MSC Seaview (2018)
Image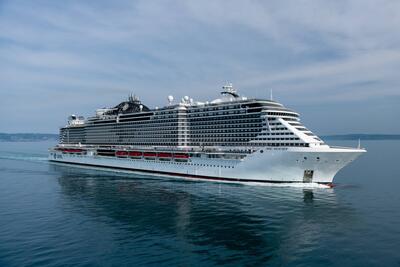 Launched in 2018, MSC Seaview is quite similar to MSC Seaside, being of the same size and having a maximum capacity of just over 5,000 guests.
During the winter months, the ship sails in the Caribbean out of Philipsburg, St Maarten and Bridgetown, Barbados on 7 night itineraries. It will then switch to some multi-week Grand Voyages to Europe, followed by Mediterranean cruises later in the year.
Image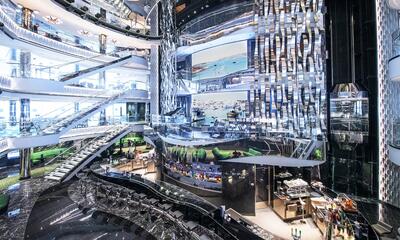 Although the ship is comparable to MSC Seaside, there are some additional points of interest:  
Waterfront Boardwalk which encircles the whole ship
Sunset Beach pool as the aft of the ship, that provides great views
Panorama Pool with its panoramic vies
Spacious MSC Yacht Club and MSC Aurea Spa
Odeon Theatre for Broadway-style show
10 dining venues, including a new French bistro
Subclass Seaside EVO
Image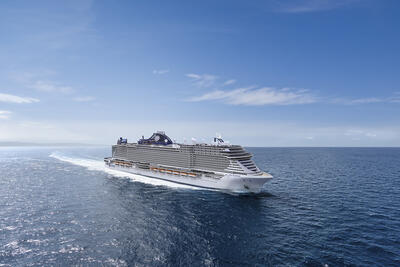 Seaside EVO is the subclass of MSC's Seaside class of ships. Larger in size, they provide guests with even more outdoor spaces as well as varied dining and entertainment venues inside the ship.
Consistent with MSC Cruise's goals, this subclass of ships has several new and improved environmental technologies to increase efficiency and reduce their carbon footprint:  
Safe Air - a new sanitation system that eliminates viruses and bacteria
Reduction emissions
Advanced wastewater system (purification) 
Energy efficiency equipment
Onboard MSC Foundation center for education
MSC Seashore (2021)
Image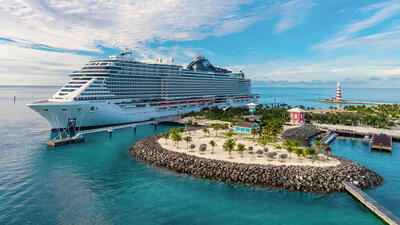 Launched in 2021, the MSC Seashore is the first of the Seaside EVO subclass of ships. With a gross tonnage of 169,400, it is 10% bigger than its predecessor MSC Seaview and features some new enhancements.  
Welcoming up to 5,632 passengers, it sails out of Miami for much of 2022 with 7 and 14 night eastern and western itineraries. This includes a stop in MSC's Ocean Cay Reserve, a private island in the Bahamas.
Image
In November, it will embark on MSC Grand Voyages with multi-week trips to South America. It will then finish the year in Brazil.
Ship Highlights:
With a continuing emphasis on the alfresco life, MSC Seashore has three acres of dedicated outdoor space. Other features on deck include :
Long Island Pool with a 360-degree fountain and lounge space
Infinity Pool
Tropical themed Jungle Pool, with a retractable glass roof
Pirates Cove Aquapark
Glass covered walkway on Deck 16
Dedicated outdoor spa area
Image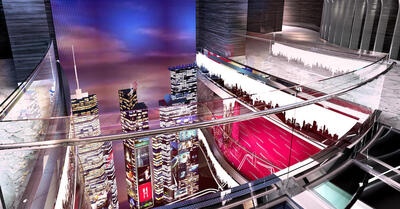 Inspired by New York City, the interior space features a 10-foot high replica of the Statue of Liberty and a retail / entertainment area called Times Square. A LED wall of the Manhattan skyline further adds to the big city ambiance. Other notes of interest:
11 restaurants and 20 bars
Madison theatre for Broadway-style shows
Le Cabaret Rouge with original MSC productions
5D movies, rafting simulator and VR maze
7,500 square feet of kids spaces.
25,000 square foot spa with an enhanced thermal area
One of kind Danza del Mare sea-themed sculpture created by the MSC Foundation
Expanded MSC Yacht Club space with panoramic whirlpool
New cluster statements for families and groups
11 cabin types including Owner's Suites, largest in the fleet
MSC Seascape (2022)
Image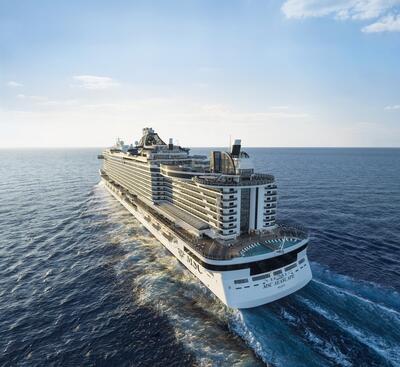 The latest of the Seaside ships, MSC Seascape will be launched later this year in November of 2022.
The MSC Seascape will welcome up to 5,877 passengers, the most of any Seaside class ship, and will be 1,060 feet in length the same size as its sister ship, MSC Seashore.
From its homeport in Miami, it will sail to the Caribbean on 7 and 14 night eastern and western itineraries, including MSC's Ocean Cay Reserve.
Image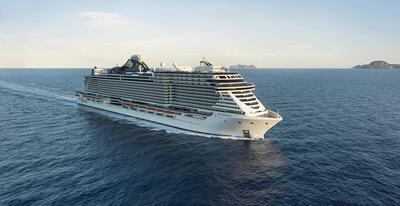 Ship Highlights:
MSC Seascape has an expansive open deck space and seafront boardwalk dotted with restaurants, lounges and bars. There is plenty of room for everyone to enjoy the sunshine.
New cabin designs, a host of great restaurants and bars, entertainment venues, and an expanded MSC Yacht Club space are all great additions on MSC Seascape:  
New MSC fleetwide attraction: MSC RoboCoaster.
The Marina Pool, great for swimming and lounging
Bridge of Sighs, a glass bridge that towers 72 feet over the infinity pool.
11 restaurants including 5 specialty and 20 bars
Chora theatre for Broadway-style shows
Spacious kids area with 7,500 square feet for kids activities
98 hours of live entertainment.
New cabin design with 11 types, including new cluster statements for families and groups
Expanded MSC Yacht Club space with larger solarium and jacuzzi