While an MSC cruise offers us a chance to get away, relax, and disconnect, sometimes, you may need to access the internet to keep in touch with family and friends back home. You may even need to check in with work! 
MSC Cruises' wifi is not complimentary, meaning that it's not included in the cost of your base fare, and even if your cell provider has a plan that covers Mexico, it won't cover you in the middle of the ocean. If you want to stay connected, you will need to purchase an MSC cruise internet package.
Here's a breakdown of everything you need to know about the internet on an MSC cruise to help make sure that you select the right one for your upcoming cruise vacation! 
MSC wifi packages
Image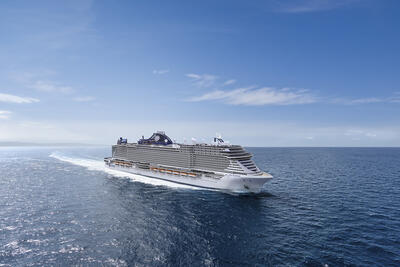 MSC Cruises offers guests two types of internet packages:
Browse Internet Cruise Package
The Browse Internet Cruise Package is a basic package that includes unlimited data and 24-hour-a-day access.
This is the cheapest of the two packages and is best suited for those who want to do some simple web browsing and send and receive emails with images, as well as chat on messenger apps. 
Note that MSC Cruises does not recommend this package for watching videos, streaming on Netflix, Hulu, Amazon Music, YouTube, or video chatting on apps like FaceTime or Zoom. 
Image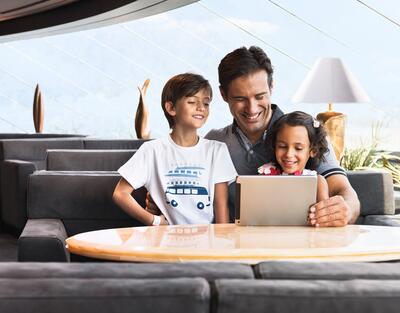 Browse & Stream Cruise Package
This Browse & Stream Package provides those with a higher quality package, as the speed of the internet is much faster. With this more expensive option, you'll also get unlimited data and 24-hour-a-day access; however, the list of what you will be able to do with the MSC cruise wifi package is more extensive. 
In addition to web browsing, sending and receiving emails with images, and chatting on messenger apps, you'll be able to stream music and videos and post on social media. 
How many devices can use a single MSC wifi package?
Image
Internet packages can only be applied to one device, and it is essential to note that you can't switch between devices. For example, if you want to have internet access on both a phone and tablet, you will need to get the two-device package. MSC does provide a discount if more package is purchased.
How much is wifi on MSC cruises?
Image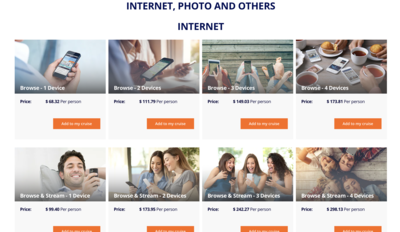 Prices for internet packages are not listed on MSC's website but become available once booked. They are generally less than $20 per day and must be purchased for every day of the cruise.  
For example, I am booked on the December 10, 2023 sailing onboard MSC Opera. This cruise is seven nights. 
The Browse Package for a single device costs $68.32 per device, or $9.76 per night. If I want two devices to be able to be connected through the basic package, I'd pay $6.21 more per night, totaling $111.79. 
Image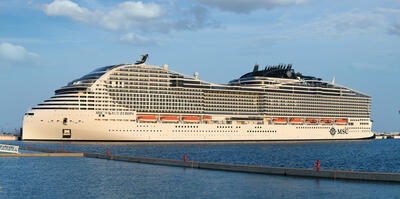 The Browse & Stream Package starts at $99.40 for one device and increases to $173.95 for two devices. 
Note that all of these are pre-cruise prices. If you wait until you're onboard, you are subject to paying more. 
Once you get onboard, to activate a purchased internet plan, you will have to sign in to the MSC portal and complete the registration. Any additional devices will use the same username and password, but they must have their own package.
Is wifi available throughout the ship?
Image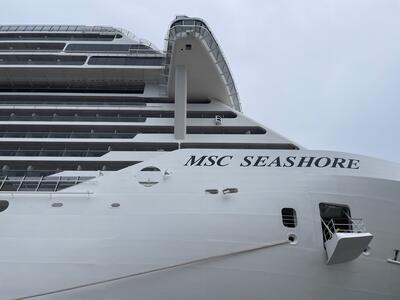 Internet access is not just restricted to cabins and is available in public areas. 
For guests' convenience, there are onboard internet cafes on select ships, which have full-size screens, keyboards, and printers. They are currently available on MSC Musica, MSC Orchestra, MSC Magnifica, MSC Poesia, MSC Divina, MSC Preziosa, and MSC Splendida.
Wifi on MSC Cruises' private island
Image
Just because you're relaxing on the white sands of The Bahamas doesn't mean that you have to be disconnected for the day. 
If you are sailing to the Caribbean and Bahamas and your ship is scheduled to stop at Ocean Cay MSC Marine Reserve, you'll be glad to know that the ship's wifi is available on the island. 
Speed & reliability of MSC Cruises' internet
Image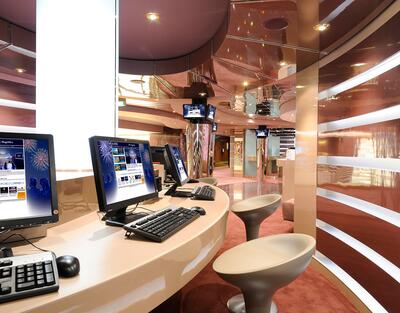 MSC acknowledges that guests may experience lower speed levels than they are used to getting on land. This is because they use satellite internet, and the data needs to travel from the ship to the closest satellite. This can be slowed by obstructions such as storms or large objects.
MSC's internet may be the slowest during peak times, which is typically in the morning or afternoon when guests are returning to the ship after spending the day ashore.
Once onboard, you can always upgrade from browse to browse and stream if desired, paying the difference in price.
Image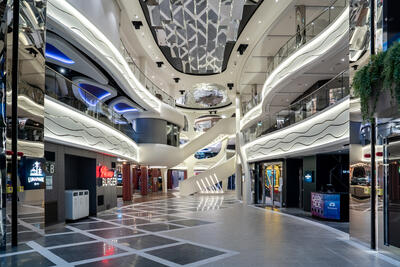 While I was sailing onboard MSC Seashore, I was a little disappointed in the speed of the internet. For this particular cruise, I purchased the "Browse and Stream" wifi package for two devices. It made me grateful that I had not purchased the basic package.
I ran a speed test on my iPhone and found that I was able to download 2.36 megabits per second (mbps), while my upload speed was only 0.95mbps!
What can you do without internet access?
Image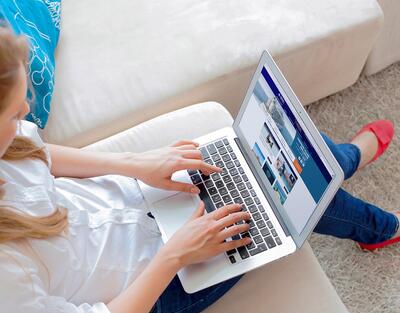 There are some things that cruisers can access onboard without purchasing an internet package.  
The MSC for Me app is available on newer ships in the fleet, such as the Meraviglia and Seaside classes. It assists passengers with planning and communication both pre-cruise and while onboard. One great feature is MSC for Me is its onboard messaging without the need for internet. The app works on either Android or Apple devices.
Currently, the MSC for Me app is available on MSC Seashore, MSC Virtuosa, MSC Bellissima, MSC Grandiosa, MSC Meraviglia, MSC Seaside, MSC Seaview, MSC Seascape, and MSC World Europa.
While it is available on MSC Splendida and MSC Magnifica, it has reduced program features. 
Image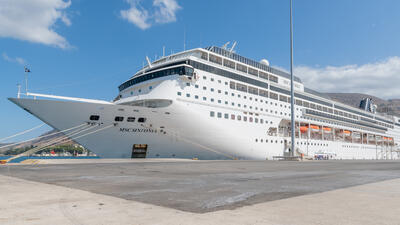 Another free app that you may consider downloading is PressReader, which allows guests to enjoy popular newspapers and magazines for free while cruising. Local and international news, style, health, and entertainment publications are among the wide selection of content to choose from. The app is available on Google Play and the App Store.
Can you save money on MSC internet packages?
Image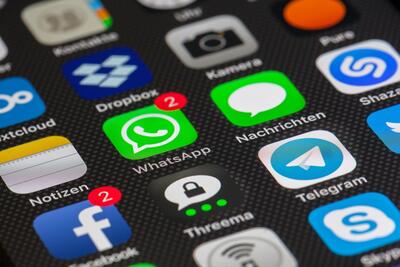 Everyone loves to save money on their vacation, myself included! According to MSC Cruises' website, you can save up to 20% off internet packages if pre-purchased, rather than waiting until you board. 
Moreover, while not a way to save money, you should know that guests who have booked an MSC Yacht Club cabin, the top tier of rooms and service onboard any MSC ship, receive complimentary access to the Browse & Stream Cruise Package. 
Read more: I tried the cheapest MSC Cruises Yacht Club suite. Here's what to know if it's worth it
Other ways to save money on internet
Image
If you're worried that you won't be able to watch your favorite shows, spend some time making sure that they are downloaded ahead of time. Plus, this may even provide viewing better quality!
Another tip is to use wifi while ashore. Of course, it is not always the fastest (or private), but many restaurants and bars provide complimentary internet access to patrons. This may work well for some guests who need minimal time online during a meal or when grabbing a cup of coffee. 
Regardless of whether you get an MSC wifi package or not, you'll want to ensure that your phone is set to airplane mode, so you do not get exorbitant roaming fees from cell phone providers.