The MSC World Europa is the 6th biggest cruise ship in the world, and the biggest in MSC Cruises' fleet. The launch of the MSC World Europa began a new era for MSC Cruises, as the ship is unlike any other launched by the cruise line before.
With 22 decks and a capacity of 6,850 passengers, there's no shortage of things to see and do on this massive vessel, including a waterpark, 11-deck dry slide, and a bustling open-air neighborhood.
As the first ship in MSC's World Class, the cruise line added several features and amenities to the MSC World Europa that haven't been found on other ships in the fleet. From a three story thoroughfare to a secret speakeasy bar, MSC certainly hit the mark on several new features.
After spending a week on the MSC World Europa, it quickly became one of my favorite cruise ships, and I can't wait to book a cruise on the MSC World America when she launches in North America in 2025.
Here are 10 things MSC got right with the MSC World Europa.
World Galleria
Image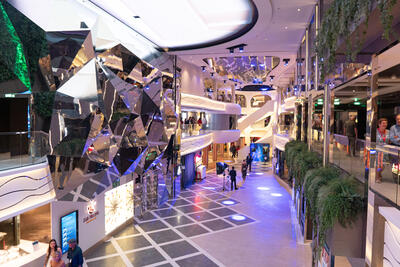 The World Galleria is the multi-story thoroughfare on the MSC World Europa, and it's one of the main activity hubs onboard.
Inside the three deck thoroughfare you'll find most of the ship's bars, lounges, specialty restaurants, and retail stores. Everything from a gelato shop to champagne bar and teppanyaki restaurant can be found in the World Galleria, and it's definitely something the cruise line got right with the ship's design.
The World Galleria is spacious, allowing guests to effortlessly walk from one side of the ship to another, which greatly improves passenger flow compared to a traditional atrium.
In addition, the artwork and design of the World Galleria is gorgeous. I loved the LED artwork on the ceiling and walls, which showcased of fish "swimming" in the sea.
Compared to other thoroughfares I've seen on cruise ships, the World Galleria was much more inventively designed.
The Lanai
Image
In addition to the World Galleria is the World Promenade, another spacious thoroughfare on the MSC World Europa. Unlike the World Galleria, the World Promenade is an open-air space leading to the ship's aft.
The World Promenade is lined with retail stores, a coffee shop, seafood restaurant, ice cream shop, and cigar lounge. At the end of the World Promenade is one of my favorite places on the ship: The Lanai.
A lanai is an open-sided, roofed veranda originating in Hawaii. It's designed to provide shade and comfort while sitting outdoors, and MSC used this concept while designing The Lanai on the ship.
The Lanai is, much like the original lanais in Hawaii, a large veranda with seating and shade. There are few places on the MSC World Europa so popular—snagging one of the comfy loungers at The Lanai was surely on every passenger's cruise bucket list.
Whether at port or at sea, The Lanai served as a tranquil getaway on an otherwise busy ship, and it was a design feature MSC undoubtedly got right with the MSC World Europa.
Pizza & Burger
Image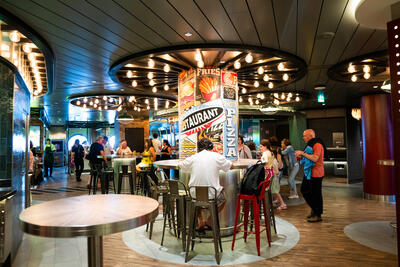 A major complaint of most MSC cruise ships is that there are limited complimentary dining options. On most ships, you'll find included food at only two locations onboard: the buffet and dining room.
Having limited complimentary dining options often leads to overcrowding at these venues, and it lacks what most cruisers appreciate: choice. Having just two dining options lacks the variety cruisers are used to on other lines, many of which feature significantly more food venues included in the cruise fare.
MSC clearly listened to its customers' feedback and launched a brand new, complimentary dining venue with the MSC World Europa: Pizza & Burger. As the name implies, Pizza & Burger offers a selection of pizzas and burgers throughout the day, but it offers much more than just those two options.
Image
In the mornings, guests can enjoy a variety of continental breakfast items such as breads, cheeses, cakes, and muffins. A breakfast pizza, topped with fried eggs and bacon, is also offered in the mornings.
During the afternoon and into the night, Pizza & Burger offers other quick options like a nacho station, chicken nuggets, french fries, and American desserts like brownies and cupcakes.
Although the venue doesn't offer the cruise line's healthiest options, it's hard to pass up the convenience of grabbing a quick bite to eat anytime you pass Pizza & Burger.
Speakeasy bar
Image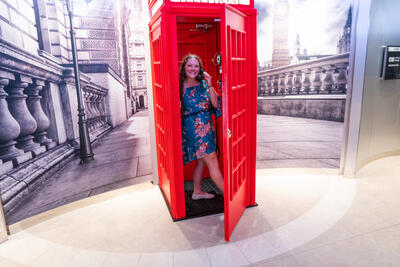 It's supposed to be a secret, but I can't help but share: the Speakeasy Bar on the MSC World Europa is amazing.
Much like the speakeasies of the 1920s, the ship's Speakeasy Bar is something you may not know exists unless you receive an invitation. Located at the end of a maze of crew-only hallways and stairwells is a secret bar that transports passengers back to the prohibition era.
Inside the bar are unique cocktails, live jazz musicians, and old-fashioned decor. Visiting the tucked-away bar is unlike any other experience onboard, but there's one catch: it's accessible by invite only.
Image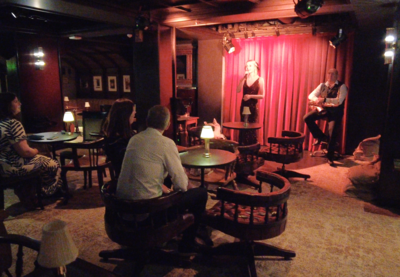 There's no set way to receive an invite to the Speakeasy Bar. We received our invite by befriending a bartender, but there's no guarantee this trick will work for everyone.
If you are lucky enough to get your hand on an invitation, though, you're sure to be impressed by this venue on the MSC World Europa.
Production shows
Image
I try not to put too much faith into online reviews about a cruise line, but I'll admit I had low expectations for MSC's entertainment. I had heard terrible things about the cruise line's entertainment, with most reviews complaining of low quality productions with little storyline.
So when I attended my first show onboard, I was blown away by the quality of the production, which included mind boggling acrobatics, professional rollerskaters, and even a motorcycle wheel with two bikers seamlessly riding up, down, and around the wheel.
I'm not usually a fan of traditional production shows, as I get bored with generic singing and dancing. The circus-inspired productions on the MSC World Europa were much more exciting, even if they didn't have a set storyline like a Broadway show.
Zen District
Image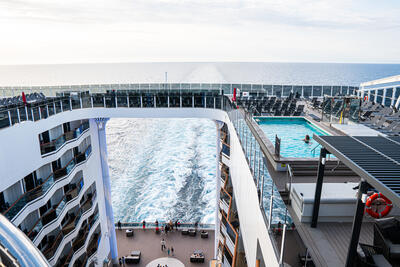 I'm a sucker for panoramic views of a cruise ship's wake, and there's no better spot to enjoy aft views than from the Zen district on the MSC World Europa.
In the back of the ship on deck 18 is the Zen district, an adults-only pool deck space. This was my favorite pool space onboard as it not only had plenty of seating, but two large pools and the Zen Bar, which had a chic, relaxing atmosphere.
Fearless passengers can also walk along the district's glass floor walkway, which provides a frightening view of the ship and ocean below your feet.
Even though the area is supposedly for adults only, I don't remember seeing any signs stating this rule, so I'm not sure it was enforced. Nonetheless, this space was definitely the coolest, most hip pool space onboard.
Hangout spaces on the promenade deck
Image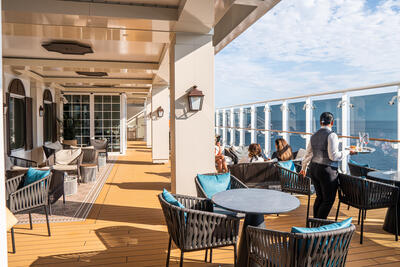 The promenade deck of a cruise ship is, in my opinion, one of the most underutilized spaces onboard. This area is usually where you'll find the ship's lifeboats and other safety equipment, and it's closer to the water compared to the pool decks at the top of the ship.
Most cruise lines leave this space as nothing more than a walkway with limited ocean views blocked by the ship's lifeboats. Recently, however, some cruise lines are turning this space into hangout areas with bars and comfy seating.
MSC followed this trend with the World Europa. Three drink venues—the Champagne Bar, Raja Polo Tea House, and Elixir Bar—have plush outdoor seating on the promenade deck. This area is not blocked by lifeboats, leading to fantastic ocean views with a fraction of the crowds you'll find on the pool deck.
I spent nearly every evening on the promenade deck, whether sailing along the French Riviera or through the open sea. You can't get much better than a cocktail with a view, and this was certainly one of the best places to enjoy a drink onboard.
Destination elevators
Image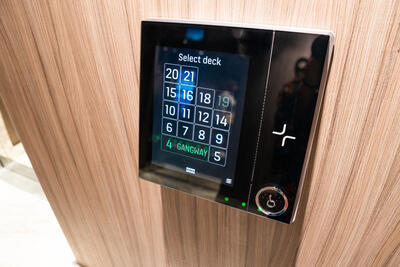 Everyone who has cruised before knows the pain of waiting for an elevator to arrive. It can take several minutes to arrive and, more often than not, the elevator is packed with people.
Aside from the crowdedness, it's not uncommon for the elevator to stop at nearly every floor on the way up and down.
One thing MSC got really right with the World Europa are the ship's destination elevators. These elevators work by loading passengers according to their destination rather than having passengers enter any elevator that comes into the lobby.
If you have to travel from deck 6 to deck 18, for example, you'll click "18" on a screen in the elevator lobby. You will then be assigned an elevator letter, and you should board that specific elevator to reach your destination. Other guests headed to deck 18 will board the elevator as well, whereas those heading to, say, deck 10, will likely board a separate elevator.
Image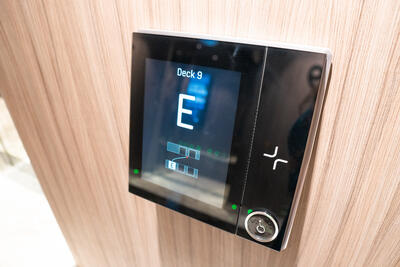 Destination elevators make the elevator process much more efficient. I rarely take elevators when I cruise due to the crowds and wait times, but I didn't mind using the destination elevators on the MSC World Europa due to their effectiveness.
Kid-friendly activities
Image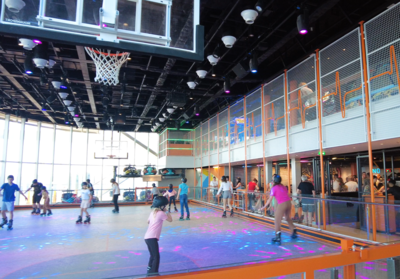 MSC is among the most family-friendly cruise lines in the world. The cruise line's vessels are known for their kid-friendly activities, from waterslides to Lego-sponsored programming and more.
The MSC World Europa took the focus on kid-friendly activities up a notch. Not only will you find the largest kids club space in the fleet, but you'll also find favorites like an aquapark and kids splash area.
A new addition to the MSC World Europa, enjoyed by both kids and adults, is the Venom Drop, a dry slide spanning 11 decks. To ride the slide, guests place their feet in a mat which quickly slides down twists and turns to the bottom.
Image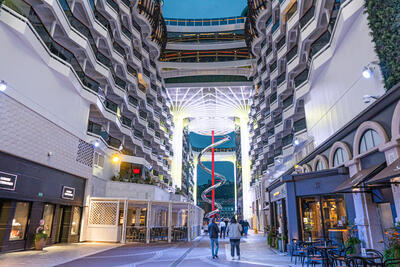 If you're looking for more adrenaline, you can check out indoor activities in the SportPlex. Here you'll find activities like bumper cars, roller skating, and an arcade, all of which are sure to be popular with kids and adults onboard.
Coffee shop
Image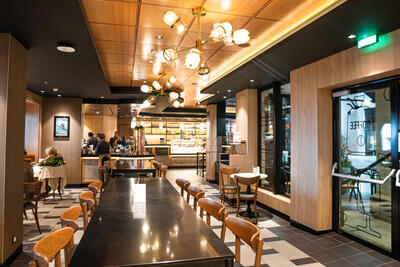 One of my favorite places on the MSC World Europa was the Coffee Emporium, a coffee bar serving specialty drinks, pastries, and sandwiches.
Until fairly recently, there hasn't been a huge demand for specialty coffee on cruise ships. Most passengers in the past were satisfied with a standard cup of drip coffee in the morning, so there was little need for a separate venue.
In the past decade, however, that standard cup of black coffee has been replaced with lattes, macchiatos, frappes, and iced drinks, and MSC is right in line with this coffee trend.
Coffee Emporium could pass for a coffee shop on land, and its modern decor, comfortable seating, and intriguing menu make it a popular spot on the ship. In the mornings especially, this venue was packed with guests enjoying a cup of coffee, whether a big iced drink or tiny, strong espresso shot.
Image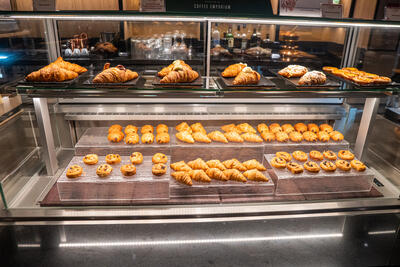 My favorite drink at Coffee Emporium was the Nutella latte, a decadent warm drink made with espresso, milk, and a generous serving of Nutella.
Interested in more MSC content? Check out these helpful articles: