Want a cheap cruise? Well, MSC Cruises might be just what you are looking for. They have some of the lowest cruise fares around, beating giants like Carnival Cruise Line, who are known for great value. 
MSC Cruises has become increasingly popular, especially in North America. Not only do they have some of the best budget-friendly cruise prices, but they also often include add-ons like basic Wi-Fi and drink packages as part of their promotions, luring cruisers from other cruise lines.  
But why are MSC's cruises so cheap? What's the catch? There are several ways that MSC Cruises fine-tunes their ship operations and business to offer these competitive prices.
In this article, we take a look at how MSC Cruises can possibly deliver these discounted fares and what cruisers need to know when sailing with this European cruise line. 
MSC Cruises – who are they, and who owns them?
Image
MSC Cruises has grown to become one of the most popular cruise brands globally, competing against giants like Royal Caribbean, Norwegian Cruise Line, and Carnival. Despite many stories to the contrary, MSC Cruises is not owned by one of the other mass-market cruise lines. In fact, they are the largest privately owned cruise line in the world. 
The story of MSC began with an Italian family and one ship, and today, they are the third largest cruise brand in the world. They are part of the larger Mediterranean Shipping Group (MSC), a leader in container shipping and logistics. They have over 180,000 staff worldwide and 760 ships – a maritime giant, to say the least. 
MSC Cruises currently sails to over 100 countries, with 22 cruise ships and another five due by 2027. Their ambitious growth plans have included new sailings from New York, as well as investments in Miami and Galveston terminals along with a new luxury brand, Explora Journeys. It is a name you will hear more and more in the North American cruise market. 
Read more: Who owns MSC Cruises?
How cheap are MSC Cruises? 
Image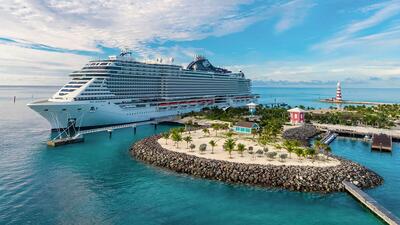 MSC Cruises has been growing in popularity, with cruises leaving from several U.S. ports such as Miami, New York, Port Canaveral, and Galveston starting in 2025. A major impetus for this growth has been price, and glancing at their fares, we can see why so many cruisers are giving the cruise line a try. 
Looking at current MSC Cruise deals, there are some pretty low cruise fares. If you are dreaming of a cruise to the sunny Western Caribbean, MSC has a 7-night sailing for $199 leaving from Port Canaveral on MSC Seaside, including a stop at their popular private island: Ocean Cay MSC Marine Reserve. Compare that rate to $449 per person on the Carnival Magic and $421 per person on the Brilliance of the Seas for weeklong cruises in the Caribbean. 
In terms of the age of the ship, MSC Seaside was launched in 2016, and it is much newer than Brilliance of the Seas, which set sail in 2001, and Carnival Magic in 2010. 
These deals extend internationally as well, too. MSC Euribia, which was just launched in June of this year, has an incredible deal of $189 for a 7-night cruise to Northern Europe, which is almost unheard of for a new ship. 
How is MSC Cruises able to offer such low prices? They have some financial strategies to help manage profitability while embarking on these aggressive marketing strategies to grow market share.
Cost control: MSC stretches their passenger-to-crew to crew ratio to keep costs down 
Image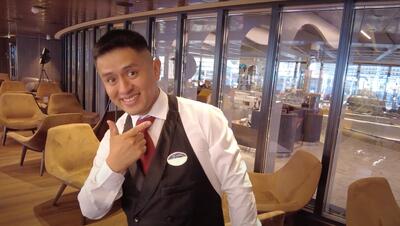 One of the biggest expense categories for cruise ships is payroll costs. Carnival, one of MSC Cruises' main competitors and the largest cruise line in the world, notes on its financial statements that labor costs are their single largest expense, at 18% of total revenues. That's a little over $2 billion in payroll costs per year. 
Being able to effectively manage these costs can translate to significant savings on the bottom line. Cruise lines like MSC need to watch these costs closely if they want to lead the market on price. 
One of the ways MSC Cruises can manage these costs is by stretching the passenger to crew. In simple terms, this is the number of passengers divided by the total number of crew. The higher the ratio, the more people a crew member needs to attend to, which can impact service levels.  
To get a sense of these ratios, I looked at some newer ships among the mass-market cruise lines. The best ratio was Norwegian Cruise Line's newest ship, Norwegian Prima, at 1.99, followed by Royal Caribbean's Wonder of the Seas at 2.4, MSC Seascape at 2.75, and Carnival Celebration at 3.04. 
MSC's ratio is one of the highest, although lower than Carnival. 
Read more: How to save money on an MSC cruise
MSC Cruises boosts revenue by maximizing passenger capacity  
Image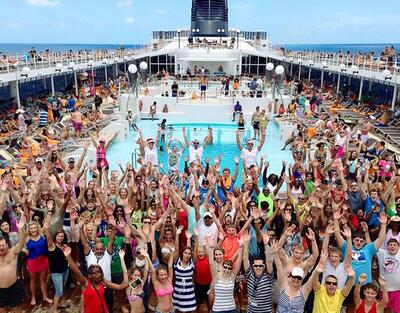 While management of crew costs is one part of the financial equation, maximizing revenue is another. How do cruise lines do this? They get as many passengers as they can onboard. This is especially important as cruise lines charge per person, not by cabin.  
Similar to the passenger/crew ratio, a space ratio helps us to compare cruise lines and how efficiently they use their space to maximize earnings. A common measurement used in cruise lines is gross tonnage, which is a measure of the inside volume of the ship. Gross tonnage divided by passenger numbers gives a comparable space ratio when evaluating different cruise lines. 
I looked at the same cruise ships as before, and not surprisingly, they ranked in the same order as their service ratios. Norwegian Prima ratio is 46.3, Wonder of the Seas is 41.1, MSC Seascape is 37.3, and Carnival Celebration is 31.1. 
One of the ways that MSC can offer cheap cruises is by maximizing the number of guests it welcomes on board. Even though their individual cruise fare may be lower, they make up for it by adding more people to the cruise. 
Reducing cabin size is another way to save money
Image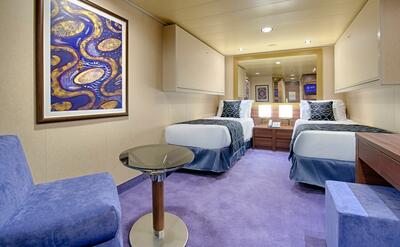 Every passenger needs a place to lay their head somewhere at night. Cruise lines like MSC, who want to achieve optimal passenger count, have adjusted some of their cabin sizes to allow for more people on board--Another way that MSC maximizes passenger capacity and thereby offers low prices.
Although MSC Cruises has numerous categories of staterooms, I had a look at their entry-level interior cabins, which tend to be the cheapest option for cruises, looking for the best deal. 
On MSC Cruises, the average inside cabin size varies, but on MSC Seascape, it starts at 151 square feet, which is close to Carnival Celebration's interior staterooms, which are 158 square feet. Both of these are smaller than Wonder of the Seas, whose interior rooms measure 172 square feet and Norwegian Prima's 160 square feet inside cabins. 
Low prices are part of a marketing strategy to achieve rapid growth and gain in market share 
Image
MSC Cruises is part of the larger MSC Group, a shipping conglomerate with sizeable assets. The company is privately held, so the public is not privy to their financial statements, but some analysts estimate the shipping empire to be worth $100 billion, thanks to their diversified holdings in shipping, cruises, cargo, ferries, and more. 
Large companies with deep pockets like MSC have the ability to implement short-term strategies to gain market with lower prices. This appears to be a similar business philosophy as Carnival, which is the largest cruise line in the world, with $12 billion in total revenues in 2022. 
Also, because the company is privately held, they don't need to focus as much on short-term earnings but rather on long-term profitability, with no dividends for shareholders to worry about. While it is not known what their debt and equity structure is like, a private company can reinvest funds and self-finance expansion along with private funding options. 
Sell, sell, sell…MSC Cruises upsells numerous onboard services and add-ons
Image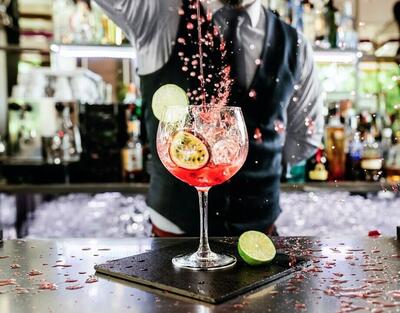 Another way MSC Cruises maintains such low cruise fares is by upselling add-on packages. Everything from drink packages to Wi-Fi, excursions, specialty dining, spas, and even entertainment like bowling and race car simulators. 
These extras really add up. For Carnival Cruises, onboard spending makes up 43% of total revenues, almost as much as the cruise fare itself. On MSC ships, activities like racing are $12 per person, and movies are $11, which can quickly add up. 
Most of their add-on packages are cheaper if booked pre-cruise, enticing customers to lock in savings, and the cruise line provides lots of options. Guests can choose from five different drink packages, 8 different Wi-Fi packages, and several specialty dining combinations, providing something for every budget and preference. 
MSC experiences provide additional revenue for the cruise line 
Image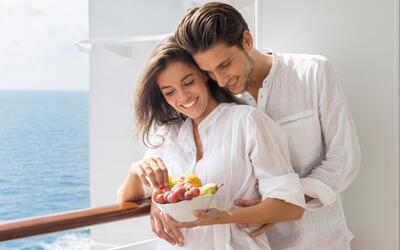 Something unique when booking an MSC cruise is that guests can select from five distinct MSC Experiences in addition to their cabin options. The lowest tier, Bella, has the best value prices but also comes with barebone perks compared to upgraded experiences like Fantastica and Aurea. 
For example, Bella cabins inclde the basics such as food, entertainment, cabin attendant service, etc. However, if cruisers upgrade to Fantastica, they get one free cruise change, free breakfast delivery in their cabin, the ability to choose their room location, 20% off specialty dining packages, and the ability to request their preferred dining time. For a 7-night cruise to the Caribbean, the upgrade is currently priced at $140 per person.
As guests move up to Aurea, the benefits become even more, and so too are the prices. MSC allows its guests to customize its cruise experience, but the super cheap cruise prices really offer the basic cruise experience. 
Many of MSC's best deals are on older ships
Image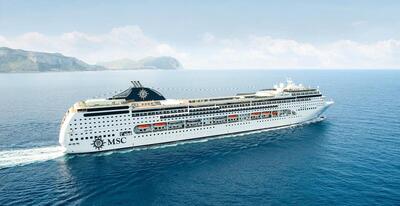 While MSC Cruises has been on a building spree, having launched 8 number of ships in the last 5 years, there are still a number of older ships in the fleet. In fact, 12 of their ships are at least ten years old, with the oldest being MSC Armonia, which was launched in 2000. 
MSC Cruises has an incredibly strong presence in the European cruise market, offering tons of cruises at bargain prices with ships like MSC Fantasia, MSC Lirica, and MSC Poesia. While the ships offer the classic cruise experience, they may not have all the bells and whistles of the new ships, like waterparks, slides, and other fun activities. 
I can personally attest, having scored an ultra-cheap $184 per person 4-day cruise on one of MSC's older ships. Not only was the fare cheap, it also included basic Wi-Fi and a drink package. While the ship was well-maintained and clean, it did feel older. The orange carpet in my stateroom felt particularly dated. Having said that, it had all the amenities I needed and was certainly adequate for a shorter cruise. 
Read more: MSC Cruises ships by age -- from newest to oldest
What do cheap cruise fares mean for the MSC cruise experience? 
Image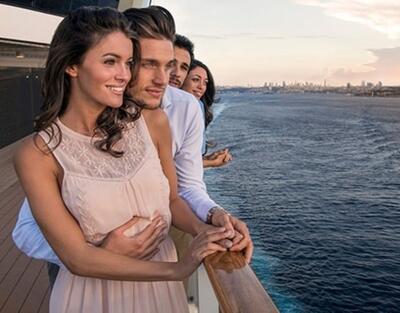 MSC Cruises fares are cheap, even when compared to other mass-market cruise lines. What does this mean for cruisers? You still get the basics, like food, entertainment, and cabin options, but these low prices come with limited perks. Also, there are many upgrades and packages you can purchase, which can quickly add up. 
I have enjoyed my MSC Cruise experiences, but it is important to have the right expectations and know what and what's not included. In particular, their newer ships are beautifully designed and have lots of light and space. I found the MSC Seascape to be as nice as Celebrity Edge and Wonder of the Seas. However, the food options and service could be enhanced. 
The bottom line is that MSC cruises are cheap, but they don't come with a lot of extra perks that cruisers enjoy. The cruise line uses several strategies to be able to offer these low prices, including less staff and less space in certain cabins. For cruisers booking these ultra-low fares, it is important to be clear about what you are getting for the price and budget for the add-ons accordingly.  
Read more: How to save hundreds of dollars on your MSC cruise with this one simple trick