Launched last November, MSC Seascape is MSC Cruises' newest cruise ship sailing the sunny waters of the Caribbean. 
It is nearly identical to its sister ship MSC Seashore, retaining many of the great benefits of the earlier Seaside class of ships. MSC Seascape is beautifully designed, with top-notch finishes and décor. The ship offers plenty for cruisers of all ages, with a number of entertainment, dining, and activity options onboard. 
I recently spent 7 days on this new vessel, sailing in the Caribbean and exploring the ship from top to bottom.  
Before you book a cruise, here's what you need to know, including my tips about the European cruise line's latest addition to the fleet. 
1.    Introducing MSC Seascape
Image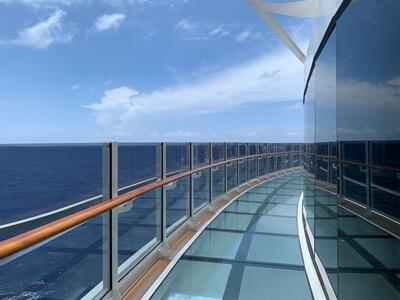 MSC Seascape is the newest MSC ship sailing in the Caribbean, the fourth in the Seaside class of ships. At 169,400 gross tonnage and a capacity for 5,877 guests, it is just 7% smaller than the largest Meraviglia class ship.
What does this mean to cruisers? It is big enough to offer all of the amenities cruisers want in a cruise ship of that size. Designed to sail in warm climates, it has lots of outdoor space, even al fresco dining in the buffet and specialty restaurants. A real plus for people who want to spend as much time outside as possible.
2.    Shiny and new 
Image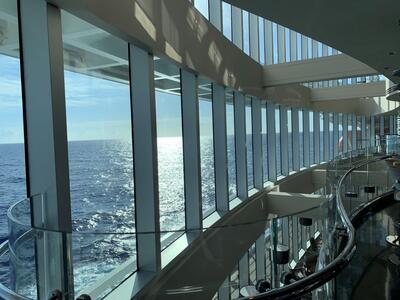 The ship is stunning, elegantly decorated, and fairly well-designed. It still has that new ship smell, nicely painted walls, plush carpet, and shiny trim. It has some stunning sculptures, including Incanto del mare (Margic of the Seas), a three-level hanging masterpiece that symbolizes MSC's focus on the environment. 
If you are the type of cruiser who loves a new ship, this is a great one to book. Now that it has been sailing for a couple of months, operations seemed to flow smoothly while I was onboard. 
3.    Spot the difference
Image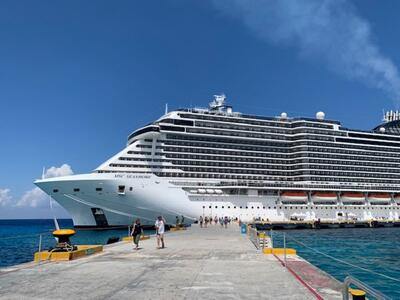 Having sailed on MSC Seashore last fall, I struggled to find any differences between the two ships.  Even the artwork on the walls looked the same.
One afternoon I was invited to a Captain's cocktail party and quizzed a few of the officers on this topic. According to them, MSC Seascape is nearly identical to MSC Seashore; however, the one major difference is the addition of ROBOTRON, a thrill ride.
4.    What is ROBOTRON?
Image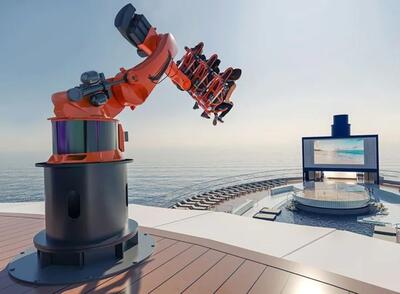 MSC describes ROBOTRON as a breathtaking thrill of a rollercoaster at sea combined with a personalized DJ music experience. It looks like something out of a Transformers movie, a state of the art robotic arm with gondola-style seats attached. 
Located high up on deck 20, riders spin nearly 175 about above the sea. ROBOTRON provides a unique 360° view of the horizon, flipping riders upside down and in different directions for an adrenaline-pumping ride. I have to say I chickened out; I thought the motion would get the best of me. But if you have adrenaline junkies in your group, you may want to give it a try.
5.    Complimentary food options
Image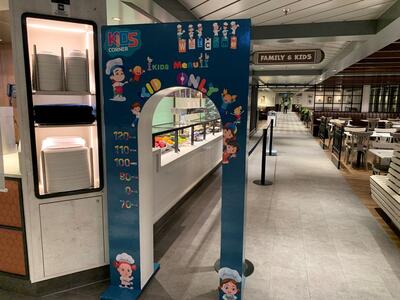 When booking, I highly suggest you sign up for your preferred main dining room time, so you won't be disappointed while on the ship. A sit-down meal can be an excellent alternative to the buffet, which tends to be crowded throughout the day. 
In terms of complimentary options, the main dining room has a good selection of items on its menu, with classics and rotating specials each day. There is a wide variety of food at the buffet, including freshly made pizza and an adorable kids' area. I would love to see the addition of another dining option onboard, such as a quick service sandwich/pastry shop or poolside grill.
6.    Other dining options
Image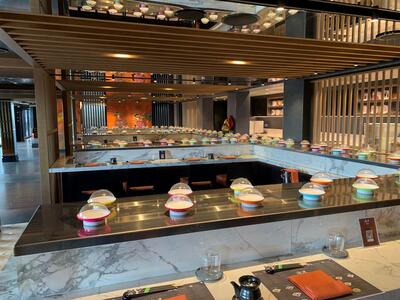 While onboard, guests can enjoy other food options, including specialty restaurants, such as the popular Butcher's Cut, a great steakhouse. Other alternatives include seafood, Mexican, sushi, and teppanyaki. MSC offers better pre-cruise deals, so for those interested, best to buy a package before you set sail.
Guests staying in the suite section – Yacht Club have two additional options, including a private dining room and poolside buffet for lunch and dinner.
7.    Family fun
Image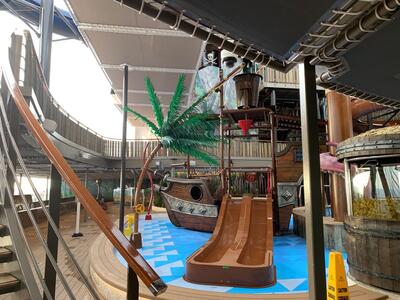 Although there are lots of great spots for adults, there are also many areas for families to enjoy time together. The Hall of Games is a fun option, especially the VR rides, including the F1 Simulator. I watched a friend drive the simulated race car, on the famed Italian track at Monza, Italy. It was incredibly realistic.
There is also the Pirate's Cove Waterpark, where a pesty oversized Kraken has been set loose. Kids and parents alike seem to enjoy the space. This is in addition to the mega slides, ROBOTRON, games, kids clubs, and other activities onboard. Do keep in mind that some activities are at an extra cost. MSC offers complimentary kids club programs, and guests should also look into their Kids Sail Free promotion.
8.    Adult fun
Image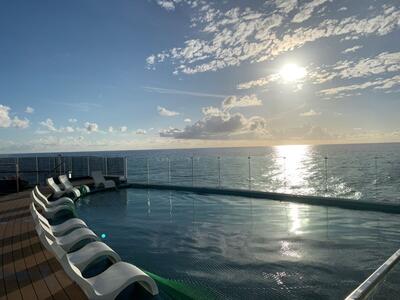 Adults and parents get to have fun too. There are several great lounges/ bars onboard, including the incredible Cocktail Bar, which offers up some fantastic concoctions. The Sports Bar is also a great place to hang out. It is full of retro sports memorabilia and never seemed to be too busy. 
Le Cabaret Rouge is definitely a don't miss venue with its Parisian-inspired theme, dark red couches, and a stage for house bands and shows. Don't forget to check out the casino, spa, and adult-only pool area. If you want to enjoy a few drinks while onboard, it is best to purchase a drink package pre-cruise. MSC has 5 different options for refreshment packages. 
9.    Entertainment
Image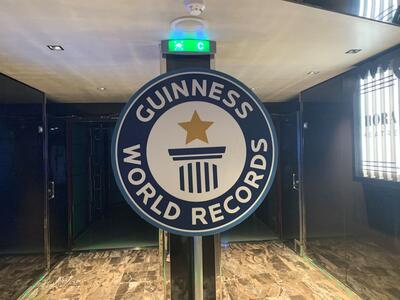 Speaking of shows, MSC offers a variety of entertainment options throughout the cruise, including a number of great bands and singers. Many of their shows feature music to better appeal to the diverse international clientele, some of whom do not speak English.
One of the more exciting shows is the new Guinness World Record production.  MSC has teamed up with the famous organization to provide serious onboard fun. While cruising, I attended a show and the audience was tasked with breaking a noise record. Everyone was screaming and shouting in a variety of languages. It was family-friendly, fun event for all.
10.    Busy spots
Image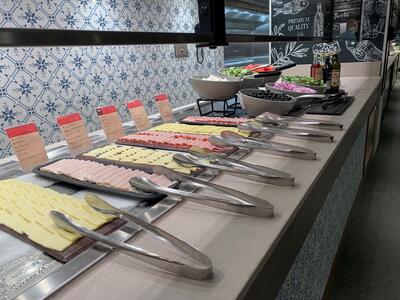 While MSC Seascape is large and generally does a good job spreading out passengers among venues, there are some areas that get busy, especially on sea days. The pools can become quite crowded. The main pool deck, which houses the Marina Pool, as well as the separate adult-only Infinity pool, were busy spots on sea days. If you don't need to be right by the pool, check out some of the outdoor areas on decks 7 and 8.
Another hot spot is the Marketplace buffet.  Although the aisles are wider than older ships like MSC Divina, it does get busy. I would highly recommend spending time checking out the different stations in the buffet; as you get further back, it gets less busy, and there is an open-air eating area.    
11.    The best of Italy
Image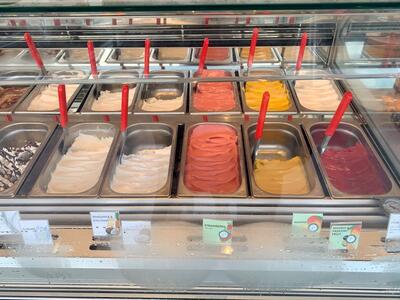 Italy is legendary for its cuisine, and guests should not miss homemade pasta, tasty gelato, and freshly made Neapolitan pizza (even for breakfast). My favorite spot is the Venchi store, the renowned Italian chocolatier which sells the best treats on the ship. It makes a great a great souvenir to bring back.
You can also browse and shop in the onboard stores featuring high-end products such as Italian purses, glasses, and clothes. 
12.    Yacht Club area
Image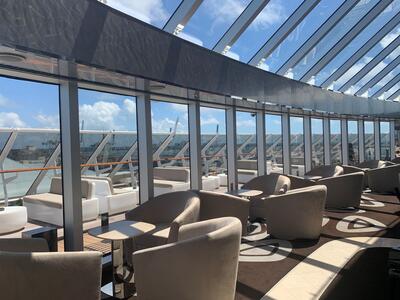 Those staying in one of the 131 suites in the Yacht Club area can enjoy spacious dedicated venues, including a lounge, private dining room, and huge rooftop area with a hot tub, pool, bar, and food service. For those looking to try the ship within a ship concept, they even have interior suites, and at a lower price point, but with lots of amenities, including a free premium drink package, internet, and access to the Thermal Spa.
The Yacht Club area is expansive and ideally located on the front of the ship. For those looking to splurge, it offers excellent cuisine, as well as 24-hour butler and concierge service.
13.    Aurea experience
Image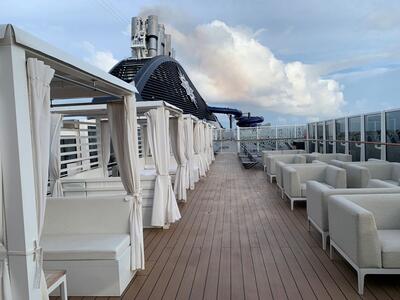 Different from the suite area, MSC guests who have selected the Aurea experience when booking get access to their own solarium and the Thermal spa as well as discounts on spa and drink packages.
Onboard, the Aurea area on deck 19 has casitas, loungers, and its own bar, providing a quiet Zen experience.  This can be a good option for those who don't want to book Yacht Club but want access to quiet deck space, without having to get up at 6am to find a chair. 
14.    Staff and tips
Image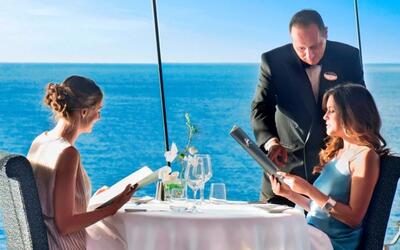 The staff onboard MSC Seascape are hardworking and extremely friendly. From the moment I stepped onboard, they were wonderful, smiling, always helping, and wanting to make sure the guests had the best experience possible.
For ships sailing to the Caribbean, gratuities run $14.50 US per night for adults, $7.25 for children, and no charge for kids under two. These charges are automatically billed to your onboard account. If you want to give something extra, you can't add it to your account, so make sure to bring some extra cash. 
15.    Wi-fi and app 
Image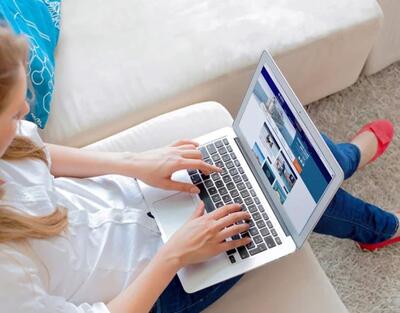 MSC often runs promotions that include complimentary wi-fi. The cruise line's basic package, Browse as it is called, gives cruisers unlimited data/ 24 hours a day. This is good for checking email, social media, or making calls on apps such as Face time (audio) or WhatsApp. It is not meant to stream video. You can also text other passengers for free with the MSC for Me app. 
I used the basic wi-fi while onboard, and it was as described. I could not watch YouTube videos or stream. Another important point, you cannot switch devices with the wi-fi package. The first one you login with is the only one you can use. For the best price, get your internet packages pre-cruise. 
16.    Environmental stewardship 
Image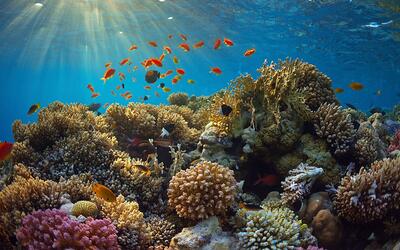 A major priority for MSC Cruises, and for those passengers who want to know the impact of their cruise vacation on the environment, guests can feel a little better about the latest technology on MSC Seascape. Some of the major advancements include the latest-generation environmental technology with improvements to energy efficiency, the latest systems to reduce air emissions, as well as an advanced wastewater treatment system. 
According to MSC, their purification standards that are higher than most wastewater treatment facilities ashore. In addition to this, they use a Hybrid Exhaust Gas Cleaning System,  LED lighting, energy saving appliances, a Ballast Treatment System, as well as a state of the art recycling and solid waste management onboard. 
17.     Status Match 
Image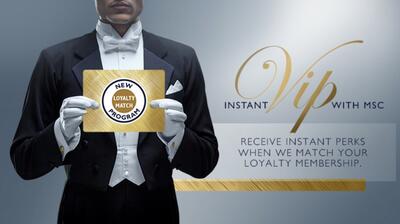 If you are new to MSC, don't forget to do status matching. MSC's program lets guests apply to status match from other cruise lines and select hotel/ hospitality loyalty programs. A number of guests I spoke to found this to be a great perk, giving them the impetus to give MSC a try, 
You can apply through the MSC website, and it should be done before your cruise to get status match perks and benefits. 
18.    Ocean Cay 
Image
Ocean Cay MSC Marine Reserve is a stop on most Eastern and Western itineraries for MSC. The stunning island provides cruisers with an idyllic getaway for the day, and the best part about it, you can have a fantastic day without spending any money. 
With free loungers and umbrellas across eight beaches on the island, guests can stretch out and explore. There are a number of food truckers and a buffet that provide complimentary meals during the day. MSC drink and wi-fi packages also work on the island. For those who want to splurge, snorkeling, boating, paddleboats, jet skis, and massages are some of the things they can do while visiting Ocean Cay. 
19.    Cabins 
Image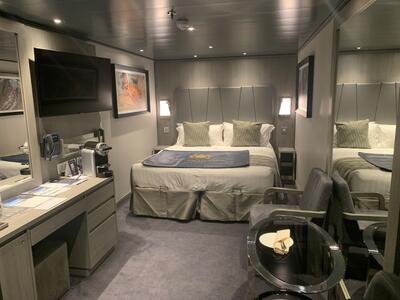 The MSC website shows 16 different cabin options for MSC Seascape. Beyond the standard interior, ocean view, balcony, and suites, guests can choose from alternatives such as connecting cabins, accessible cabins, some with obstructed views, and other configurations. They also have some suites which are not part of the Yacht Club. While this provides a lot of choices, it can also be confusing. 
I would suggest you use a good travel agent or talk with MSC to make sure the cabin you are booking is the one you want. If you select a guaranteed cabin, you may not be able to move if you don't like the location.
20.    Taino Bay 
Image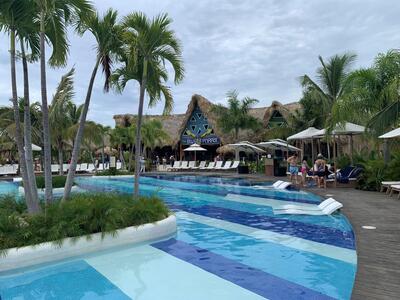 On a recent cruise, it was my first time visiting Dominican Republic, and we were scheduled to stop at Puerto Plata. I was surprised to learn that they have a new port that is exclusively for cruise passengers. It offers free loungers, day beds, and access to pools, a lazy river, and even a faux beach area. For those looking for an easy, budget-friendly day, this is a great option. The day we were there, it was hot and humid; many guests appreciated dipping their toes in the pool or sipping a coconut drink.
It also has a number of shops and restaurants, as well as colorful birds throughout the grounds.  Food is not included as this is not a specific MSC area, but you can always pop back to the ship. There are complimentary tuk-tuks running up and down the dock for those who need it.