MSC Cruises just had its best month ever, with nearly 400,000 bookings, and they launched their biggest cruise ship to date, MSC World Europa.
While new to many in North America, the European cruise line is a growing presence in the cruise market, with 20 plus ships and plenty more on the way.
Sailing internationally, the cruise line is drawing cruisers with its immense array of cruise itineraries, competitive prices, new ships and much more.
So what is MSC doing so well? We take you through our top 10 things that make MSC a great choice.
1. Family focus
Image
Despite being part of a massive conglomerate, family plays a big role in MSC. Even today, management of the MSC Group is still primarily a family affair, with the Aponte family continuing to own and run the business, so it is not surprising that their cruise ships are so welcoming to families.
Family-oriented activities, dedicated programs and amenities are all part of the MSC cruise experience. Best of all, their Kids Sail Free program runs all year long. Price can be a make or break it factor for many families, and this perk definitely helps to make cruising more affordable. Family cabins for larger groups can accommodate up to 10, making lots of room for multigenerational passengers, another plus.
Once onboard, the complimentary kids' clubs offer plenty to entertain kids, along with products and services provided by well known brands such as LEGO and Chicco. There are tons of fun activities and amenities onboard, such as waterparks, a variety of sports, cinemas and arcades. When kids are done for the day, MSC has it covered with a dedicated Kids' Corner at their buffets, with food selections for those as young as 6-12 months old. There is even kids' drink package that includes fun mocktails, hot chocolate and self-serve ice cream.
2. Great prices and perks
Image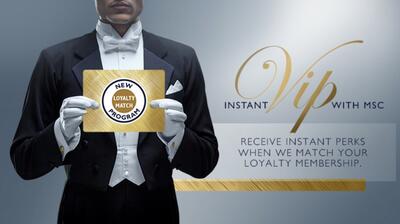 MSC Cruises is challenging the major cruise lines, including Carnival, the largest cruise line in the world. Part of their strategy has been to offer incredibly competitive prices on cruises. On some itineraries, they can't be beaten and their great sales are not solely reserved for older ships but many of their new ones as well.
MSC also offers frequent promotions that include cabin upgrades, free wi-fi and drinks, and airfare packages. In addition to the Kids Sail Free program, other age-based discounts range from seniors discounts to some for those guests aged 18-29. They also have promotions for healthcare workers, military and solo travelers. 
Although some cruisers may be worried about switching cruise lines and losing those nice loyalty perks, MSC has provided the solution with their Status Match program. For those guests who have accumulated loyalty program status with another cruise line, hotel or travel operator, they can apply to MSC for a status match.  There is a whole list of eligible programs, including most cruise lines and several major hotel chains such as Hilton, Hyatt and Marriott, to name a few.
3.  MSC's Private Island - a Bahamian paradise
Image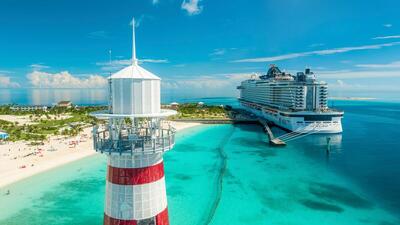 Ocean Cay MSC Marine Reserve (Ocean Cay) is the cruise line's private island located in the western Bahamas. A redeveloped industrial site, it has found new life as a tropical hideaway for the exclusive use of MSC guests, and it is a spectacular place. 
The island itself is a showcase of the cruise line's focus on conservation. Lush with vegetation, they have planted 75 thousand plants and shrubs and have restored the natural flora and fauna native to the region. The 64 square miles of marine reserve includes growing coral reefs, plants, and fish; an underwater haven for guests and snorkelers.
Unlike some other cruise ship islands, Ocean Cay does not have big slides and pools but provides numerous beach and water activities. Guests can enjoy the day at the beach, snorkel, go on a boat ride or try some jet skis in the crystal clear waters of the area. 
One of the best things about visiting Ocean Cay is its evening activities, including a dance party at the brightly colored lighthouse, along with a festive Junkanoo parade. There are plenty of complimentary food venues such as classic bars, with old-style Bahamian architecture for a relaxed vibe.
4. Italian delights
Image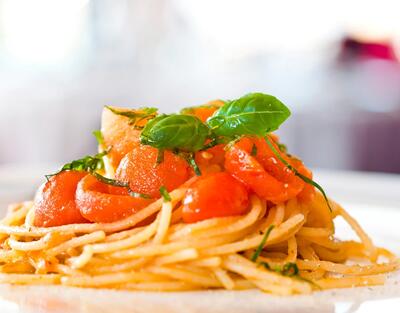 Whether it's the freshly made pasta, some refreshing gelato, or its elegant interiors, MSC Cruises showcases the best of what Italy has to offer. The company emerged from a region of Italy that has a strong maritime tradition, and the Aponte family can trace back their heritage for hundreds of years. Given this legacy, it is not surprising to find a great many European traditions intermingled into various aspects of the cruise experience.
MSC caters to a diverse clientele, evidenced by their massive buffets and selection of restaurants. However, touches such as freshly made Naples-style pizza and festive Italian night celebrations in the main dining room are all nice extras.
So many traditional Italian dishes have woven their wave into daily favorites such as spaghetti, artisanal breads and salads, and most importantly, an impressive selection of gelatos.
5. Activities and entertainment – fun for all ages
Image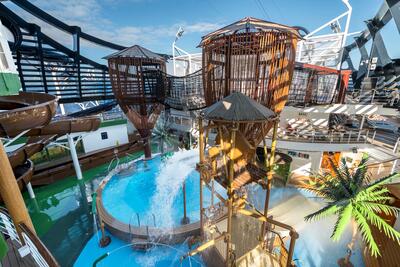 There is plenty to do onboard for kids of any age. A variety of swimming pools, epic slides and fun-filled waterparks are great for cooling off. Loads of sports activities and onboard tournaments for soccer, basketball, tennis, ping pong and foosball. No fear of heights? Try the Himalayan Bridge Trek 195 feet over the deck.
Other popular activities include an F1 Simulator, bowling, VR Maze, video games and 4D Cinema. Parents and guests can purchase the Fun Pass Package to cover most of these. Other favorites, such as the family Game Show, Family Disco, and live theatre productions, are all complimentary. 
The fun is not just for kids, as there is lots of activities for adults. Casinos, bars, lots of live music, spas, gyms and trivia; you won't get bored on the ships. In the evening, guests can choose from a variety of live productions and bands to top off a great day.
6. International brand  
Image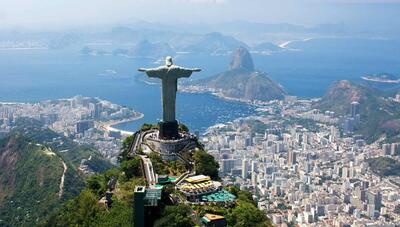 MSC's global fleet visits much of the world, including all of the Americas, Africa, the Middle East and Asia, and of course, its launching pad in Europe. The philosophy seems to be that everyone is welcome to sail, and the sky's the limit.
While on their ships, guests hear multiple languages being spoken at any given time, and their helpful, friendly staff are diverse, representing many nations. It is fitting, then, that the company has ships on site for the World Cup of soccer, the world's most popular sport, with an estimated 5 billion people watching the games.   
The focus on being global is reinforced in the naming of its newest class of ship – MSC World Europa, its largest ship to date, which is spending its inaugural sailings heading to the Middle East.
7. Modern, growing fleet
Image
MSC has been on a bit of a building boom, to say the least. As noted, they recently launched their newest ship, MSC World Europa, the biggest ship to date with a capacity of 6744 passengers, and the first in its fleet powered by LNG (liquefied natural gas). This ship will be followed by MSC World America in 2025, which will homeport in the U.S, which aligns well with their growth initiatives.  
Cruisers love to try out the greatest and latest, checking out the newest venues, activities and entertainment, and MSC is delivering on this. Beyond the World class ships, next month will see the launch of the MSC Seascape the fourth in the Seaside class of ships made for the sun. Additionally, they have the new MSC Euribia, which will follow in 2023, as the newest Meraviglia class ship.
Interestingly, MSC is also making a push into upscale, niche cruises with the launch of Explora Journeys for those who are interested in a new MSC cruise. Under its own brand, it will focus on destination experiences with luxurious all inclusive packages. Fine dining, unlimited drinks, wi-fi, gratuities and onboard programs are all included. Explora I will be the first ship, with three more to follow by 2025.
8. Oodles of options
Image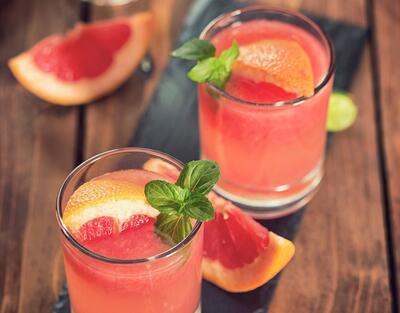 MSC offers its customers a unique way to customize their cruise experience, which is quite different than most other cruise lines. With "MSC Experiences", guests can choose from distinct levels when booking their cruise. Each level has varying levels of perks and prices.
From the basic Bella experience to the more inclusive Aurea level, there are prices and options for every type of cruiser. There is even an MSC Wellness Experience, for those wanting to focus on health with tailored programs and activities both onboard and onshore. The MSC Yacht Club experience is the most luxurious option, which includes everything from a butler to private venues.
The wide variety of options extends to drink packages. MSC Cruises offers its customers five different drink packages to suit different preferences and needs. Whether you want a few beers and a glass of wine, or a more extensive package that provide top shelf spirits, champagne, and specialty coffees, there is an option for everyone, even kids.
9. Partnerships
Image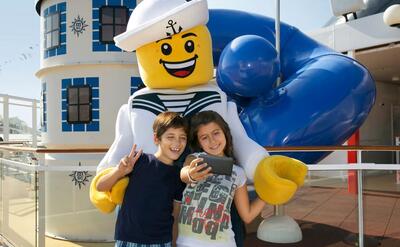 One of the things MSC does very well is partner with other leading companies to provide unique, added value products and services to enhance the cruise experience.   
Working with a world renowned chefs or top brew masters, the company has paired up with leading artisans to shape and create amazing culinary experiences. On the fun side, their collaboration with MasterChef, the fan-favorite cooking show, has led to specialized onboard cooking competitions. They also have Venchi shops on MSC ships. The historic chocolatier provides 100% natural ingredients for the most flavourful chocolate and gelato.
Kids and adults alike can enjoy LEGO fun, with a number of specialized events as well as supplying bricks and equipment for kids programs. Additional partnerships include F1 racing, Technogym, Samsung, Emirates and Air France as part of their airline travel program as well as Swarovski with its beautiful crystal-covered stairs.
10. Design
Image
Perhaps part of its Italian roots, but MSC ships have focused on modern and elegant design. Italy has brought the world design marvels - the Colosseum, Sistine Chapel, Renaissance art, and ancient roads that are in better condition than those of my neighbourhood. MSC capitalizes on Italian innovation with modern and elegant ships.
This is showcased perfectly with MSC World Europa, which has a sleek, new design.  The stunning ship features some incredible amenities such as the Panorama Lounge and the Venom drop, which is described as a 11 deck high, state of the art architectural dry slide.
Beyond the aesthetic beauty, there are real benefits to MSC's design philosophy. We see this well in the Seaside class of ships, with alfresco living at its best with outdoor dining and bars.  Even the buffet has a spot to enjoy some breakfast and watch the sunrise.
The cruise line has both beautiful staterooms and fun, welcoming public spaces that enhance the cruise experience with their great design, color and use of art to provide an inviting atmosphere.