Cruise lines continue their pursuit of bigger and better ships, and MSC Cruises is no exception. They have embarked on an ambitious ship construction plan to support their leadership position and growth goals in markets worldwide.
Later this year, MSC will launch the first ship in its World Class series, debuting the MSC World Europa, its largest ship to date, and its first powered by Liquefied Natural Gas (LNG).
The ship will commence with sailings in the Gulf region, followed by cruises in the Mediterranean in 2023.
Here is what is exciting and new with MSC's latest addition to the fleet.
MSC Cruise ships
Image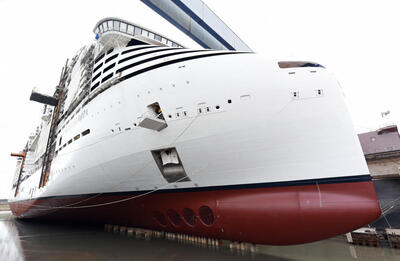 Constructed by Chantiers de l'Atlantique in France, MSC World Europa is the first of 4 World Class ships, with plans to build another three from 2024 to 2027.
MSC World Europa will surpass MSC Grandiosa as the largest ship in the fleet. The latest in the Meraviglia class of ships, MSC Grandiosa and her sister ships, solidified MSC's entry into the realm of mega-ships, a competitive marketplace.
In addition to MSC World Europa, the cruise line is launching MSC Seascape later in 2022, and building another Meraviglia class ship, MSC Euribia, which is set to debut in 2023.
The MSC World Europa completed the first set of sea trials in June 2022. 
How big is big?
Image
How big is MSC World Europa? It is 13% bigger in terms of gross tonnage in comparison to MSC Grandiosa. It has 22 decks, is 10 feet wider, although 2 feet shorter than its predecessor.
The new MSC ship will welcome a maximum of 6,744 passengers along with 2,138 crew members.
MSC World Europa will be the 6th largest ship in the world, behind Royal Caribbean's Oasis Class ships. The biggest is the Wonder of the Seas, which made its long awaited debut in March 2022. Wonder of the Seas is 15% bigger than MSC's new ship, with a maximum capacity of 6,988 guests. Both ships, however, feature an open air deck in the aft of the ship with interior facing balconies.
Since the Oasis Class ships don't sail in the gulf region, sailing on the MSC World Europa is a great alternative if you are a mega ship lover and want to explore different areas of the world. 
What's new on MSC World Europa?
Image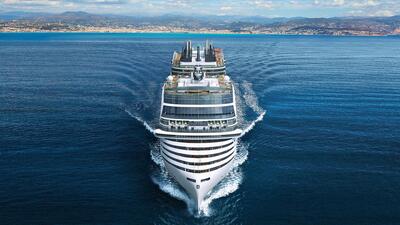 MSC World Europa is a significant departure from the look and feel of other MSC cruise ships. Its revolutionary structure is Y-shaped in design and has a bow like an arrow.
Considered an ultra modern design both inside and out, the ship utilizes the newest technologies and upgraded amenities to deliver a contemporary cruise experience to MSC guests. The ship has distinct neighborhoods for adults, entertainment, and families, spaces to appeal to all types of cruisers.
One of its most unique design elements is its sophisticated 295 foot long promenade with ocean views and LED sky screen. Centered in the aft, the silver colored structure "the Spiral" hosts the Venom Drop, the longest dry slide at sea spanning 11 decks!
MSC World Europa highlights
Image
A 10,000 square foot MSC Aurea Spa, Balinese in style, it includes a gym, beauty salon, barbershop, and an array of wellness and beauty treatments
Spacious MSC Yacht Club area with premium suites that include butler, restaurant, lounge and pool areas, along with new suite options
Fun for the whole family with the largest waterpark on MSC cruises, with VR technology and sundeck
The Spiral, the longest dry slide at sea
Promenade with entertainment, shops, bars and restaurants
Luna Park Studio multi-event venue that can transform for different theatre productions and shows  
Adult only Zen District with pool and bar
6 pools and 14 whirlpools
MSC Sports Plex with bumper cars and rollerblade arena
MSC for Me technology which connects guests and crew with onboard messaging service
Decks named after famous European cities such as Rome, Madrid, Vienna and London.
Food and beverage
Image
13 dining venues, including three buffets that highlight artisanal and craft products -- one of which will be open 24/7
6 specialty dining restaurants - a steakhouse, sushi/teppanyaki and Latin American street food
Healthy options like Chef's Garden Kitchen -- which will feature the first hydroponic garden at sea -- and Pescaderia seafood
Numerous lounges and bars, including Champagne Bar, Zen pool bar, and the Chocolate Shop for coffee and treats
Masters of the Sea Pub, a 2 floor bar with craft beer made onboard
Elixir Mixology Bar with MSC signature cocktails
A tea room and coffee emporium
The Gin Project fashioned after an authentic distillery  
Juice bar and gelateria
Cabins
7 new room types, with 65% of all rooms having balconies
Redesigned statements with views of the promenade
Spacious two story MSC Yacht Club suites with large balcony, private hot tub, and living/dining room area
Aurea Suites with balcony and private hot tub
Infinite Ocean view cabins with a panoramic sliding window
Better for the environment 
Image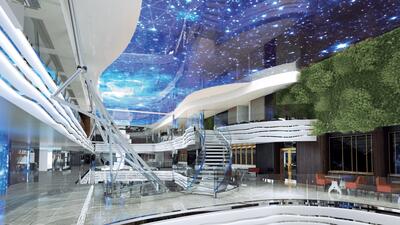 Consistent with MSC's strategy to improve sustainability and lessen environmental impacts, MSC World Europa is powered by Liquefied Natural Gas (LNG) and has a new generation of wastewater treatment systems.
MSC Cruises' ultimate goal is to have zero emissions operations through the use of green technologies.
There is a MSC Foundation Centre onboard, an environmentally focused area for kids that has interactive games while the room transforms into a 3D aquarium.
Where does MSC World Europa sail to?
Image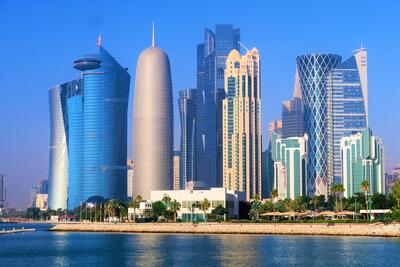 It is fitting that MSC World Europa will commence its career by participating in one of the world's largest sporting events, FIFA World Cup 2022 in Qatar. As the country expects over 1 million visitors, MSC World Europa is one of two MSC cruise ships that have been chartered to host some of the event's guests.
The ship will remain in the region, spending the winter in the Gulf sailing to ports such as Dubai and Abu Dhabi.
MSC World Europa will also participate in a number of Grand Voyages with multi-week trips that venture between the Middle East and Europe, traveling through the famous Suez Canal.
Spring and summer feature Mediterranean cruises that range from 2- to 7- nights, sailing from Genoa, Barcelona, Marseilles and Naples.