This morning we arrived in Costa Maya after traveling northwest over night from Roatan.
My first time visiting this Mexican port, I was excited to see what it offered.
From my research, I knew there was a port complex with some shops, restaurants and activities, so I had no formal plans, rather just to go with the flow.
Here is how I spent my last port day on this western Caribbean sailing aboard MSC Seashore.
Morning activities
Image
Waking up early again, I was eager to head up to the upper deck to see the landscape of this Mexican region. My first impression was one of surprise, as there is such as wide expansive area of trees, with little development. While I could see a few buildings popping out of the forest, and a faux pyramid which I believe is part of a nearby water park, it was surprisingly desolate.
Costa Maya is much farther south than Cozumel, closer to the country of Belize. It is a popular stop for those wanting to spend the day at the area's idyllic beaches or exploring Mayan ruins like Chaccoben. The nearby fishing village of Mahahual is a popular destination for many.
I walked across the Bridge of Sighs at the back of the ship, a glass bottom bridge, and was disappointed to see another cruise ship blocking my view.  Celebrity Infinity and the MSC Divina were also spending the day in port.
Visiting the port
Image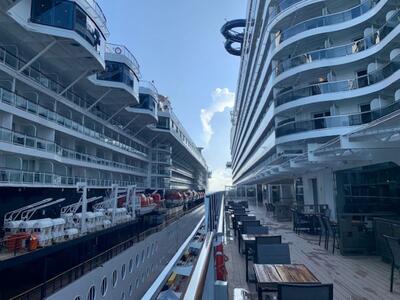 Leaving the ship, the pier felt crowded with the Celebrity ship so close by. There was lots of music playing and plenty of people walking along the long narrow path, which I was told can accommodate up to 5 ships. There are complimentary trolleys that take guests to the port entrance.
I entered the Costa Maya port area, which has an amazing mural. There were numerous people selling port excursions. The buildings looked new and beautifully done in a Mexican style, with palm trees surrounding the area.
Image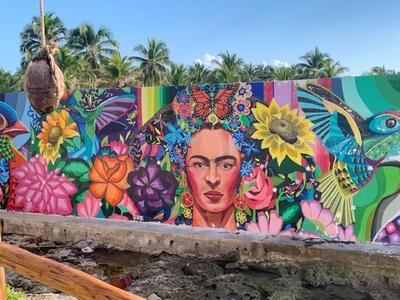 I was greeted by a number of people dressed in costumes, and one lady screamed as a group dressed up for the Day of the Dead asked if she wanted a picture. 
Walking about, I saw many stores selling artisanal Mexican products, typical souvenirs, popular Mexican products like vanilla and hot sauce, as well as jewelry and much more. There is a large pool area with lots of loungers, which can be used if you purchase food. Many guests were headed toward the Dolphin area, which offered guests the opportunity to swim with the majestic mammals.
I wandered around for a bit, getting the lay of the land, and picked a few activities to do. Top on my list was the aviary which was located on the second level. For only $12, I thought it was a good activity, but as I climbed the stairs to enter the viewing area, I did not realize that it was connected by suspension bridges and multiple stops all around the port.
Image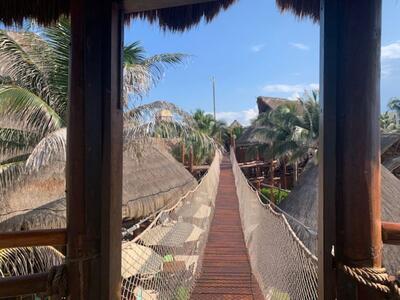 I am not the best with heights but had already bought the ticket, and there was no one around for me to slow down, so I carried on. Championing my inner Indiana Jones, I traversed the first bridge, which was probably 100 feet long. It swayed slightly as I walked across it, and some of the wood panels creaked. After a few harrowing minutes (in my mind at least), I reached the end; I felt triumphant and entered the first set of bird enclosures. It was probably best that there was no one around to see me walking as slow as a turtle accros the many bridges. 
The bird keeper had given me seeds to distribute to the birds, but they did not seem too be hungry. So many beautifully colored birds in yellow, red, green, and blue; they were really spectacular. I was not expecting how peaceful and scenic it would be on the tour, With several vantage points looking out at the ocean and over the port area, it was great. In the end, I saw some incredible macaws who had no interest in me. A good start to the day, though. 
Image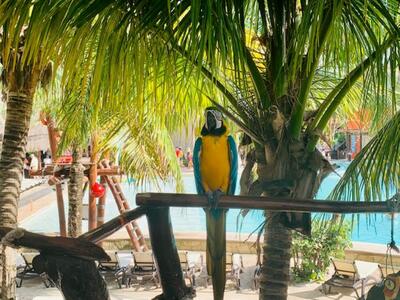 After that mini adventure, I wandered around, and more people were starting to make the area busy. There is a small chocolate store where you get t to watch chocolatiers make the Mexican delight from scratch. Chocolate is made from cacao beans, indigenous to this area. They worked slowly, and the quiet of the store was a sharp contrast to the rest of the port. I bought three bars to take home to my family, including classic chocolate, some with coconut, and another with chilis.
I hardly drink tequila but had wanted to try some and saw there was a factory tour, but sadly this has not restarted since Covid. I settled for a quick bite to eat, having some flautas and Dos Equus Mexican beer. The corn products taste so much better here, although I did find the food prices relatively high at the port, which I guess is to be expected.
Back to the ship
Image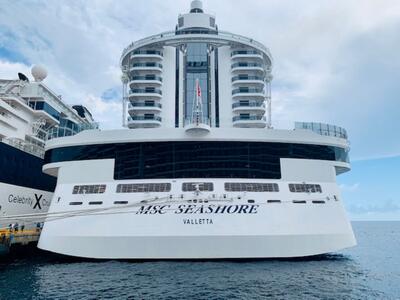 After strolling around a little more, the area was starting to get very busy, and I had done all I wanted to, so I headed back to the ship. We had a quick rain shower, and a few ominous clouds still hung out nearby.
I did notice lots of crew (who had their nametags on) happily walking along the pier, posing for pictures, and laughing with friends. They seemed to be enjoying their well deserved time off.
Once onboard, I thought I would capitalize on the low crowds and do some activities, but there was not much going on and few people about. I had a cool drink and relaxed for a bit.
Dinner/ evening activities 
Image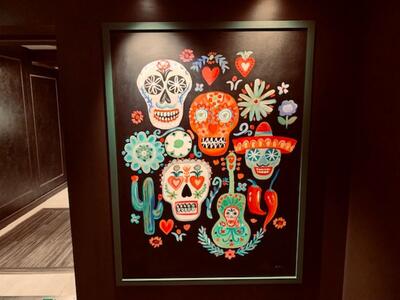 It is always a good time to eat on a cruise, so I stepped into the buffet and made a small cheese plate to tie me over until dinner. There is always a nice selection of cheeses, cured meats, and fruit, a perfect bite to eat,  Once again, I tried afternoon trivia, and although I did not do well, I had lots of fun. There were a few teams who were very serious and relentless in their pursuit of the ultimate price - an MSC key chain. 
Dinner tonight was Hola Cantina, another meal as part of the dining package I purchased pre-cruise. It is a more casual venue. with cool art and a great view of the ocean. My waitress Isabella insisted I try some of their homemade salad, chips and guacamole. It was so flavorful and could have been a meal itself, and the smoked habanero salsa was dreamy, For my main course, I chose three of their mini street-style tortillas with different meats and sauces. This was capped off by dulce de leche mousse; it was a tasty meal.
To finish off the evening, I went to the lounge and listened to a live 70s band that was so much fun. The vocalist had the perfect voice for the genre and was accompanied by a great band. A fun time. 
Tomorrow is a sea day, and, sadly, our last full day of the cruise.