Today is a sea day and, sadly, the last day of my cruise.  It is amazing how quickly a week goes by, especially with four port stops to fill the days.
I am jealous of those people doing a back to back cruise; I can definitely see the appeal of another week onboard.
I have very much enjoyed my first MSC cruise, and the ship has a lot to offer. Even today, I found some new spots I had not visited before, proving I do need to spend more time on this ship. 
Here is what I did to enjoy the last bit of my fantastic cruise on the MSC Seashore.
Morning activities
Image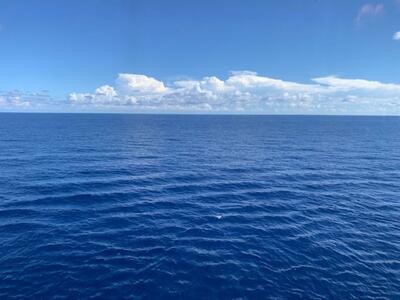 For breakfast today, I wanted to try something different, so I headed to the Main Dining Room at Central Park Restaurant. Not many people had arrived for breakfast yet, and I was seated with a great ocean view. In contrast to dinner the other night, there were lots of waiters with few people to serve early in the morning.  
I chose Eggs Benedict as that has not been an option available in the buffet this week. The waiter quickly brought some hot coffee and juice along with an assortment of pastries. One thing I love about MSC is that they always serve coffee with steamed milk, a nice European practice that makes all the difference!  My eggs were tasty, and the servers were attentive. A nice tranquil start to my day.
Image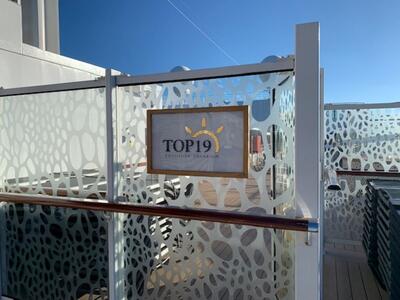 Following this, I went for a walk around the ship to enjoy the morning sun. For a change, it was a little breezy outside, which I loved. I went up to the top deck 19, which has the best view. Although there is limited access, as some of the space is dedicated to MSC Yacht Club, the cruise line's suite class.
As part of the perks, passengers in MSC Yacht Club cabins have their own restaurant, lounge, sun deck, and priority embarkation/ disembarkation. I also noticed that there were covered seating areas for Yacht Club guests on the docks in all the ports, providing shade while waiting for transportation. I was also told there is a private retreat area at Ocean Cay, although I was not able to see it. It definitely sounds like a great way to cruise.  
Image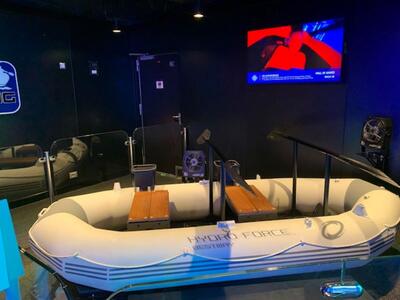 From there, I went down to the Hall of Games to see all the fun stuff available. There are plenty of things to do, such as 4D cinema, an arcade and VR games, available for an additional cost. I really wanted to try virtual rafting, but it is a two person boat, so I missed out on that one.
Lunch / afternoon
Image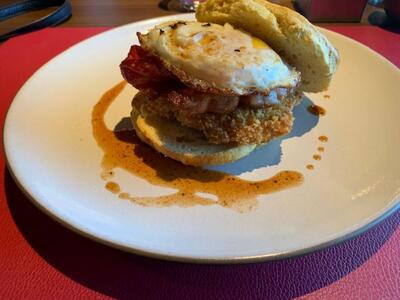 I relaxed on the deck for a while, enjoying the sun. As with other cruise lines, the chair hogs were out early for prime spots, but I was able to find a good, quiet spot. I did notice that there aren't many umbrellas or cabanas to rent like some other ships have.
Being the last day, I decided to get my packing out of the way, so I could get the unpleasant task over with and enjoy the rest of my sea day. With that out of the way, I walked around looking for lunch options and saw that one of the specialty restaurants – Butcher's Cut, was having a brunch special. Based on my excellent meal the other night, I thought I would give it a try for the great price of $12.
I really did not need this, but I had chicken, biscuits, and gravy. A sizeable plate of food, the biscuits were perfectly flaky, and the chicken was crispy and light; I could have had a bucket of the sweet maple gravy but thought that would have been an odd request.
Image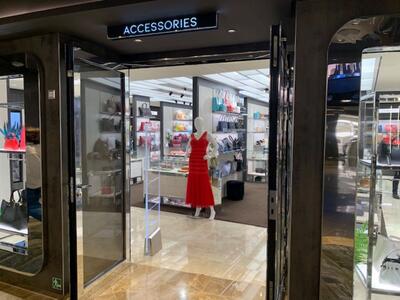 After a brief repose, I spent time browsing in some of the many shops and stopped by the MSC Foundation area to read a little about what MSC does to help the environment. They sell merchandise onboard with profits going toward the endeavor.
I also walked through the casino, which is brightly colored which lots of activity. It is open to other areas of the ship, and I did not notice anyone smoking or smell smoke, a popular question cruisers ask. I did not gamble, as I have zero luck on slots, but it is a fun environment to hang out in.
That's Amore!
Image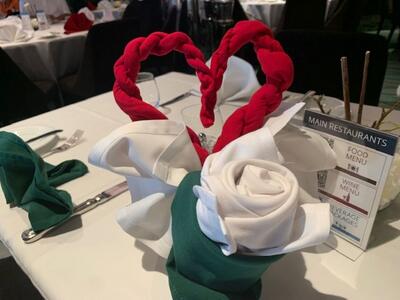 Tonight I decided I would head back to the main dining room for my last meal aboard the MSC Seashore. I was not aware that it was Italian night but soon got the picture with the streamers, napkins, and waiters in bowties in the colors of the Italian flag.
My first problem was what to pick. Lots of amazing choices, but I narrowed it down. My first course was Caprese salad, one of my favorites, and it did not disappoint. Second, came Penne all 'Amatriciana – a flavorful sauce with freshly made pasta topped with a bit of chili and pecorino cheese – and wow !  To cap it off, I went with a classic Italian flavor, picking a Limoncello cake which was perfectly tart.
The overall feel of the dining room tonight felt a little more relaxed. I heard lots of laughter from my fellow guests, and everyone seemed to be savoring the last evening onboard.
Final thoughts
Image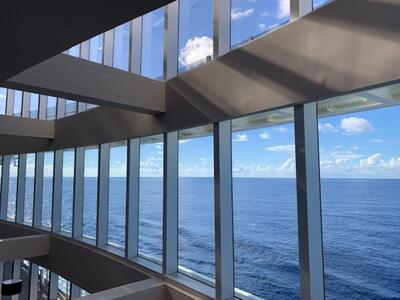 I have been so fortunate to travel on this stunning cruise ship this week, and we really lucked out with the weather every day.
All in all, as I head back to Miami tomorrow morning, I am certain I will do another MSC cruise. I had a great time, the ship is fantastic, and the crew have been very friendly and helpful. Part of MSC's appeal is its vast fleet and extensive array of itineraries.  I definitely would want to travel on some their new ships slated to launch this year.
Also, a note about sailing solo. It is easy. There are lots of information about get-togethers and activities in the Daily Program. Most people are happy and chatty, so you never feel alone, and I feel like the staff makes an extra effort for solo travelers. I enjoy talking with fellow passengers and staff tend to hear about where they are from and what they do.
Thank you for following along on my travels this week.