Royal Caribbean's Oasis class series continues to break records with bigger and better ships, appealing to cruisers of all ages.
With sailings on popular routes in the Caribbean and Europe throughout 2022, there are numerous options to meet every traveler's schedule and preferences.
Whether it be the traditional buffet or upscale dining, relaxing by the pool, rock climbing a 43 foot wall, a Broadway show, jazz music, or a casino, there is a dizzying array of ways to enjoy a vacation.  
Image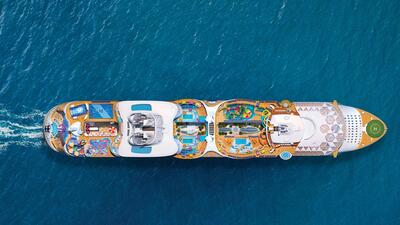 The newest ships in the series, Symphony of the Seas and the soon to be launched Wonder of the Seas are the best yet. Here's how they compare:
Overview of Royal Caribbean's Oasis Class Ships
Image
A great feature of the Oasis class is the themed neighborhoods. The Royal Promenade, Entertainment and Youth zones facilitate the flow of people, making it easy to figure what to do and where to go.
The innovative design of these ships allows for incredible open air spaces in the center. One of the best locations is Central Park, a quiet green haven full of trees and flowers, along with fine dining venues and lounges. Alternatively, kids and families love the fun boardwalk area with a carousel, carnival style treats and amusements.
Image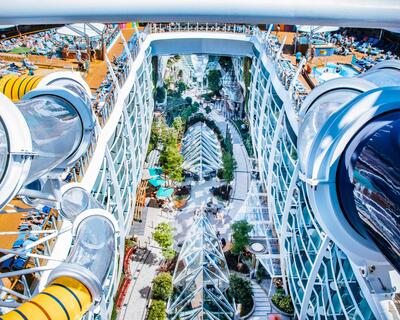 Whether guests want to relax, swim, eat or seek adventure these vessels have plenty to do for any cruiser.  Here's what to expect on a cruise:
A diverse selection of inclusive and specialty dining options
A variety of bars, lounges, and nightclubs
Extensive entertainment options - live musical productions comedy shows and theme parties
Solarium, a dedicated adult area
Sports activities, including ice skating, zip lining and rock climbing
Pools, waterparks, slides
Open air AquaTheatre for shows and movies
Kids programs from 6 months to 17 years old
Extensive cabin options including Boardwalk and Promenade balcony and variety of suites
Symphony of the Seas
Image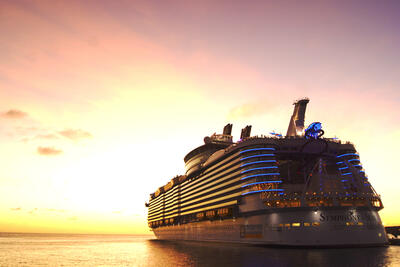 Homeport: Miami, Florida
Ports: Eastern and Western Caribbean including CocoCay Bahamas
Symphony of the Seas was launched in 2018, becoming the largest cruise ship in the world. It has a maximum capacity of 6680 guests and 2200 crew. For 2022, it will be offering numerous 5-7 days in the Caribbean throughout the year.  
Guests won't be bored or go hungry on Symphony of the Seas with all of Oasis class level comforts and perks:  
9 inclusive dining options, including the new El Loco Fresh
10 specialty dining venues – seafood, sushi, steakhouse
14 lounges, bars and nightclubs
Musical Productions - Hairspray, 1977 and Flight
Live entertainment, Comedy Club and casino
4 main outdoor pools
Adult only area with pool and hot tubs
Ultimate Abyss – the tallest slide at sea  
The Perfect Storm waterslides
FlowRider surf simulators
Splashaway Bay – a park for kids and toddlers
Sports court for basketball, soccer etc.
Mini-golf course
Two rock-climbing walls and zip lining
Why pick Symphony of Seas ?
Image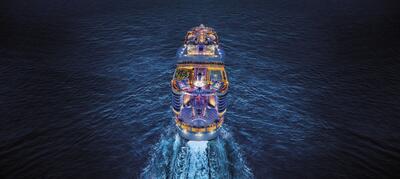 It sails to popular Caribbean ports like Cozumel. Roatan, St Maarten, St Thomas, along with Royal Caribbean's  private islands in Labadee and CocoCay
Sailings throughout the year provide numerous options for travel. The convenience of Miami and its major airport that serves 167 domestic and international destinations is a plus.
Largest ship currently sailing with unsurpassed onboard amenities for all types of cruisers
For those larger groups wanting to splurge it has a two story, Ultimate Family Suite with a butler, and a slide.
Wonder of the Seas
Image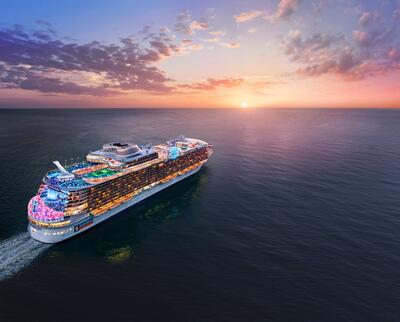 Homeport: Fort Lauderdale, Florida, Barcelona, Spain and Rome, Italy
Ports: Eastern and Western Caribbean, Spain, Italy and France
Built in 2021, this ship has a maximum guest capacity of 6698 and a crew of 2300. Throughout 2022, Wonder of the Seas will offer cruises of 3-7 days.
What's new and different?
Image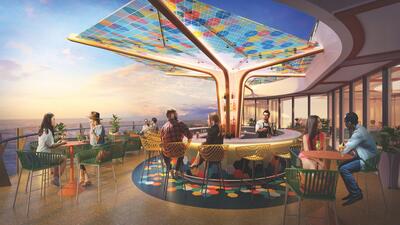 Wonder of the Seas is slightly bigger in weight and a mere 5 ½ feet wider.  Chances are guests won't notice this but they will love some of its other upgrades.
A new dining venue, Giovanni's Italian Kitchen & Wine Bar, was first introduced on the Odyssey of the Seas. This new iteration of Italian specialty dining focuses on authentic and fresh food including pizza, and 50 wines by the glass.
The Vue, a cantilevered bar that provides scenic ocean views located near the Solarium, is another great spot to relax with a cocktail.
Image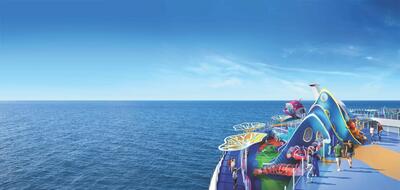 Other fun enhancements:
Nestled between pools, the Lime & Coconut has two bars to serve drinks, as well as live entertainment and DJs.
Wonder Playscape, a brightly colored play area, with slides, climbing structures, games and puzzles will challenge even  the most energetic of kids  
Movie Screen Poolside (largest in fleet)
Newly designed kids and teens spaces at Adventure Ocean, Social100 and The Patio
For those guests interested in the suite experience, Wonder of the Seas has made a bold new change with the establishment of an 8th neighborhood for suite guests.
Spread out over two decks, Deck 17 is home to the suite lounge and Coastal Kitchen, along with 1 bedroom grand suites.  Additional suites,  a sun deck and pool are on Deck 18. This is a big improvement in layout and design for suite guests.
Image
Also enhanced, the Ultimate Family Suite has a capacity of 10 guests.
Why pick Wonder of the Seas
Image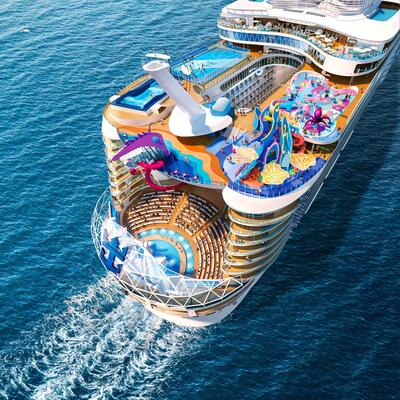 As Royal Caribbean's brand new ship, this is a fantastic option for those who love to try the latest and greatest. There are endless possibilities to keep busy or simply relax.  
Wonder of the Seas is the only Oasis class ship sailing in Europe in 2022 visiting historic ports along the Mediterranean coast.  It will also start sailing to the Caribbean in March 2022.
With alternatives in Europe and the Caribbean, this ship has broad appeal and accessibility for those wanting to explore a new destination.  
Wonder of the Seas has great suite options, including the new suite neighborhood, dedicated deck and lounge with pool.