The new class of cruise ships in Norwegian Cruise Line (NCL) fleet is the Prima Class.
The long awaited release of the Norwegian Prima brings with it all-new amenities, activities, and experiences for guests to explore and enjoy.
"To the trailblazers and the tastemakers. To the first-time seekers and explorers of the extraordinary. This one was made for you. Welcome aboard Norwegian Prima, the first in a new class of ships designed to elevate every expectation," states Norwegian Cruise Line about their newest vessel and ship class.
Image
Currently, NCL has six ships planned for its newest cruise ship class, the last of which is scheduled to be completed in 2027. Norwegian Cruise Line has two of these revolutionary ships scheduled to be released in close succession, the Norwegian Prima being released this month, and the Norwegian Vivia being released next summer 2023.
Both the Norwegian Prima and the Norwegian Vivia are set to have roughly the same dimensions as well as guest capacities, with each ship able to accommodate around 3,000 guests. The Norwegian Prima Class ships will introduce new and exciting experiences to passengers that have yet to be seen on a Norwegian Cruise Line vessel, as well as some classic guest favorites.
Activity Highlights
Prima Speedway
Image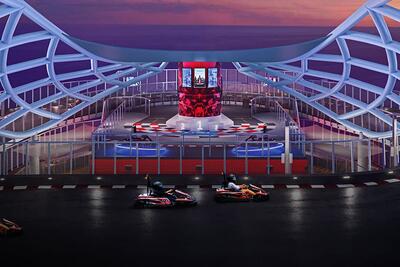 NCL says the following about their newest speedway at sea, "ready to race the sea breeze like never before? The Prima Speedway is longer, larger and zoomier than ever. Be the first to speed across the horizon on the first three-level race track at sea."
This race track will be a one-of-a-kind experience aboard the new Prima Class ships, and will offer guests an experience aboard a cruise ship unlike any other. The Prima Speedway will be located on Deck 18,19, and 20 of Norwegian Prima. While race tracks at sea do exist on other NCL ships, The Prima Speedway promises to offer an even more thrilling experience with its latest updates.
Tee Time Crazy Golf
Image
The first ever tech-immersive and interactive mini golf at sea will be found aboard Norwegian Prima Class ships. Pricing for this experience starts at $15 per person, per game. They do, however, offer unlimited package options. 
The Bull's Eye
Image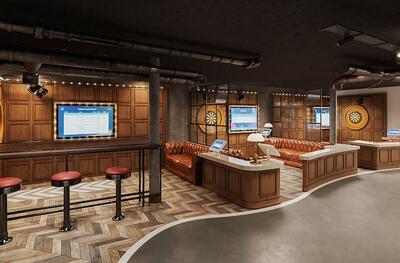 This new venue aboard NCL ships, will offer an elegant atmosphere for guests to play darts, with high tech boards keeping score nearby. Similar to Tee Time, reserving a Bulls Eye bay is not included in the cruise fare. A bay can be reserved starting at $45 for 45 minutes.  
The Drop & The Rush
Image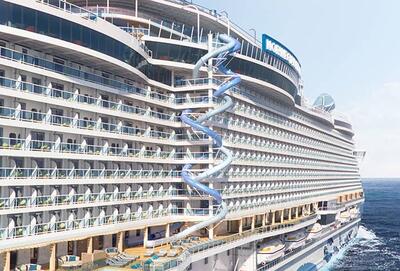 Norwegian Cruise Line is known for some of their thrills onboard, with the introduction of NCL's newest waterslides, guests will be able to experience an even greater adrenaline rush. The Drop claims to be "the first free-fall slide in the world", while The Rush are dueling water slides that will allow passengers to race their friends.
Pool Deck & Kids Aqua Park
Image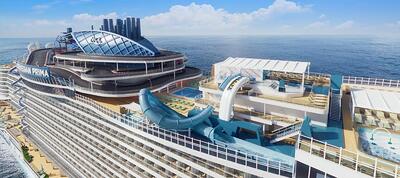 NCL's Prima Class ships will feature several pools onboard, including an all new infinity pool. The Kids' Aqua Park will provide hours of fun to children with "multiple cascading water features."
The Stadium
All passengers can compete against each other in fun and classic games such as shuffleboard, pickle-ball, sub-soccer, beer pong, ping pong, and more. Entry to The Stadium will be complimentary to all guests.
The Wave
With the Prima Class vessels, Norwegian Cruise Line will be introducing their first tidal wave waterslide at sea.
Galaxy Pavillion
Image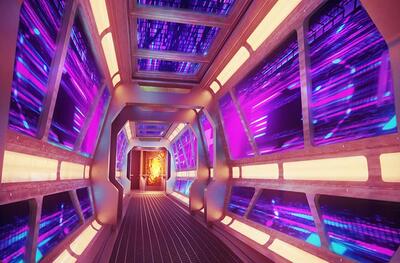 The Galaxy Pavilion will allow guests to step into another world through the realm of virtual reality. Included in this area will be the first flying theater simulator at sea. Additionally, NCL has partnered with TopGolf and will host a virtual tee set up. Guests will be able to spend an entire afternoon, if not day, in this venue experiencing escape rooms and racing simulators. Norwegian Cruise Line describes the Galaxy Pavilion as "a high-tech wonderland for the whole family." The Galaxy Pavilion is not included in the base fare of the cruise. 
Infinity Beach
Image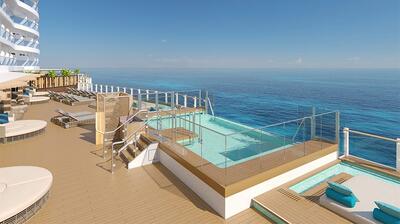 The Infinity Beach will be another area where guests can relax, sit back and enjoy ocean views. This area of the ships will feature an infinity pool, a first aboard Norwegian Cruise Line ships.
Oceanwalk
Image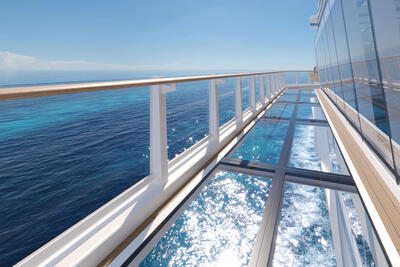 Oceanwalk, a glass walkway that stretches over the sea offering incredible views, is another feature that's a first for Norwegian Cruise Line. 
i-Connect Internet Cafe
This venue will allow guests to connect to the internet at anytime, being open 24-hours.
The Concourse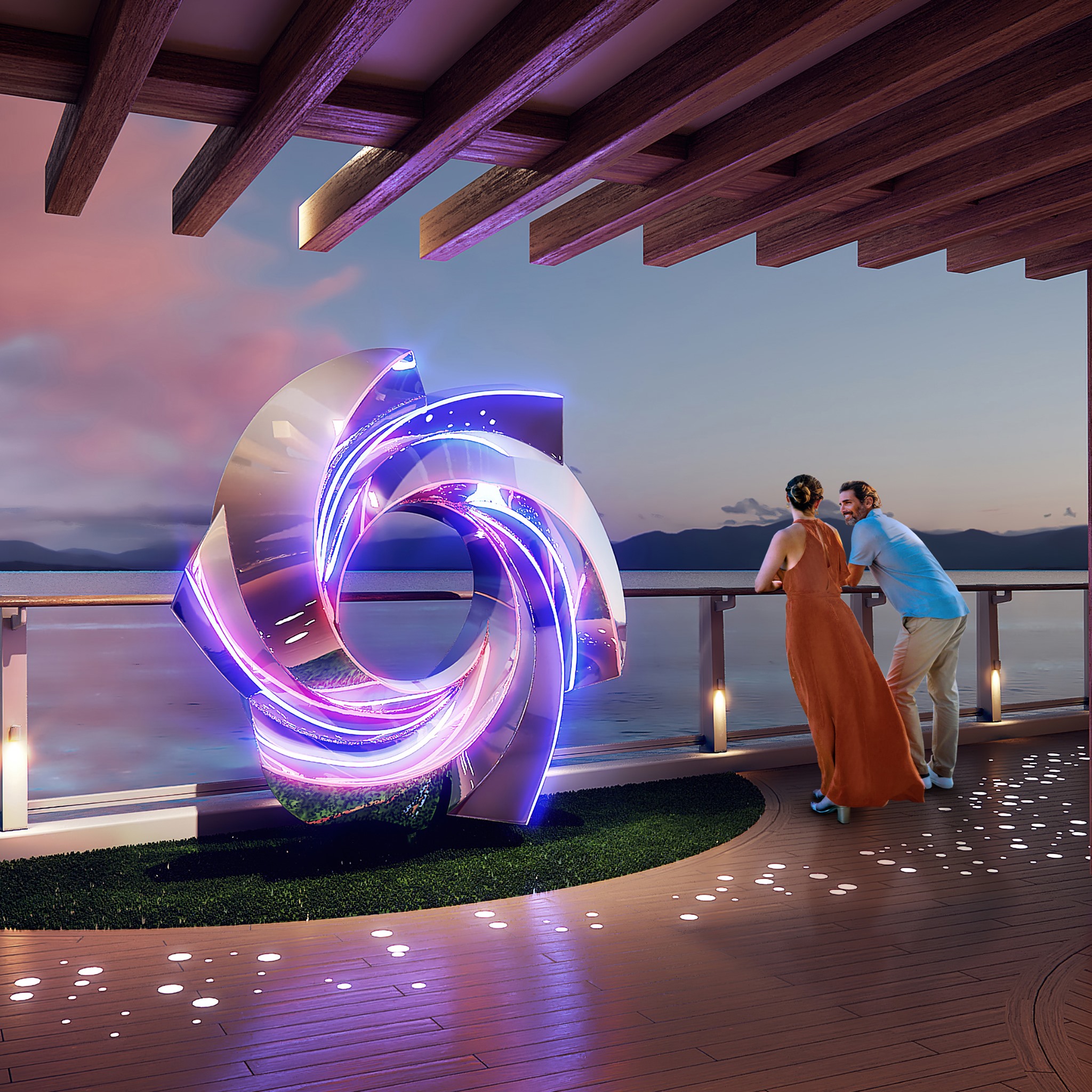 Along the Concourse, guests will be able to admire beautiful, interactive artwork and sculptures created by Alexander Krivosheiw. 
Casino
Image
As with most Norwegian Cruise Line vessels, the Prima Class ships will have a casino onboard that will feature classic games and slot machines where guests can test their luck.
Kids' Clubs
Image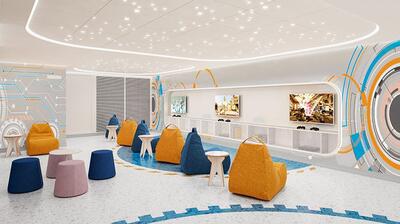 The Prima Class ships will be equipped with engaging and expansive areas built specifically for kids and teens.
This area will cater to children 5 years to 12 years, and will allow children to participate in fun programs and activities.
A space designed especially for teens ages 13 to 17 years. Teens will be able to participate in events just for them while meeting new friends.
This area of the ship is designed for parent-supervised playtime for babies and young children 4 years and younger. Activities such as sensory play, messy play, and more will be hosted by an Early Years Coordinator onboard.
Spa Thermal Suite
Image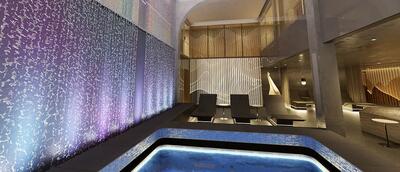 The NCL Spa Thermal Suite will be available onboard the Prima Class ships. This area offers the ultimate venue for relaxation. Guests can access this space by purchasing a pass.
Bar and Lounge Highlights
Belvedere Bar
Image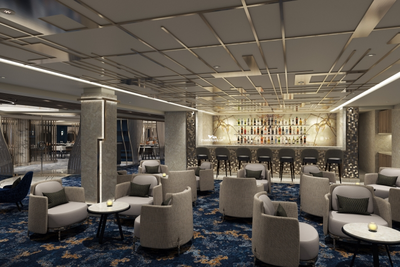 Contemporary in atmosphere, this cocktail lounge offers specially crafted drinks.
Luna Bar
Image

Located within the Indulge Food Hall, this location offers curated cocktails and draft beers.
Metropolitan
An all-new location, guests can enjoy sustainable craft cocktails and biodynamic wines.
Observation Lounge
This location offers a space for guests to take in the view while enjoying a drink.
Penrose Bar
Located in within the three-story glass-walled atrium, guests can take in the exciting atmosphere of the ship while sipping on their drink of choice. 
Prime Speedway Bar
Image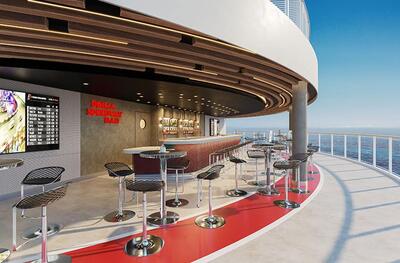 Guests can stop by this location after speeding around the Prima Speedway for a round of celebratory drinks.
Soleil Bar
Located in the Ocean Boulevard, this venue offers passengers a relaxing spot to take in the ocean views while sampling mixed cocktails.
The Humidor Cigar Lounge
Image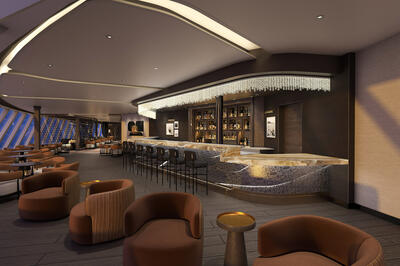 For guests who enjoy cigars, this location is a must visit. In a sophisticated atmosphere, passengers can enjoy a fine cigar paired with a great drink.
The Improv at Sea
Enjoy your drink alongside some good laughs. This venue features "a science go comedy theme."
Waves Pool Bar
Image
Guests can easily transition from swimming to sipping at this location. This Pool Bar features classic tropical cocktails and drinks.
Whiskey Bar
Specializing in whiskey, this location can be a great place to enjoy an after-dinner drink.
Starbucks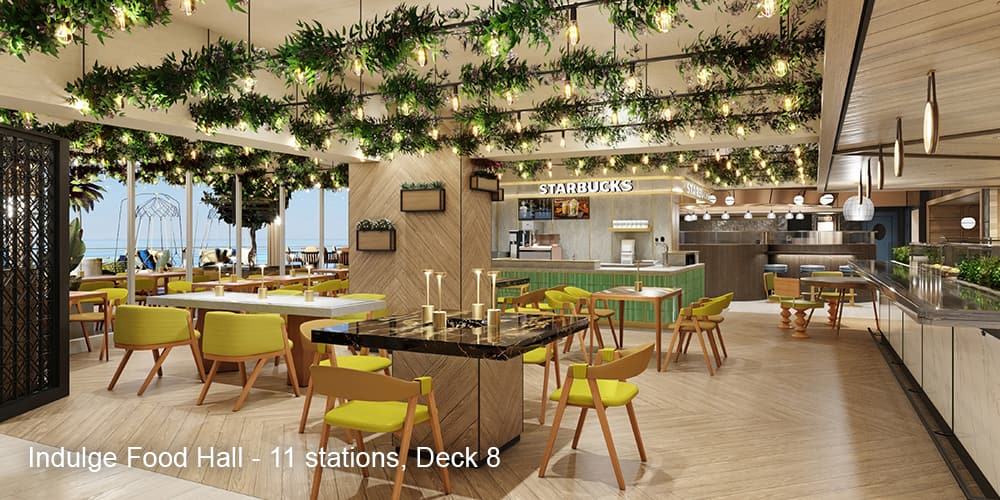 Like many other Norwegian Cruise Line ships, the Norwegian Prima will feature at Starbucks, which is located inside of the Indulge Food Hall and includes ample seating plus a variety of options to complement your daily cup of coffee. 
Complimentary Dining Highlights
The Local Bar & Grill
Image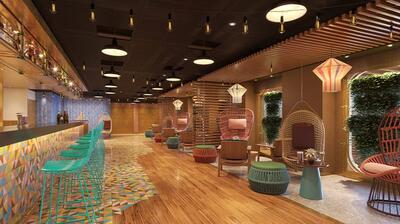 This is the perfect place if you're craving classic pub comfort food, including reuben sandwiches, fish 'n' chips, and more. 
Hudson's
This beautiful main dining room will feature 270-degree floor to ceiling views as guests enjoy modern and classic cuisine.
The Commodore Room
This serves as the second main dining room onboard. The Commodore Room will offer fine dining in a relaxed atmosphere.
Indulge Food Hall
Image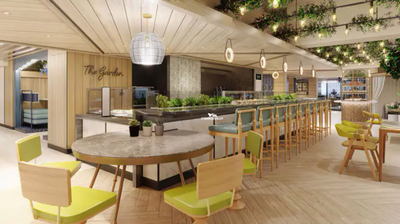 This location will allow passengers to sample food from all over the world, including; Indian, Italian, Latin American, and more. Guests can enjoy their international dishes in both indoor and outdoor seating.
Surfside Cafe & Grill
As the main buffet onboard, guests will be sure to find something that will satisfy their culinary cravings. This location will serve breakfast, lunch, and dinner.
Specialty Dining Highlights
The Norwegian Prima will feature some of the cruise line's classic speciality dining venues, as well as some new options available only on the Prima. 
Cagney's Steakhouse
The classic Norwegian Cruise Line steakhouse will be present on the Prima Class ships. This location will provide guests with classic American steakhouse fare.
Food Republic
Image
The Food Republic is another food location where guests can taste flavors from all over the world. Some of the cuisine on offer at this venue will be Thai, Mexican, Japanese, and more.
Hasuki
In this Japanese restaurant, guests are in for a treat during a lively show as chefs cook shrimp, chicken, steak and more around a shared table.
Le Bistro
This signature French restaurant offers a romantic and elegant atmosphere.
Los Lobos
Image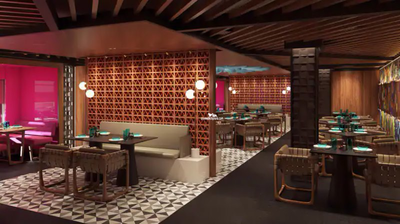 Located on Ocean Boulevard, this venue will feature traditional Mexican flavors.
Nama Sushi & Sashimi
This location is new to NCL's fleet, providing guests with views of their sushi being prepared in an elegant setting.
Onda by Scarpetta
'Onda' means wave in Italian and allows guests to taste modern and signature Italian dishes.
Palomar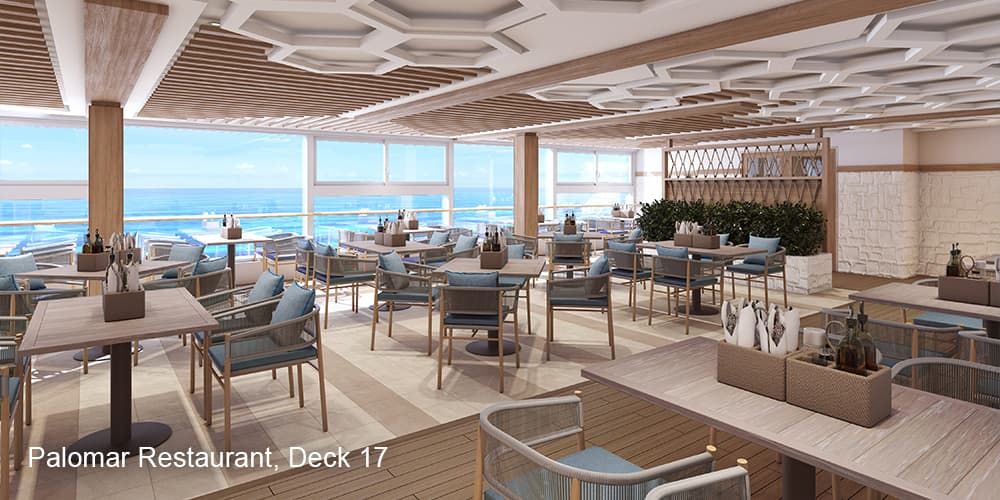 Located on deck 17, Palomar is Norwegian Cruise Line's first Mediterranean seafood restaurant. Its prime location will offer sweeping views of the ocean's horizon. 
Entertainment Highlights
Summer: The Donna Summer Musical
Image

This Broadway-style, Tony Award-nominated show tells the story of Donna Summer, the disco queen.
Noise Boys
Image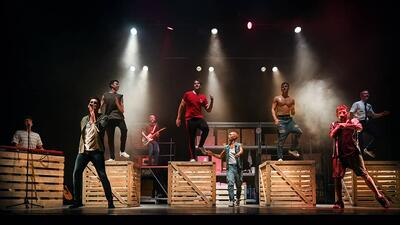 A lively dance show including tap dancing and beat boxing. This show comes from the producers of 'The Choir of Man', a popular show featured on other NCL ships.
Game Shows
As with other ships in their fleet, passengers will be able to participate in live game shows, such as The Price Is Right, Supermarket Sweep, and Press Your Luck.
Prima Theater & Club
Image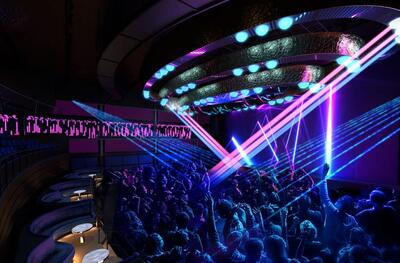 This venue will be the first location in the world that can transform from a three-story theater into a Vegas-style nightclub. This location will host several different forms of entertainment throughout cruise voyages.
Sensoria
This nightclub experience venue will feature live DJs, special effects, and cutting-edge lighting. Creating the perfect environment for guests to dance the night away.
Syd Norman's Pour House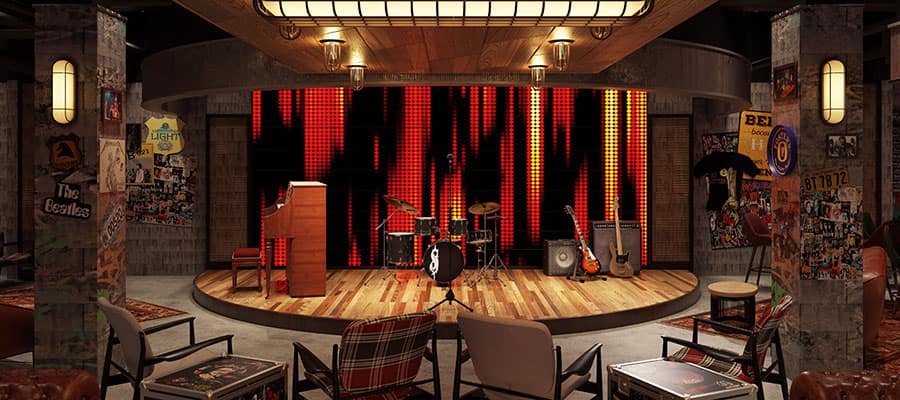 This classic Norwegian Cruise Line venue will allow guests to live rock 'n' roll music while sipping on specialty cocktails.
Onboard Shopping Highlights
Image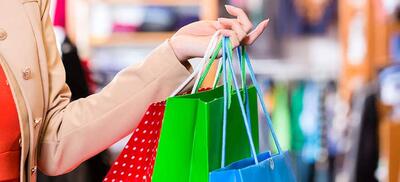 The Norwegian Prima Class ships will offer the largest range of shopping onboard of any Norwegian Cruise Line vessels.
Beauty By Design & Afficionados
This tax and duty free shop provides beauty products, fragrances, and alcoholic spirits.
EFFY Jewelry, Timeless Luxury & Fine Watches
This shop if for guests looking for luxury watches and time pieces, including brands such as Swiss and Cartier.
Pandora Jewelry & Lifestyles
The iconic Danish jewelry company, Pandora, will have their own location onboard Prima Class ships. Guests can also find exclusive Norwegian Prima merchandise at this shop.
Perspectives Studio
Passengers can book photo sessions with portrait artists or book a private studio at this location.
Roberto Coin
Pieces for sale from the historic Italian jewelry artisans can be found at this location.
Tech @ Sea
Passengers can find products to fit their tech and electronic needs at this shop, at tax and duty free prices.
The Gateway
A large shop offering a plethora of brands and items, located in the Penrose Atrium.
The Zone & Eye Style
Anything eyewear can be found at this shop, from glasses to sunglasses. Guests can purchase a new pair of sunglasses at this location at tax and duty free prices.
Mandara Spa & Pulse Fitness Center
Image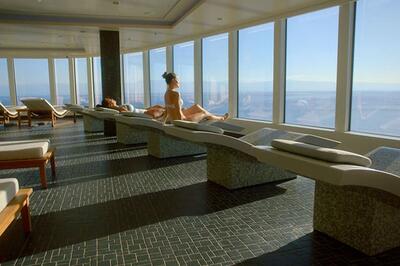 The Norwegian Prima Class ships will be equipped with NCL's classic Mandara Spa & Salon, as well as the Pulse Fitness Center, and the Spa Thermal Suite, and a Barber Shop.
"From multiple detoxifying saunas to state-of-the-art pools to two-story waterfall, the experience on Norwegian Prima will awaken every sense," states Norwegian Cruise Line about the spa onboard Norwegian Prima.
The Mandara Spa & Salon will have an extensive menu of treatments for guests to enjoy and feel pampered by. Available treatments include:
Aroma Spa Seaweed Massage (75 or 100 minutes)
Aroma Stone Therapy (50 to 75 minutes)
Bamboo Massage (50 to 75 minutes)
Body Composition Analysis (60 minutes)
Couples Deep Tissue Muscle Massage (50 minutes)
Couture Touch Face and Body Treatment (100 minutes)
DYSPORT Cosmetic Wrinkle Treatment - Crow's Feet (30 minutes)
DYSPORT Cosmetic Wrinkle Treatment - Forehead Lines (30 minutes)
DYSPORT Cosmetic Wrinkle Treatment - Frown Lines (30 minutes)
Deep Tissue Muscle Massage (50 minutes)
ELEMIS Deep Cleanse Grooming Treatment with Shave (45 minutes)
Express Shave (30 minutes)
Fire and Ice Manicure (45 minutes)
Fire and Ice Pedicure (60 minutes)
GO SMILE Teeth Whitening Treatment (30 minutes)
Intensely Cleansing Salt Scrub (50 minutes)
Ionithermie Cellulite Reduction Treatment (50 minutes)
Nutritional Consultation (60 minutes)
Personal Training (60 minutes)
Pro-Collagen Age Defy (50 minutes)
Pro-Collagen Grooming Treatment with Shave (55 minutes)
Restylane Lip Enhancement Treatment (30 minutes)
Restylane Lip Lines Treatment (30 minutes)
Restylane Marionette Lines Treatment (30 minutes)
Restylane Smile Lines Treatment (30 minutes)
Swedish Massage (50 to 75 minutes)
Traditional Chinese Acupuncture (50 minutes)
Staterooms
Image
The Prima Class vessels will feature all seven types of staterooms that can be commonly found on Norwegian Cruise Line's ships. These room types include: Studio, Inside, Oceanview, Balcony, Club Balcony Suite, Suite, and The Haven.
While the categories of staterooms may be similar to other NCL ships, the design onboard the new Prima Class ships will be sleek, modern, beautiful, and unparalleled.
Destinations
Image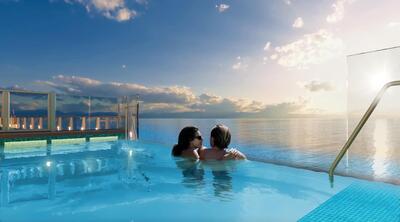 The Norwegian Prima once launched will be setting sail within Northern Europe. As with many other Norwegian Cruise Line vessels, the Prima will change its cruise destinations depending on the season of the year. The Norwegian Prima will be sailing to Bermuda, Caribbean, Northern Europe, and Transatlantic sailings.
The Norwegian Viva, once it makes its debut, will set sail for the Caribbean, Mediterranean, Greek Isles, and Transatlantic sailings.
Conclusion
The Norwegian Prima Class will make a splash when it debuts later this month, with the introduction of the Norwegian Prima. There is no shortage of onboard activities and amenities for guests to experience. The Prima Class ships will introduce a new look of modernity, elegance, and fun to the Norwegian Cruise Line fleet that is sure to excite potential passengers. Combined with fantastic itineraries, Norwegian Cruise Line is set to create an ultimate vacation destination with this new class of ships.