Ocean Cay MSC Marine Reserve (Ocean Cay) is MSC Cruises' private island in the Bahamas. Just 65 miles east of Miami, it is an idyllic secluded paradise and a frequent stop on many of the cruise line's Caribbean itineraries.  
For those guests lucky enough to spend the day at MSC's private island, there is plenty to do and see. The Bahamian outpost is the perfect place to spend a day at the beach, in the water, and exploring all the activities it has to offer, many of which are free.
Here are our top 30 tips and tricks to make the most of your time at Ocean Cay. 
1. Get an early start
Image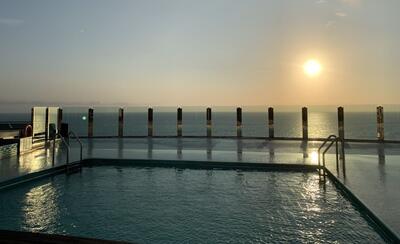 Yes, it is vacation, and no one should have to get up early if they don't want to, but the early bird does get the worm, as they say. Loungers are free and on a first-come, first-serve basis. While there are many throughout the islands, early risers can get their first choice of a picture-perfect spot under a palm tree.
It is also the ideal time to explore the island before the hot and humid Bahamian heat kicks in. Ocean Cay is full of charming walkways, hidden gems, scenic vistas, and wide open beaches. Some areas are so desolate you may forget you're on a cruise line private island. 
2. Eat before you get off the ship
Image
Regardless of how early you get off the ship, it is a good idea to eat breakfast before going ashore. There are a number of complimentary food places on the island; however, they do not open until 11:30 am. This may be especially important if you need a major caffeine boost before you can function or indulge in tropical rum cocktails. 
In addition to breakfast, I think it is a good idea to grab something portable from the buffet to pack in a sun bag. It was nice to refuel  mid-morning while exploring the far end of the islands.
In the main shopping area, guests can stop at the Smiling Fish and Coffee Bar. It has an array of ice cream and coffee. Guests can enjoy freshly brewed whole bean and ground coffee, espresso, and cappuccinos, at an extra charge.
3. Cruise card and money
Image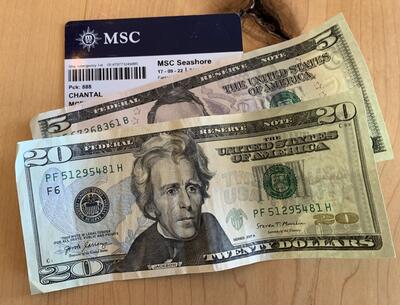 You will need to bring your MSC card for each member of your party. Even though it is MSC's private island, you have to scan the card going on and off the island.
You will also need your card to purchase drinks or use your drink package on the island. In terms of cash, you can pay for purchases at shops and drinks with your cruise card. Some people like to bring a little cash for tips, but otherwise, it is best to leave your wallet and money in your cabin.
4. Bring a map
Image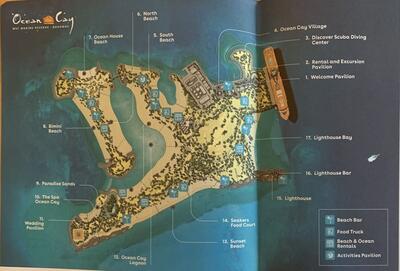 The night before you arrive at Ocean Cay, your cabin attendant will leave a map in your stateroom. It is a great idea to bring this along; it is easier than using your cell phone in the bright sun. You will notice that Ocean Cay is in fact two separate islands joined by a bridge. 
It has tons of important information and descriptions of locations, such as details on different beaches, restaurants, food trucks, bars, shops, and much more. While there are maps and signposts throughout the island, I found it easier to bring a map along, including a list of the day's events.
5. Be ready for the sun
Image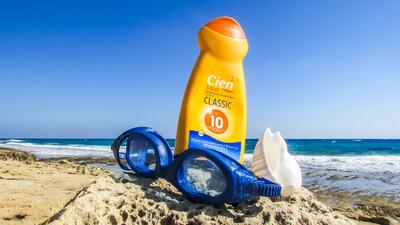 Bring a hat, sunglasses, and, most importantly, sunscreen when going ashore at Ocean Cay. MSC asks that guests use reef-safe sunscreen to help protect the coral on the island. The cruise line has relocated 400 colonies of coral to Ocean Cay, which is fantastic for snorkelers and critical for a healthy marine ecosystem.
These recolonization efforts are part of the cruise line's foundation work. Their Super Coral Program's main goal is to prevent coral extinction. Traditional sunscreens have harsh chemicals, such as oxybenzone, that harm coral reefs.
6. What else to pack?
Image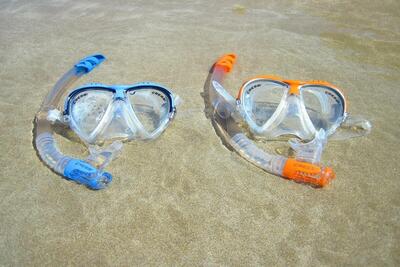 Although the ship is docked (thankfully, no tender is involved), it is still easier to bring everything you need onshore. If you find the perfect spot at the far end of the island, you don't want to have to walk back to the ship for one small thing. 
Bring a water bottle. The sun can warm up the Bahamian island pretty quickly, usually into the 80s and 90s, You can fill up a bottle at Seakers Food Court, but you cannot access this until it opens, and most of the bars only have cans of water.
Also, bring along water shoes, snorkeling stuff, a mask, goggles, a good book, and anything else you need for a beach day. Although most of the beaches have quite soft powdery sand, some are rocky, so you may want to bring water shoes.
7. Wear sneakers for an island tour
Image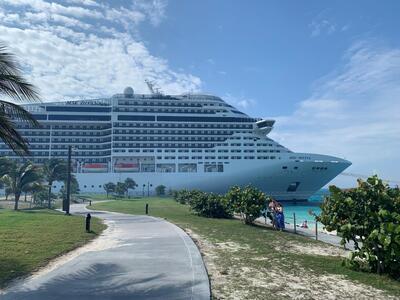 The last time I visited Ocean Cay, I was very excited to venture around the island, but 22,000 steps later, my feet were sore. This time, I made sure to wear comfortable shoes, throwing flip-flops in my bag for later in the day. It was so much easier, and I enjoyed walking a lot more. 
The paths at Ocean Cay are mostly concrete, which is perfect for sneakers, and there is some shells/ broken limestone in some of the more remote areas.
8. Check your Daily Program
Image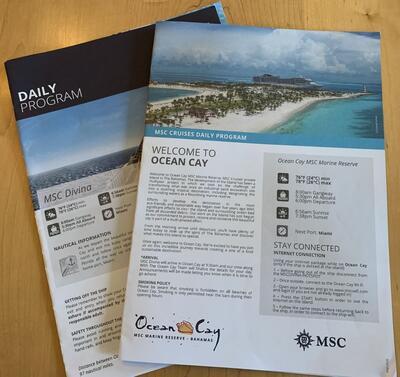 Check the forecast in MSC's Daily Program, but do keep in mind that it is very common to have quick rainstorms in the Caribbean; you can always bring a small umbrella or head to the nearest bar to wait out any showers.
The program also lists Ocean Cay activities, like bocce, tug of war, exercise classes, and dance parties  (many of which are free).  It also details the opening hours of food and beverage venues throughout the island. 
9. Bring a towel  
Image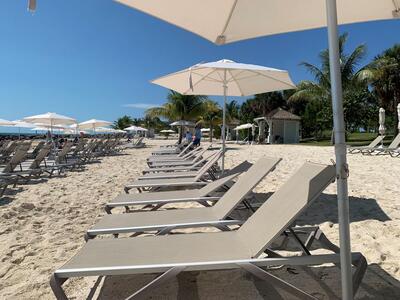 You can't get towels on the island. Your room attendant will place beach towels in your cabin for each person in your traveling party. Make sure to bring them onshore and then back to the ship at the end of the day.
For guests on the Yacht Club, MSC's suite area, they will get towels at Ocean House Beach, so no need to worry about packing them. 
10. Island transportation
Image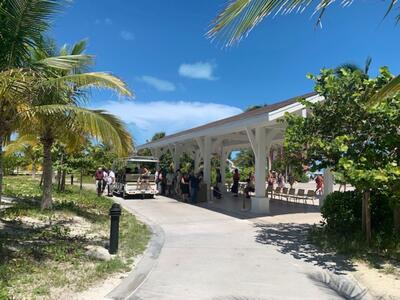 Nothing is too far at Ocean Cay, no more than a 20 minute walk, and there are numerous paths that sprawl across the islands with clear signage. However, for those who want to, there is transportation located right by the Welcome Pavilion; it is free to use and goes all around the island throughout the day. You won't have to wait long to catch one.
Guests of MSC's Yacht Club area have their own transportation to Ocean House, the suite area. The covered tent area across from the Welcome Pavilion services is the pick-up location, taking guests to Ocean House or other destinations.
11. Wi-fi/internet
Image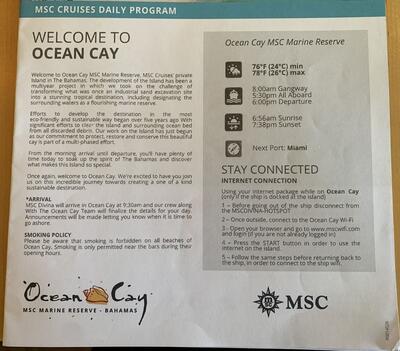 For guests who have purchased one of MSC's internet packages, Browse or Browse and Stream, they do work at Ocean Cay. However, cruisers need to disconnect from the ship's wi-fi and connect to Ocean Cay's wi-fi.
I found it worked best close to the ship, but it was very spotty throughout different parts of the island, especially areas that were far from the ship, like Bimini Beach and Ocean House.
12. Explore the island
Image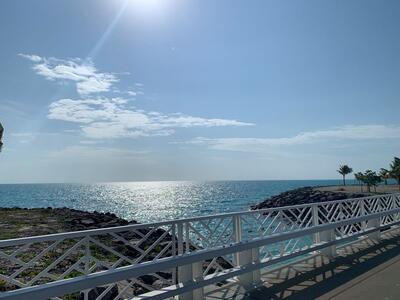 Although there's lots to do, close to where the ship docks, I highly recommend that guests explore other parts of the island. There are 8 beaches across the two islands, some with very few people. Sunset Beach is a stunning spot and the longest beach at Ocean Cay. Do note that some of the areas are not monitored by lifeguards, though.
For a break from the beach, the island offers numerous paths that take guests across the two islands that make up Ocean Cay. While visiting, I was stunned at the scenery throughout the island, including isolated areas that feel like a deserted island. MSC replanted 80,000 plants, trees, and shrubs on this island, which adds to its lush feel. The new vegetation has also attracted numerous birds who now make Ocean Cay their home. 

13. Drink Packages work onshore
Image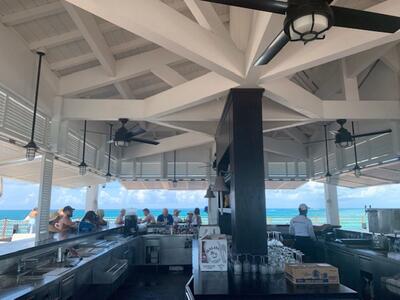 MSC drink packages work on the island, so if you have purchased one, you are good to go. If not, drinks can be charged to your cruise card. 
Beyond Springer's, which is the epitome of a beach bar, there are plenty of cool watering holes throughout the islands, including the Lighthouse Bar. You can get a variety of cocktails, beer, wine, and spirits. The Dailly Program will indicate hours of operation for all of these venues. 
14. Bring your phone or camera
Image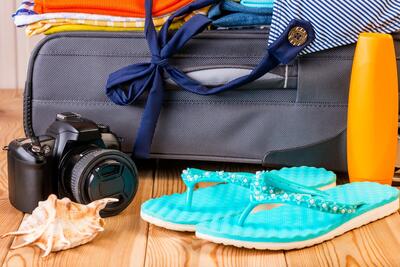 The scenery at Ocean Cay is spectacular. There are a number of picture-perfect areas throughout the islands, including the vast open space of Sunset Beach, thousands of beautiful palm trees and the rocky coastline that snakes along the coast by the lighthouse. 
While many people take pictures in the central area by the Welcome sign, it is pretty busy early on with so many people eager to get that perfect shot. If you take them later in the day, they will be much better, as there are far fewer guests around. 
15. Kid stuff
Image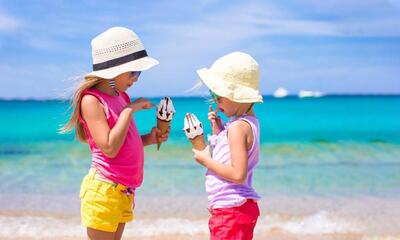 With so many great beaches, remember sand toys for the kids. Many families head to Lighthouse Bay, which is full of brightly colored chairs and soft sand. North and South beaches are perfect for families with kids as the water is more shallow and calm, and there are lifeguards on duty. There are some palm trees but limited options for shade.
There are no drop-off kids programs on the island, and minors may only go onshore with an adult. However, there are so many fun things to do, between the beach, water, and organized activities like treasure hunts; they won't get bored. 
16.  Snorkel
Image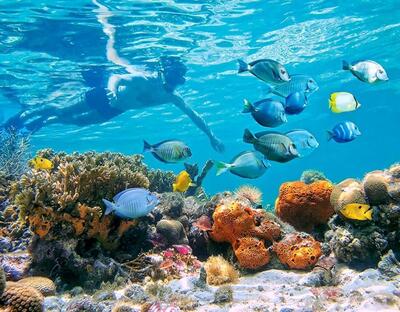 Whether you are experienced or want to try snorkeling for the first time, Ocean Cay is a great spot. The Bahamas have some of the most transparent waters in the world. MSC's foundation work has regenerated much of the local marine life, making it an ideal spot to dive in. You can rent equipment (for a fee) or use your own. 
This bountiful marine area has seen the return of its coral, seagrass, conch, and lobster, among many fish species. MSC has relocated 400 coral colonies, making a great base for a thriving underwater ecosystem.
There are outdoor showers and change rooms so you can wash off at the end of the day.
17. Book must dos ahead of time
Image
If there is something you really want to do at Ocean Cay, like a jet ski or go to the spa, it is best to book these activities ahead of time to not be disappointed. There is an Ocean Excursion Pavilion on the island, but if an activity is sold out, there is nothing they can do.  
Those who have booked excursions prior to getting on their island, they should receive their information and tickets the night before in their cabin. The  Ocean Excursion Pavilion is to the right when entering the gates to Ocean Cay if cruise guests have any questions. 
18. Head out on the water 
Image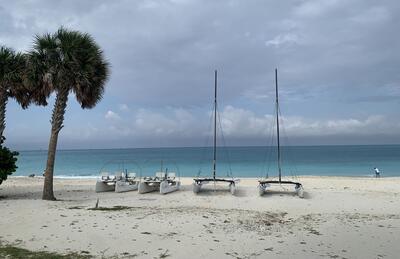 The waters around Ocean Cay are stunning. Don't miss this excellent opportunity to see the island from the sea. Activities like sailing, stand-up paddle boarding (or in the evening with LED lights), kayaking, wave runners, a catamaran cruise, or a twilight cruise are all nice ways to enjoy the ocean. 
Swimming is another great way to spend some time in the sea, enjoying any one of the eight beaches at Ocean Cay.. Do keep in mind that some beaches do not have lifeguards on duty. 
19. Check out the buffet
Image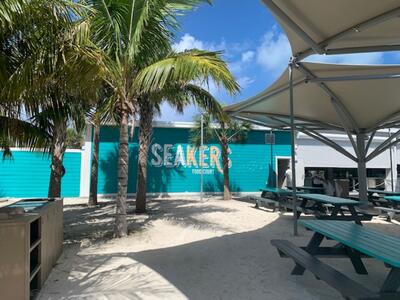 Seakers Food Court is an open-air venue that offers a buffet of BBQ classics with some Bahamian flavors
It has a fairly extensive menu with a variety of salads, and meats such as hamburgers, hot dogs, pork chops, sausages, and ribs, along with jerk chicken and fish, to name a few. There are plenty of great sides, including fries, corn on the cob, and mac and cheese. There is lots of fresh fruit for desserts, along with cookies and other sweet items. They even have some quick takeaway items like hotdogs. 
Inside, you can refill your water bottle,  and there is a bar area within the food court where you can use your onboard account to buy beer and soda. If you want a cocktail, there are bars nearby for something more substantial. 
20. Enjoy the food trucks
Image
There are food trucks located throughout the island that serve BBQ favorites with pasta salad, fries, and brownie for dessert. All are complimentary. 
With the food trucks being spread out accross the island, you can enjoy the day at some of the more remote locations, like Bimini Beach, without walking far to find something to eat. 
21. Ship amenities while at Ocean Cay
Image
While at Ocean Cay, MSC ships dock, and no tendering is involved, which is a nice bonus. Guests are free to go on and off as they choose; they just need to bring their cruise cards with them. 
For those staying on the ship, the buffet is open for breakfast and lunch, as well as the main dining room for breakfast. Some kids' programs are available, but it is best to check the Daily Program as this can vary by sailing.
22. Visit the lighthouse
Image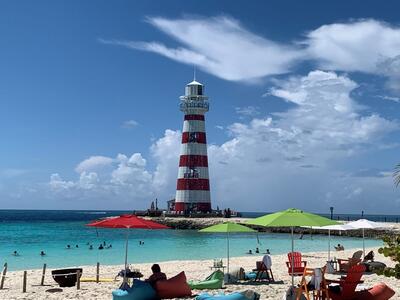 Ocean Cay's signature lighthouse beams from afar, thanks to its red and white stripes. It is not too far, from the dock, with a paved path leading the way past the adjacent beach. It is a worthwhile visit. 
A great spot to take pictures, guests can even climb the 100-foot retro-looking lighthouse for a $13 fee. At its base is the perfect spot to kick back, have a drink, and enjoy the views.  In the evening, it is a venue for a dance party with lights and DJ. 
23. Yacht Club Perks
Image
Guests of MSC's Yacht Club can enjoy a number of special perks on the island, including transportation, access to Ocean House, a private beach with drink service as well as a 3-course lunch with customized cocktails for the meal. If you are staying in this room category, you want to make sure to take advantage of these perks.
Ocean House is the main building for the Yacht Club located on the Northern side of the islands. The blue, Bahamian-style building has a classic bar and sprawling lounge area with plenty of spaces to hang out or have a bite to eat. Its lush green lawn overlooks a private beach with attendants, many lounge chairs, umbrellas, and cabanas. Food and drinks are all included for Yacht Club guests.
24. Visit the spa 
Image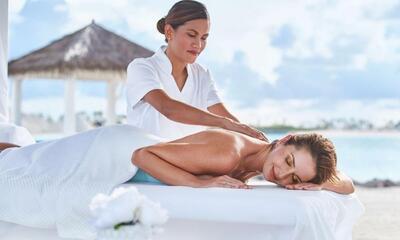 How about a beachside massage in a Bahamian paradise? That is an option at Ocean Cay. The spa is located in a quiet area of the islands, adding to the relaxing atmosphere.
 Guests can enjoy treatments that feature eco-certified and fully biodegradable skincare products.  If this is something that interests you, it is a good idea to make a reservation ahead of time.  Reservations can be made through the ship app, MSC for ME. 
Guests who have selected the Aurea experience should note that this is separate from the MSC Aurea Spa and that spa treatments included in this experience are not transferable to the island. 
25. You can get married at Ocean Cay 
Image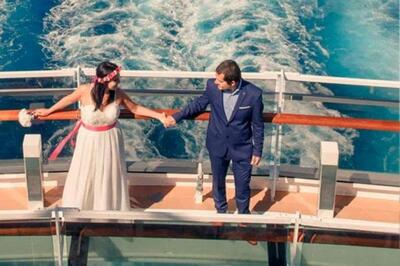 Who could imagine a more romantic location for a wedding or even a vow renewal? MSC has a dedicated Ocean Cay Wedding Pavilion, perched at the northernmost point of the main island. It is perfectly positioned for stunning views and pictures.
Couples can get assistance from a pre-cruise wedding planner as well as a coordinator onboard. Flowers, the wedding attendant, champagne, and photography service (not the pictures) are all part of the package MSC offers.
26. Rent a cabana for the day
Image
There are three main types of cabana rentals at Ocean Cay, including the Ocean Cay Beach Cabana for six guests. Exclusive for Yacht Club cabins are the Beachfront Yacht Club Cabana and the Ocean View Yacht Club Cabana.
While this splurge can run several hundred dollars depending on the type of cabana and when you book, it can be a nice gathering point for families or friends. They come with bottled water, beach towels, and floating mats. In addition, Yacht Club cabanas come with full drink service, snorkeling equipment, and snacks. 
Cabana pricing ranges from $249 to $449 for those staying in the Yacht Club. Be sure to book ahead if this is something you want to splurge on! 
27. Do not forget about evening activities
Image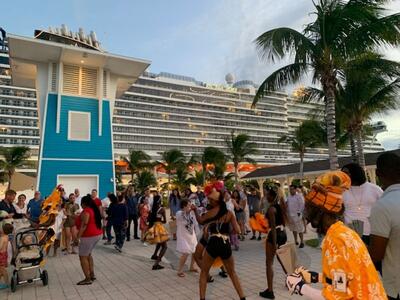 Some cruises feature a late-night party or even spend the night docked on the island. This is an incredible time to have fun under the stars. Enjoy special festivities, including an evening dance party by the stars.
Other activities have included lighthouse parties or junkanoo, evening cruises, and stand-up paddle boarding. Check out the program to see what is offered on your cruise so you don't miss any of the fun.  
28. Leave the shells on the island
Image
While it is fun to bring home souvenirs from a fantastic beach day, guests should leave shells on the island in their natural habitat. Many countries do not allow travelers to bring back shells or sand for fear of the introduction of invasive species.
Conch, in particular, is a much-prized, stunning shell that is native to these waters. But, it is an important part of the ecosystem that should not be disturbed. Instead, head to the shopping area for some authentic Bahamian wares.
29. Stroll through the Ocean Cay Village shops 
Image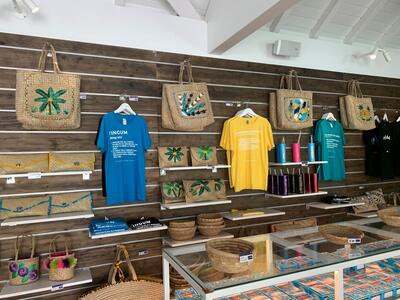 What looks like traditional, pastel-colored Bahamian buildings house a number of shops along the island's main thoroughfare.
Shops sell a variety of items, even sunscreen or water shoes. There are also authentic Bahamian products, such as soaps, harvested sponges, and straw products, such as bags, sun hats, and purses, that the Bahamas is known for. There are also MSC Foundation products, including t-shirts and other souvenirs, in support of MSC's initiatives.
30. Don't try to do it all!
Image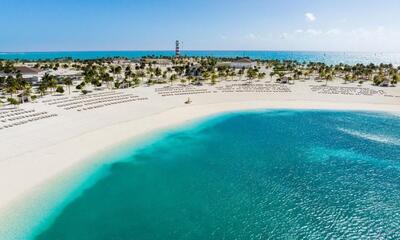 There are tons of ways to spend a perfect day at Ocean Cay. However, my major tip is to not worry about doing it all. There are numerous options, but do what feels right that day and what you enjoy. 
Part of the appeal of the island is its relaxed vibe; there are no crazy bubble pool parties or roller coasters. So it seems fitting to go with a bit of knowledge of what it has to offer and then go with the flow.