Heading off on an MSC cruise and wondering how you will find out about all the great things to do onboard  ? The Daily Program is the best tool to guide you through all the fun stuff to do on your cruise vacation. 
There are tons of details about every aspect of your cruise vacation - from the moment you board to when you leave, and everything in between. 
Ports of call, countless activities, family programming, dining, bars, lounges, music, and shows are just some of the things listed in the daily onboard publication. 
Image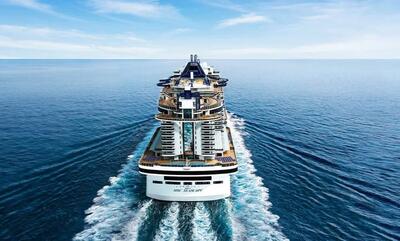 Here's what you need to know about MSC's Daily Program. 
How to get the Daily Program 
Image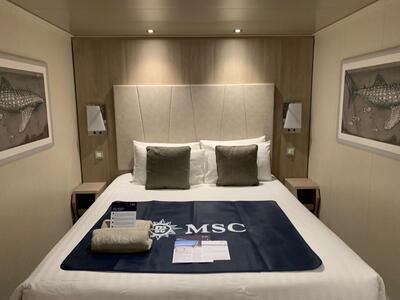 For guests on MSC cruises, a detailed program will be delivered to your cabin each night for the following day's activities. 
While many people love the convenience of a hard copy schedule, there is also an electronic version via the cruise line's app. MSC for me, as it is called, is available on newer ships in the fleet, such as the Meraviglia and Seaside classes of ships. The app is available on android or apple devices and assists passengers with planning while onboard. 
This allows you to quickly access all of the day's events, set reminders, and get notices about things of interest. And, as a side note, one great feature is the MSC for Me Chat, is that it allows for messaging onboard without internet packages. It is easy to stay in contact with your fellow cruise mates and discuss what activities you want to do and when. 
General information 
Image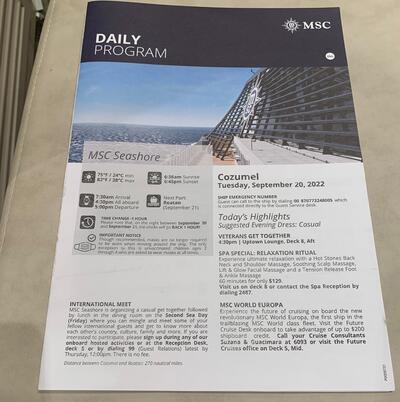 The Daily Program is several pages long, and critical information for the next day is provided on the front page. Weather, temperature highs and lows, sunrise and sunset times, and upcoming port information are all listed. Nautical info is also provided for any of you who love charting the ship's course and progress toward your next port of call.  
Some of the essential details to note include any changes in ship time, as well as arrival and departure times for port days. Cruisers need to pay attention to the difference between all aboard time, that is, the time cruisers must be on the ship versus the departure time. 
Another critical section to review is Customs and Agriculture Regulations. Some ports require passports to be presented upon arrival (such as Martinique), while others don't allow guests to bring food onshore. In some stops, like Cozumel, the local authorities have dogs to sniff out any snacks that may have made their way onshore. Generally, this is to protect local crops and the environment against invasive species. 
Hopefully, it will never be needed, but the cruise line also outlines safety protocols and muster drill information. A muster drill provides details on how to safely evacuate a cruise ship in the event of an emergency. Communication and meet-up points are reviewed and must be completed before departure.
The fun stuff
Image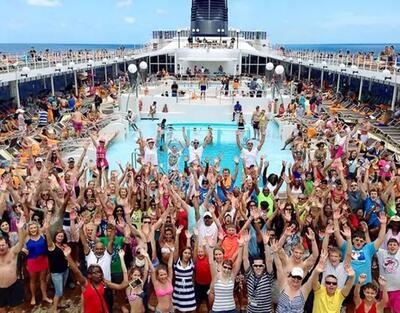 While the main page may contain more of the serious, regulatory information that cruisers need to know, there are plenty of fun activities and things to do listed in the Daily Program. With so much information, MSC organizes the full range of onboard events by interest, activity level, well-being, family stuff, dining, and beverages, in chronological order.
Casinos, shows, live music, sail away parties, white night, 70s nights, games shows, and trivia are some of the items on the daily agenda. Take a selfie with the crew, try your hand at dance lessons, or partake in special holiday events; the fun doesn't stop. 
Shopping is another favorite activity for many on a cruise ship. Jewelry, watches, perfume, sunglasses, t-shirts, and bags are all popular choices. Opening hours, as well as special sales, are highlighted in the Daily Program.
Dining and beverages
Image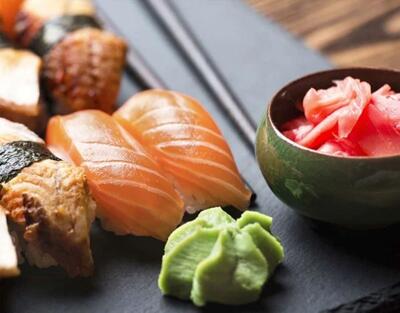 Whether you want to have a leisurely meal in the main dining room, grab some quick food in the Marketplace Buffet, or try some of the mouth watering specialty dining options like sushi, teppanyaki, steak or seafood, the Daily Program lets you know the opening and closing times of venues each day.
As part of the MSC for me app, you will get a reminder for any reservations you may have, which can be handy if you lose track of time sunning by the pool. 
There are also numerous bars and lounges on the ships, with some larger ones having more than 20. With so many great options, live music, dancing, and piano duos, you'll want to check out all the alternatives offered any time of day. 
Families and kids
Image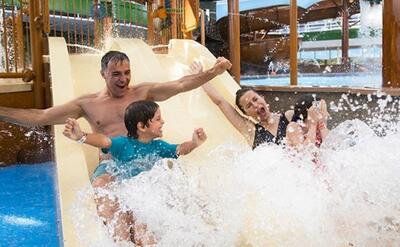 MSC is known as a family-friendly cruise line, with many promotions and amenities onboard to make sailing affordable and fun. Once onboard, the Daily Program is extremely helpful in keeping track of all the activities for kids and families. 
The cruise line offers complimentary kids programs for guests ages 3-18, with toys, age appropriate activities, sports and much more. Other fun family things to do, such as waterparks, pools, arcades, virtual reality games, slides, and movies, will also be posted.
Other information is supplied, such as detailed descriptions of events, how to sign your kids up, as well as meet the youth staff leading the kids' programs. The Daily Program is instrumental in helping everyone in the family find something they love to do. 
Other information
Image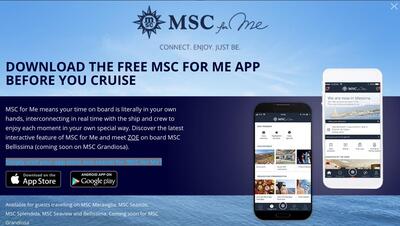 One of the nice things about cruises is the opportunity to meet lots of new people. There are numerous gatherings for various groups, including: LGBTQIAP+, single, and solo travelers, international meetups, veterans, and more.  
Having so much fun and wanting to plan another cruise – drop by the Future Cruise desk to get it booked. Passengers can also update information with a representative of the MSC Voyagers Club, the cruise line's loyalty program, visit the photo shop, tech support, and the MSC Foundation, the cruise line's philanthropic arm. 
Sometimes the announcements on a cruise ship can be a little long, and with MSC catering to a wide range of travelers, they communicate in many languages. To minimize disruptions, a number of announcements are provided via the MSC for Me app. 
Ocean Cay 
Image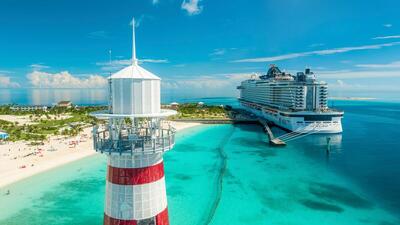 A frequent stop on both Eastern and Western itineraries, Ocean Cay MSC Marine Reserve (Ocean Cay) is MSC's private island in the Bahamas. The island covers 95 access and 8 beaches, providing for a fun-filled day that lasts well into the evening . 
The Daily Program provides a detailed list of activities throughout the day, including: 
Kids' and teen activities 
Music
Beach party
Junkanoo Parade
Lighthouse Show (with lights and music) 
Opening hours for bars throughout the island 
Restaurant hours - including complimentary buffet at Seakers Food Court and Food Trucks 
Shops and spa hours 
 Disembarkation Information
Image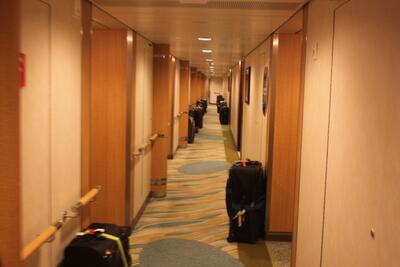 Unfortunately, all good things must come to an end, and so must your cruise. There are some important details related to this process, that are outlined in the Daily Program. 
When to put out your luggage - if you are not carrying off your own luggage, MSC will do so; however, you need to put it out the night before so that they have time to organize the thousands of guest suitcases. The cruise line will specify the time and provide baggage tags.
Review your bill - 

Before leaving the ship is the best time to review the itemized bill and go to guest services should there be any questions.  

Pick up alcohol – Duty-free purchases are available at a specified time and location.  
Meeting point - To facilitate the deboarding of so many passengers, you and your traveling party will be provided a time and place to meet, such as the theatre or bar. 
Food options - They also include what's open the morning of the last day of the cruise.
Wanting more pre-cruise info?
Image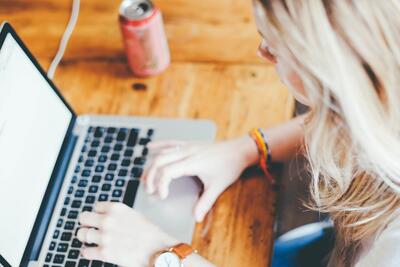 There is tons of great info in the Daily Program; unfortunately, you can't access it until you are onboard.  There are, however, some great ways to get some ideas, especially if you want to make sure you pack everything you need. 
Social media forums can be a wealth of information, and there are many MSC cruise and date specific forums online you can join to discuss what current/recent cruisers are experiencing. Some guests are kind of enough to post previous copies of the Daily Program online. 
A quick internet search will also usually provide a number of cruise planner examples. Or, if you are wondering what is offered on your cruise, reach out to MSC or your travel agent.