Caribbean cruises are among the most popular cruise itineraries, and with the weather getting colder, many of us are already dreaming about escaping to a tropical climate.
Bathing suits, shorts and tees are the mainstays of cruise packing, but there are other things you may enjoy on your cruise vacation. 
With so many great things to do: fun excursions, beach days, waterpark fun, evenings filled with fine dining, dancing and live shows. All this activity may leave you wondering what and how much to pack.
We have made it easy with our ultimate packing list of essentials (and some nice extras) for your upcoming Caribbean cruise vacation. 
Weather
Image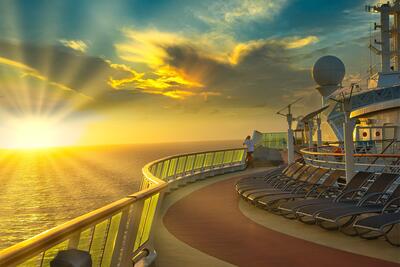 When starting to pack for a Caribbean cruise, many people wonder what the weather will be like. That is a good question. In general, you can expect warm weather in the Caribbean, with some minor variations in temperature and rainfall depending on the itinerary and time of year you sail.
Summer tends to be the hottest, with many regions seeing occasional rain and hot temperatures into the 90s. As you get farther along into fall and winter, the northernmost islands in the Caribbean, such as the Bahamas and Turks and Caicos, can have some cooler temperatures, with the thermometer occasionally dipping into the 70s.
As you move south, you can expect temperatures that will be consistently warm all year long. You may see the occasional rain shower, especially during the summer months, but they tend to move through quickly.  
The basics/ daywear
Image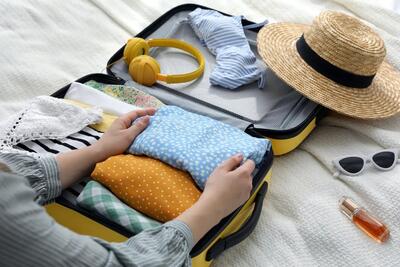 How many outfits you need depends largely on the length of your cruise. Something else to consider, most cruise lines don't offer self-service laundry facilities but do have onboard washing, pressing, and dry-cleaning services for an additional cost.  
A good rule of thumb is two outfits per day (day and evening) along with a travel outfit to go home. For the warm Caribbean sun, consider garments and fabrics that keep you cool and comfortable, whether you are at the pool or beach.
Clothes for lounging/ pool, such as tees and tank tops, shorts, sundresses, swimwear, and cover-ups
Comfortable pair of flip-flops and sandals
Jeans and pants
Active wear, including running /walking shoes
Clothes for onboard activities, such as ziplining, ropes course, rock climbing, or galley tours, some of which require closed-toe shoes.
Socks
Sunglasses
Sun hat or visor
Lanyard for cruise card
Evening attire
Image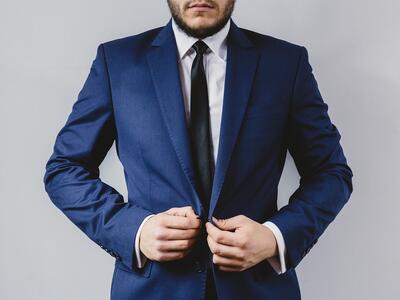 For evening events, the dress code varies by the cruise line and venue. Some ships are quite casual, while others have dress up and theme nights. In general, cruises tend to be less formal than they used to be. Consider packing:
For casual/ smart casual dress codes - nicer pants, jeans, polos / collared shirts,  tops, blouses, skirts and dresses.
For dressier venues, suits and ties, cocktail dresses, pants and dressier tops.
Formal evenings can go even further with formal suits,  tuxedos, or evening gowns.
There are also fun theme nights, such as the White Party, 70s or 80s nights.
It never hurts to throw in a light sweater, shawl or wrap for air conditioned or cooler areas.
For versatility, consider shoes in neutral tones or metallics.
A couple sets of sleepwear for when your fun evening comes to an end
Ports and excursions
Image
Whether it's a beach day, a walking tour or ziplining through the jungle, there are a few things you should probably include for any activities you want to do on your day in port.
For general water/ beach outings, consider:
Mask, goggles, and snorkel
Water shoes
Life jackets /flotation devices - especially for children
Waterproof phone carrier
Towel clips
Beach bag
Bug spray
Sunscreen and lip balm
Some people like goggles or bandanas for ATV tours, which can be dusty.
Do note - most cruise lines do not allow diving equipment and gear
Additional tips
Image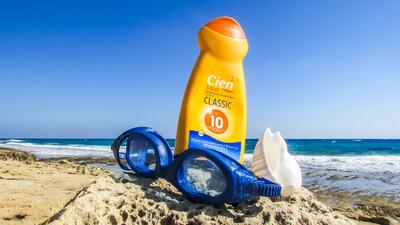 Bring good, comfortable shoes for walking and what is considered appropriate for the specific activity you are doing. It is never a good idea to break in new shoes on a cruise!
Sunscreen is a must, and cruisers should be aware that some destinations require reef-safe sunscreen to help protect the health of their coral reefs. These products don't contain harmful chemicals such as oxybenzone, octocrylene and octinoxate. Reef-safe sunscreens are readily available in popular drugstores and other retailers. Ports in the U.S. Virgin Islands, Aruba and Hawaii are some of the locations that require these types of products.
It's always a good idea to keep valuables such as a phone and wallet safe when venturing out in ports. Cross-body bags with secure locks or a money belt are good options. It never hurts to stick an umbrella or rain ponchos in your bag in case any tropical showers pop up.
For those who love camouflage clothing, it is important to note that it is illegal in some Caribbean countries, such as Jamaica, Barbados, and St. Lucia, as it is reserved for military use. Some non-camo options should be included when packing.
Kid stuff
Image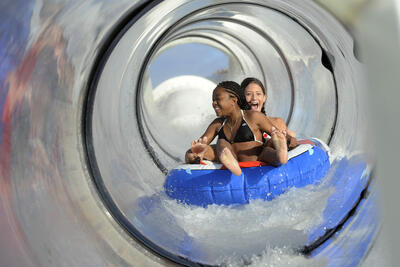 Traveling with younger kids can definitely add more to your packing list and you want to make sure you have everything you need. Ensure kids are well protected from the heat and have all that they need for activities and port days.  
 Beyond the standard clothes suggested for adults, consider including:
Diapers – pack plenty of extra ones, including regular and swim
Baby wipes
Rash cream
Extra plastic bags for wet items
Extra clothes
Light blanket
Stroller
Car seat where necessary
Bottles/sippy cups
Baby food and formula
Activities like coloring, stickers, books, etc.
Download favorite shows and games on tablets
Many parents prefer a bath for young children and bring small blow-up bathtubs that can be placed in the shower during a cruise.
Favorite non-perishable snacks can be packed in your suitcase
Fun stuff
Image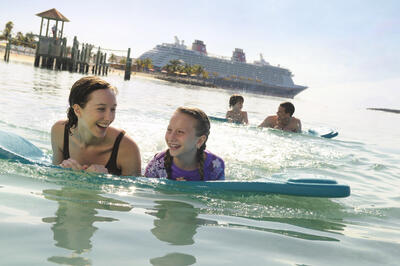 Kids love their fun in the water or at the beach, including sand toys, which are an essential part of any beach day. Collapsible silicone toys are a fantastic option for saving space in lieu of traditional bulky toys.
For port excursions, make sure to bring along kid friendly sunscreen, a hat and appropriate flotation devices. Water wings are not always the best option for the ocean, especially with currents and waves.
Sadly, there are a few fun things that can't be brought on a cruise ship. Some prohibited items among cruise lines that you may not have thought of:
Boogie Boards
Inflatable floats
Inflatable pools
Pool noodles
Rafts
Surfboards
Wave boards
Water guns
Toiletries
Image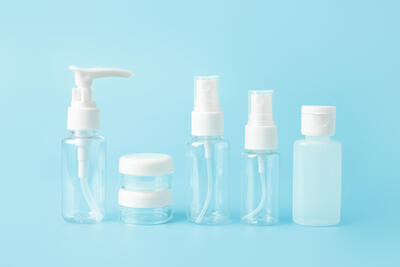 Most of us use several products throughout the day, from our morning routine to our bedtime regime. This can translate into a fair number of things to bring along. When I start the packing process, I walk through everything I do to get ready and make brief notes.
Sea air and the beach can play havoc on your hair and skin. Although cruise lines provide soap and shampoo, many people prefer to bring their own. Here are some of the main things to consider:
Shampoo and conditioner, and other hair products.
Skin care products
Makeup
Eye care – glass cleaners and contact solution
Dental – toothbrush and toothpaste (and floss for the 1% that actually do as their dentist tells them)
Curling / flat irons (cabins have blow dryers)
Shaving products
Brush, comb, elastics/ hair accessories
Other hygiene products
Nail products
Many travelers find an over the door shoe rack and magnetic hooks helpful in organizing toiletries. Additionally, travel-sized products can be pricey despite their size. Reusable travel bottles are a good solution, especially if you don't need a large quantity of product.
First aid and medications
Image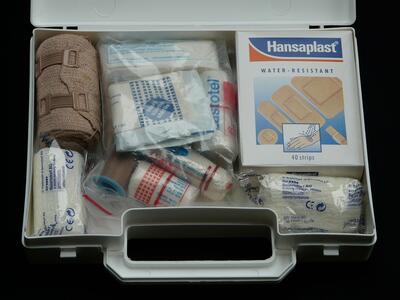 While some items can be purchased onboard, it is a good idea to have a ready made first aid kit for easy access during the cruise. The last thing you want to do is spend time running around in port to find something.
Visiting hot climates, beaches, and tropical jungles may require some sunburn after care as well as anti-itch cream for bug bites. Your cruise ship may have a limited supply of items, so best to bring them along to make sure you have what you need. 
Here are some common medications/ first aid items to pack:
After-burn care (aloe), lip balm (SPF), and bug spray
Anti-itch cream/ hydrocortisone
First aid items such as band-aids and anti-bacterial ointment
Pain and allergy products
Upset stomach medications
Cold medicine
Eye drops
If you are traveling with little ones, pack children's versions of required meds.  
Valuables / carry-on
Image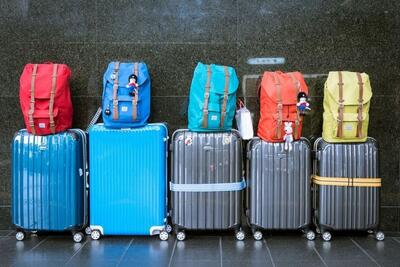 The last bag to pack is your carry-on. Once the luggage is dropped off at the terminal, this should contain everything needed until the cabin is ready.
A number of people ask about what currency to use in the Caribbean. U.S. dollars are widely accepted, so there is no need to exchange for foreign currency.
Cruisers will need all their required travel documents, such as personal identification -  passports and driver's license. Although most closed-loop cruises (those that begin and end in the same U.S. port) only require a birth certificate, some countries, such as Martinique, require passports to disembark.
Basics to pack:
Money (small denominations for tips/ foreign currency), credit cards
Electronics – phone, tablet, earbuds, charger, camera
Required medication (at least 3 days extra worth)
Eyewear – glasses, sunglasses, contacts
Comfort items such as gum/ mints/ snacks
Phone battery (can't be packed)
Hand sanitizer and wipes
Covid 19 test kits if you plan on doing proctored tests
Pens
Although most people keep documents on their cell phones, I always feel better having hard copies just in case something happens to my phone. Documents to bring:
Cruise boarding passes
Vaccination records 
Negative Covid-19  test results  
Transportation details
Insurance details
A list of critical numbers and reservations
Luggage tags
Excursion details
Packing your own drinks can be a good way to save money. Most cruise lines allow guests to bring a specific quantity of drinks onboard, but it does vary. For example, MSC Cruises does not allow guests to bring any alcohol on their ships. For those who allow it, beverages must be carried on and cannot be packed in your suitcases.
Miscellaneous 
Image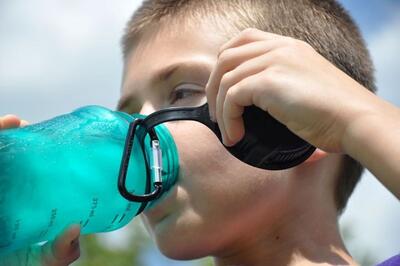 Many people recommend keeping jewelry to a minimum when traveling, but it really boils down to personal preference. If you do decide to bring some valuable items, keep in mind what activities you will be doing, such as swimming, snorkeling or sailing. You don't want to damage a watch or lose a precious ring in the ocean.  
A water bottle is a definite plus and an item I wish I had brought along on my most recent cruise. There were plenty of places to fill up, and with the hot weather, this would have been well used. If you are worried about water-borne illnesses or bacteria, water bottles from companies such as LARQ and Lifestraw will clean the water, getting rid of E.coli and bacteria. Helpful if you are unsure how safe the drinking water is.
Other items to consider:
Magnetic hooks – especially good to hand up wet bathing suite s

Over the door organizer

A night light, as cabins can be dark

Reading material
Flashlight

Straws

Towel clips to keep your towel from blowing away

Fan, but must be cordless (can plug into USB)

Multi-outlet USB Charger (non-surge)

Tip – Ziplock bags are invaluable. I suggest bringing a couple of different sizes; they can be used for shoes, dirty clothes, organization, etc.
What to leave at home
Image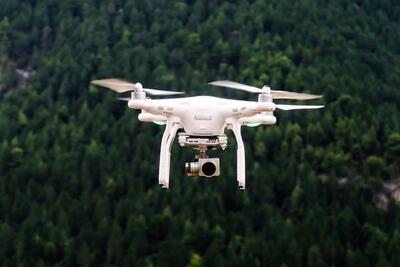 There is a whole list of items that can't be brought onboard a cruise ship, so it's best to know about this ahead of time and not waste space in your suitcase.
You may want to take some aerial footage of those stunning blue Caribbean waters, but some cruise ships do not allow drones. There are also restrictions for many ports and cruise line private islands. 
Each cruise line provides a list of prohibited items on their website, or you can contact them if you are unsure.
Here are some common items that the cruise line does not permit onboard:
Hard liquor and spirits
Marijuana (even if medical products),
CBD Oil / CBD Products
Irons and steamers
Kettle, coffee maker or hot plate
Candles
Baby Monitors
Extension cords
Perishable foods and meats
Hookahs and water hookah pipes
Weapons including pepper spray
Toy gun replicas
Hoverboards
HAM radios