One of the best parts about cruising is getting to explore incredible ports throughout your cruise vacation. Each day of your cruise, you'll be waking up to new destinations and have daily opportunities to experience a new city or country. 
When your cruise ship is docked in port, you have a few different options for how you can spend your day ashore. Most people choose to book an excursion to maximize their time in port, while some people choose to venture out on their own.
Personally, I like to do a combination of both during my cruise! A few shore excursions can ensure I see everything I want to during my time in port while independent exploration is perfect for certain cities and ports. 
Regardless of how you spend your day in port, one common concern from cruisers is how they can properly keep their belongings safe throughout the day. This is very important, as no one wants to lose their phone, cruise card or money during their vacation (or ever!). 
Image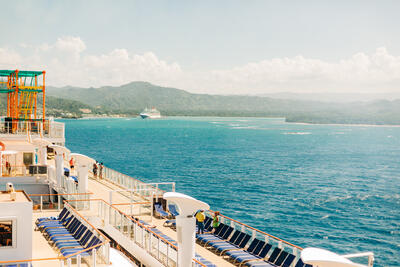 Remember, your cruise card is how you make onboard purchases, enter your stateroom and how you will board and disembark the cruise ship at each port. Treat it as your credit card, house key and ID all in one!
Unfortunately, there are people who don't always have your best interest at hand. Also, accidents can unfortunately happen, so you should set yourself up for success in the worst case scenarios. 
After extensive traveling, I've seen it all - stolen passports, slashed purses and pickpocketed phones right out of the hands of friends and family. 
I personally almost lost my purse while exploring Morocco with my husband. While crossing the street, a scooter came right up to the sidewalk where we were walking and the scooter's passenger grabbed my crossbody and tried to yank it right off my body.
Luckily, I was wearing a well-made crossbody during the incident, which made it difficult for the individual to successfully get my purse. 
Image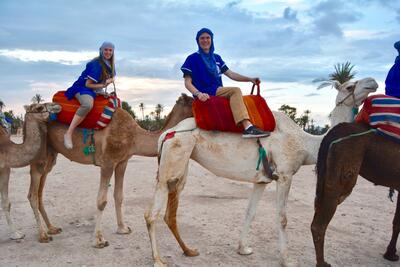 I've even slept in the jungle of Senegal with my passport strapped under my pajamas because I was so worried someone would steal it while I slept. 
Whether you're exploring a new city in Europe, snorkeling in the Caribbean or whale watching in Alaska, you should be planning ahead to ensure you can keep your valuables properly secured. Depending on how you spend your day, you'll want to make sure you pack properly as well. 
Image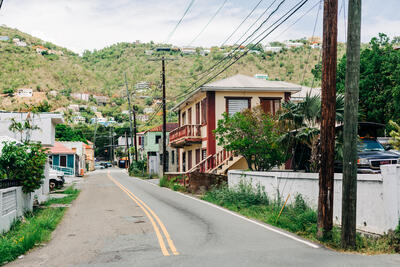 Here are a few tips on where you can keep your cruise card, phone and cash during a shore excursion. 
Watch out for pickpockets
If you're exploring a city while you're in port on an excursion, you should take a few simple precautions to keep your valuables safe. This can be especially important in busier and bigger cities to avoid pickpockets. 
Having a small crossbody is the perfect place to keep your belongings safe throughout your shore excursion. It's a good idea to have your crossbody in front of you, as having your bag behind you will put you in a vulnerable position. 
Image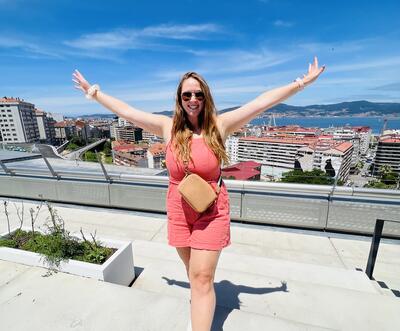 Having a purse just dangling from your shoulder makes it easier for someone to grab it and run off. When your bag is worn across your body, this makes it much more difficult for a pickpocket to be successful. 
It's best practice to always be aware of your surroundings, especially in crowded tourist spots. More than likely, you'll be visiting the top tourist attractions during your shore excursions; unfortunately, this is where most of the pickpockets pry on huge clumps of tourists.
If you can, wear pants or shorts with zippers for added security. Never have anything in your back pockets, as this makes it very easy for pickpockets to target you. 
Some prefer to have fanny packs in leu of a crossbody during their shore excursions, which can be a great solution for carrying valuables and keeping money in a safe place. Fanny packs are great options for men and women!
Image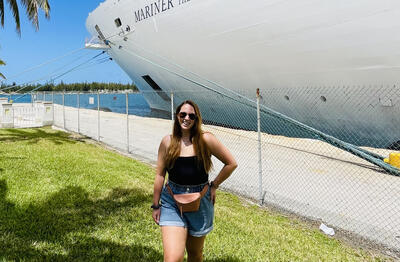 When dining at a restaurant, keep your bag within sight or on your lap so someone doesn't snatch it while you're eating delicious vacation food. 
Those who prefer to wear a backpack, consider using small luggage locks to make your bag more difficult to break into. I used luggage locks throughout my semester abroad and it added some peace of mind.
Image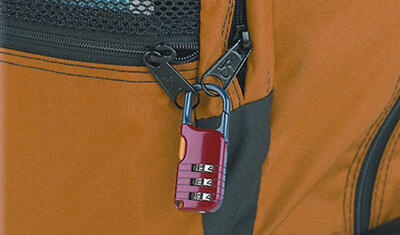 If you find yourself on public transportation, keep your bag or purse on your lap to ensure no one can easily access it. 
Staying safe at the beach
Cruising and beaching simply go hand-in-hand! Give me a mojito beachside and I am the happiest cruiser. Unsurprisingly, heading to the beach on a shore excursion is one of the most popular Caribbean choices for how to spend the day in port. 
Image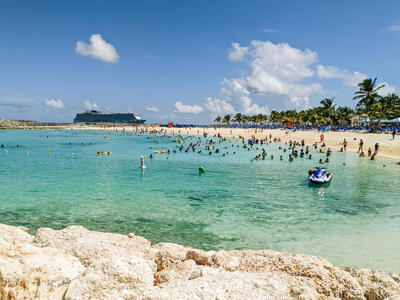 In a best case scenario, you will be traveling with a group to the beach where one person could ideally stay back to watch everyone's belongings. This is probably the best option to ensure your belongings are kept safe. 
As someone who loves cruising with my husband, we often find that it's just the two of us at the beach on an excursion. This can be stressful about what to do with our belongings if we both want to get in the water or go get a drink at the bar. 
Image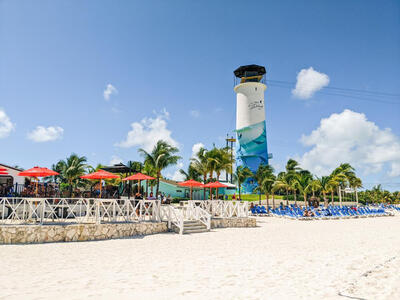 First, we look to see if anyone from our cruise ship is nearby to ask if they can keep an eye on our things. It's pretty easy to find other cruise passengers if you can spot the cruise ship towels! If we find someone who looks trustworthy or we recognize someone from the ship, we ask if they can keep an eye on our things. 
We will keep our eyes on our belongings periodically if we both choose to go into the ocean together. We always cover our belongings with towels so nothing is out in the open. 
Image
Some cruisers even like to bring a small portable safe that they can tether to a chair on the beach. This might be a good solution for those extra concerned about keeping their belongings safe. 
If you're visiting a cruise line's private island, you might be able to access complimentary lockers to store your belongings. For example, Royal Caribbean offers free lockers for guests visiting their private islands (CocoCay and Labadee). This can be an easy and cost-efficient solution for keeping your cash, phone and cruise card in a safe spot while you enjoy the private island.
Pack lightly for your excursion
When going ashore, it's best practice to pack as lightly as possible. Don't take anything ashore that you absolutely don't need, as this just increases the likelihood of losing something or having it stolen.  
There's usually no need to bring your fancy jewelry, iPad, laptop, etc while on a shore excursion. Keep these items safely in your stateroom. 
Image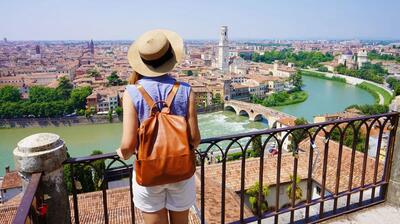 I prefer to travel with the bare minimums in my crossbody: my phone, my cruise card, my driver's license, some cash, 2 credit cards (a no-fee Visa and a back-up) and a debit card (in case of needing more cash). I don't travel with all of my IDs or cards, as I want to ensure I have back-up options onboard the ship in the worst case scenario. 
Some prefer to travel ashore with their passports while cruising. This comes down to personal preference. 
Personally, I like to leave my passport on the ship in my stateroom safe (unless it's required to go ashore in a certain port). In my mind, the risk of my passport getting lost or stolen is more likely than a catastrophic event, like a medical emergency or being left behind. 
Image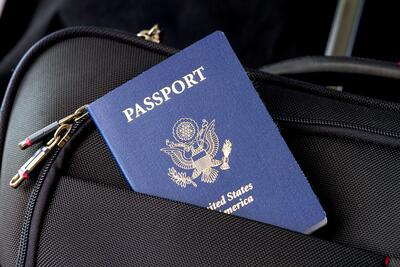 On the other hand, others swear by traveling in port with their passport in the unlikely event of a medical emergency or worst-case scenario of getting left behind in port.  
Either way, make sure your passport is properly secured in your bag or crossbody if you choose to carry this document.
If you're going on a water-intensive excursion
It's very popular for shore excursions on a cruise to include active tours like kayaking, boating, snorkeling, or whale watching. 
Image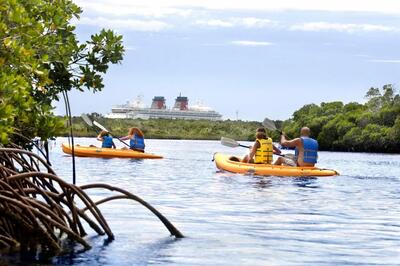 For these types of excursions where you'll be on the water or getting wet, consider bringing a waterproof phone case or pouch so you can continue to take great pictures or videos throughout your shore excursion. Waterproof pouches are very popular and even have lanyards to help you keep your phone right around your neck. 
Image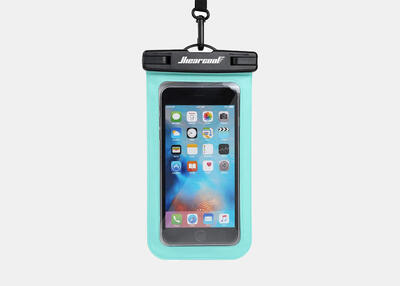 A small waterproof storage box could also be another good idea if you want to have your phone locked away safely during a more water-intensive activity like river rafting. 
Another low-budget idea is to bring a Ziploc baggie on your shore excursion to protect your phone, cash and cruise card from water damage. We love having Ziplock baggies on our cruises for a multitude of purposes, and keeping our valuables safe from water damage is one of the biggest reasons. 
Image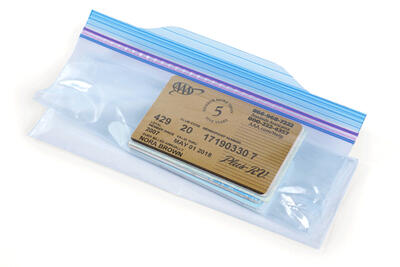 Utilizing a Ziploc baggie is an easy and cost-efficient solution that we recommend to all cruisers.