Similar to other cruise lines, MSC Cruises has a robust loyalty program for its customers. Known as MSC Voyagers Club, the program has four main tiers in addition to its Welcome level. It provides cruisers with a number of benefits, especially for those who reach the higher-level tiers such as Gold and Diamond.
Loyalty program members earn points based on the number of nights for each cruise, as well as what MSC experience you purchase. For example, if you are sailing on a 7-night cruise and booked the Fantastica experience, you'll earn 700 points. Someone who booked Bella will only get 500, while those staying in the luxurious MSC Yacht Club will get 1,500 points.  
This means that it is possible to reach the highest tier of the Voyagers Club after seven week-long cruises while staying in the Yacht Club. 
The cruise line also gives guests the opportunity to earn points for some of their pre-cruise purchases and onboard spending, making it easier to attain higher loyalty tiers.
Here is what you need to know about MSC Voyagers Club.
Overview of Membership Tiers
Image

MSC Cruises has five different tiers. Only four, however, actually receive benefits. Guests with one confirmed booking are part of the Welcome tier, meaning that it is not until your second MSC cruise that you begin to benefit from the MSC Voyagers Club. 
Classic Membership: 1 to 2,199 points
Image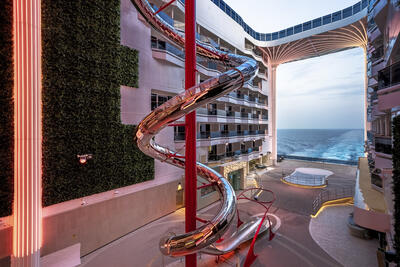 5% cruise discount, valid all year round (except Tandem and MSC Grand Tours)
Additional 5% cruise discount on all bookings made at least 6 months before departure
MSC Voyagers Club personalized luggage tags for embarkation in the e-ticket
MSC Voyagers Club card
Welcome back Cocktail Party
Onboard dedicated number
A collection of flexible onboard offers
MSC Voyagers Club e-newsletter
MSC Voyagers Club online personal area
5% off digital accessories
5% off Wi-Fi packages
50% off F1 Simulator
10% off onboard pictures
10% off Thermal Area Cruise Pass
30% off fitness package
1 hour with a personal trainer
30% off the second massage
Free consultation with spa doctor
10% discount on Minibar
MSC Shop Discount – $10€/$ off for every $50 €/$ spent (except tobacco and electronics)
Silver membership: 2,200 to 4,299 points
Image
Benefits of the previous tier
Milestone Reward (tier upgrade pin delivered onboard)
10% off on digital accessories
5% off on laundry
50€/$ onboard credit per person on Voyages Selection departures
20% off on onboard pictures
Gold Membership: 4,300 to 9,999 points
Image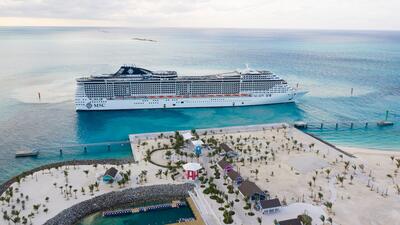 Privileges of the previous tier
Free one-hour thermal area session once per cruise
Complimentary gift
MSC Voyagers Club Photo (at restaurant)
Complimentary birthday cake
Priority disembarkation in ports with tender (where required)
30% off onboard pictures
15% off digital accessories
10% off Wi-Fi * (Browse Cruise / Browse & Stream Cruise)
10% off laundry
Diamond Membership: 10,000 and up points
Image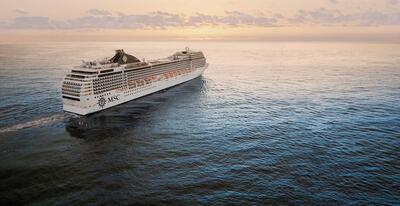 Privileges of the previous tier
Priority boarding (valid for all cabin guests)
Specialty Restaurant dinner plus 1 cabin guest (no beverages)
Complimentary spumante with chocolate-dipped fruit per stateroom
Courtesy bathrobe and slippers
MSC Voyagers Club exclusive Diamond Party
MSC Voyagers Club chocolate ship
Complimentary dance class
Late cabin check-out disembarkation (valid for all cabin guests)
Priority disembarkation at the end of the cruise (valid for all cabin guests)
Sweet Chocolate Gift
40% off onboard pictures
20% off digital accessories
15% off laundry
Read more: Top 20 MSC Cruises questions answered
Additional information
Image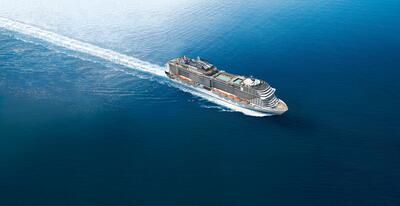 Voyages Selection departures are member-only deals. In addition to discounts on the cruise price, loyalty members receive additional onboard credit of up to €/$50 per person and double membership points.
Important to note, loyalty members must cruise at least once every three years for their membership status to remain valid. If it expires, guests will go back to the lowest tier but will be given 500 points.
Membership is free and has no age restrictions. For guests traveling with cabin mates with differing membership tier levels, some perks can be extended to all guests, while others are not transferable, as noted above.
How to earn points
Image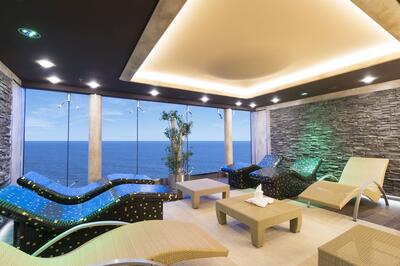 Points are awarded for cruises sailed, with more points being given for higher level experiences and the length of cruise.
Bella Experience
200 points for a cruise under 6 days
500 points for a cruise between 6-10 days
700 points for a cruise of 10+ days
Fantastica Experience
400 points for a cruise under 6 days
700 points for a cruise between 6-10 days
1,000 points for a cruise of 10+ days
Image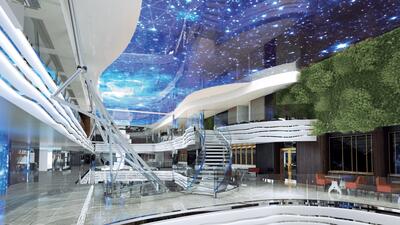 Aurea Experience
600 points for a cruise under 6 days
1,000 points for a cruise between 6-10 days
1,500 points for a cruise of 10+ days
MSC Yacht Club Experience  
800 points for a cruise under 6 days
1,500 points for a cruise between 6-10 days
2,000 points for a cruise of 10+ days
Other ways to earn points
Image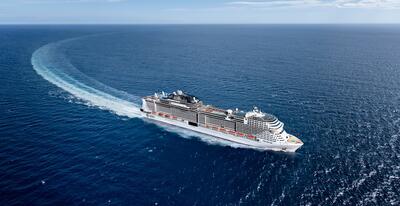 Guests earn 100 points for every 150 €/$ of pre-cruise purchases, such as MSC packages and services, made prior to the cruise. Dining, drink, and internet packages are popular pre-cruise expenditures. Prior to booking an MSC cruise, it is important to understand what is and isn't included with your fare. 
Once you are onboard your cruise, you can earn an extra 100 points for every 150 €/$ spent on board, excluding the casino. Only the MSC Voyagers Club cardholder who made the final payment will get these points, though. 
An easy (and free) way to earn 100 bonus points is by updating your contact information no later than 72 hours prior to sailing. 
Finally, those who book a World Cruise will receive triple the membership points based on the experience level selected at the time of booking. 
Read more: Overview of MSC Cruises Drink Packages and Prices
How to register for the MSC Voyagers Club
Image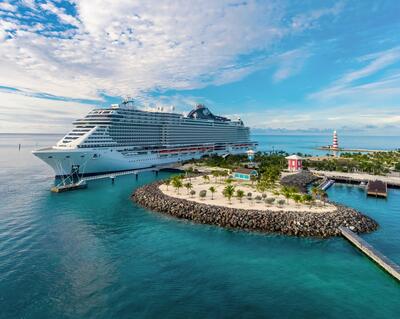 Anyone is eligible for membership in the MSC Voyagers Club as long as they have cruised or have a confirmed booking.
 Guests can register for the program in two main ways:  
Pre or post-cruise through the MSC website, see the MSC Voyagers section.
Onboard by contacting Reception /Guest Service or the MSC Voyagers Club Infopoint.
Membership expiration
Image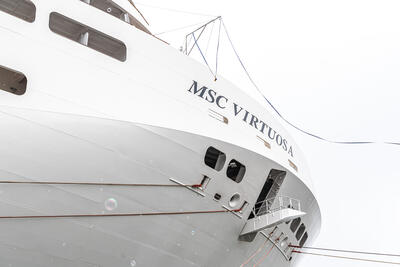 Unlike other mainstream cruise lines' loyalty programs, Voyagers Club status is subject to expiration. If your cruise's last disembarkation date is over three years (36 months) old, your status will expire. 
Similarly, if you status match and don't complete a cruise in three years after the enrollment date, you will lose your MSC Voyagers Club status. 
Status Matching
Image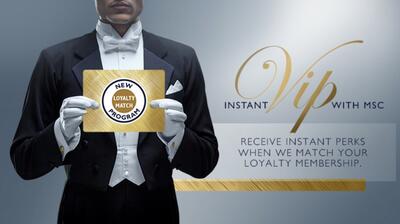 One great feature of the MSC loyalty program is Status Matching.
For those guests who have accumulated loyalty program status with another cruise line, hotel or travel operator, they can apply to MSC for a status match.
There is no fee to do this, but it can only be done once, so guests should carefully consider which program is the most valuable. Ideally, this should be completed 7-10 prior to sailing, to ensure the status is recognized. The application for this is located on the MSC Cruises website.
The list of eligible loyalty programs for matching is quite extensive. Some of the major brands include:
Cruise lines
Image
Celebrity Cruises
Carnival Cruise Line
Costa Cruises
Cunard
Disney Cruise Line
Norwegian Cruise Line
Royal Caribbean
Holland America
Hotel chains
Image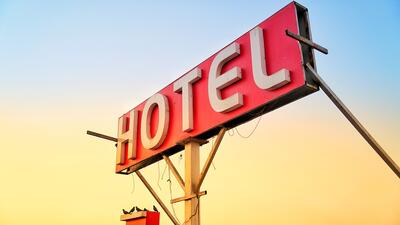 Club Med
Best Western
Ritz -Carlton
Hilton
Hyatt
Marriott
Starwood
Sandals
Fairmont
RIU Hotels and Resorts
Other loyalty programs
Expedia
Orbitz
Cirque de Soleil
More MSC Cruise information