Celebrity Cruises is known for offering a refined cruise experience onboard their fleet of upscale cruise ships. Part of the Royal Caribbean Group, Celebrity Cruises is one of the more well known cruise lines at sea, but they actually operate one of the simplest fleets of any major cruise line.
With only 15 ships designated among 4 classes, Celebrity Cruises focuses on building innovative, modern and trendy cruise ships that are sure to leave a lasting impression.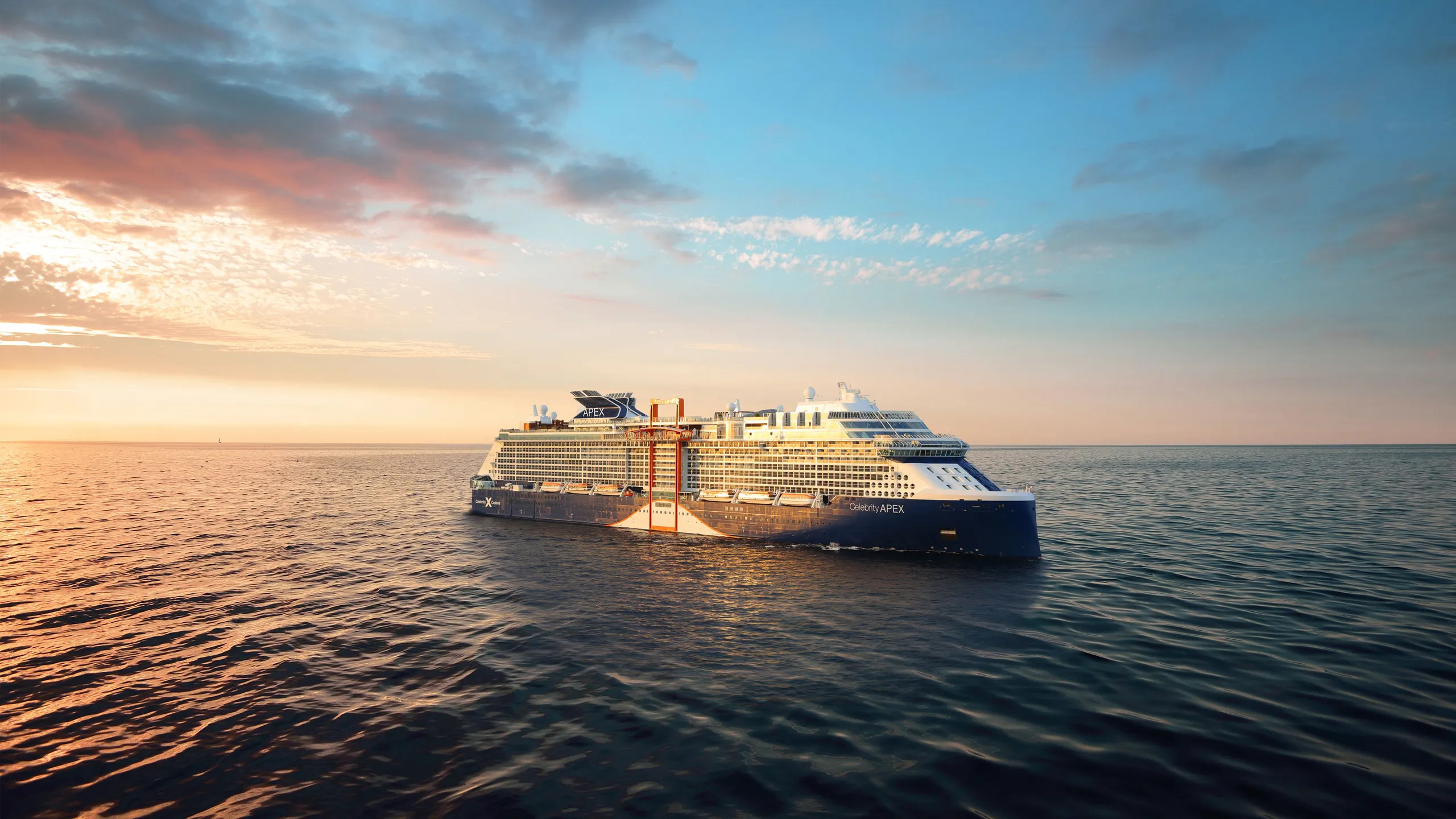 If you are not familiar with cruising, you might be wondering what we mean by ship class. In essence, a class of cruise ships is basically a designation of ships that were designed to be nearly identical and constructed around the same time. Although cruise lines will switch up a few design aspects here and there, typically cruise ships within the same class are constructed within a few years of each other and are virtually the same. 
Because of customer feedback, newer ships within a class may have a few different venues or differences in design. And, of course, because of revitalization efforts, some ships within the same class may not receive the same updates.
Celebrity's Cruising Markets
It's important to note that Celebrity Cruises operates in 2 distinct cruising markets, each offering vastly different experiences.
First, the cruise line has mainstream, mid-sized cruise ships that operate in popular cruising destinations, like the Caribbean, Alaska, and Europe. 
These ships hold up to 3,800 passengers, which is still half the capacity of newer and bigger mega ships being built by companies like Royal Caribbean, Carnival Cruise Line and MSC Cruises. Smaller ships allow the cruise line to offer more attentive service and feature itineraries to more unique and exotic locations.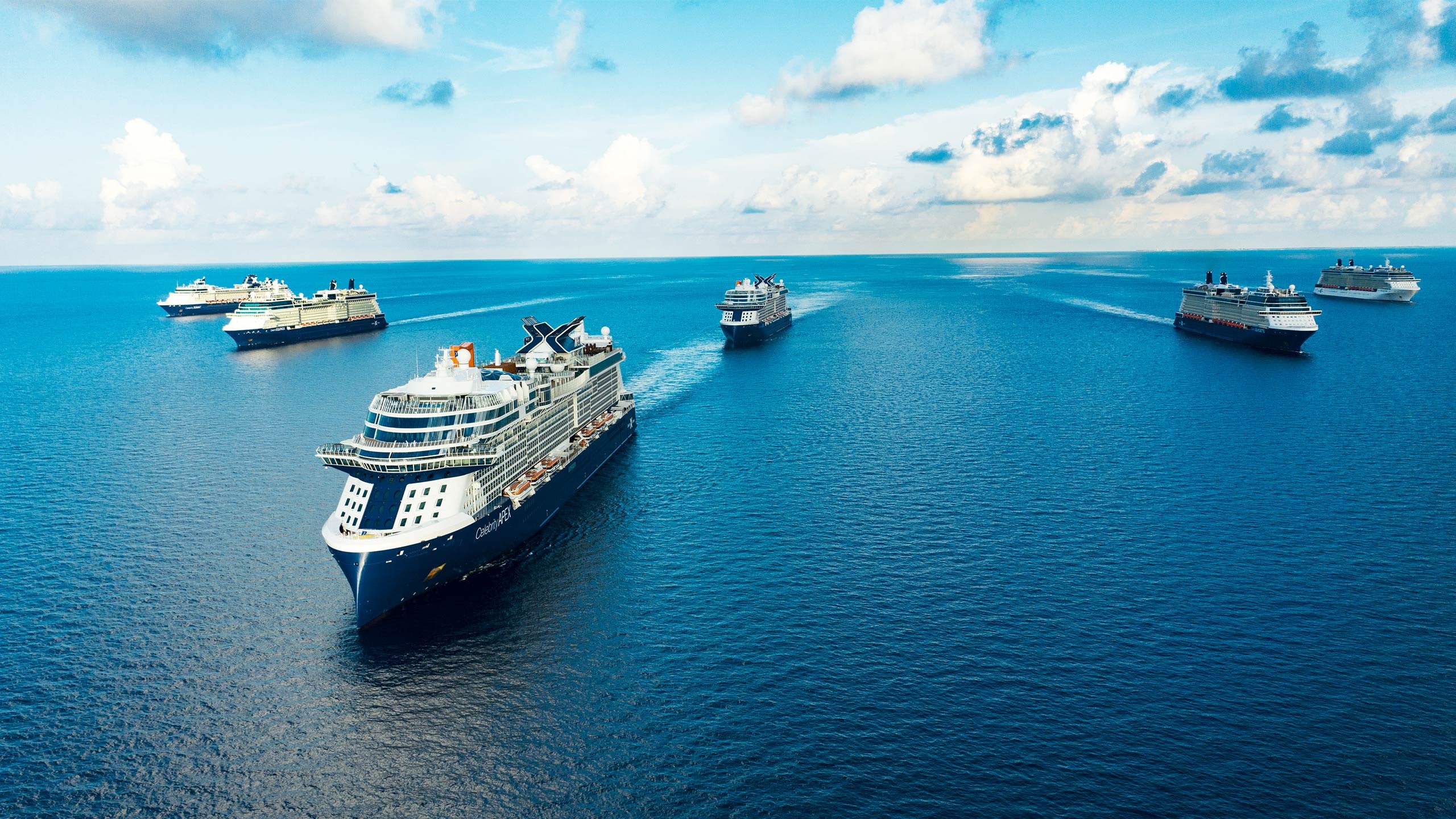 In a completely different market, Celebrity Cruises also offers expedition voyages on extremely small vessels to the Galapagos Islands. We are talking about tiny in a sense that these ships have a capacity of only 100, 48, and 16 passengers on these ships. 
Because the Galapagos Islands have very strict regulations regarding cruise ship operations in the archipelagos, Celebrity Cruises is one of the few cruise lines that has permission to offer sailings in the islands. These regulations help protect the wildlife and nature of the islands, which is important for conservation efforts of the Galapagos Islands.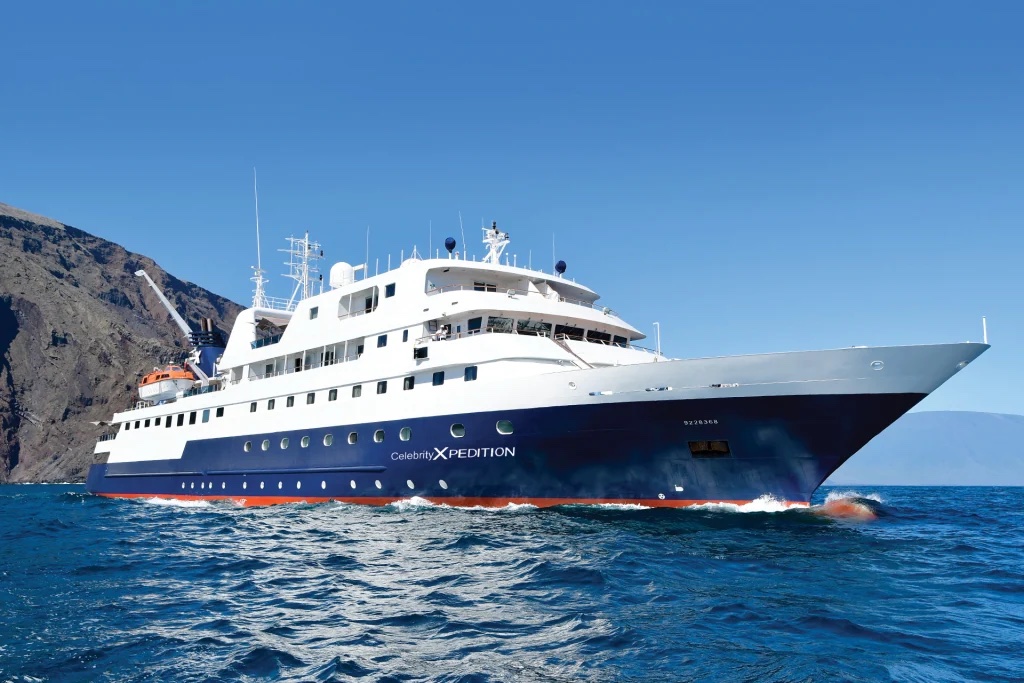 Even with its smaller fleet, Celebrity Cruises has a little something to cater to everyone. Their newest ships from the Edge class feature the most onboard amenities and activities, while its older Millennium ships offer a more intimate, classic cruising experience.  
Before booking a reservation with Celebrity Cruises, you will want to research the class that best fits your travel style and budget. In this article, we will explain what makes each Celebrity class unique and what you can expect when sailing on a cruise ship within each class. 
Here's your detailed, expert guide to Celebrity Cruises ships by class. 
Edge Class
Celebrity's newest class of ships is its innovative Edge Class. There are three ships that currently comprise the Edge class of ships and one ship still in the construction phase:
Celebrity Edge (2018)
Celebrity Apex (2020)
Celebrity Beyond (2022)
Celebrity Ascent (Expected 2023)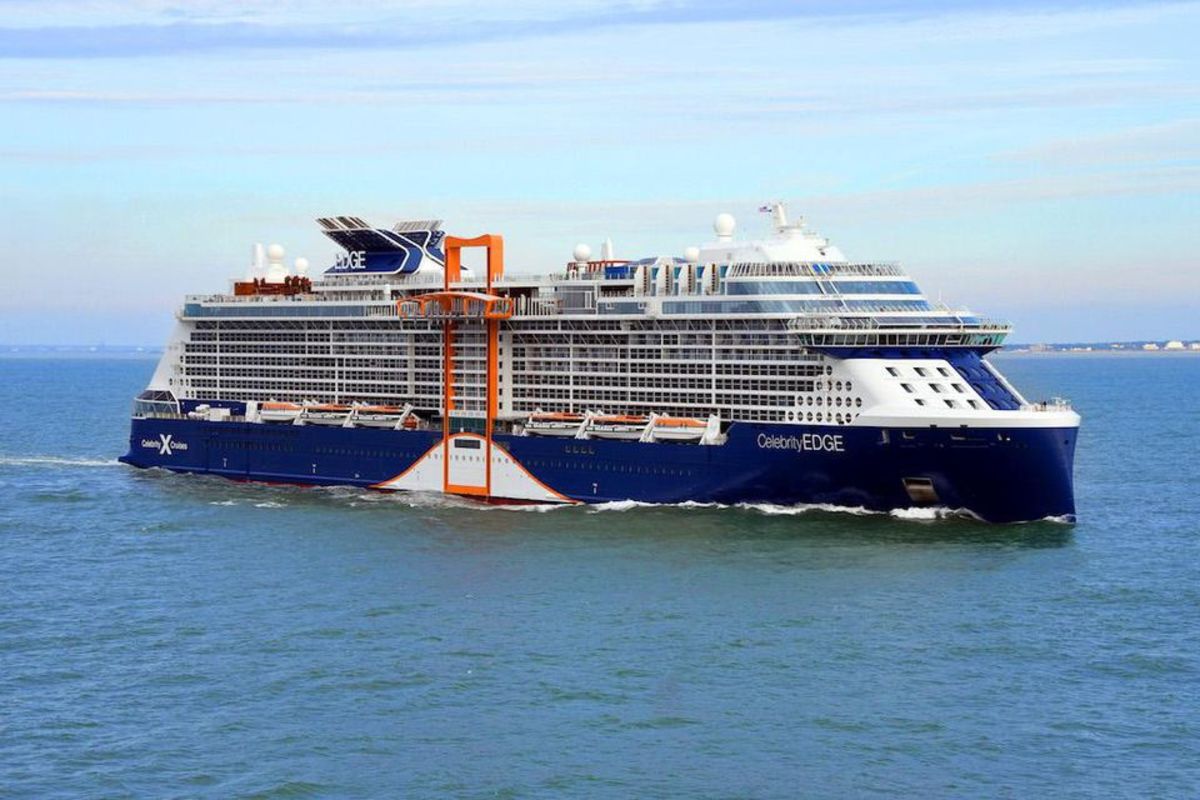 Edge class ships weigh anywhere from 138,000 tons to 146,000 tons. These are the largest ships in Celebrity's fleet with a maximum capacity of 3,300 passengers (Edge and Apex) and 3,800 passengers (Beyond and Ascent in 2023).
These vessels are considered the most advanced cruise ships in Celebrity's fleet and feature the cruise line's the newest technology. Therefore, these ships are among the most luxurious and innovative mid size cruise ships at sea.
One of the coolest features are the innovative "infinite" veranda staterooms. A first for the mainstream cruise industry, these balconies feature floor to ceiling, outward facing glass windows that open with the touch of a button. Of course, there are still a few traditional balconies that allow you to step outside and soak in the ocean air.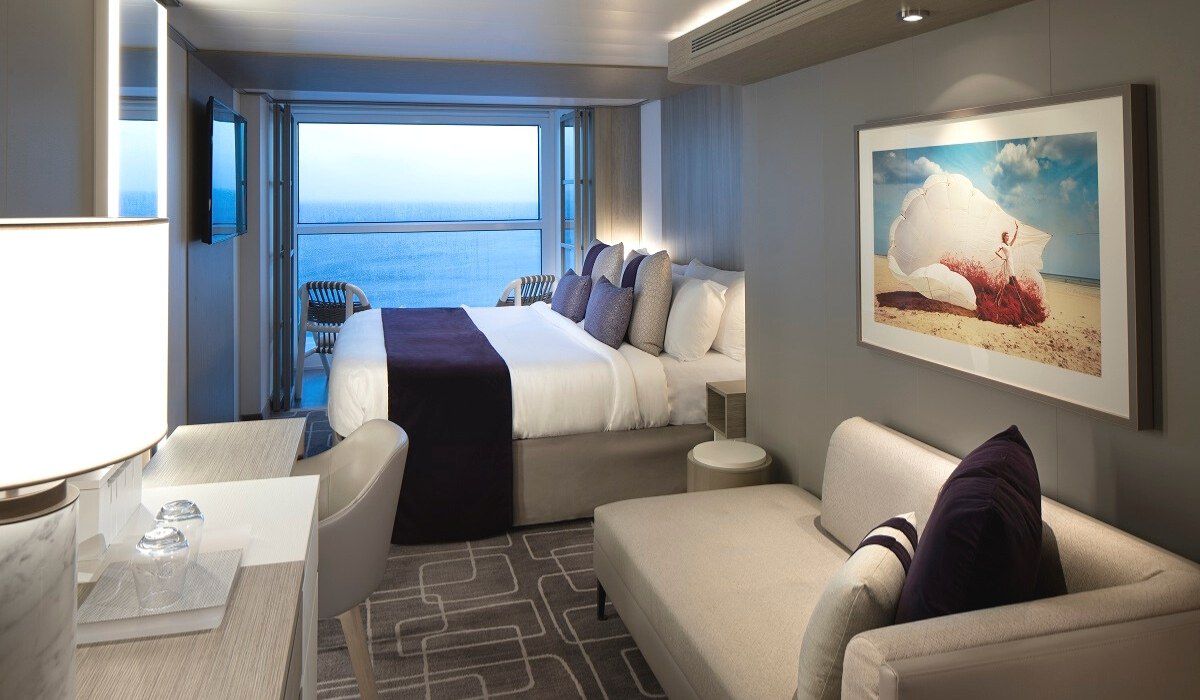 The Edge class ships are also known for blending outdoor and indoor spaces onboard with Celebrity's signature modern design. A playscape garden called the Rooftop Garden features real greenery and an outdoor dining venue. This unique feature on the top deck is meant to awaken everyone's inner child, as the inspiration was drawn from the magic found in childhood playsets. 
The Retreat, featured on Edge, Apex, Beyond, and Ascent, is the newest addition to Edge class ships. This resort-within-a-resort is exclusively available for suite passengers to access. The Retreat has 2-stories full of hot tubs, sun loungers and cabanas that suite passengers can access complimentary throughout their sailing. The Retreat is larger on the Beyond than on the Celebrity Edge and Apex.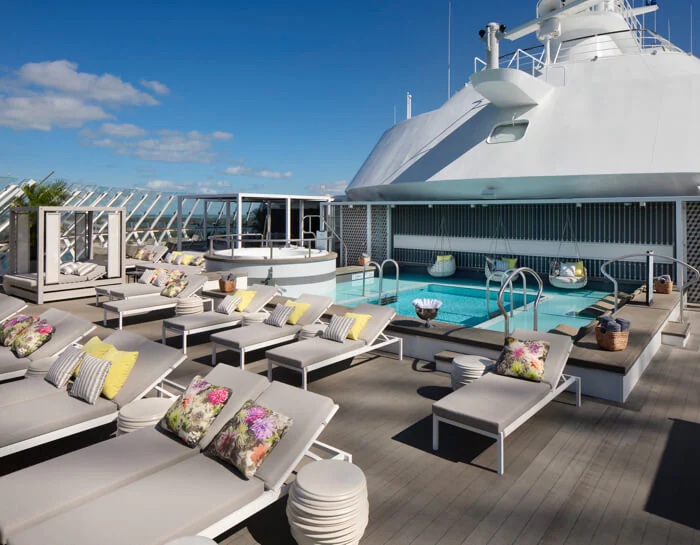 Because these ships are bigger than any other Celebrity cruise ship, the extra space allows for the expansion of the beloved Sunset Bar. With its Moroccan-inspired design throughout, this bar features beloved craft cocktails with unbeatable views of the sea. 
Celebrity Edge also introduced the revolutionary Magic Carpet, which is a 13-story cantilever platform that suspends over the sea. This space is used for a variety of purposes, including a tendering boarding area during the day and a live music bar in the evening. Guests can also take in the stunning views of the open sea while enjoying crafted drinks or a seafood dinner on the Magic Carpet.  
While Celebrity Cruises is one of the mainstream lines that offers a more all-inclusive experience, there are some add-ons. Dinner on the Magic Carpet, for instance, is priced á la carte.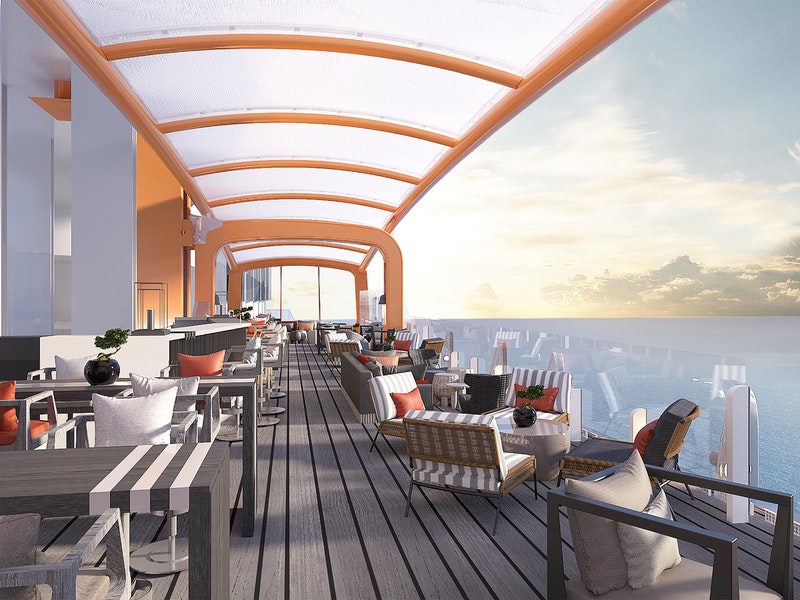 Finally, Edge Class ships strayed away from the traditional cruise dining experience. Instead of offering one main dining room, there are four complimentary restaurants for guests to choose from, each of which specializes in a different style of cooking and cuisine:
Cyprus is the Mediterranean restaurant
Normandie specializes in modern French cuisine
Cosmopolitan focuses on New American food
Tuscan serves up global contemporary options with an emphasis on Southern Italian food. 
Solstice Class
Before the innovative Edge class debuted, Celebrity Cruises launched 5 ships in its Solstice Class from 2008 to 2012. These include:
Celebrity Solstice (2008) 
Celebrity Equinox (2009)
Celebrity Eclipse (2010)
Celebrity Silhouette (2011)
Celebrity Reflection (2012)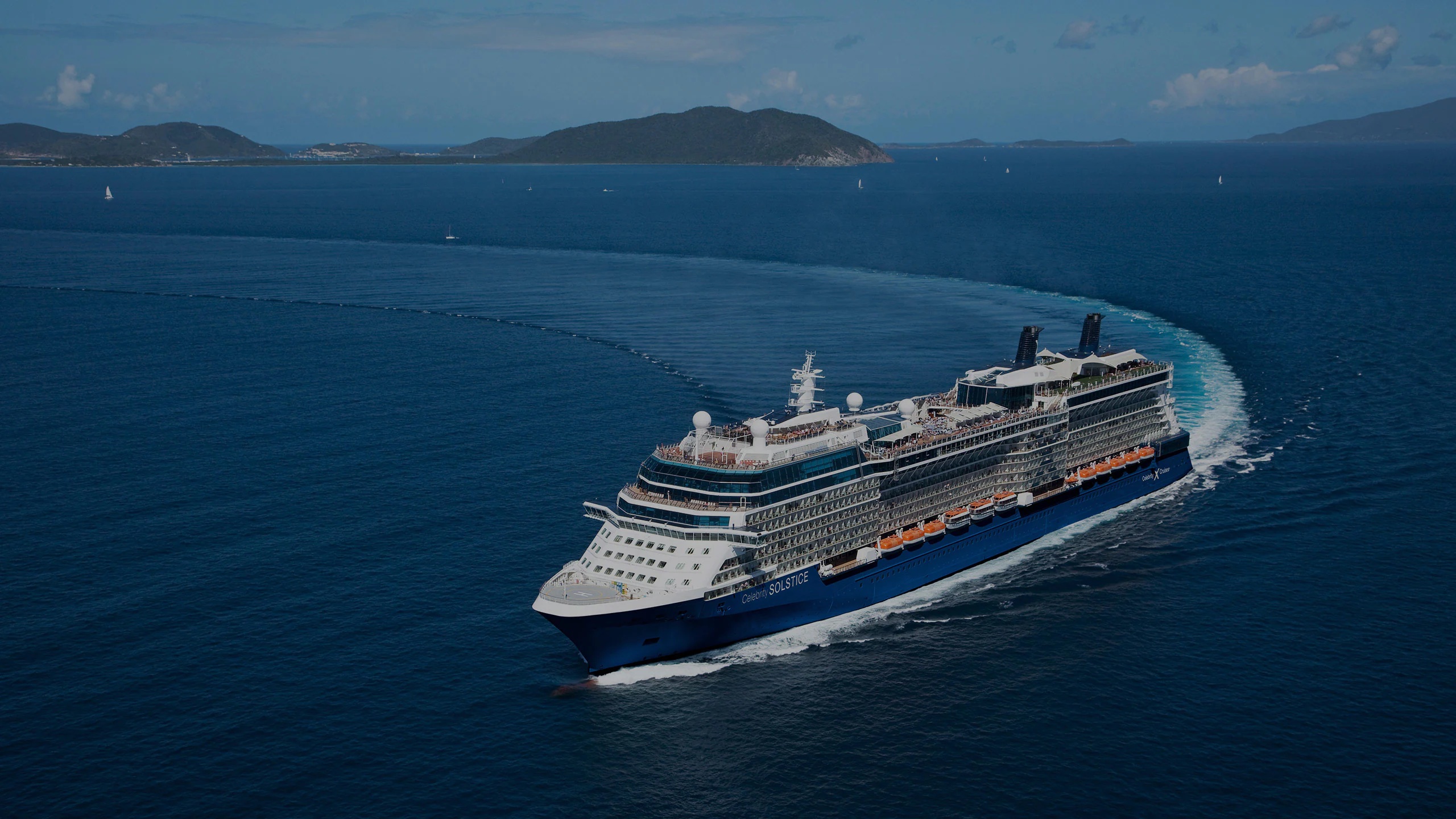 These ships weigh between 121,000 and 125,000 gross tons and comprise more than half of Celebrity's cruise capacity. With five ships comprising the Solstice class, you are likely to sail on one of these cruise ships if you start regularly cruising with Celebrity, as it is the cruise line's largest class of ships. 
With plenty of glass panels and windows for sightseeing, Solstice class ships sail to far flung locations like Norway, Australia, New Zealand, Alaska, and South America.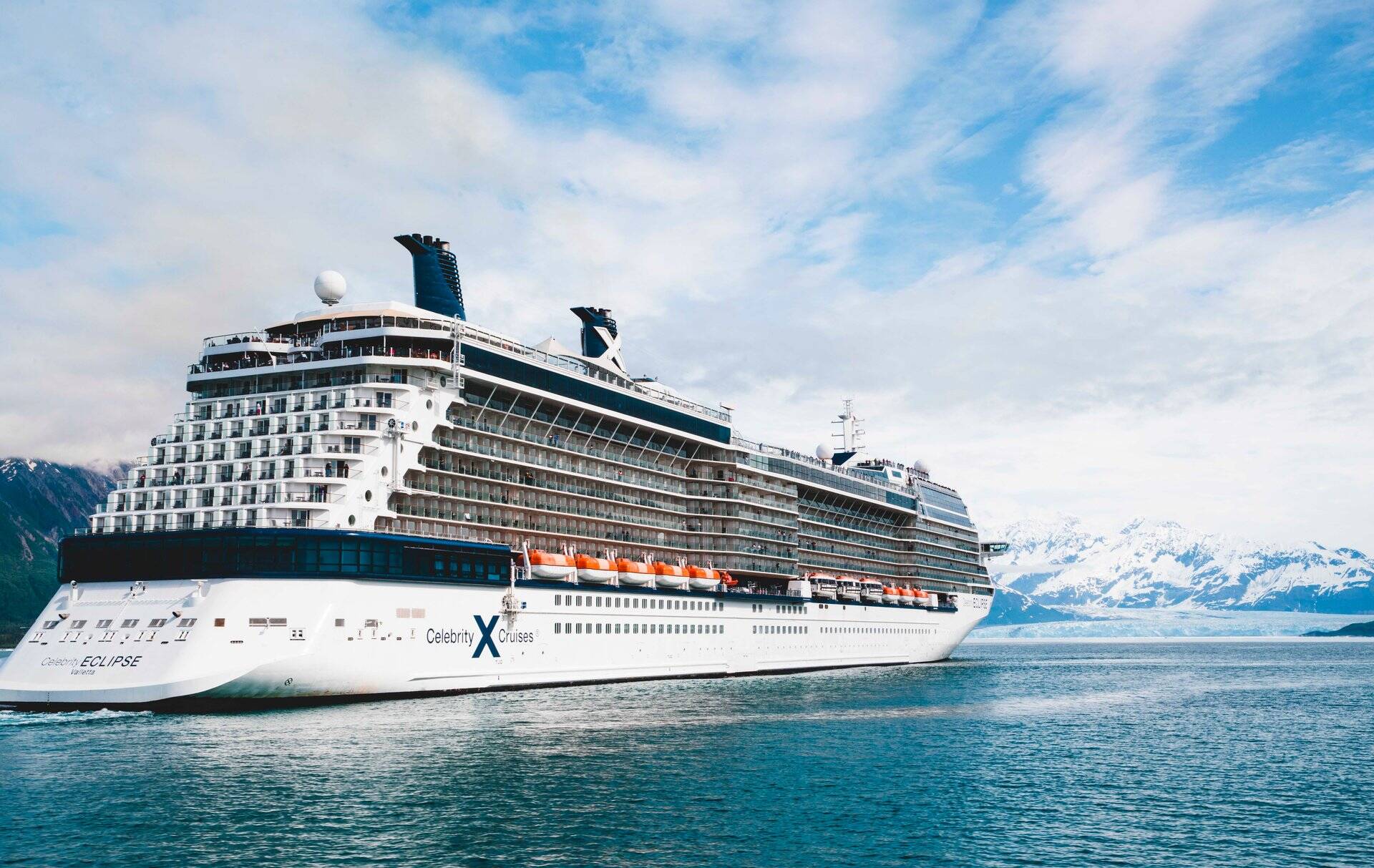 Celebrity Reflection, the newest cruise ship in the class, holds the most passengers with a capacity of 3,480 guests. Reflection also features one of the most luxurious suites at sea, which is a 2-story Reflection Suite that is 1,600 square feet.
Other ships in the Solstice class hold right around 3,100 passengers. 
With innovation at its forefront, Celebrity Cruises made waves in the cruise industry with these elegant and beautifully designed ships during their debut. Solstice class ships were the first cruise ships to feature real grass lawns at sea in an area called Lawn Club. While playing yard games on the grass, you can grab a bite to eat at Lawn Club Grill. 
The grass is meticulously maintained by full-time landscapers who regulate a complex irrigation system. It's no easy feat getting real grass to continuously grow on the high seas.
Additionally, Celebrity Cruises debuted the very first hot glass class at sea onboard its Solstice class ships, featuring a partnership with Hollywood Hot Glass. Working with a skilled instructor, guests can create personal glass pieces in the studio.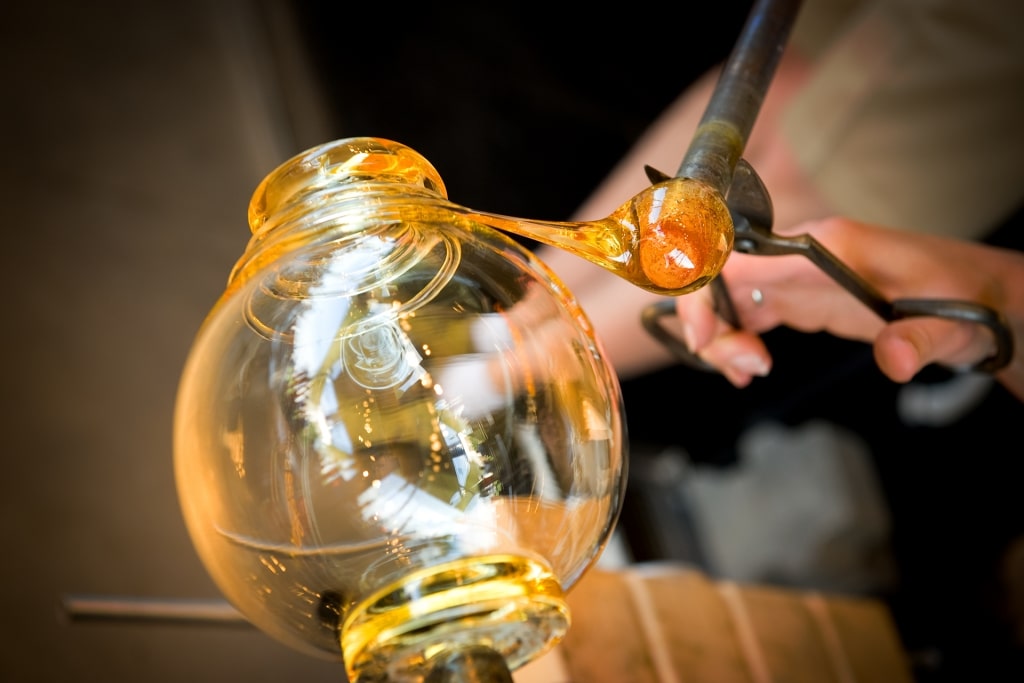 As the cruise industry started building ships with more balcony staterooms, Celebrity jumped on the bandwagon. Solstice class ships feature deck plans with nearly 80% of staterooms having private ocean view verandas. There's no better view than the one you see right from your stateroom. 
Interior and ocean view window rooms are still comfortable and fitted with the same luxurious amenities in veranda staterooms, such as Celebrity's eXhale bedding and a queen-size Cashmere™ Mattress.
Outdoor pools on Celebrity are some of the trendiest and best designed areas at sea. Solar panels with tons of sunlight shining through the glass ceiling make the adults-only pool one of the best places to relax at sea.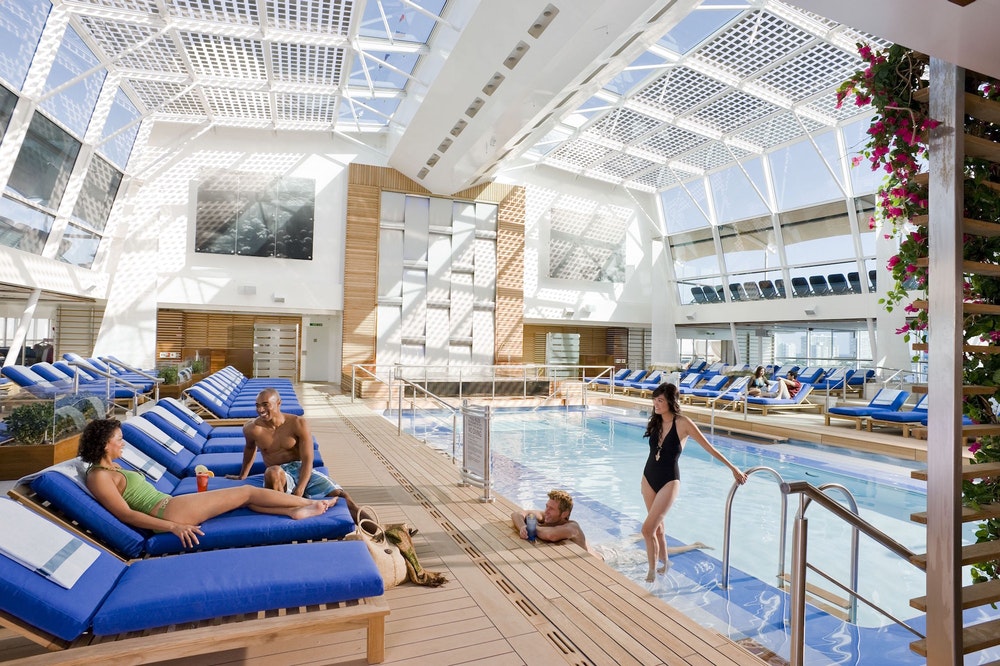 Solstice class ships also feature an innovative dining experience at Le Petit Chef, which uses tabletop projections and animations to create a one-of-a-kind restaurant. Murano is another popular restaurant on Celebrity cruise ships, which serves expertly crafted French cuisine.
Millennium Class
Debuting at the start of the new millennium in 2000, this class of ships features the oldest in Celebrity's fleet of cruise ships. These four ships include:
Celebrity Millennium (2000)
Celebrity Infinity (2001)
Celebrity Summit (2001)
Celebrity Constellation (2002)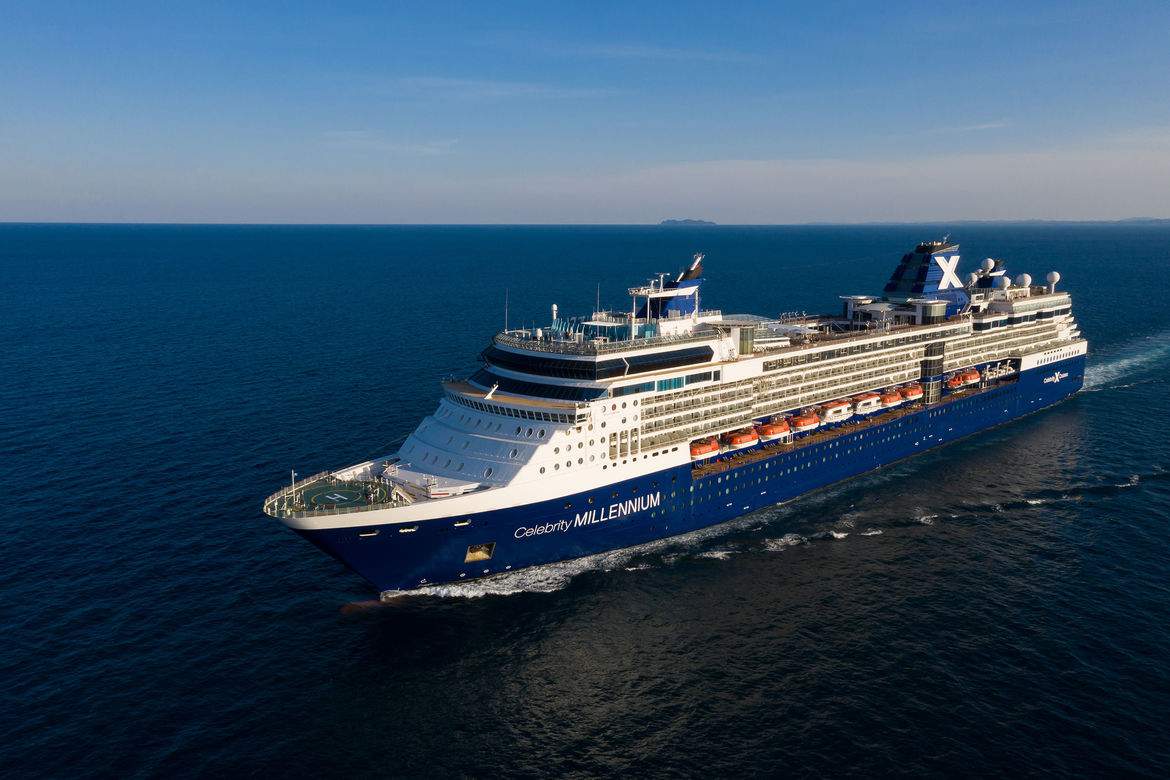 At the time of their debut, Millennium class ships were a more modern take on cruise ship design from Celebrity. Thanks to major upgrades in recent years, these 20 year old ships now have some of Celebrity's most popular amenities and features from its Solstice class ships, which debuted a few years later. 
All of the Millennium class ships hold around 2,560 passengers and weigh 91,000 gross tons. This makes these cruise ships about 30% smaller than Solstice class ships, making size one of the most notable differences. For those that prefer more intimate cruising experiences, these ships can be an excellent choice, especially if you are more itinerary-focused.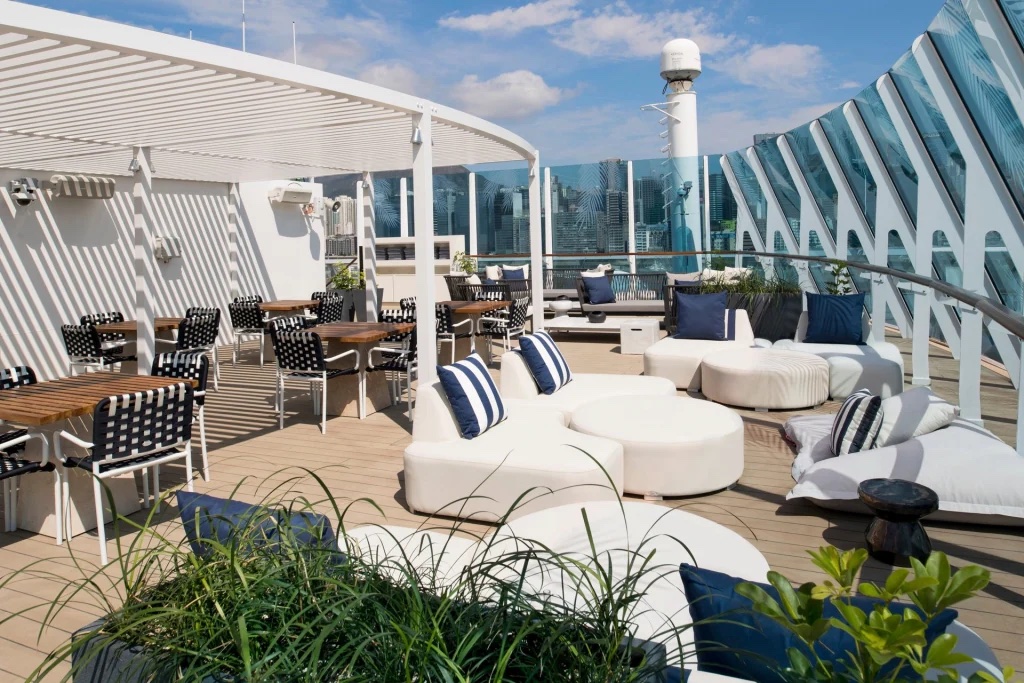 Millennium ships also feature a for-fee Rooftop Terrace that can't be found on other Celebrity ships. This relaxing area is filled with padded loungers and daybeds for cruisers to enjoy. 
Another unique feature on Millennium class ships is Taste of Film, which combines culinary and cinematic elements for an unforgettable dining experience, which includes food inspired by movie themes. Offered only only night per sailing and costing around $20 extra, this is a unique experience that is sure to book up early!
Galapagos Series
Those looking for an equally exotic and intimate cruising experience might be interested in Celebrity's Galapagos Series cruise ships. These tiny vessels include:
Celebrity Xpedition (2004)
Celebrity Xploration (2017)
Celebrity Flora (2019)
Completely different from the other Celebrity class of cruise ships, these expedition vessels hold only 16 to 100 passengers. While Celebrity Xploration holds just 16 passengers, the newest ship Flora is bigger and holds 100 passengers. Due to their exclusivity, they lowest fare is often more expensive than some suites onboard Celebrity's other ships. 
Celebrity Xploration is the tiniest of the three ships, weighing just 320 gross tons. On the other hand, Celebrity Flora comes in at 5,700 gross tons and Celebrity Xpedition at 2,800.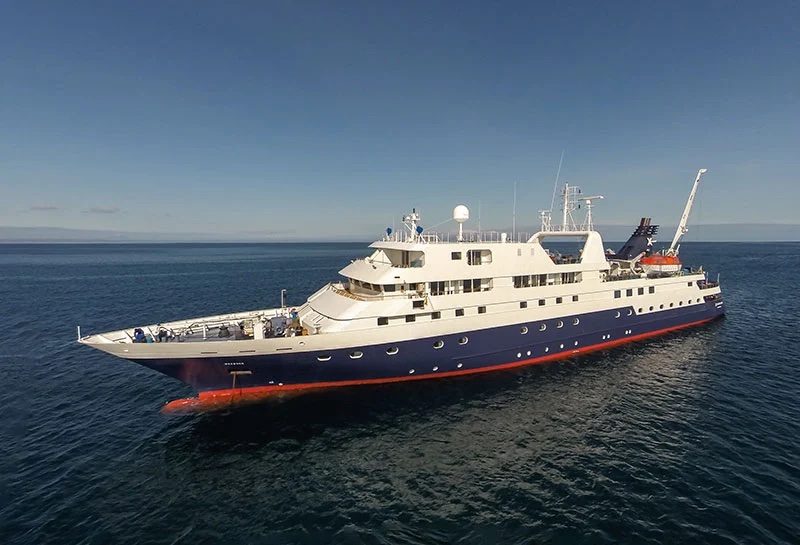 Although the ships differ in size, they each offer similar experiences sailing around the virtually untouched archipelagoes Galapagos Islands. Because these ships are much smaller than anything else offered by Celebrity Cruises, you can expect to find fewer amenities onboard with limited options for dining, activities and entertainment.
The most upscale cruising experience can be found on Celebrity Flora, which is the newest and biggest Celebrity ship sailing the islands. This vessel features two celebrity-inspired restaurants, star gazing platforms, science lectures, and even a plunge pool. All of Flora's staterooms are suites onboard, making the experience a top-notch option for those looking to visit the Galapagos Islands.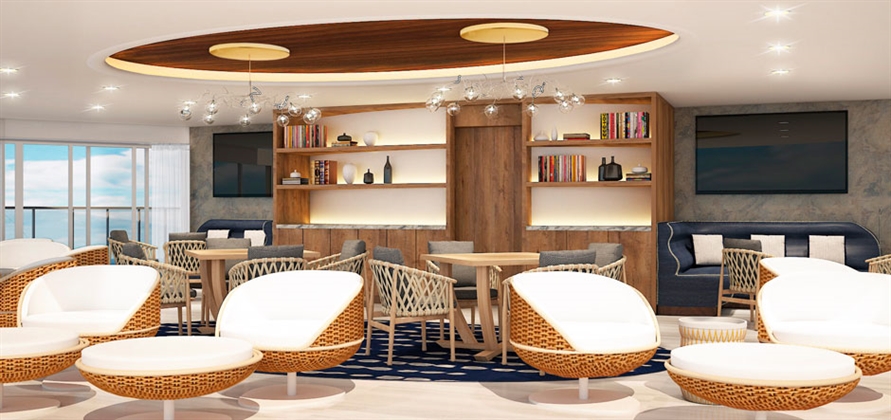 However, cruising the Galapagos Islands isn't about the amenities onboard the ship. Those sailing on these expedition vessels get to experience the surreal nature and wildlife of the destination. In fact, the Galapagos Islands is where Darwin was inspired to conceptualize his theory about natural selection. 
These expedition-style cruises allow passengers to take Celebrity's own landing craft ashore to see the famous blue-footed boobies on the island, along with plenty of other wildlife like iguanas and giant tortoises.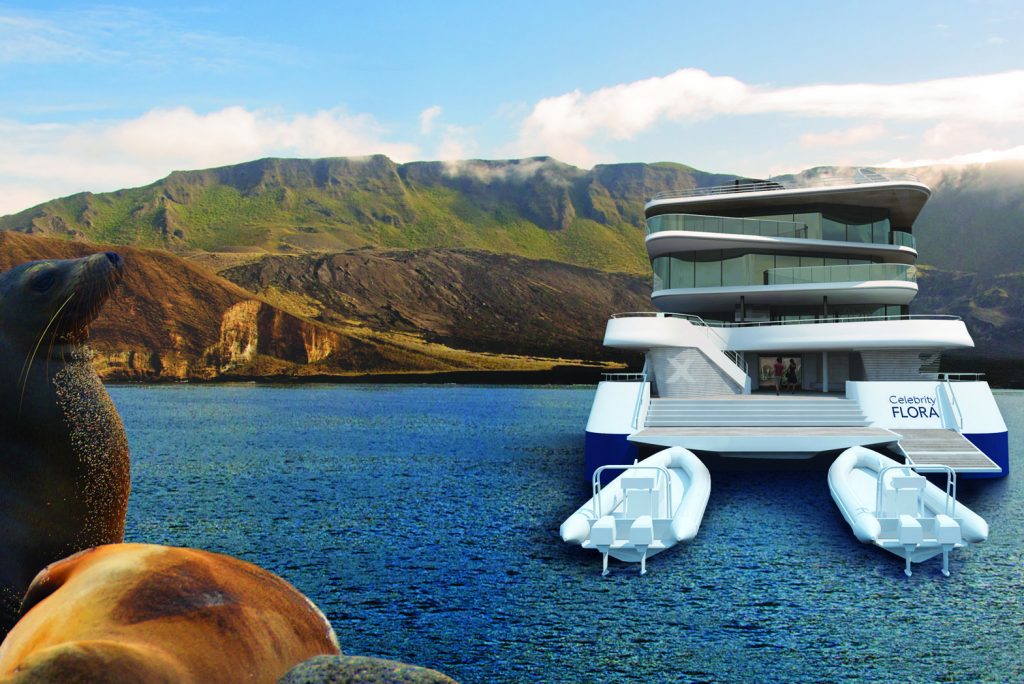 Final Thoughts
Image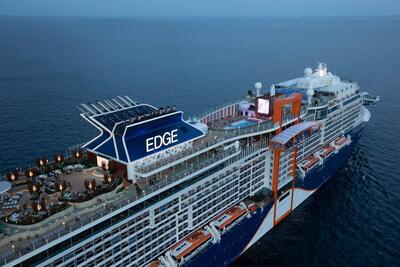 At the end of the day, you will still need to decide what you would like to enjoy during your cruise experience. Choosing the right cruise ship that fits your travel style and needs is one the most important factors when booking a Celebrity cruise.  
Related: What are the different cruise lines known for
If you want to have multiple dining options with plenty of onboard amenities, you are likely going to find the best experience onboard the Edge class ships. These cruise ships have the latest and greatest from Celebrity, so those who prefer the newer cruise ships will certainly enjoy sailing on ships from the Edge class.
Those who want an ultra-luxurious and extremely intimate cruising experience in the Galapagos Islands will need to cruise on one of Celebrity's expedition vessels.The exclusivity of these sailings results in a higher price tag, with prices starting at $6,200 per person. This would be classified as a once in a lifetime type of trip for most people.
Those looking to visit more exotic, unique locations on a mid-sized cruise ship will appreciate the diversity of itineraries on Millennium and Solstice class ships. Millennium cruise ships offer a more intimate cruising experience, while Solstice class ships are bigger with more dining and entertainment options onboard.
All of Celebrity's cruise ships have a little bit of something for everyone to enjoy - from dazzling entertainment to delicious cuisine. Known for their incredible service and modern ships, Celebrity Cruises has created consistency across its cruising fleet to ensure guests have an unforgettable experience. Regardless of the ship you cruise on, you will likely find similar venues and elements across all of the ship classes.